Chocolate Avocado Smoothie
This easy, 5-ingredient thick chocolate avocado smoothie tastes like a vegan chocolate milkshake!
Bonus, this is a healthy chocolate smoothie using only wholesome plant-based ingredients 100% refined-sugar-free, gluten-free, and dairy-free!
What's Chocolate Avocado Smoothie?
Chocolate Avocado Smoothie is a simple avocado protein shake with a rich chocolate taste.
It's a healthy breakfast drink that can be enjoyed as a post-workout snack.
How To Make A Chocolate Avocado Smoothie
This chocolate and avocado smoothie is a thick, dairy-free chocolate smoothie, similar to a milkshake in texture, made with simple natural ingredients.
The key to making the best creamy vegan chocolate avocado smoothie is to use a ripe avocado with no black spot on its flesh.
In fact, black or dark areas in avocado make smoothies bitter, so it is better to avoid them.
Dairy-Free Ingredients
All the ingredients you need to make a healthy vegan smoothie using avocado are:
Ripe avocado – soft, green, and no black or dark spot on the flesh to avoid a bitter aftertaste. Avocado gives the best creamy texture to this chocolate banana smoothie and healthy fats!
Unsweetened almond milk – or any non-dairy milk you love like soy milk, coconut milk, or oat milk.
Unsweetened cocoa powder or raw cacao powder for a stronger chocolate flavor.
Ice cubes
Vanilla extract
Soft pitted Medjool dates – Medjool dates are way bigger and sweeter than any other variety of dates. So if you want to swap Medjool for another variety, you may need 1 or 2 more dates to get the perfect sweetness.
Banana – a small banana, you can use a frozen banana too but decrease the ice cubes to 1/2 cup or the smoothie will be too thick. For a stronger banana flavor, use a large banana. It is absolutely delicious too.
Blending And Serving
There is nothing easier than making your own healthy chocolate smoothie at home.
First, add all the ingredients into the blender and blend at high speed until frothy and thick.
Finally, taste and add more ice cubes if you want to increase the frothy texture of your smoothie. Blend between each addition of ingredients. Serve immediately.
Frequently Asked Questions
Can You Taste Avocado In Smoothies?
No, you don't taste avocado in a smoothie if the amount of sweetener and sweet fruits added in the recipe are correct.
Avocados add the most delicious, creamy, thick texture to smoothies, similar to a milkshake.
It is actually a great ice cream when combined with ice cubes to create a healthy vegan chocolate milkshake.
Is Avocado Vegan Chocolate Milkshake Healthy?
This chocolate avocado smoothie is so thick, frothy, and sweet that each slurp will make you feel like you are drinking a milkshake!
So if you love milkshakes and you are looking for a healthy vegan milkshake alternative, try this banana avocado chocolate smoothie.
The combination of avocado, banana, and ice cubes creates the most creamy, frothy texture, and you won't miss the ice cream in this shake recipe!
Chocolate Avocado Smoothie Add-Ons
There are many ingredients you can add to thicken your milkshake. Some great ideas are:
Spinach – add 1/3 cup fresh baby spinach to create a chocolate avocado spinach smoothie and reach your 5-a-day in no time!
Mint & chocolate chips – add 10 fresh leaves and 2 tablespoons of vegan chocolate chips. It creates the best vegan mint chocolate chips smoothie.
Nut butter – add 2 tablespoons of peanut butter or almond butter to boost the creamy texture of your drink.
Protein powder – to make a vegan protein shake add 1 scoop of your favorite vegan protein powder brand into the blender.
Maple syrup – if you want to boost the sweetness of your milkshake, add 1 or 2 teaspoons of refined sugar-free sweetener like maple syrup or agave syrup.
Seeds – add 1 or 2 teaspoons of chia seeds or flaxseed for a high-power breakfast smoothie high in fiber.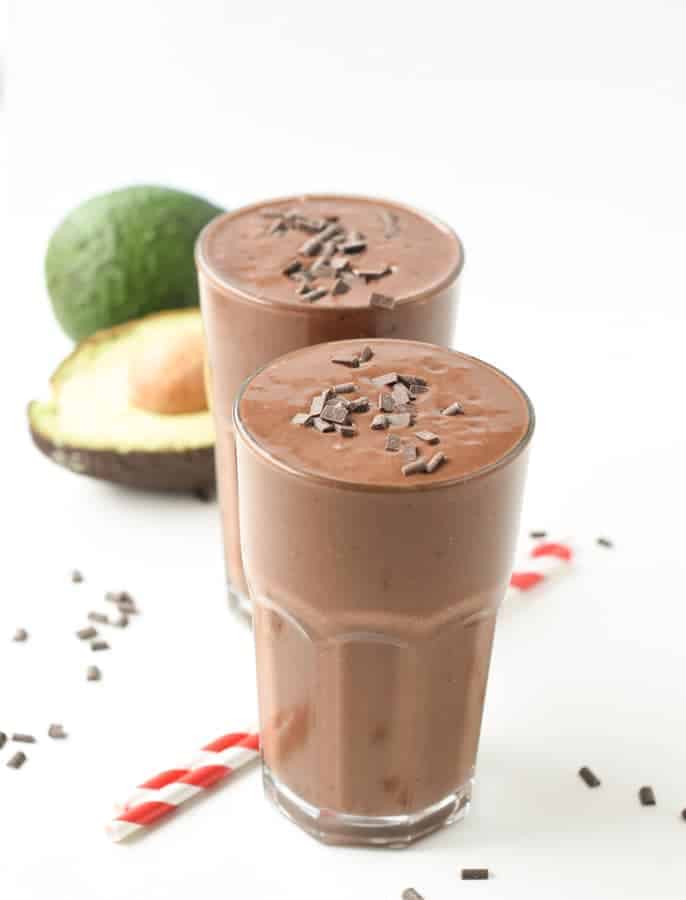 Vegan Smoothie Toppings
This vegan chocolate smoothie is even better with toppings.
Play with the combination of toppings for a decadent chocolate shake! The best vegan smoothie toppings are:
Whipped coconut cream
Chopped dark chocolate or vegan chocolate chip
A drizzle of melted chocolate
Chopped peanuts
A drizzle of peanut butter
More Vegan Smoothie Recipes
I have plenty of delicious vegan smoothie recipes for you to try!
Made this chocolate and avocado smoothie recipe? Comment below and submit your picture or join me on Instagram.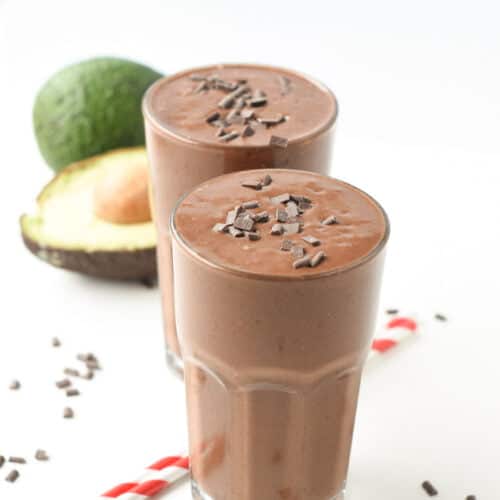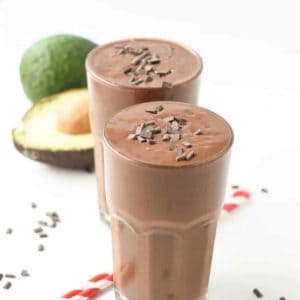 Chocolate Avocado Smoothie
A dairy-free healthy chocolate smoothie made of avocado and wholesome plant-based ingredients.
Pin
Print
Review
Servings: 2 smoothies
Calories: 296 kcal
Ingredients
Add-on ideas to boost your smoothie!
Instructions
Before you start, make sure your avocado has no black spot. If so, it means it is too ripe and it will add a bitter taste to your smoothie. You need a ripe avocado with smooth green flesh.

In a blender, add all the ingredients together, starting with 4 dates. Adjust the amount in the next step if not sweet enough.

Blend at high speed until frothy and thick. Taste and adjust the number of dates, adding up to 2 Medjool dates to boost the sweetness.

Serve immediately with unsweetened coconut whipped cream, chocolate chips, or melted chocolate.
Share on Facebook
Pin Recipe
Nutrition
Serving: 1smoothie | Calories: 296kcal | Carbohydrates: 56g | Protein: 4g | Fat: 10g | Saturated Fat: 2g | Sodium: 174mg | Potassium: 854mg | Fiber: 10g | Sugar: 39g | Vitamin A: 177IU | Vitamin C: 9mg | Calcium: 195mg | Iron: 2mg