This healthy Lemon Overnight Oats recipe is a creamy refreshing healthy breakfast recipe full of tangy lemon flavors and packed with protein and fiber.
You will love the addition of blueberries too, totally optional but so good!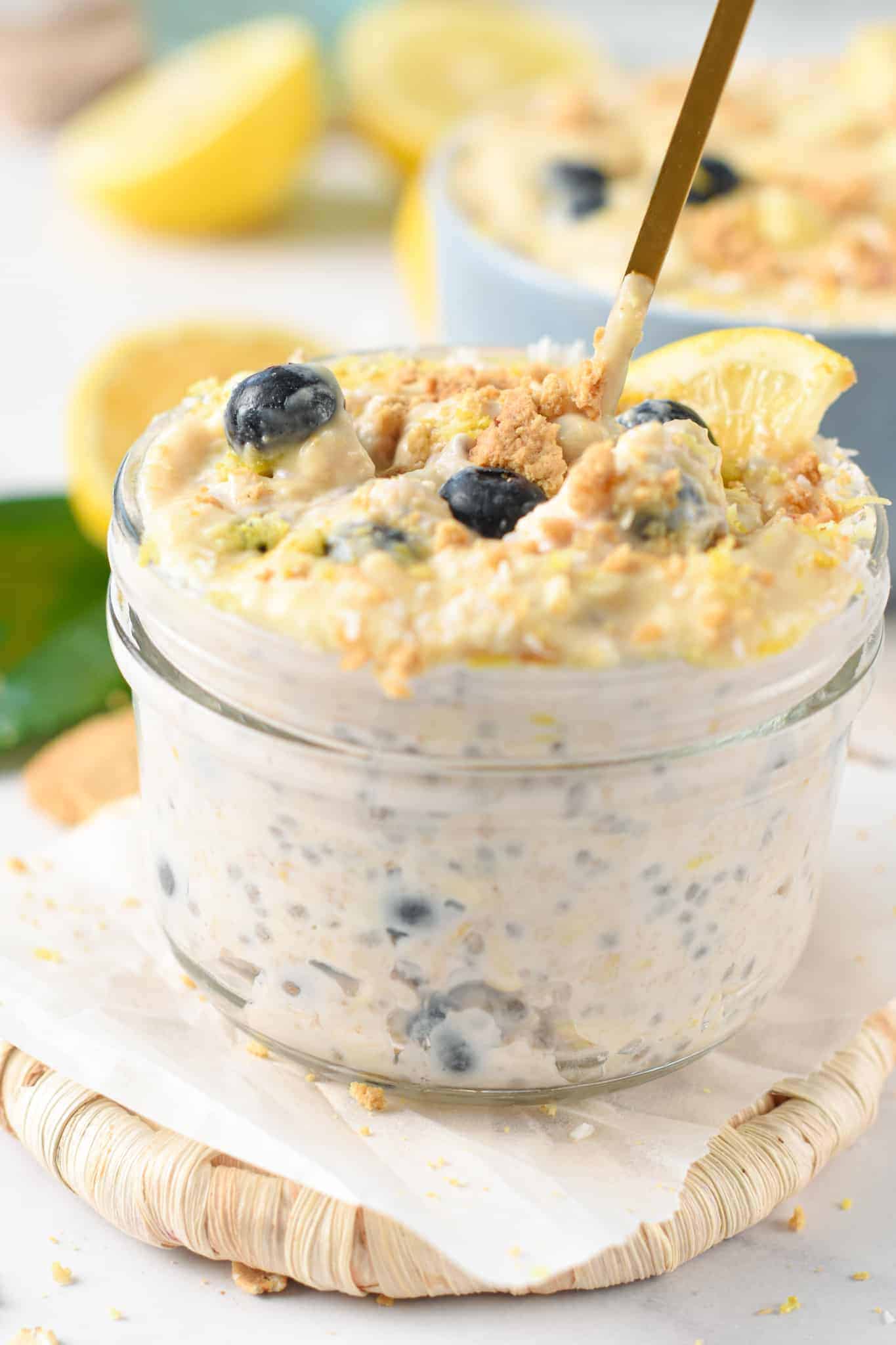 Everybody loves overnight oatmeal recipes. They are the best grab-and-go breakfasts for busy mornings and a great way to meal prep breakfast for the family in the morning.
No more excuse to skip breakfast with this delicious spring overnight oats flavor!
Let's make a creamy blueberry lemon oatmeal bowl, fresh and packed with plant-based proteins to keep you full for hours.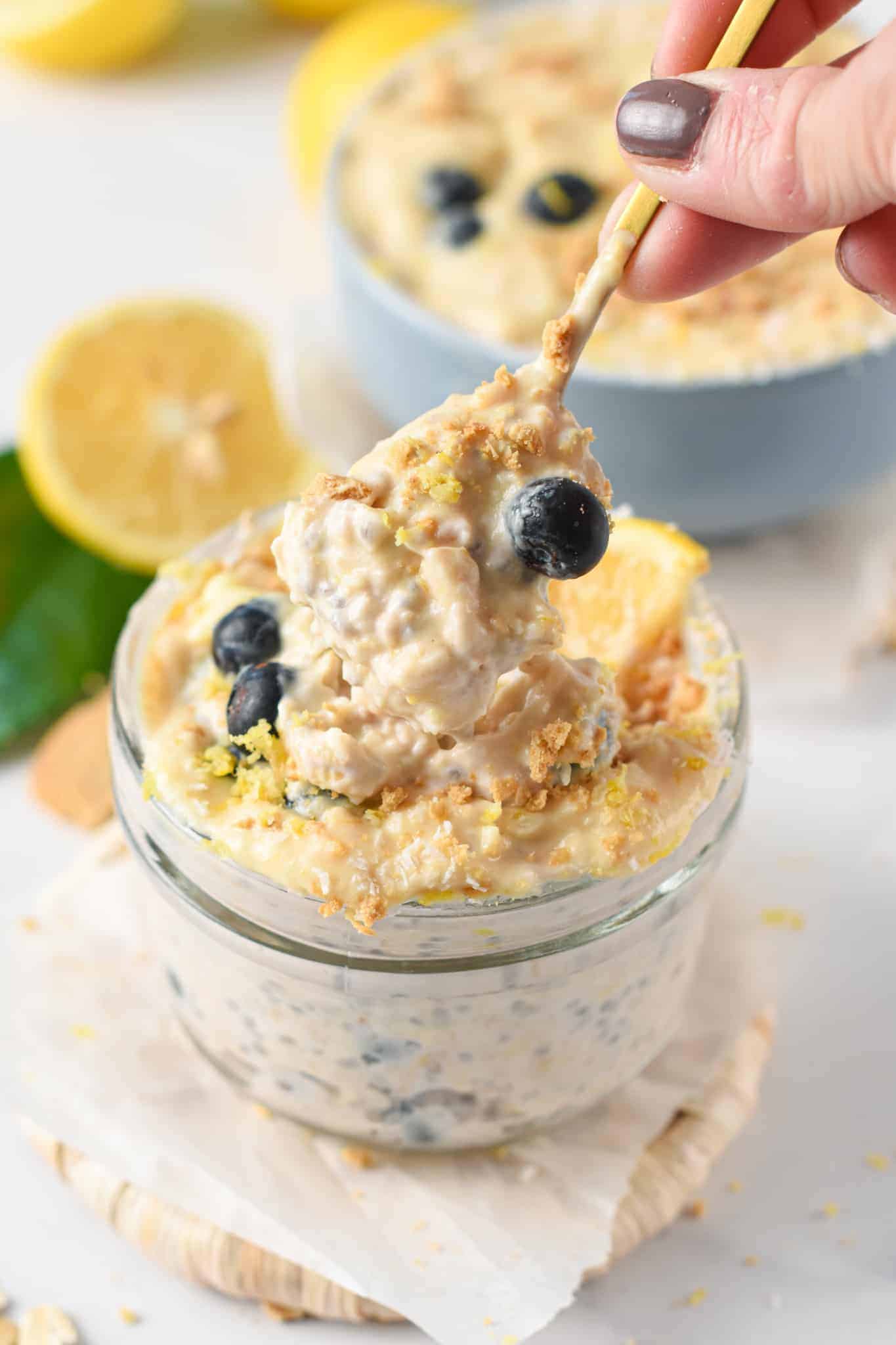 How To Make Lemon Overnight Oats
Like many overnight oats recipes, it's pretty simple to make this healthy oatmeal breakfast and meal prep 4 days of nourishing breakfast.
Ingredients
All you need to make this recipe are:
Rolled oats – old-fashioned or quick oats, as you like, or half-half.
Freshly squeezed lemon juice
Chia seeds
Unsweetened coconut milk or any non-dairy milk you like including oat milk, soy milk, or almond milk.
Plant-based yogurt – coconut yogurt goes very well with lemon and it has a similar texture to Greek yogurt minus the dairy.
Vanilla extract
Maple syrup or any sweetener you like including granulated sweetener like sugar-free erythritol.
Lemon zest – make sure you are using untreated lemon to avoid additives in your food.
Overnight Oat Batter
To make delicious overnight oats, it's better to use a large glass container so the ingredients blend well together and it prevents the chia seeds from forming packets or lumps in the mix.
Place all the ingredients in a glass container: oats, chia seeds, lemon juice, almond milk, lemon zest, vanilla extract, sweetener, and yogurt.
Stir with a spoon until everything is well mixed together. It should be runny slightly creamy but not thick.
In fact, overnight oats get their creamy texture after spending at least 3 hours in the fridge so be patient.
Close the recipient with a lid and pop it in the fridge for 3 hours or refrigerate overnight.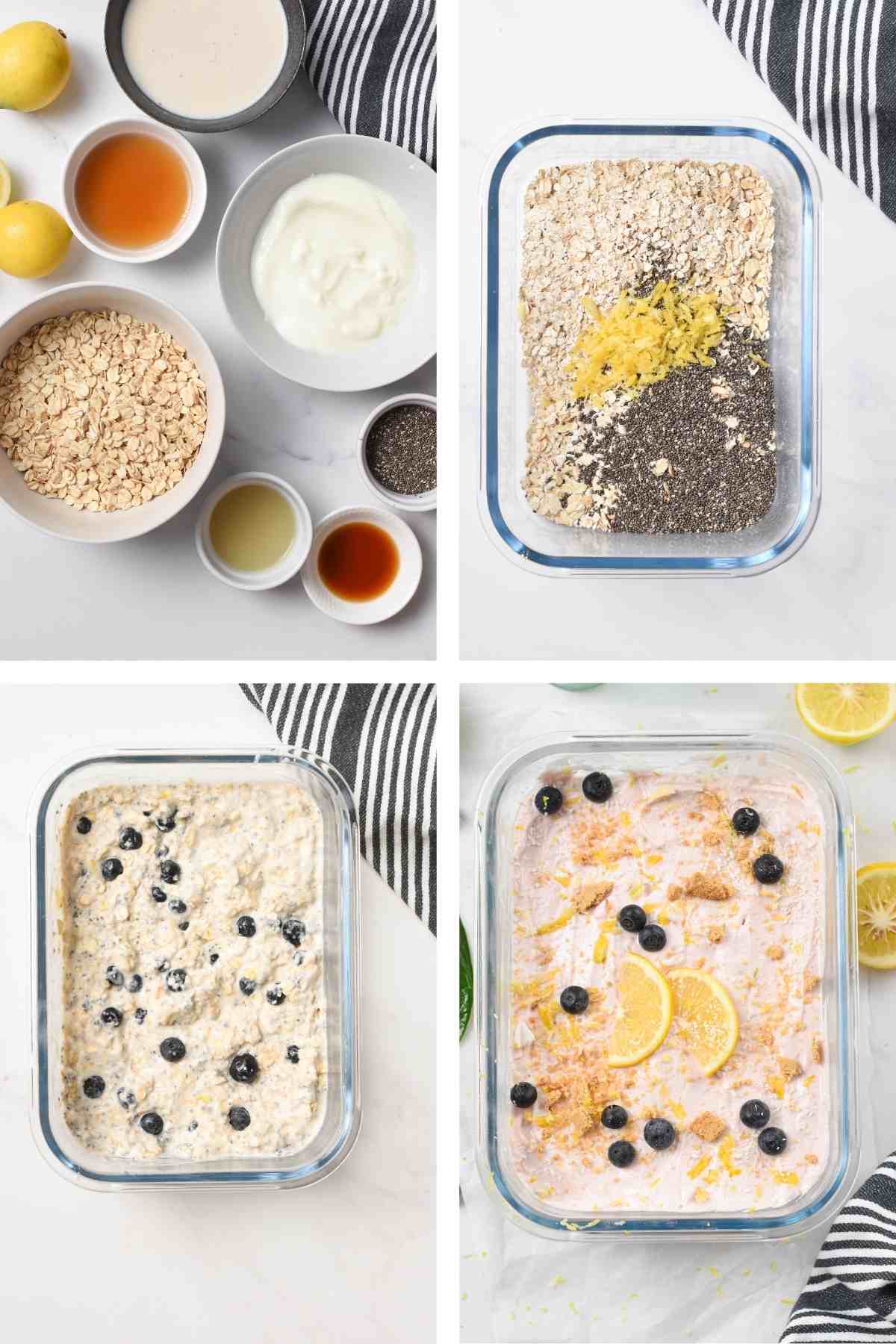 Top Layer
This is totally optional, and you can add the top layer just before serving if you don't feel like adding it on top of the overnight oats the day before.
Protein pudding – I used white chocolate berry protein pudding or lemon protein powder, choose your favorite flavor.
Coconut milk
Yogurt of choice – I enjoy coconut yogurt with lemon but any yogurt works well.
Lemon juice
Stir all the topping ingredients together into a bowl and spread on top of the overnight oats the day before or just before serving
Serving
To serve this lemon blueberry overnight oats I recommend adding:
Shredded coconut
Shortbread biscuit pieces – try my almond flour shortbread recipe if you like
Extra lemon zest
Fresh blueberries
Lemon Blueberry Overnight Oats Option
I do believe that lemon and blueberries are made to be together! Even better, lemon poppyseed and blueberry!
So to boost the flavors of this simple overnight oats recipe try to stir in, before setting it in the fridge overnight, the ingredients below:
1/2 cup of fresh blueberries, or thawed blueberries
1-2 tablespoons of poppy seeds
Serve the next day with extra blueberries on top.
Storage Instructions
This lemon overnight oats recipe can be stored very well in the fridge in an airtight container for about 4 days.
You can freeze the leftovers and thaw them in the fridge the day before serving.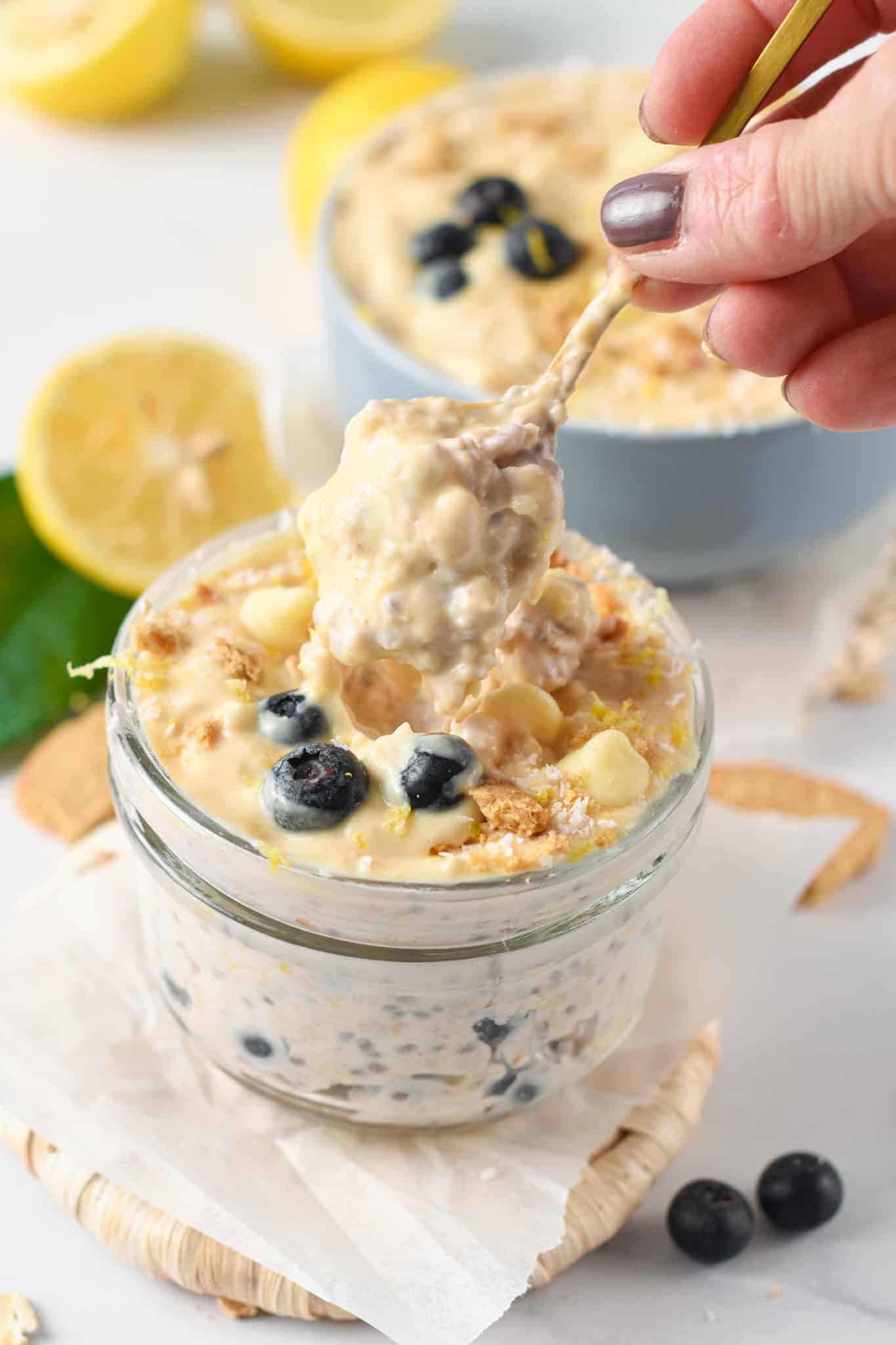 Frequently Asked Questions
Can I Make It Gluten-Free?
Oats are not naturally gluten-free but you can find some gluten-free certified brands if needed.
Otherwise, soaked quinoa flakes work well as a 100% gluten-free swap.
Note that quinoa flakes are slightly bitter so you may have to add more sweetener to cover them.
Can I Add Protein To The Recipe?
You can use high-protein yogurt and protein-fortified milk to enhance the protein profile of the recipe.
Some protein-fortified almond milk contains up to 10 grams of protein per cup for example.
Another option is to add protein powder to the recipe, you can add unflavored protein powder to avoid covering the delicious natural lemon flavor of this recipe.
Note that adding protein powder thickened the recipe and you will have to add some almond milk to balance the texture.
More Overnight Oats Recipes
Below I listed some more overnight oats recipe flavors for you to try.
Did you make this recipe? Let me know how much you love this overnight oats recipe by leaving a comment or review below.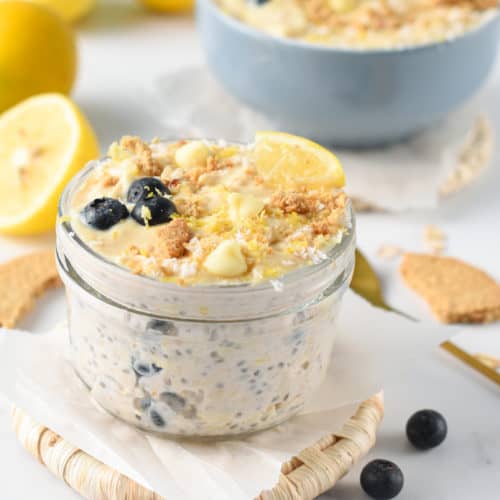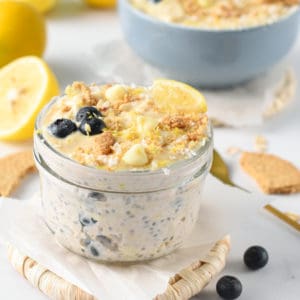 Lemon Overnight Oats
These Lemon Overnight Oats taste like a creamy lemon cheesecake without the dairy!
Pin
Print
Review
Servings: 2 servings
Calories: 263.3 kcal
Instructions
In a medium airtight container or glass mason jar, add all the ingredients in the order you like: oats, chia seeds, lemon zest, lemon juice, coconut milk, coconut yogurt, vanilla extract, sweetener, and eventually blueberries if you like.

Stir well to combine, it should be runny not overly thick.

Close the lid of the container, and place it in the fridge overnight, or for at least 3 hours. I recommend stirring after 1 hour to prevent the seeds from sinking to the bottom of the container
Topping – The next day, or before refrigerating
Stir all the topping ingredients together. Add 1-2 tablespoons of coconut milk or more yogurt if too thick to your liking. Spread on top of the overnight oats the day before or just before serving.

Serve with extra lemon zest, desiccated coconut, blueberries, and crumbled shortbread cookies.
Storage
Store for up to 4 days in the fridge in an airtight container or in 8-ounce glass mason jars. Freeze in airtight jars and thaw in the fridge the day before.
Share on Facebook
Pin Recipe
Nutrition
Serving: 1serving | Calories: 263.3kcal | Carbohydrates: 43.6g | Protein: 6.9g | Fat: 11.1g | Saturated Fat: 1.1g | Polyunsaturated Fat: 7g | Monounsaturated Fat: 1.8g | Trans Fat: 0.1g | Sodium: 113.8mg | Potassium: 373.1mg | Fiber: 7.3g | Sugar: 3.8g | Vitamin A: 5352.6IU | Vitamin C: 6.7mg | Vitamin D: 0.4µg | Calcium: 190.6mg | Iron: 2.1mg | Magnesium: 72.7mg | Phosphorus: 192.1mg | Zinc: 1.4mg