This easy Mango Overnight Oats with coconut milk is the most delicious overnight oat recipe for summer.
Enjoy the tropical flavors and a healthy breakfast at the same time loaded with proteins and fiber.
I love mango recipes Mango juice, Mango lassi or Vegan tropical smoothie mango taste great and its refreshing. So let me show you how to make a overnight oats mango recipe for breakfast.
What Are Mango Overnight Oats?
Mango Overnight Oats is the tropical version of the classic overnight oats loaded with fresh mango and coconut.
Like all overnight oats recipes, it's made by soaking oats overnight in coconut milk to create a delicious creamy texture.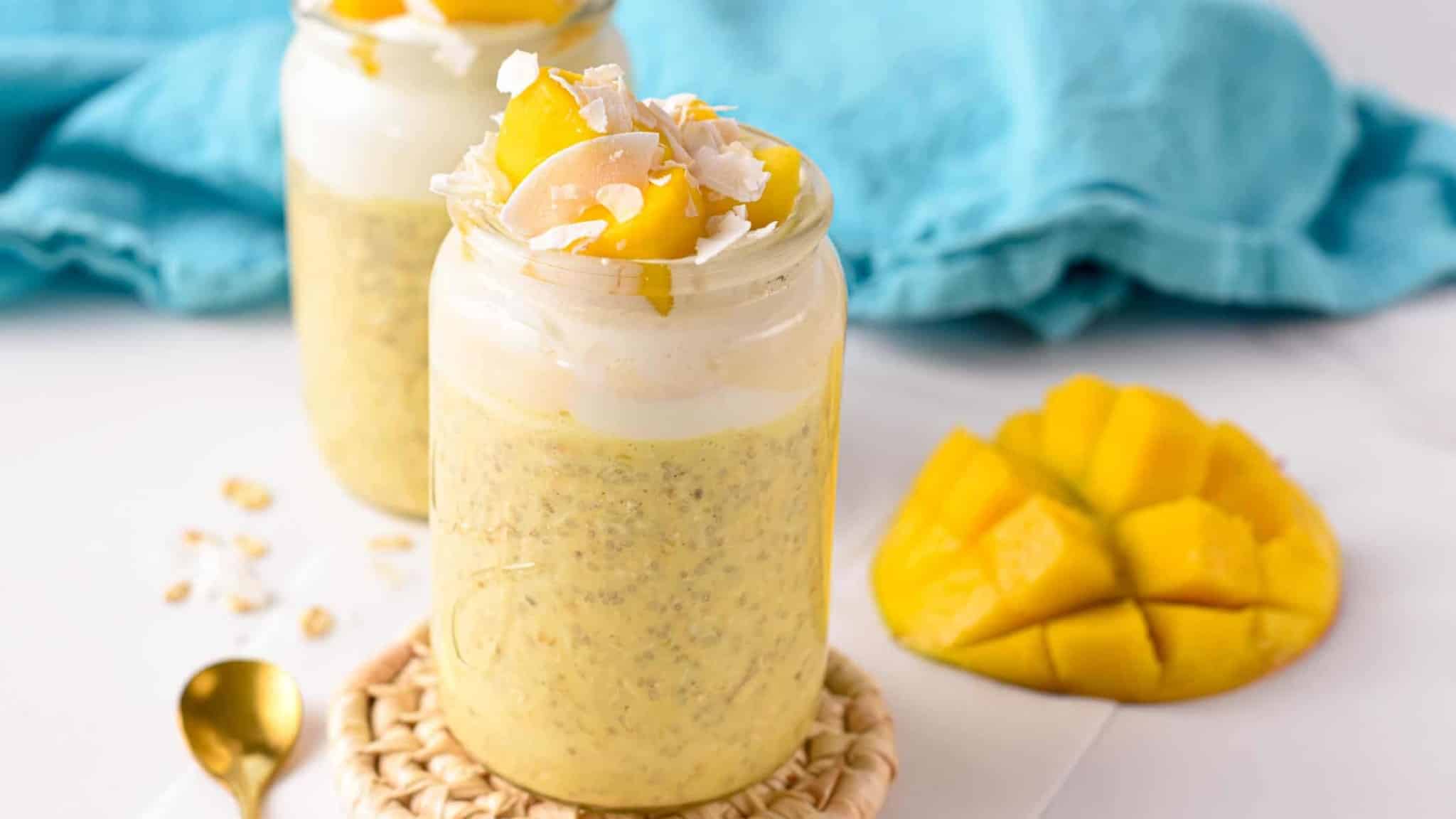 How To Make Mango Overnight Oats
Making overnight oats is not only easy, it's quite a fun little activity that can be enjoyed by children and grown-ups alike.
Ingredients
Fresh Mango – Use a ripe mango that is soft to the touch to guarantee a good sweetness. You can use thawed frozen mango cubes as well, but nothing beats fresh fruits.
Coconut Milk – While you can use any plant-based milk, coconut milk and mango is a delicious tropical combination.
Old-Fashioned Rolled Oats – Pick gluten-free certified oats if you are gluten-intolerant.
Chia Seeds – chia seeds are a superfood that contributes to making overnight oats very creamy and consistent.
Unsweetened Shredded Coconut – Or coconut flakes.
Coconut Yogurt – Or any unsweetened yogurt you love.
Vanilla Extract
Liquid Sweetener – This is optional since mango is already very sweet. I recommend starting with no sweetener. Then, taste the recipe the next day and sweeten it to taste.
Making The Mango Milk
Compared to other classic overnight oats recipes, this mango overnight oats recipe is made from mango milk.
First, add fresh diced mango, coconut milk, vanilla extract, and sweetener to the jug of a blender.
Blend on the high-speed setting to form a smooth creamy milk.
Making The Overnight Oats Mixture
Then, in a large container add the dry ingredients: oats, shredded coconut, and chia seeds.
Stir the dry ingredients together then pour the mango milk on top of them.
Stir the mango overnight oats mixture to combine and close the lid.
Transfer the mixture to the fridge and give it a quick stir after an hour to prevent the seeds and oats from sinking to the bottom.
Serving Mango Overnight Oats
The next morning, or at least 3 hours later, take the container out of the fridge.
Transfer some of the mango overnight oats mixture into a jar and alternate with a layer of coconut yogurt.
Top the jar with pieces of fresh mango and coconut flakes.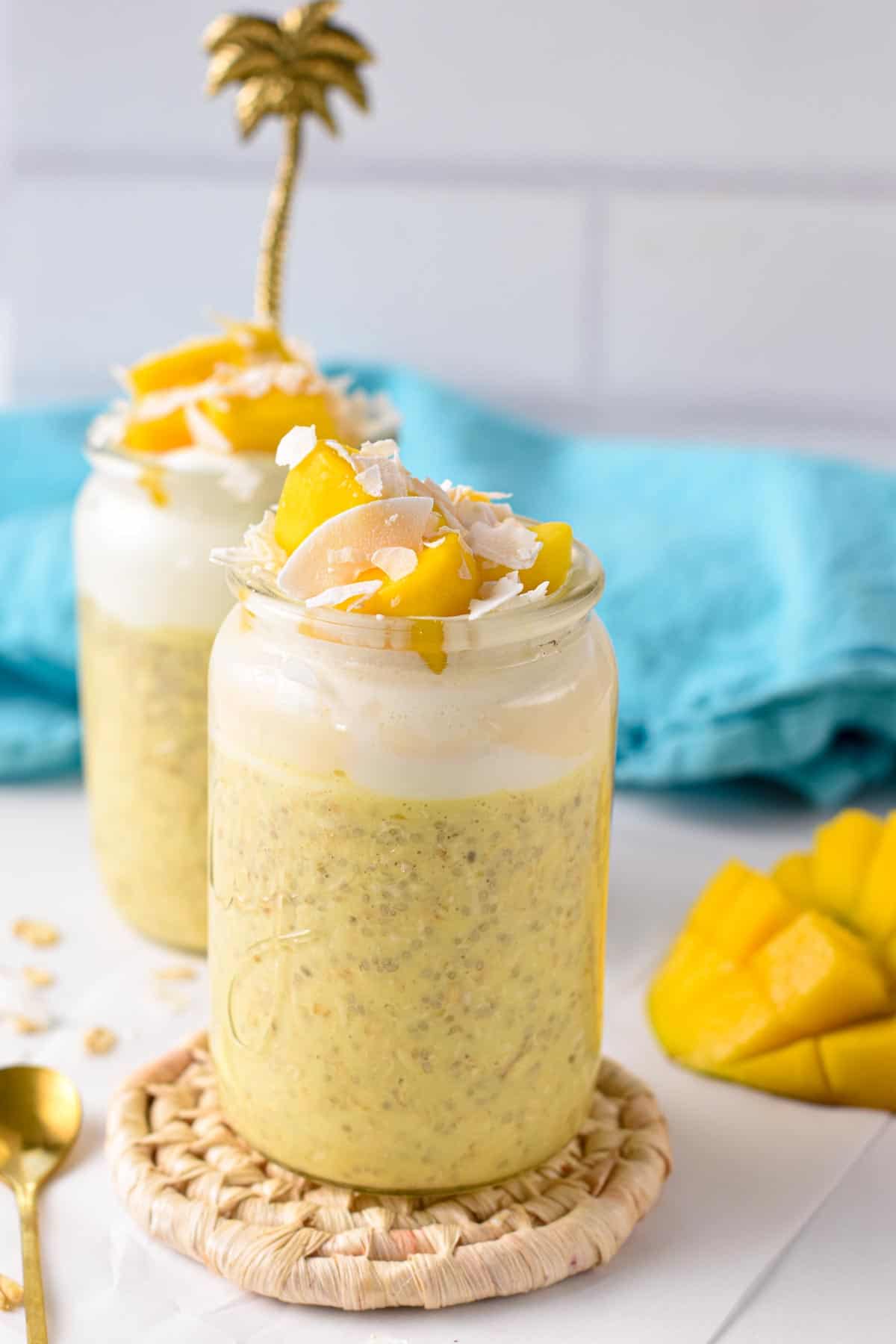 Storage Instructions
You can store the Mango Overnight Oats for up to 4 days in the fridge in an airtight container or in 8-ounce glass mason jars.
Freeze them in airtight jars and thaw each jar in the fridge the day before.
Allergy Swaps
You can make the following substitutions to make these Mango Overnight Oats work with the following allergies:
Gluten-Free – Make sure to use certified gluten-free oats.
Coconut-Free – Replace the coconut milk with another dairy-free milk such as almond milk. Swap the coconut yogurt for soy yogurt or cashew yogurt.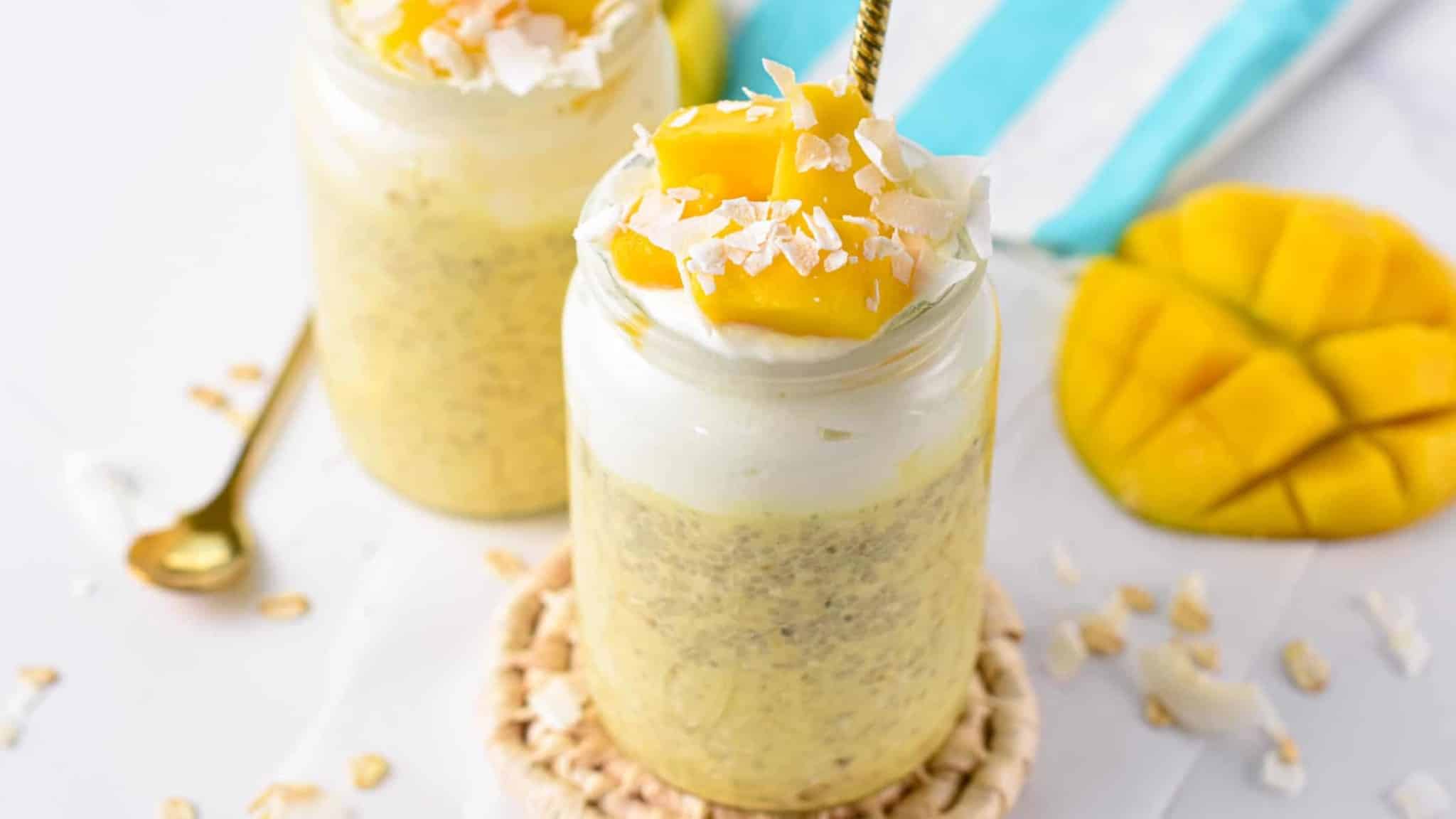 More Overnight Oats Recipes
If you like healthy overnight oats recipes, you'll love these: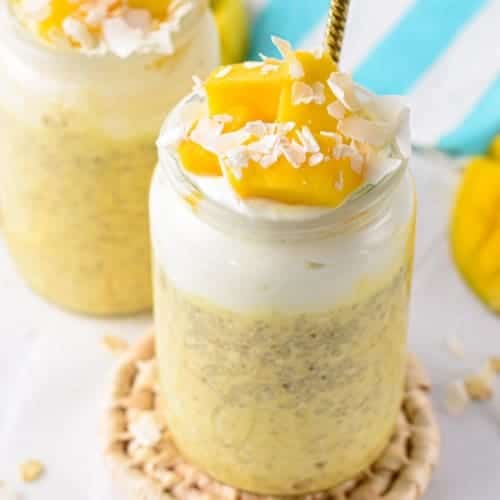 Mango Overnight Oats
These Mango Overnight Oats is a creamy tropical breakfast perfect for summer with a delicious coconut mango flavor.
Pin
Print
Review
Instructions
In a glass container, add oats, chia seeds, and shredded coconut. Stir to combine.

In a high-speed blender, blend mango, coconut milk, coconut yogurt, sweetener, and vanilla extract.

Pour over the dry ingredients and stir well to combine.

Close the lid of the container, and place it in the fridge overnight, or for at least 3 hours. I recommend stirring after 1 hour to prevent the seeds from sinking to the bottom of the container. If the texture looks too thick, add a splash of coconut milk and stir.
Topping – The next day, or before refrigerating
Serve with a layer of coconut yogurt on top and fresh diced mango and coconut flakes on top.
Storage
Store for up to 4 days in the fridge in an airtight container or in 8-ounce glass mason jars. Freeze in airtight jars and thaw in the fridge the day before.
Share on Facebook
Pin Recipe
Nutrition
Serving:
1
serving
|
Calories:
279.2
kcal
|
Carbohydrates:
36.1
g
|
Protein:
6.3
g
|
Fat:
15
g
|
Saturated Fat:
10.2
g
|
Polyunsaturated Fat:
2
g
|
Monounsaturated Fat:
1.1
g
|
Trans Fat:
0.01
g
|
Sodium:
15.3
mg
|
Potassium:
322.9
mg
|
Fiber:
6.3
g
|
Sugar:
12.6
g
|
Vitamin A:
672.7
IU
|
Vitamin C:
29.5
mg
|
Vitamin D:
0.6
µg
|
Calcium:
118.8
mg
|
Iron:
2.2
mg
|
Magnesium:
71.2
mg
|
Phosphorus:
188.9
mg
|
Zinc:
1.4
mg