This fruity, super creamy tropical smoothie is a vegan mango pineapple banana smoothie perfect for celebrating summer!
What's A Tropical Smoothie?
Tropical Smoothies are the best snack or breakfast to fix your sweet tooth with a variety of nutrients.
The key to making a nourishing tropical smoothie is to blend several varieties of fruits.
In fact, each fruit has different essential vitamins and minerals, and combining fruits increases the nutrient profile of your vegan smoothie.
With a combination of 3 tropical fruits, this mango pineapple banana smoothie is the best to reach your daily vitamins.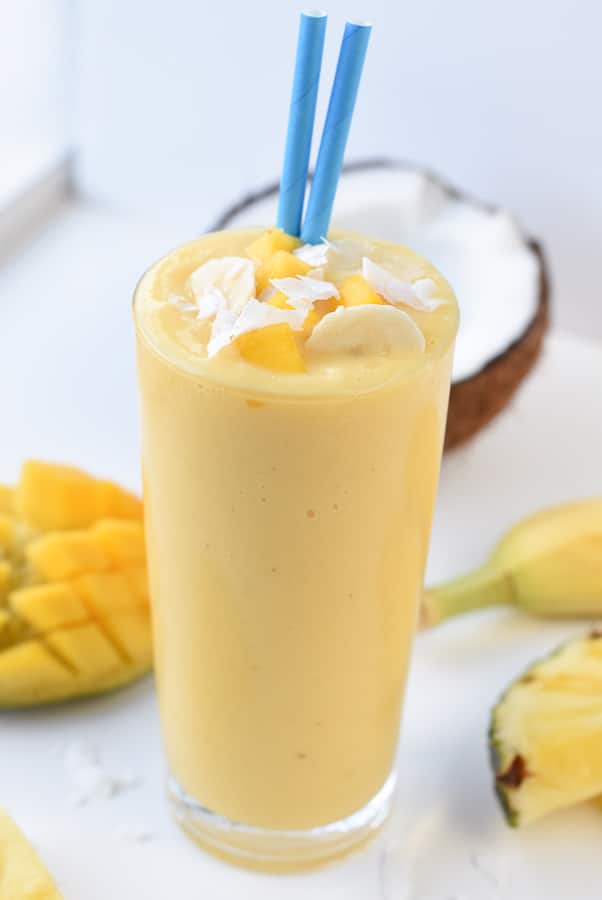 How To Make A Tropical Smoothie
It is always easy to make smoothies at home, but the most difficult part is to reach the perfect texture.
To make a super creamy smooth, you need to combine frozen fruits with fresh fruits.
This is the absolute rule to avoid an overly frothy smoothie that will be impossible to slurp with a straw.
Ingredients
So let's see the simple ingredients you need to blend to make this tropical smoothie.
It's basically a combo of frozen fruit and fresh fruit, all tropical fruits that match together.
Frozen mango – I recommend you buy a bag of frozen mango chunks, organic if you like, this makes it easier to use straight away.
Frozen pineapple – same, buy frozen pineapple chunks to avoid the hassle of cutting a fresh one that you then have to freeze.
Banana – fresh, slightly ripe for adding a boost of sweetness. It enhances the tropical flavor and gives the best texture. I don't recommend using a frozen banana for the smoothie. Too many frozen fruits in a smoothie would turn the recipe into a smoothie bowl, thick, only eatable with a spoon.
Coconut milk – canned coconut milk gives the best results and avoids additives like gums present in coconut milk beverages. Both options will work but for the creamiest texture and a healthy pineapple mango smoothie, choose canned coconut milk. Note that light canned coconut milk is perfect too and contains less saturated fat.
Coconut water – or water if you don't have this at home. Coconut water is the secret ingredient to boost the tropical flavor of this easy vegan smoothie.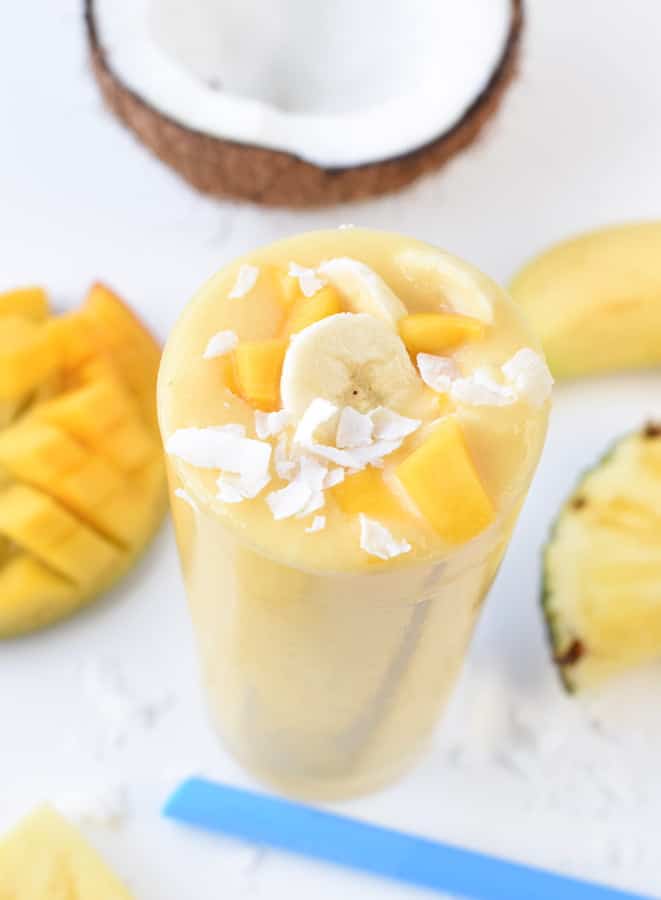 Blending
It is crucial to place the unfrozen fruit at the bottom of the blender jug.
Then, add the frozen fruits on top and finally the liquids.
In fact, if you add the frozen fruits first, the blade will have difficulties starting, and you may have to stop the blender and scrape ingredients, helping it spin easier.
Serving Tropical Smoothie
It is much more beautiful to serve this vegan smoothie with toppings like
Fresh fruit – tropical fruit like a slice of banana, diced mango.
Fresh ginger – a touch of grated ginger marry well with tropical fruit.
Desiccated coconut – flakes or shredded.
Seeds – hemp seeds, chia seeds, sunflower seeds, or pumpkin seeds.
Granola – you can serve this recipe as a smoothie bowl and add some vegan granola on top. To make the recipe thicker, replace fresh fruit – banana with frozen banana.
Storing Smoothies
Always serve a smoothie immediately to ensure the best texture.
You can't really store smoothies very well in the fridge without losing their frothy texture.
They will still taste good after 24 hours in the fridge, but they will taste more like fruit juice.
Tropical Smoothie Nutrition
This is definitely a healthy pineapple mango smoothie, with no dairy and with nutrient-dense fruits like banana.
In fact, vegan options of smoothie recipes are often healthier simply because they don't contain milk or yogurt. Milk is high in sugar from lactose and saturated fats.
Therefore, vegan smoothies made with plant-based milk like unsweetened almond milk or coconut milk reduce sugar, calories, and saturated fat.
Plus, pineapple and mango are high vitamin C fruits with 79% and 60% of vitamin C per 100g. This makes this vegan tropical smoothie a perfect energy booster for your breakfast.
Tropical Smoothies Variations
You can use this tropical smoothie recipe to make a range of tropical smoothie recipes.
Let's see the add-ons you can use in this recipe:
Chia seed, hemp seeds – perfect to boost this tropical smoothie recipe with fiber, proteins, and healthy fats.
Tropical green smoothie – add 1/3 cup of baby spinach or kale in the recipe and 1/4 avocado! Another way to make a green smoothie is to add 1/2 teaspoon of spirulina, a high vegan protein with a blue-green color.
Protein shake – add 1 tablespoon of vanilla protein powder to make a tropical protein shake!
Passion fruit – this is not easy to find, but the addition of passion fruit will enhance the tropical flavors of this vegan smoothie.
Orange juice or pineapple juice – you can replace coconut water with orange juice to boost vitamin C and more fresh fruit!
Lime juice or lemon juice – for a touch of acidity.
More Healthy Smoothie Recipes
I have a few other healthy smoothie recipes for you to try, including:
Made this mango pineapple banana smoothie yet? Share a picture with me on Instagram. I love to see what you are making!
Tropical Smoothie
This refreshing vegan smoothie is the perfect drink to enjoy all the summer fruits.
Pin
Print
Review
Instructions
In a blender jug, add banana pieces, frozen mango chunks, frozen pineapple chunks, canned coconut milk, and coconut water.

Blend on high speed until smooth. You can thin out the smoothie by adding a splash more of coconut water.
Share on Facebook
Pin Recipe
Nutrition
Serving:
1
smoothie
|
Calories:
279
kcal
|
Carbohydrates:
39
g
|
Protein:
3
g
|
Fat:
15
g
|
Saturated Fat:
13
g
|
Sodium:
43
mg
|
Potassium:
642
mg
|
Fiber:
5
g
|
Sugar:
28
g
|
Vitamin A:
973
IU
|
Vitamin C:
76
mg
|
Calcium:
37
mg
|
Iron:
1
mg