This Vegan Mango Lassi recipe is a refreshing Mango drink with delicious Indian spices.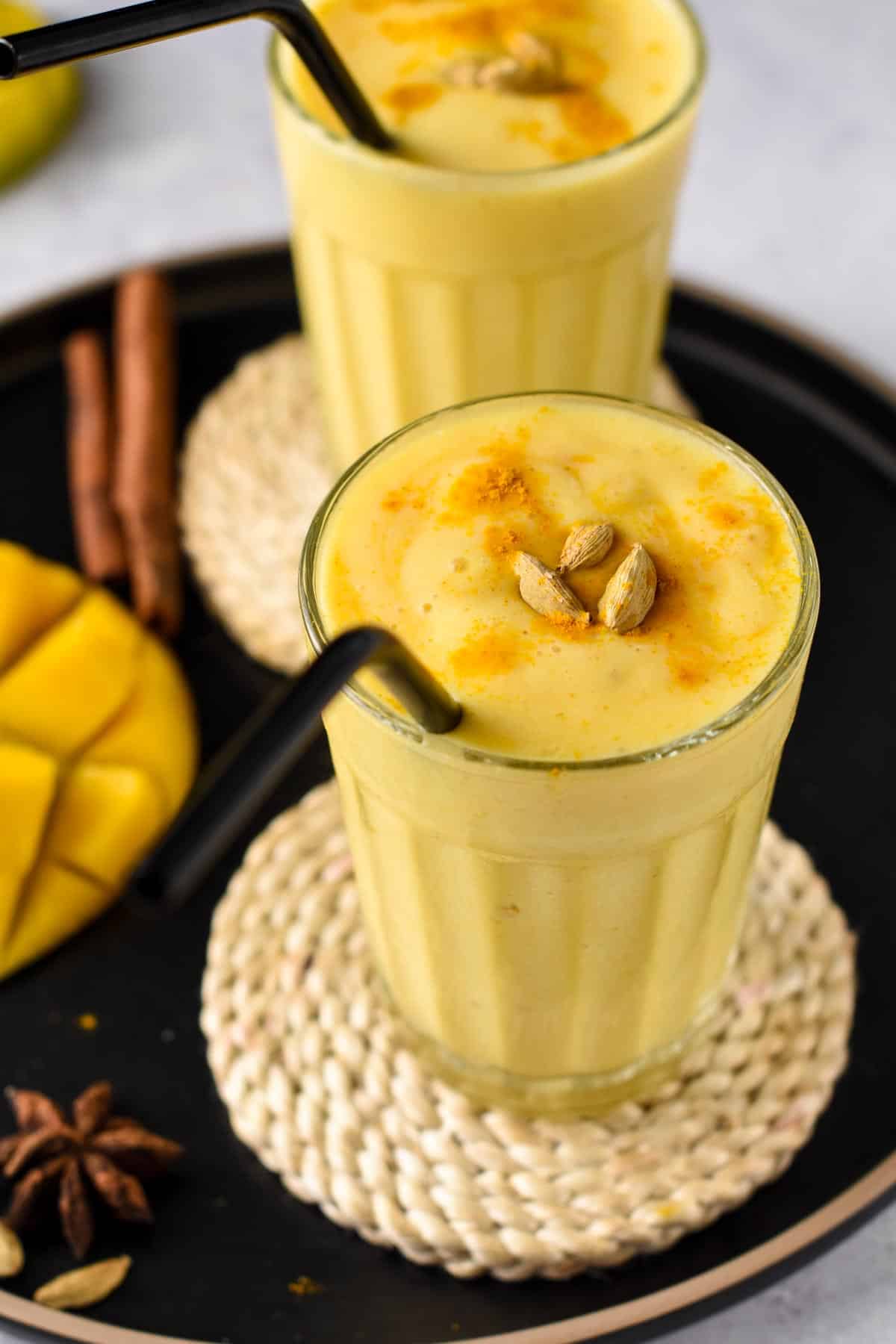 What Is Vegan Mango Lassi?
Mango Lassi is a classic Indian drink classically made with a blend of yogurt, water, spices, and pureed mango.
Lassi is therefore very similar to buttermilk in the way it's made, it's not just a mango milkshake.
Why You'll Love This Recipe
My Mango Lassi recipe tastes exactly like the lassi you'd drink in your favorite Indian restaurant, but it's also:
Dairy-Free
Ready In 2 Minutes
Made With 3 Basic Ingredients + Spices
Classic Lassi Taste
How To Vegan Make Mango Lassi
A Mango Lassi is very easy to make in a blender in less than 2 minutes.
Ingredients
All you need are:
Fresh Mango – Choose a ripe mango that is soft to the touch to guarantee a vibrant orange color with a super-sweet flavor. In fact, hard mangoes are often green in the center and make lassi recipes bitter.
Plant-Based Milk – The classic Lassi recipe uses full-fat milk. To make it creamy and dairy-free, we used coconut milk. Coconut and mango go perfectly together but oat milk or soy milk are good alternatives to coconut.
Plant-Based Yogurt – The Indian classic mango lassi uses full-fat Greek yogurt, but we used coconut yogurt. Coconut yogurt is naturally full of probiotics and unsweetened for a healthy twist to the classic recipe.
Optional Add-Ons
All the below ingredients are optional, you can add them all or just a few of them.
They really bring the classic Lassi flavors so it's highly recommended, especially the cardamon!
Ground Cardamom
Liquid sweetener
Cinnamon
Ginger
How To Cut A Mango
Slice the two cheeks of the mango, leaving a thin slice along the wider edge aligned with the seed.
Use the knife to form a criss-cross pattern on the two mango cheeks and flip them inside out to make it easier to cut them from the peel.
Repeat for the other side and then shave what's left of the mango flesh around the seed.
Blending The Lassi
Making this mango lassi is as easy as pouring all the ingredients into the jug of a high-speed blender and blending the mixture for about a minute.
Check the consistency of the mango lassi and adjust it with more mango for a thicker texture or more milk for a thinner lassi.
Transfer the mango lassi into large serving glasses and add a paper straw.
Frequently Asked Questions
Find below my answers to the most commonly asked questions about this recipe.
How Many Calories Are In Mango Lassi?
The nutrition profile of lassi recipes depends very much on the type of milk or yogurt you use.
A classic mango lassi recipe is high in saturated fat and sugar from the dairy products, but this healthy lassi recipe is better for you with only 230 calories per serving.
Is Mango Lassi Vegan?
No, the classic mango lassi recipe is not vegan because it uses regular whole milk yogurt and milk.
However, it's very easy to make a vegan Mango lassi.
As mentioned above all you need is your favorite vegan yogurt and favorite dairy-free milk. Then, you are good to go.
Can I Use Canned Mango?
Yes, you can replace the fresh mango with canned mango pulp and blend the lassi the same way.
It would also work with canned mango puree.
However, my preference is always to use the freshest produce possible, so try fresh fruits.
What Are The Best Mango Variety?
There are dozen of mango varieties that exist. If you have the chance of having a choice, the best mangoes are arguably the Alphonso mangoes.
More Fresh Vegan Drinks
If you like fresh plant-based drinks, you'll love these: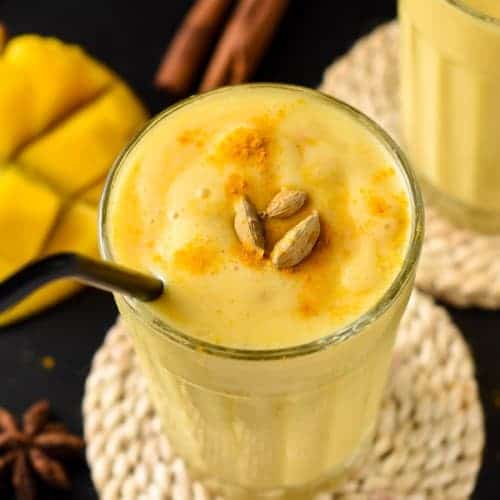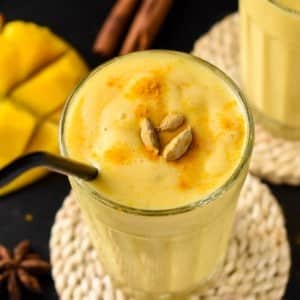 Vegan Mango Lassi
This Vegan Mango Lassi recipe is a refreshing Mango drink with delicious Indian spices
Pin
Print
Review
Servings: 1 serving
Calories: 230.6 kcal
Ingredients
Optional
1 teaspoon Liquid Sweetener - You can use maple syrup, agave syrup, or coconut nectar
½ cup Ice Cubes
Instructions
In a high-speed blender, add all ingredients, including the ice cubes for a frothier texture, and sweetener for a boost of sweetness.

Blend on high speed until smooth and creamy. Add more milk if too thick to your liking or more ice cubes for a frothier texture.

Serve immediately with a pinch of turmeric and cardamom pods.
Share on Facebook
Pin Recipe
Nutrition
Serving: 1serving | Calories: 230.6kcal | Carbohydrates: 42.2g | Protein: 5.7g | Fat: 5.7g | Saturated Fat: 0.4g | Polyunsaturated Fat: 1.6g | Monounsaturated Fat: 1.7g | Sodium: 348.1mg | Potassium: 300.7mg | Fiber: 4.3g | Sugar: 33.1g | Vitamin A: 1786.8IU | Vitamin C: 75.2mg | Vitamin D: 1.5µg | Calcium: 486.1mg | Iron: 0.4mg | Magnesium: 20.6mg | Phosphorus: 24.3mg | Zinc: 0.3mg