Protein Chocolate Chip Cookies
These easy Protein Chocolate Chip Cookies are perfect as a fulfilling, nourishing snack or post-workout snack with 10.4 grams of protein per cookie.
They are perfect for boosting your body with plant-based proteins and nutrients. Plus, these are egg-free, dairy-free, and gluten-free, so everyone can enjoy one of these protein cookies.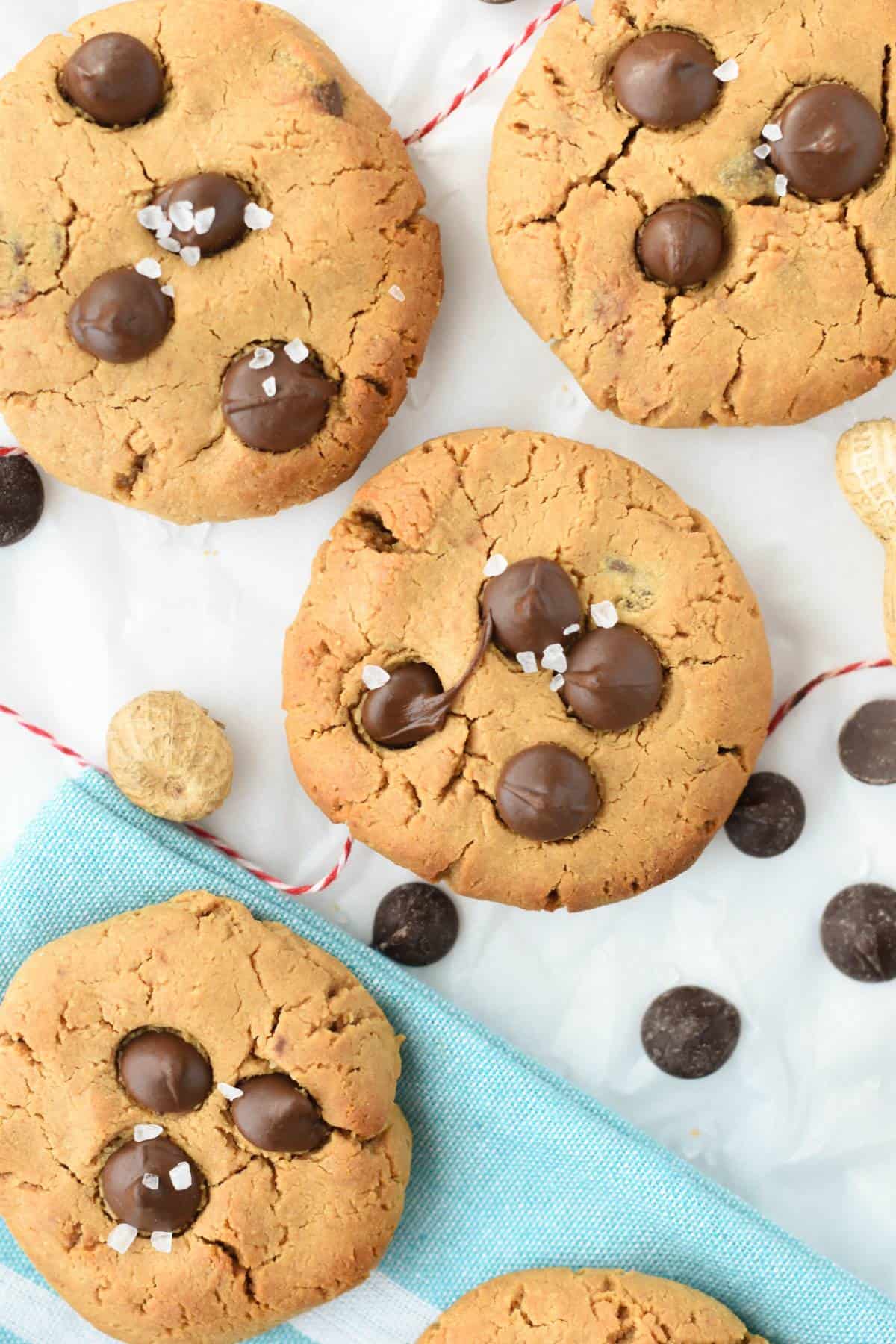 What Are Protein Chocolate Chip Cookies?
Protein Chocolate Chip Cookies are simple, healthy cookies that are made with ingredients naturally high in protein and supercharged with protein powder.
This recipe is ready in less than 25 minutes for a delicious post-workout snack or just to use as a hunger-buster.
How To Make Protein Chocolate Chips Cookies
There's nothing easier than making homemade protein cookies.
It's also cheaper and healthier than the store-bought version that often contains additives of sugar-free sweeteners that can upset your gut health, such as maltitol.
Ingredients
So, to make a healthy chocolate chip protein cookie recipe at home, you need:
Natural Peanut Butter or drippy fresh almond butter to decrease saturated fat and increase protein per serving.
Maple Syrup or brown rice syrup for a low GI protein cookie recipe.
Sea salt
Unsweetened almond milk or any dairy-free milk you love, like oat milk or coconut milk.
Vanilla extract
Plant-based protein powder – we used peanut protein powder for this recipe, but soy protein powder or pea protein powder also works like a charm!
Coconut flour – it's a great low-carb flour to make healthy protein cookies with a lot of fiber and keep your blood sugar levels stable.
Baking soda
Dark Chocolate chips – any chocolate chips work, but dark chocolate chips often contain less sugar to keep the cookies healthy. Dark Chocolate is not always vegan, read how to find vegan dark chocolate.
Making the Protein Cookies
First, in a small bowl, combine the liquid ingredients. Then, whisk fresh peanut butter, maple syrup, almond milk, and vanilla extract in a mixing bowl.
Then, stir in the dry ingredients: vanilla protein powder, coconut flour, baking soda, and chocolate chips.
The dough should be soft, not wet or dry, and easy to squeeze to form cookie dough balls.
If the dough is too wet, add a bit more protein powder, 1 teaspoon at a time, or more coconut flour, 1 teaspoon per addition each time.
On the other hand, if the added proteins dry out the dough too much, add a touch more almond milk.
Forming Cookies
Form 12 cookie dough balls and place each onto a cookie sheet covered with parchment paper.
Leave half thumb space between each cookie and then slightly press down each cookie.
Bake in preheated oven 350°F (180°C) until the cookies are golden brown on the top, and slightly crackle.
It takes between 10 to 15 minutes to bake, depending on your oven and how much you flattened your cookies.
Cooling Down
Cool down on a wire rack for 15 minutes or until they reach room temperature.
Store in an airtight cookie jar at room temperature for up 4 days or freeze in zip-lock bags for later.
Thaw at room temperature the day before serving your cookies.
Allergy Swaps
Nut-free – you can replace peanut butter with sunflower seed butter and almond milk with coconut milk or oat milk.
Sugar-free – this recipe makes delicious keto protein cookies. If you use your favorite keto protein powder, swap the maple syrup for sugar-free maple syrup and use sugar-free chocolate chips. If the batter is slightly dry, add 1 tablespoon of extra almond milk until the dough comes together.
Coconut-free- replace the 4 tablespoons of coconut flour with 2/3 cup of almond flour or all-purpose flour.
Protein powder – you can use any of your favorite protein powder in this recipe, including chocolate protein powder as well. Note that we didn't try the recipe with whey protein powder that is not vegan-friendly. However, I know that some of you follow us and don't obviously use 100% plant-based ingredients, so let me warn you that whey protein powder often soaks up way more liquids in the recipe. So, if you use it, the cookie batter can be on the dry side and require more almond milk.
Storage Instructions
You can store the Protein Chocolate Chip Cookies in an airtight cookie jar at room temperature for up to 4 days.
They can also be frozen for up to 3 months and thawed the day before eating.

More Protein Recipes
We love to create plant-based protein recipes as a healthy, fulfilling snack post-workout or when a sweet craving comes.
Below I listed our favorite protein recipes for you to try.
Did you make this protein chocolate chips cookie recipe? Share a comment or review below to let me know how it went,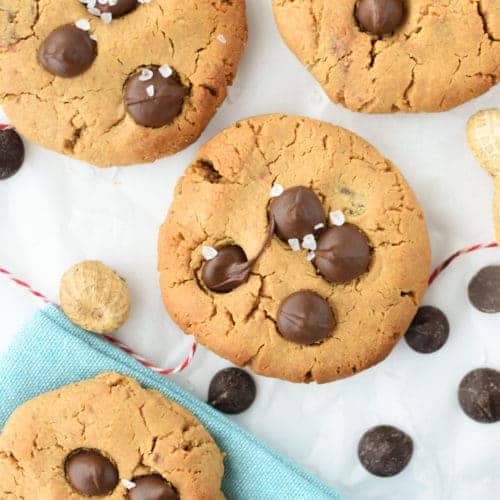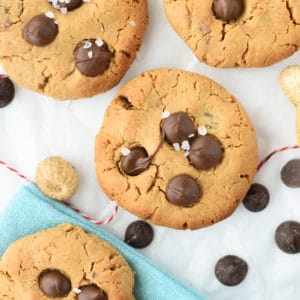 Protein Chocolate Chip Cookies
These Protein Chocolate Chip Cookies are perfect as a healthy, fulfilling snack to fix a sweet craving or to reload your proteins after a workout.
Pin
Print
Review
Save
Saved Recipes
Instructions
Preheat the oven to 350°F (180°C). Line a cookie sheet with parchment paper. Set aside.

In a mixing bowl, combine natural drippy peanut butter with maple syrup, almond milk, and vanilla extract.

Stir in coconut flour, protein powder, baking soda, salt, and chocolate chips until a soft cookie dough forms. If the dough is too runny or wet, add more coconut flour 1 teaspoon at a time or more protein powder 1 tablespoon at a time. This issue occurs if your protein powder is less water-absorbent than the brand we used.

Shape 12 cookie dough balls and place them on the cookie sheet leaving a thumb between each.

Press down each cookie with the palm of your hand and sprinkle extra chocolate chips on top of each cookie if desired.

Bake for 15-18 minutes or until they crackle on top and become golden brown.

Gently slide a spatula under each cookie to transfer to a cooling rack. Cool down on a cooling rack for 1 hour before eating – they firm up as they cool down.
Storage
Store in an airtight cookie jar at room temperature for up to 4 days or freeze and thaw the day before eating.
Share on Facebook
Pin Recipe
Nutrition
Serving:
1
cookie
|
Calories:
215.8
kcal
|
Carbohydrates:
16.9
g
|
Protein:
10.4
g
|
Fat:
12.8
g
|
Saturated Fat:
3.7
g
|
Polyunsaturated Fat:
3.1
g
|
Monounsaturated Fat:
5.3
g
|
Cholesterol:
0.1
mg
|
Sodium:
246.6
mg
|
Potassium:
193.7
mg
|
Fiber:
2.3
g
|
Sugar:
11.5
g
|
Vitamin A:
0.4
IU
|
Vitamin B12:
0.1
µg
|
Vitamin C:
0.1
mg
|
Calcium:
44.9
mg
|
Iron:
1.7
mg
|
Magnesium:
37.3
mg
|
Phosphorus:
81.7
mg
|
Zinc:
0.9
mg