Protein Fluff Recipe (30g Protein, Vegan)
This easy, high-protein fluff recipe is ideal for serving as a post-workout breakfast and refueling your protein intake without sugar.
With 30 grams of protein per serving, this dessert-like breakfast bowl will fill you up for hours!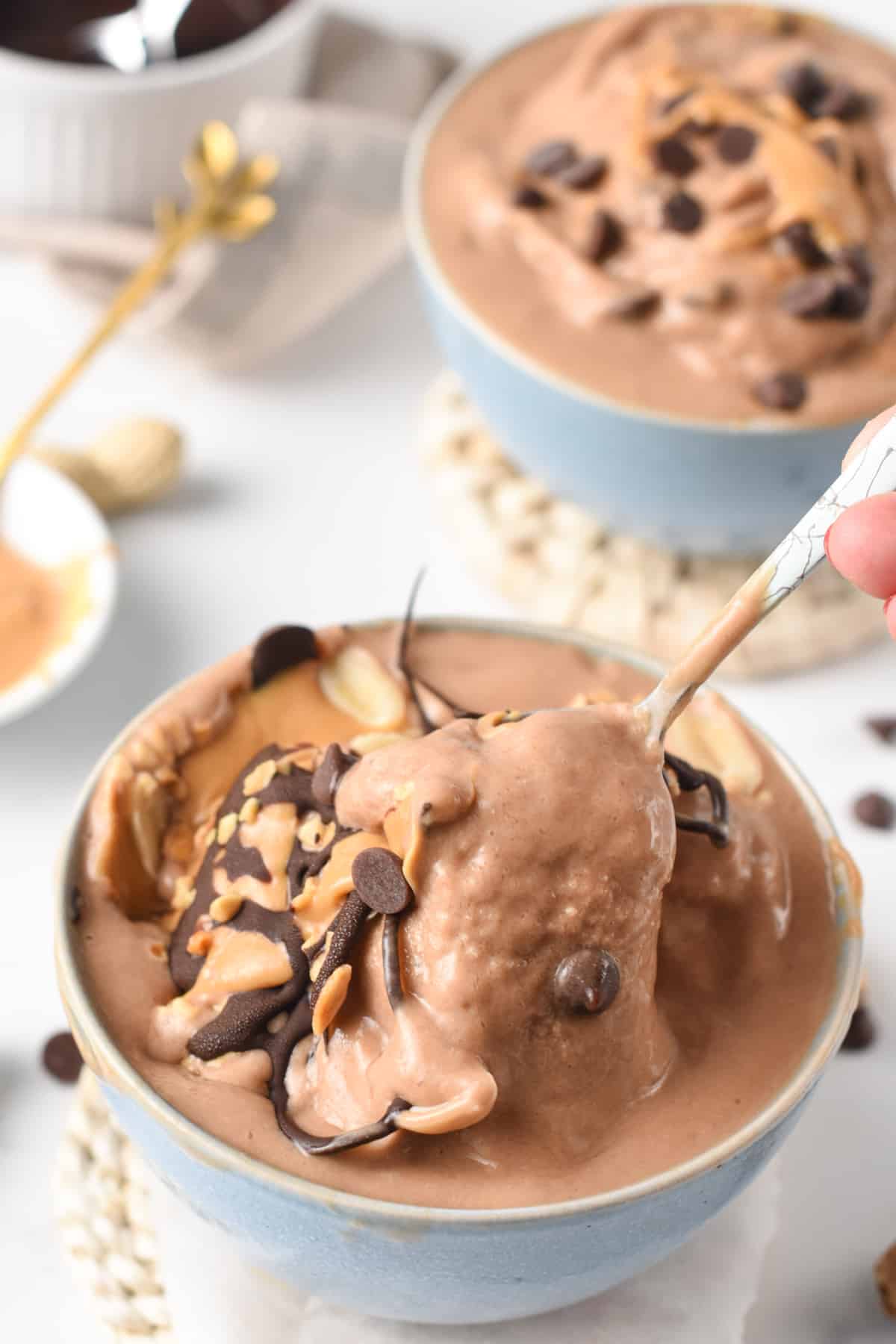 Protein powder is the best way to not only add plant-based protein to your diet but also all the amino acids needed on a vegan diet.
Here I am sharing a protein breakfast recipe, also known as protein fluff. It tastes like a dessert with all the benefits of wholesome, nourishing ingredients to start the day right!
The recipe is naturally:
Vegan
Low-carb keto-friendly
Gluten-free
Grain-free
Dairy-free

What's Protein Fluff?
Protein fluff is a healthy low-fat, low-carb protein snack or breakfast to eat after a workout with a similar texture to marshmallow fluff minus the sugar.
How To Make Protein Fluff
It's very easy to make a protein fluff at home. All you need is a food processor or high-speed blender.
So first, make sure you have a food processor to make this recipe.
Then, gather the ingredients below:
Ingredients
Ice cubes
Protein powder– you can use any protein powder brand. We tested the recipe with plant-based protein powder: pea protein powder and almond protein powder. Feel free to use a chocolate protein powder to make a chocolate protein fluff.
Peanut butter powder – we used PB2. This adds a lovely peanut butter flavor to the fluff, extra proteins without the saturated fats from regular peanut butter.
Unsweetened almond milk or any non-dairy milk you love, including coconut milk, oat milk, etc.
Sweetener of choice – you can use an unrefined liquid sweetener like maple syrup or a crystal sweetener like sugar-free erythritol for a low-carb option.
Xanthan gum or psyllium husk – this is the magic ingredients that turn the recipe into a fluffy texture. You can swap this by ground psyllium husk – jump to the recipe below for measurement – both work with different ratios.
Measuring Ingredients
The key to making a good fluff with protein powder is to measure the ingredients carefully.
In fact, too many ice cubes make the recipe icy, too much protein powder makes the mixture too thick, and finally, too much gum turns the fluff into a slime.
Trust me; this doesn't taste good at all, so measure everything carefully before you start.
Processing Ingredients
The first step is to process all the ingredients – except the xanthan gum – on the high-speed setting for about 1 minute.
You may need to stop the food processor or blender, scrape down the sides of the bowl and repeat until the mixture is thick and frothy like a protein shake.
I personably use a Vitamix and use the tamper tool to push the ingredients next to the blade without stopping the process.
Gently Adding Xanthan Gum
Add 1/2 teaspoon of xanthan gum and blend/process again on the high-speed setting for at least 30 seconds.
The mixture will grow in volume and gets fluffy. If after that time it's not fluffy enough, add up to 1/4 teaspoon of gum, always processing 30 seconds on high speed after each addition until the texture is to your liking.
Adjusting The Texture
Sometimes, fluff can be too slimy or too liquid.
If too slimy, it means you added too much xanthan gum. You can correct that by adding almond milk.
If too liquid, increase the amount of xanthan gum.
After each addition, always process on the high-speed setting for 30 seconds to combine.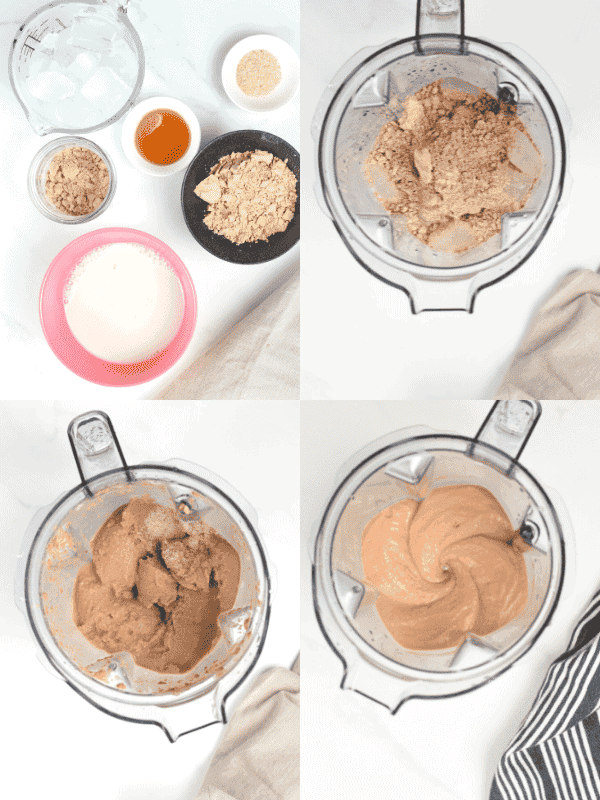 Serving
You can serve your protein fluff plain as a delicious, refreshing breakfast bowl or add some toppings below for extra flavors and texture.
Fresh berries
Chopped peanuts
Sliced almonds
Peanut butter
Almond butter
Chocolate chips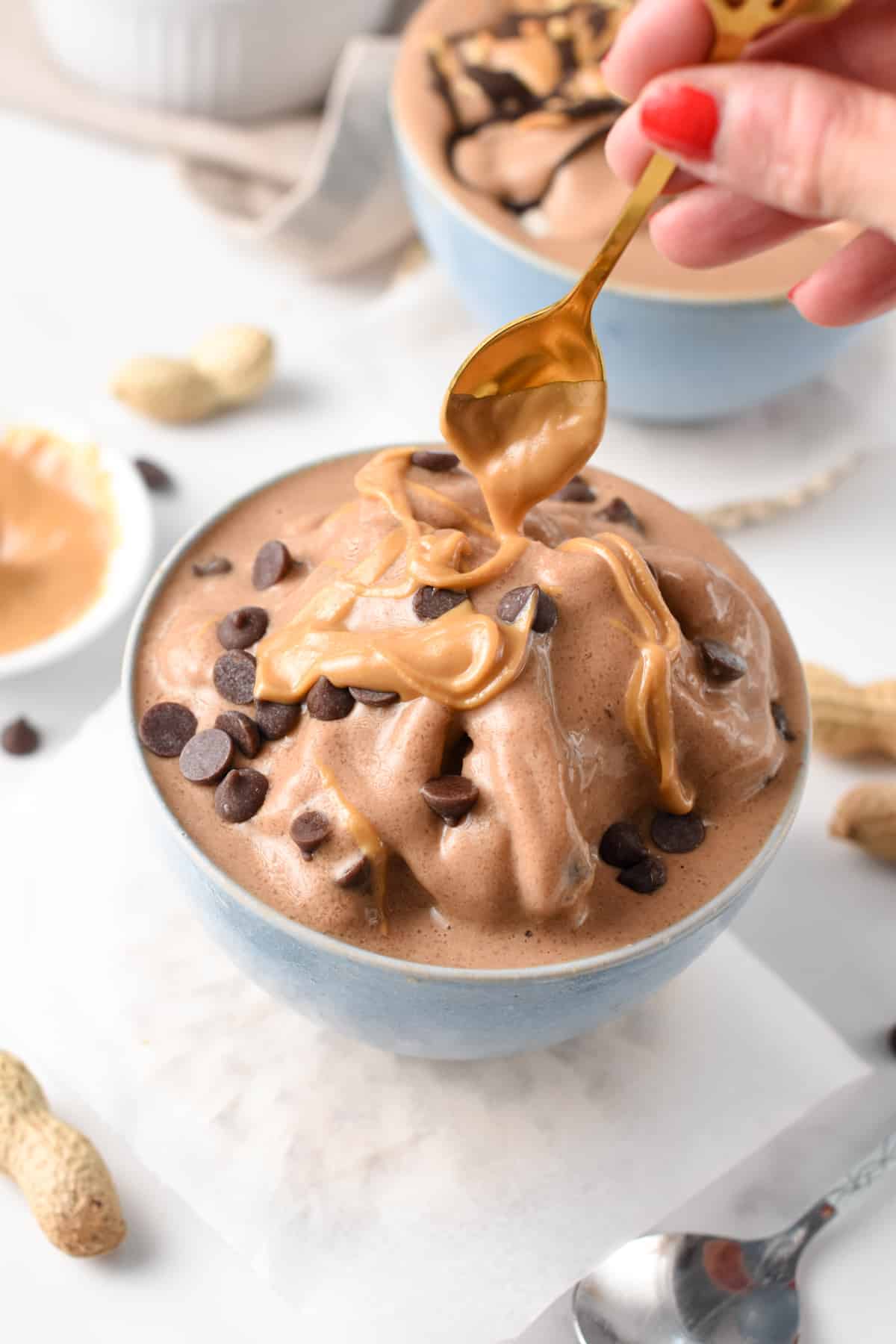 Frequently Asked Questions
Can You Freeze Protein Fluff?
No, you can't freeze protein fluff simply because it's made of ice cubes that have been blended and melted.
To avoid bacteria proliferation, it's not recommended to freeze a defrosted product, even water.
Also, in terms of texture, the fluff will harden strongly in the freezer and won't get its fluffy texture back when defrosted.
Can I Skip The Xanthan Gum?
You can replace the xanthan gum with ground psyllium husk, the result in texture is slightly different, but some people with IBS symptoms prefer husk to xantham gum, so it's a great swap.
Have you made this protein fluff? Share a review or comment below to connect with me,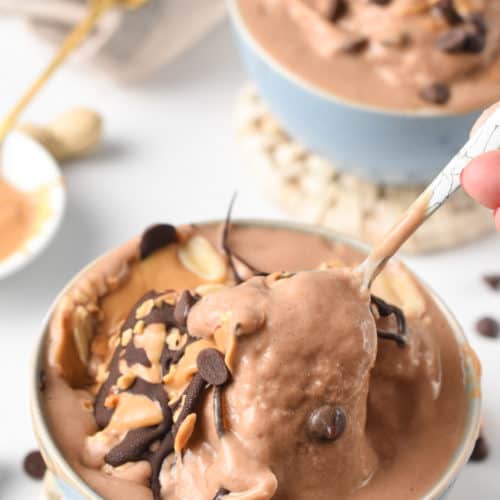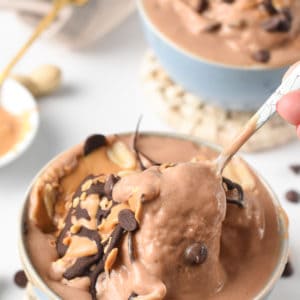 Protein Fluff
This Protein Fluff is an easy recipe to serve as a fulfilling, refreshing post-workout breakfast bowl.
Pin
Print
Review
Servings: 1 serving
Calories: 222.6 kcal
Instructions
In a high-speed blender, Vitamix-style (you need the tamper attachment for this recipe, otherwise, use a food processor): add ice cubes, almond milk, protein powder, powdered peanut butter, and sweetener of choice.

Blend/process on the high-speed setting for about 1 minute, stopping the food processor if needed to scrape down the sides of the bowl or use the blender tamper attachment to push down the mixture next to the blade to encourage blending. Repeat until all the ice is processed into a creamy mixture.

Stop the food processor/blender and add 1/2 teaspoon xanthan gum (or 2 teaspoons of ground psyllium husk), and process/blend 30 seconds on high speed until it turns into a fluffy mixture. Add the extra 1/4 teaspoon of husk/gum if the mixture doesn't fluff as much as you like. But watch out! Adding too much of these ingredients turns the mixture slimy, and some people may find it difficult to digest. If too slimy, add more almond milk to compensate.

Serve immediately, don't store in the fridge or freezer.
Share on Facebook
Pin Recipe
Nutrition
Serving: 1bowl | Calories: 222.6kcal | Carbohydrates: 4.7g | Protein: 31.8g | Fat: 8.7g | Saturated Fat: 0.8g | Polyunsaturated Fat: 2.3g | Monounsaturated Fat: 3.1g | Sodium: 735.6mg | Potassium: 56.8mg | Fiber: 2.2g | Sugar: 0.9g | Calcium: 261.2mg | Iron: 7.7mg | Magnesium: 15.3mg | Phosphorus: 32.6mg | Zinc: 0.3mg