No bake cookie dough bars
No-bake cookie dough bars are melt-in-your-mouth peanut butter bars with crunchy chocolate chips and soft chocolate ganache. An easy nourishing edible cookie dough recipe perfect as a vegan snack for the cookie-dough lovers.
Who doesn't love eating raw cookie dough from the spoon? Obviously, we all do and I am here to tell you that this can actually be nourishing, and good for you! Say hello to my healthy no-bake cookie dough bars! They will fix your cookie dough cravings in no time. Plus, they are loaded with plant-based protein, fiber, and even a touch of iron! So keep reading to learn how to make your no-bake vegan cookie dough bars.
ingredients
The good news is, edible cookie dough bars are easy to make. All you need are only need 7 pantry ingredients to make these peanut butter cookie dough bars. Let's see what you need to start making these easy vegan snack bars.
– make sure you are using pure with no added and no added oil or the result would be very different. You can also use any you like, a fresh jar of natural will work too.
or agave syrup or brown rice syrup for a low GI option. You need a liquid sweetener to make this no-bake

recipe

. Don't be tempted to use or , the won't come together.
– I am using blanched fine for the best result. meal would also work but it'd leave a gritty texture and would dry out the bars. You can also use as a swap to , the same amount of thin will work very well.
Coconut – you need this combination of flavor to reach the best texture. Don't replace coconut by more or all-purpose . In fact, is not edible, only coconut , nut flours, and seed are safe options
– if you don't like coconut flavor, use refined , it has no coconut flavor. However, you can't use liquid oil or vegan . The success of this is to use solid oil at room temperature like or

cocoa

.
Dark – is delicious with vegan dark or vegan milk . Yes, you can find tagged as 'milk' but vegan. Some healthy brands use a combination of ,

cocoa

and non-dairy milk in their recipe.
Vanilla extract
Salt
Dark

How to make this recipe?
This healthy cookie dough bar recipe is made with raw ingredients to preserve all the nutrients and vitamins from each ingredient. Plus, it is a refined sugar-free recipe, there is no high-sugar ingredients like sweetened condensed milk or white sugar needed in this recipe.
Step 1:
First, you need to combine the liquid ingredients together in a small bowl. Bring maple syrup, creamy peanut butter coconut oil, and vanilla extract in a bowl and stir until smooth. If your peanut butter is not runny, or you used cashew butter or almond butter, the mixture may be difficult to stir. You can bring all the ingredients in the microwave for 20 seconds to soften the nut butter. Otherwise, you can combine all the ingredients in a saucepan under medium heat. Next, stir in the raw flours: coconut flour and almond flour (or oat flour if preferred!) and sea salt. Finally, add the vegan chocolate chips halfway. Be careful, if you warm the liquid mixture it can melt the chocolate chips so wait a few minutes for the dough to reach room temperature before stirring in any kind of chocolate chip. Note that this peanut butter layer can also be made in a food processor. However, if you do so, I recommend adding the chocolate chips using the pulse mode of the food processor to avoid breaking the chips.

How to shape no-bake snack bars
Step 2: press in a of slice pan
The size of the pan will impact the thickness of the cookie dough layer. I like to use a slice pan 9 inches x 6 inches or a square pan 8 inches x 8 inches. For a thick cookie, dough layer opt for a loaf pan 9 inches x 5 inches. Also, always make sure you line the oaf pan with parchment paper or the cookie dough bars will be difficult to lift out of the pan.
Step 3:
You must chill the dough to set the cookie dough layer before adding the chocolate ganache on top. The fastest method is to pop the loaf pan in the freezer for 10 minutes or in the fridge for 30 minutes.
Step 4: or
The chocolate layer on top of these healthy cookie dough bars is a soft chocolate ganache that combines dark chocolate and coconut oil. Of course, you can add some flavor to the ganache adding a pinch of sea salt or 1 teaspoon of vanilla extract. Also, if you don't have coconut oil the chocolate ganache can be made with vegan unsalted butter too!
Can I use ?
You can turn these no-bake cookie dough bars into a post-workout vegan protein-loaded snack. To do so, simply replace coconut flour by vanilla pea protein powder. You will reach a similar cookie dough texture. However, depending on the protein powder brand you use, you may have to add less or more powder to reach the same texture. If your protein powder dries out the batter significantly, add a splash of unsweetened almond milk or water into the batter until it's soft and easy to spread as a bar. See my video for tips on raw cookie dough texture.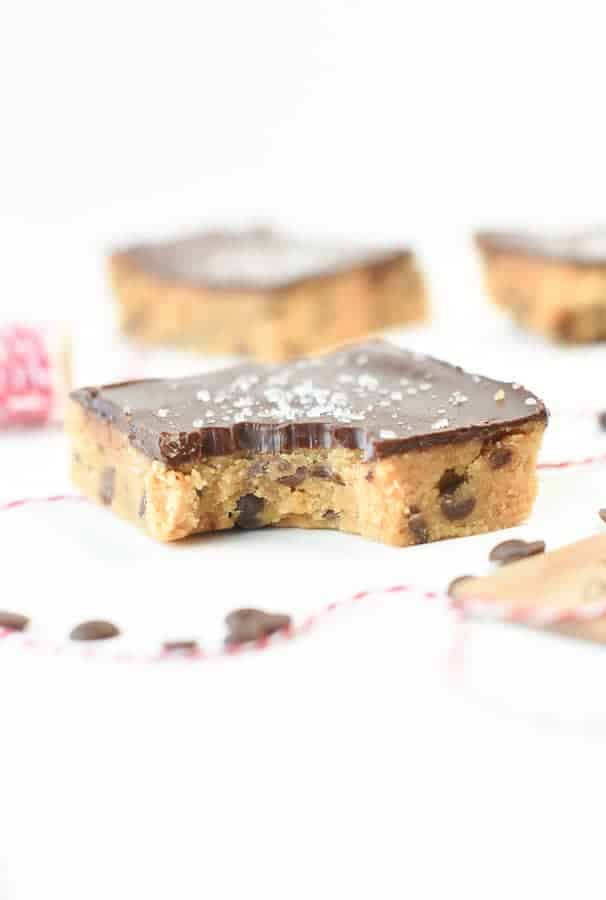 Can I make nut-free cookie dough bars?
You can make these bars nut-free. Below are some simple swaps to make a nut-free vegan snack.
Peanut butter – replace by sunflower seed butter. Make sure the jar is fresh, with oil on top, or the bars would be dry.
Almond flour – replace by the same amount of oat flour or sesame flour or sunflower seed flour. Those three nut-free flours can be made at home by blending the seeds or oat in a blender for 30 seconds.

More vegan snack recipes
I have plenty of no-bake vegan snack recipes for you to try. My favorites are:
No-bake Coconut Cookies
No-bake coconut cookies are easy healthy vegan cookies similar to no-bake coconut macaroons with a tangy coconut lime flavor and delicious chocolate shell. The perfect snack or dessert for any occasion.
Check out this recipe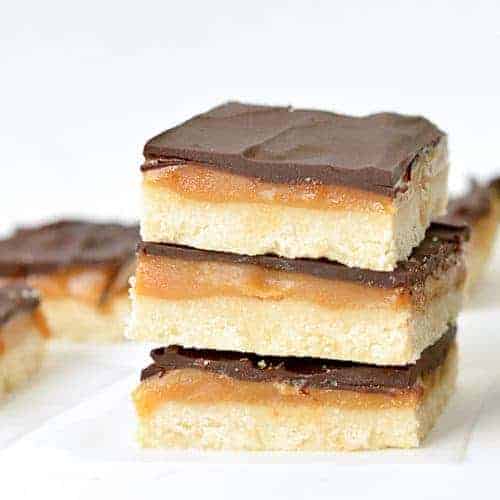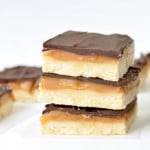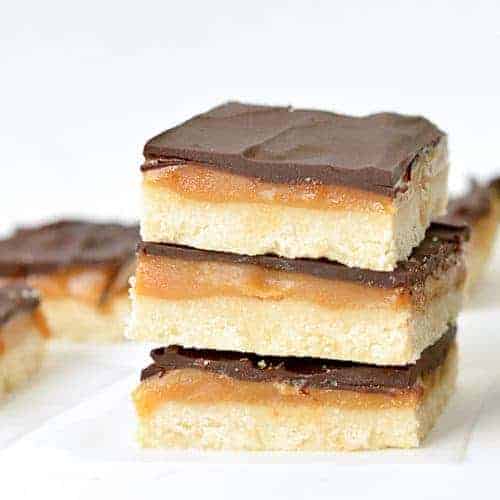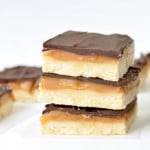 No-bake Vegan Millionaire Shortbread
A healthier version of the classic millionaire bars 100% refined sugar-free, gluten-free and dairy-free
Check out this recipe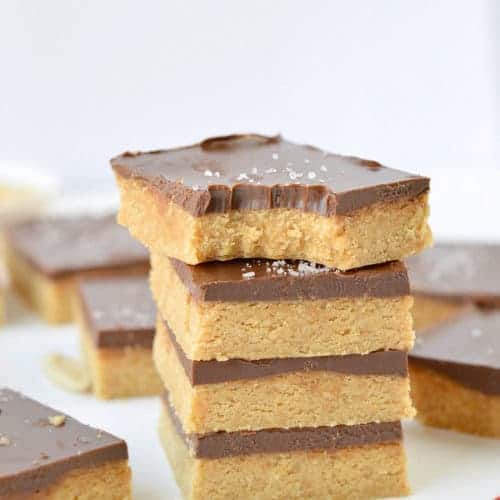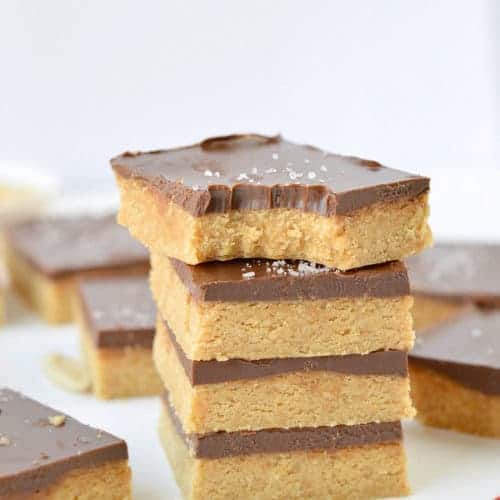 Made these peanut butter cookie dough bars? Share a picture with me on Instagram! I love to see what you are making.
Your friend, Carine
No bake cookie dough bars
A sweet no bake chocolate chips cookie dough peanut butter bar perfect as a vegan dessert or snack, refined sugar free and gluten free
Instructions
Line a 9 inches x 6 inches baking pan with parchment paper. Set aside.

In a large mixing bowl, add peanut butter, maple syrup, salt and vanilla.

Combine with a spatula until creamy and evenly combine.

Stir in almond flour and coconut flour, use the spatula at first then when it start to be difficult to stir, add in chocolate chips and knead the dough with your hands.

Transfer the cookie dough into the prepared pan and press the dough all over the pan to form an even layer.

Freeze

10 minutes

while you are making the chocolate layer

In a small sauce pan, add dark chocolate and coconut oil. Melt on medium heat, stirring all the time to avoid the chocolate to burn. You can also melt the mixture in the microwave using a glass bowl Microwave 1 minute, stir and repeat by 30 seconds burst until the chocolate is fully melted.

Remove the bar from the freezer and pour the melted chocolate onto the cookie dough bar.

Spread the chocolate evenly, then bring the pan back to the freezer for

5-8 minutes

until the chocolate layer is set.
Storage
Cut into 16 small bars and store bars into an airtight box in the fridge for up to 2 weeks. You can also freeze the bars in a zip bag. Defrost on the counter for 2 hours before eating or enjoy half frozen.
Notes
Maple syrup swap: use any liquid sweetener you like, same amount. The best vegan options are brown rice syrup, agave syrup, coconut nectar or date syrup. Coconut flour swap: can be replaced by the same amount of vanilla pea protein powder for a boost of protein Peanut butter swap: you can use almond butter, cashew butter or sunflower seed butter. Make sure the nut butter is fresh, runny, with oil on top or the bars would be dry
Share on Facebook
Pin Recipe
Nutrition
Serving:
1
bar
|
Calories:
253
kcal
|
Carbohydrates:
19
g
|
Protein:
7
g
|
Fat:
18
g
|
Saturated Fat:
7
g
|
Cholesterol:
1
mg
|
Sodium:
159
mg
|
Potassium:
207
mg
|
Fiber:
3
g
|
Sugar:
11
g
|
Calcium:
54
mg
|
Iron:
1
mg