These Healthy Tahini Cookies with chocolate chips are chewy almond flour tahini cookies perfect as a sweet, healthy snack any time of the day.
Bonus, these healthy tahini cookies are also vegan, gluten-free, refined-sugar-free, and egg-free!

Are Tahini Cookies Healthy?
Not all tahini cookie recipes are healthy. Most tahini cookie recipes are made with:
High-carb flour
Lots of sugar
High-fat dairy like butter
Eggs
As a result, even if tahini paste is a healthy source of fat and plant-based proteins, tahini cookies are not healthy.
However, it's easy to make healthy tahini cookies at home using wholesome, unrefined ingredients.
Why You'll Love Healthy Tahini Cookies
Healthy tahini cookies are wholesome cookies made with healthy natural ingredients. They are naturally:
Vegan
Gluten-free
Refined-sugar-free
Grain-free
Paleo
A healthy tahini cookie is lower in carbs, refined sugar-free, gluten-free, and egg-free.
These tahini cookies are made with almond flour, a low-carb flour that keeps your blood sugar steady.
It's also using a small amount of refined sugar-free sweeteners compared to regular tahini cookies.
Finally, they don't use oil, eggs, or butter, only the natural fats from tahini paste which means they are vegan-friendly tahini cookies.
How To Make Healthy Tahini Cookies
It's easy to make delicious tahini cookies using almond flour, no eggs, no butter, or dairy.
The trick is to combine plant-based ingredients that provide a chewy, soft cookie texture and bind the almond flour together.
Ingredients For Healthy Tahini Cookies
Let's see the few simple ingredients you need to start making these vegan, gluten-free tahini cookies with almond flour at home:
Almond flour – it is preferable to use ultra-fine, golden-white almond flour instead of almond meal. In fact, almond flour comes from ground, blanched almonds, and its texture is not as coarse as almond meal. Therefore, it doesn't make cookies gritty or grainy, and the cookie color comes out perfectly white golden.
Tahini paste – that's the secret ingredient to chewy cookies! Also known as sesame paste. This is the paste you are using in most classic hummus recipes. If you can't find this ingredient, swap for fresh runny peanut butter or almond butter. These options work great as long as your nut butter is fresh and drippy.
Maple syrup – or any unrefined liquid sweetener you love like agave syrup or brown rice syrup to decrease the carbs and GI of these vegan cookies.
Unsweetened almond milk or any dairy-free milk of your choice.
Baking powder – or half the amount of baking soda if preferred.
Salt – optional but recommended for extra flavor!
Vegan dark chocolate chips
Vanilla extract or almond extract – optional but tastes great and boosts the cookie flavor.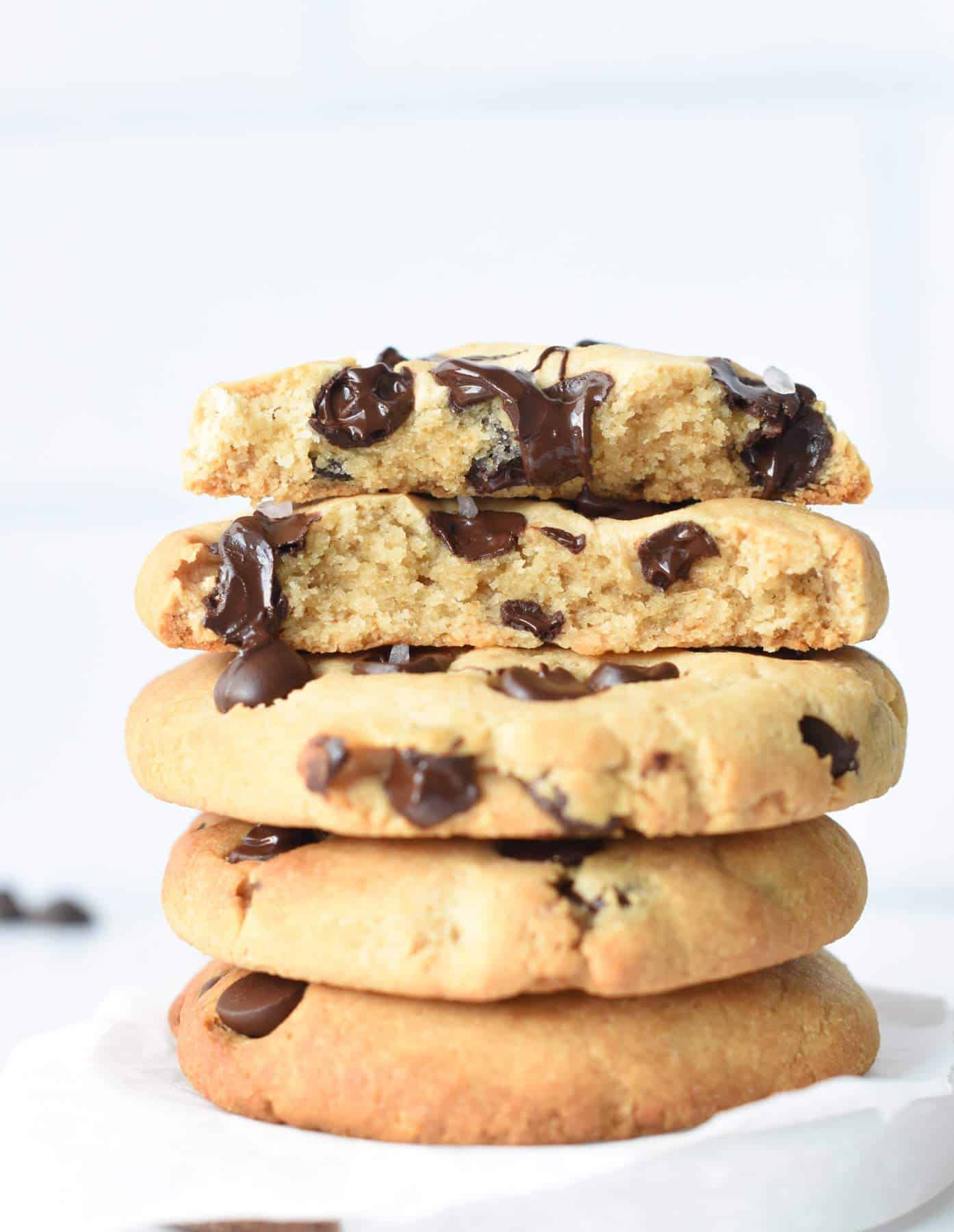 Using Ingredients At Room Temperature
First, bring all the dry ingredients into a large mixing bowl, including almond flour, baking powder, and sea salt.
Then, make a well in the center of the dry ingredients and add the liquid ingredients. Make sure you don't use cold almond milk, bring the milk to room temperature first!
I also recommend using lukewarm tahini paste. Pop the tahini paste jar for 30 seconds in a microwave or bain-marie to soften the seed butter.
In fact, if your seed butter is too dry or the oil and butter separate in the jar, you won't create soft, moist cookies.
Form The Cookie Dough
Stir all your ingredients together with a spoon or silicone spatula.
Don't hesitate to use your hands to squeeze the cookie dough and bring all the ingredients together.
Stir in the chocolate chips at the end and chill the dough for 10 minutes before baking
Preheat the oven to 350°F (180°C). Line a cookie sheet with lightly oiled parchment paper.
You can use coconut oil or vegan butter to oil your paper.
I like to use melted coconut oil to rub on the paper to prevent the cookies from sticking to it.
Finally, roll the cookie dough between the palm of your hands to form balls and place each ball 1 thumb apart on the baking sheet.
Baking
Bake your cookies for 15 minutes or until the top is golden brown. Note that almond flour cookies are always slightly soft when out of the oven.
First, cool for a few minutes on the cookie tray, then cool completely on a cooling tack.
Finally, wait for about 30 minutes to appreciate the chewy texture of these vegan tahini cookies.
Storage Instructions
These are vegan tahini chocolate chip cookies. It means they are egg-free and dairy-free cookies.
Consequently, these healthy tahini cookies store well at room temperature in a cookie jar for 3 days.
You can also store them in an airtight container in the fridge for up to 6 days.
However, the outside might become sticky if in contact with moisture. Make sure they are stored in a sealed container.
You can also freeze these chocolate chip cookies in zip-lock bags or sealed jars. Thaw at room temperature 3 hours before serving.
Also, you can freeze the dough to make ahead some healthy tahini cookies later.
Frequently Asked Questions
Can I Swap Tahini For Peanut Butter?
Yes, you can swap tahini for peanut butter in tahini cookies. You can also swap tahini for any other nut butter or seed butter you have in the pantry, including:
Sunflower seed butter – watch out. This adds a greenish color to cookies.
Almond butter
Cashew butter
Can I Make Keto Tahini Cookies?
Yes, you can use this tahini cookie recipe to make sugar-free keto cookies. Almond flour is naturally low-carb, so it's perfect for vegan keto cookies.
However, you will have to swap:
Maple syrup for a sugar-free maple-flavored syrup.
Chocolate chips with sugar-free chocolate chips.
Which Tahini Should I Use In Tahini Cookies?
There are two kinds of tahini paste available at the grocery store.
Unhulled tahini
Hulled tahini
The difference between hulled tahini and unhulled tahini is the type of sesame seeds used to make the paste.
Both sesame butter can be used for tahini cookies, but you should be aware of the difference in taste and texture. and color it gives to tahini cookies
Hulled tahini is made of skinless sesame seeds – the outer shell of the seed has been removed.
As a result, hulled tahini is the best for tahini cookies because it is:
Creamier – don't dry out cookie dough
Lighter in color – makes beautiful golden cookies
Less bitter – no bitter aftertaste
Hulled tahini is made of whole sesame seeds. It results in a paste that is:
Darker in color
Heavier, difficult to stir, and less oily
Slightly bitter
Can I Replace The Almond Flour?
You can replace almond flour in these tahini cookies with the same amount of:
All-purpose flour – The texture will be crunchier, not soft, and chewy
Oat flour
Sunflower seed flour
Sesame seed flour
You can't use coconut flour for these tahini cookies.
More Healthy Cookie Recipes
I love creating healthy baked food and especially healthy cookie recipes. Below I listed my favorite almond flour cookie recipes for you to try.
They are all vegan, gluten-free, and paleo cookie recipes for everyday baking:
Have you tried these tahini cookies yet? Connect with me and share a review or comment below!
Your friends, Carine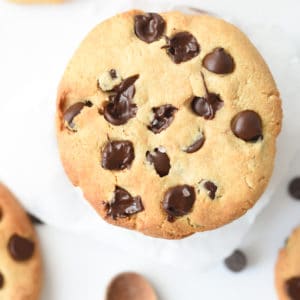 Healthy Tahini Cookies
Healthy Tahini Cookies with almond flour and melted chocolate chips for a healthy snack 100% vegan, gluten-free, and dairy-free.
Pin
Print
Review
Servings: 16 cookies
Calories: 145 kcal
Instructions
Preheat the oven to 350°F (180°C).

Line a cookie tray with parchment paper. Set aside.

In a large mixing bowl, add almond flour, baking powder, salt, maple syrup, fresh tahini paste, and unsweetened almond milk (lukewarm, not cold).

Combine with a spoon until it forms a crumbly dough, then stir in the vegan dark chocolate chips.

Use your hands to gather the pieces of dough into a cookie dough ball. The dough should be soft and easy to bring together. If it is too dry, which may happen when using almond meal, add 1 tablespoon of extra almond milk to bring the ingredients together.

Using a cookie scoop, scoop the dough to shape 16 small cookies. Place each cookie dough ball onto a baking tray.

Slightly press the top of each cookie to flatten slightly. The cookie won't expand while baking, so shape them as you like, thinner they get crispier, thicker they stay softer/chewier in the center.

Bake at 350°F (180°C) for 12-15 minutes or until the sides are golden brown. The center stays soft, and white in color. The cookies will harden and get chewy at room temperature.

Cool the cookies down on a cookie rack for at least 2 hours to enjoy their best flavor and texture.
Storage
Store the cookies in a cookie jar for up to 1 week.
Notes
Low sugar – replace maple syrup with either Monk fruit syrup (keto-friendly, no sugar) or brown rice syrup.
Share on Facebook
Pin Recipe
Nutrition
Serving: 1cookie | Calories: 145kcal | Carbohydrates: 11g | Protein: 4g | Fat: 11g | Saturated Fat: 2g | Polyunsaturated Fat: 1g | Monounsaturated Fat: 1g | Cholesterol: 1mg | Sodium: 57mg | Potassium: 60mg | Fiber: 2g | Sugar: 6g | Vitamin A: 4IU | Vitamin B12: 1µg | Vitamin C: 1mg | Calcium: 63mg | Iron: 1mg | Magnesium: 7mg | Phosphorus: 44mg | Zinc: 1mg