This Dark Chocolate Hummus is an easy, healthy high-protein snack with the most delicious creamy chocolate texture.
If you love hummus, this dessert hummus recipe is a must-try.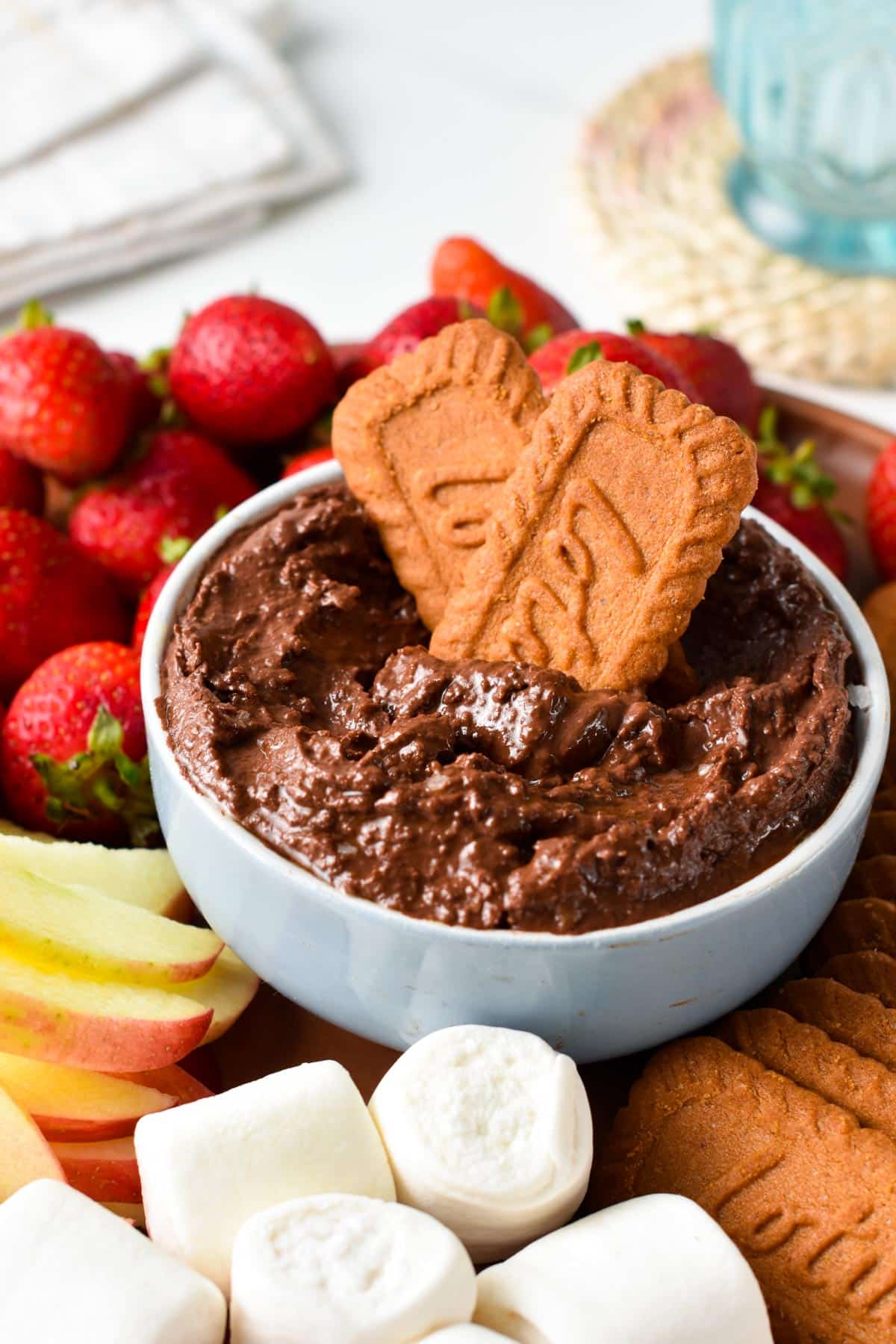 If you love chickpea-based dessert recipes, you might have tried my chickpea cookie dough and chickpea blondies.
This chocolate hummus recipe never disappoints, it's one of the best, easy and cheap snacks.
It's packed with protein, refined sugar-free, and so good as a dip to cookies, fruits, or simply spread on rice crackers or bread.
Let me show you how to whip up a batch of dessert hummus in less than 15 minutes.
What Is Chocolate Hummus?
Chocolate hummus is a dessert version of your favorite hummus recipe.
It's a thick chocolate dip or spread made from the same two basic ingredients that make hummus so good: chickpeas and tahini.
Then, dark chocolate, cocoa powder, and maple syrup are added to turn the recipe into a sweet chocolate dessert.
It's a great allergy-friendly dessert, 100% gluten-free, dairy-free, and vegan-friendly.
How To Make Dark Chocolate Hummus
There are many ways of making chocolate hummus.
I love the dark chocolate version for its stronger cocoa flavor. To achieve it, you have to add melted dark chocolate to the dip.
This is totally optional, but I love how it firms up the hummus in the fridge, turning this into a chocolate spread texture.
Ingredients
Canned Chickpeas – Drained
Tahini or any nut butter you love like peanut butter or almond butter.
Unsweetened Cocoa Powder
Dark Chocolate – I used 70% or 85% for a stronger cocoa flavor.
Maple Syrup or any liquid sweetener you love including agave syrup, rice syrup, or coconut nectar.
Almond Milk or any non-dairy milk you have at home.
Vanilla Extract
Sea Salt
Preparation
To make this chocolate hummus, you need a food processor or high-speed blender.
First, in a non-stick saucepan, add the dark chocolate, maple syrup, milk, and tahini.
Bring over low-medium heat, stir, and cook until the chocolate has melted and combined to the rest of the ingredients.
In a food processor bowl, add the drained cooked chickpeas, melted chocolate mixture, unsweetened cocoa powder, vanilla extract, and sea salt.
Process on medium-high speed until the texture is creamy and smooth.
You may have to stop the food processor a few times, scrape down the sides of the bowl with a spatula and continue bending until smooth.
If using a high-speed blender, use the tamper attachment to push the food next to the blade and run the blender on low speed – speed 3 of a Vitamix blender.
Creamier Texture
If you like your chocolate hummus ultra smooth, peel off the skin of each chickpea.
This is time-consuming, but it might be worth it if you don't like the slightly crunchy texture.
Storage Instructions
This dark chocolate hummus recipe lasts up to 4 or 5 days in an airtight container in the fridge.
You can freeze leftovers and thaw the hummus in the fridge the day before serving it.
Serving
Chocolate hummus is a healthy chocolate dessert or delicious high-protein snack.
You can use this as a dip to:
Or, refrigerate the hummus for a few hours until it firms up and spread it onto toast:
Wholegrain bread with banana slices and crushed peanuts
Rice cracker wheels
Recipes Pairing
Here are some tasty recipes to spread this chocolate hummus recipe.
Allergy Swaps
Here are some ingredient substitution ideas if you have food allergies to the one used in the recipe.
Nut-Free – Replace almond milk with any nut-free plant-based milk, including oat milk, coconut milk, or soy milk.
Tahini-Free – Swap the tahini for sunflower seed butter, pumpkin butter, peanut butter, or almond butter.
Sugar-Free – Swap the maple syrup for any sugar-free liquid sweetener.
Low-Saturated Fat – You can replace the tahini with a plant-based yogurt, like oat yogurt or soy yogurt.
Frequently Asked Questions
Below are my answers to your most frequent questions about this easy healthy chocolate dessert hummus recipe.
Can I Skip The Dark Chocolate?
You can make the chocolate hummus recipe without the melted chocolate.
Simply place all the ingredients in the bowl of the food processor and blend until smooth.
It won't have as strong a dark chocolate flavor, and the texture won't thicken as much in the fridge.
What Can I Do If The Texture Is Too Thick After Refrigerating?
You can thin out the hummus by adding more milk or a splash of water. Stir well to incorporate.
Can I Use Other Beans?
You can swap the chickpeas for canned, drained white beans with great results.
I didn't try with black beans, but it should also work. However, the flavor of black beans is slightly stronger, so you may have to increase the vanilla extract or sweetener.
How Can I Boost The Protein Content Of This Dessert?
A great way to boost proteins in your dessert is to swap cocoa powder for chocolate protein powder.
Feel free to use any plant-based chocolate powder from hemp, peanut, or soy proteins.
More Healthy Dessert Recipes
If you like this quick dessert, you'll love these other healthy dessert recipes.
Have you tried this chocolate hummus spread? Share a review or comment below.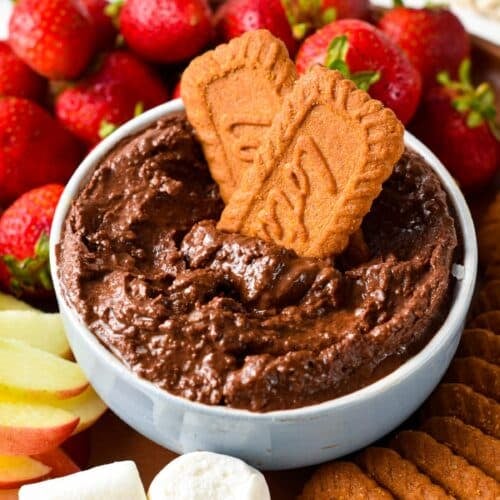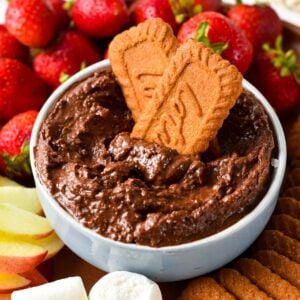 Dark Chocolate Hummus
This Dark Chocolate Hummus is an easy, healthy, high-protein snack with the most delicious creamy chocolate texture.
Pin
Print
Review
Instructions
In a small saucepan over low-medium heat, add dark chocolate, tahini, almond milk, and maple syrup.

Cook and stir until the chocolate is melted and the ingredients are smooth and combined. It looks oily, and that's normal.

In a blender, add canned, drained chickpeas, melted chocolate mixture, unsweetened cocoa powder, vanilla extract, and sea salt.

Blend on medium-high speed until smooth and creamy. If too thick, add a bit more almond milk.

Serve with berries or crackers to dip in.
Storage
Store in the fridge in an airtight container for up to 4 days.
Share on Facebook
Pin Recipe
Nutrition
Serving:
1
serving
|
Calories:
165.1
kcal
|
Carbohydrates:
20.1
g
|
Protein:
3.6
g
|
Fat:
9.9
g
|
Saturated Fat:
2.6
g
|
Polyunsaturated Fat:
3.3
g
|
Monounsaturated Fat:
3.6
g
|
Sodium:
217.6
mg
|
Potassium:
174.6
mg
|
Fiber:
2.9
g
|
Sugar:
12.4
g
|
Vitamin A:
9
IU
|
Vitamin C:
0.6
mg
|
Calcium:
59.6
mg
|
Iron:
1.3
mg
|
Magnesium:
40.4
mg
|
Phosphorus:
140.7
mg
|
Zinc:
1.1
mg