This Coconut overnight oats recipe is a quick and easy healthy breakfast to meal prep for your busy morning week. Plus, it's dairy-free, gluten-free, and packed with coconut flavors.
If you are too busy to make oatmeal for breakfast, try this coconut overnight oat. It's perfect for making ahead a week of healthy breakfast.
It takes just 10 minutes to make, and you will be surprised by how delicious this cold oatmeal bowl is!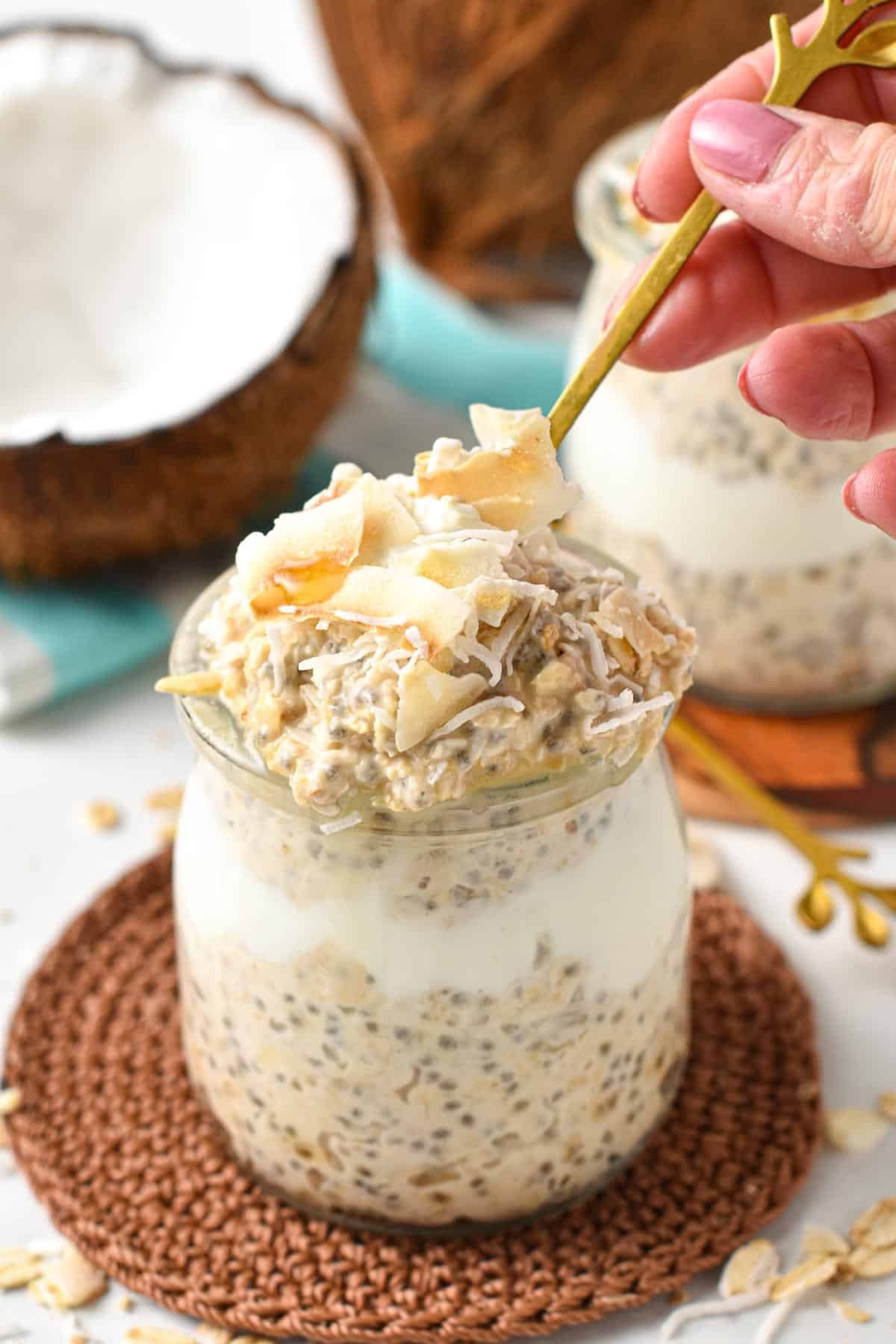 What Are Coconut Overnight Oats?
Coconut overnight oats are cold oatmeal with coconut flavors from coconut milk and shredded coconut soaked overnight for a nutritious, creamy, and refreshing breakfast.
It's a coconut-flavored version of my classic overnight oats recipe.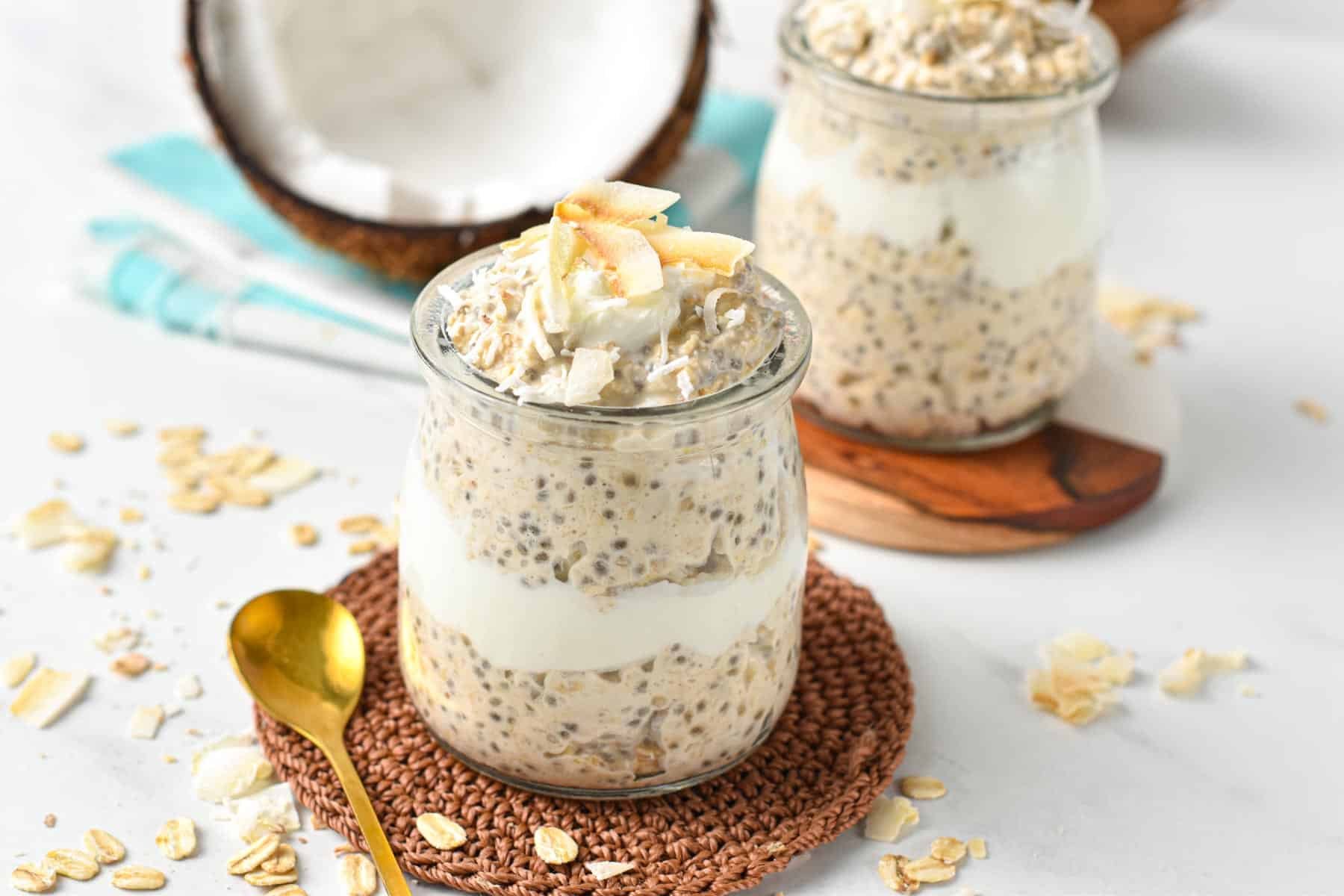 How To Make Coconut Overnight Oats
These coconut overnight oats are the easiest healthy breakfast to start the day with plant-based proteins, fiber, and delicious tropical flavors.
Indeed, oats are full of protein, fiber, and complex carbs that keep you full and energized for hours.
It means it also keeps your blood sugar stable for longer, avoiding energy crashes in the morning or any sugar cravings.
Ingredients
All you need to make a delicious coconut overnight oatmeal recipe, are a few ingredients:
Old-Fashioned Rolled Oats – The ones you regularly use for porridge or quick oats for a thin and creamier texture, or steel-cut oats for a firmer texture.
Chia Seeds – White or black chia seeds
Light Coconut Milk – I recommend canned light coconut milk also called low-fat coconut milk. It's pure and natural, with no additives or thickeners added but creamier than a coconut milk carton that is mostly water.
Dairy-Free Greek-Style Coconut Yogurt – I am using full-fat plain coconut yogurt. It adds prebiotic and a lovely creamy coconut flavor.
Coconut sugar – This adds an extra delicious earthy coconut flavor. Also, you can try coconut-flavored stevia drops if you watch the sugar. You can also use any liquid sweetener you love, like date syrup, agave syrup, maple syrup, or brown rice syrup.
Unsweetened Shredded Coconut – This adds the most delicious coconut flavor to the oats mixture flavor, don't skip it!
Pinch of Salt – This boosts the coconut flavor!
Coconut Extract or vanilla extract
Toasted Coconut Flakes to serve and add a roasted coconut flavor.
Preparation
In a mixing bowl, whisk oats, chia seeds, shredded coconut, coconut sugar, and a pinch of salt.
Next, whisk in light coconut milk, coconut extract, and coconut yogurt. Cover the bowl with a lid, foil, or piece of foil and place in the fridge overnight, or for at least 8 hours.
The next day, divide the recipe into small glass mason jars or bowls and serve with the toppings ideas below.
Coconut Overnight Oats Flavors
There are plenty of options to add texture and flavor to your coconut overnight oats.
Below are some of my favorite ingredients to pair with coconut:
Tropical overnight oats – add Mango or pineapple goes well with coconut, it tastes like my pina colada smoothie
Almond joy overnight oats – add dark chocolate chips or chocolate chunks like 85 % with sliced almonds
Nutty – add a dollop of nut butter – the best combination with coconut are cashew butter or almond butter or peanut butter
Coconut jam – Chia seed jam – raspberry or strawberry jam adds a tart sour taste that goes well with the creamy coconut flavors.
Banana cream pie – add banana slices, a pinch of cinnamon, and pecan
Coconut cream pie overnight oats – serve with layers of coconut yogurt that you sweetened with maple syrup. Top with more coconut yogurt and toasted coconut.
Allergy Swaps
Below I listed some options for you to make this recipe even if you have some food allergies. Feel free to swap one or more ingredients used in the recipe.
Gluten-Free – Use gluten-free certified oats.
Chia Seed-Free – Skip and add 2 tablespoons extra oats to the mixture.
Sugar-Free – Use a few stevia drops or your favorite natural sugar-free sweetener.
Yogurt-Free – Add more coconut milk instead or any Greek yogurt you like including soy yogurt or oat milk yogurt.
Frequently Asked Questions
Here are my answers to your most frequent questions about this healthy recipe.
Can I Add Protein Powder?
Yes, but not too much or the texture will be overly dry.
Plus, protein powders are flavored and sweetened, so you will have to decrease the sugar and extract in the recipe to keep the balance of flavors right. Otherwise, use my protein powder overnight oat recipe.
More Healthy Breakfast Recipes
If you love easy healthy breakfast recipes to start the day, I got you covered. Check out the recipes below, and you will feel great every morning.
I hope you enjoy this simple breakfast recipe. Talk to you soon on Instagram or Pinterest.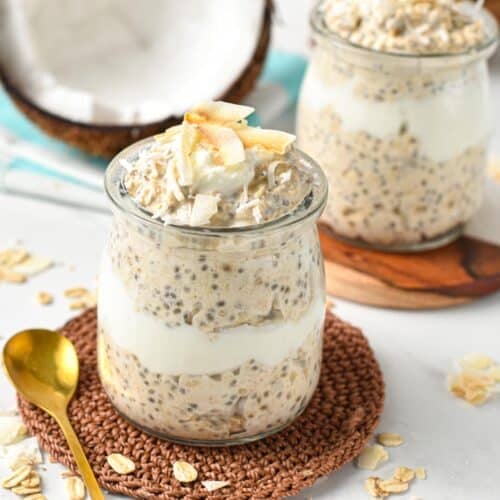 Coconut Overnight Oats
This Coconut overnight oats recipe is a quick and easy healthy breakfast to meal prep for your busy mornings.
Pin
Print
Review
Servings: 2 servings
Calories: 448.8 kcal
Instructions
In a large bowl, whisk oats, chia seed, coconut sugar, and shredded coconut

Stir in coconut milk, coconut yogurt, cocontu extract .

Seal the bowl with a lid or piece of foil, and refrigerate overnight, or at least 8 hours.
Serve
Serve the next day with dark chocolatechips, fresh fruits like pineapple or mango slices, toasted coconut flakes, or any toppings you love.
Storage
Store up to 3 days in the fridge in a sealed glass mason jar.
Share on Facebook
Pin Recipe
Nutrition
Serving: 1serving | Calories: 448.8kcal | Carbohydrates: 57.8g | Protein: 8.2g | Fat: 21.6g | Saturated Fat: 11.4g | Polyunsaturated Fat: 3.9g | Monounsaturated Fat: 1.4g | Trans Fat: 0.01g | Sodium: 32.9mg | Potassium: 302.6mg | Fiber: 10.4g | Sugar: 20.6g | Vitamin A: 6.5IU | Vitamin B12: 2.5µg | Vitamin C: 0.4mg | Vitamin D: 46.5µg | Calcium: 563.4mg | Iron: 3.7mg | Magnesium: 126mg | Phosphorus: 292.5mg | Zinc: 2.5mg