This easy Vegan Custard Recipe is a creamy vanilla custard perfect for dipping fruits in or serving on top of your favorite vegan cake.
It's also a vegan, gluten-free dessert made with no eggs and with a sugar-free option.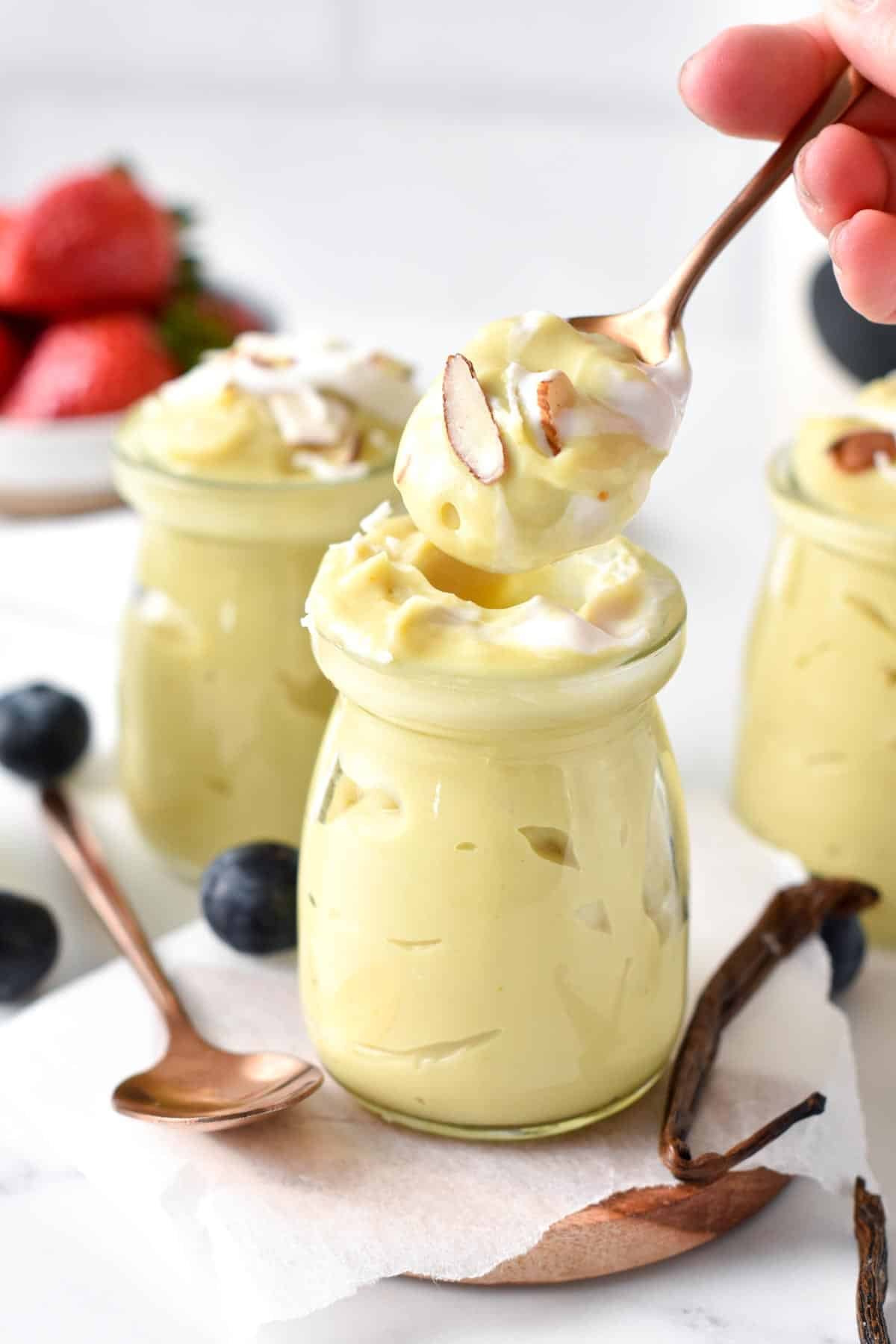 I love creamy dessert recipes, and when we don't make vegan banana pudding for dessert, I like to make vegan custard.
Is Custard Vegan?
Custard is very close to pudding in texture, it's a little bit thicker, and in a classic custard, eggs are used as a thickener.
So a classic custard is not vegan, not only because of the eggs but also because of the cream, milk, and butter.
Luckily, it's pretty easy to make a delicious vegan custard recipe without eggs or dairy.
How To Make Vegan Custard
Here's how to make it with a few simple ingredients.
Ingredients
All you need to make an egg-free custard are four ingredients.
Cornstarch or corn flour – This is your binding agent. Don't use tapioca flour or arrowroot flour. The texture won't be as thick and creamy.
Non-Dairy Milk – I found that high-protein plant-based milk gives a better texture, so I recommend soy milk for this recipe. However, the recipe will work with other milk, like oat milk, coconut milk, or almond milk, to cut the calories.
Sugar – Or any natural sugar-free crystal sweetener for an egg-free sugar-free custard, try erythritol.
Natural Vanilla Extract
There are two optional ingredients I recommend using for color and texture.
Turmeric – It's a natural Indian spice that has excellent anti-inflammatory properties. It's also a great way to give any vegan dessert an egg yolk color without using food coloring.
Vegan Butter – This is the best way to add an ultra-creamy texture to your vegan custard recipe.
Preparation
First, whisk cornstarch and 1/2 cup of plant-based milk in a small bowl. This is your slurry. Set it aside.
In a small non-stick saucepan, add the rest of the non-dairy milk and sugar.
Cooking The Custard
Bring over medium heat and warm until bubbles form on the side of the pan. It should simmer, not boil. Stir occasionally to just dissolve the sugar.
Stir in the slurry made before – sometimes the cornstarch stick to the bottom of the bowl, so give a quick stir before pouring over the warm milk.
Cook for a few minutes, occasionally stirring with a wooden spoon, until the custard thickens.
Remove from heat, and stir in vanilla extract, vegan butter, and turmeric if using.
Let the custard cool down for 10 to 15 minutes at room temperature, stirring every 5 minutes to avoid the mixture to form a custard film on top.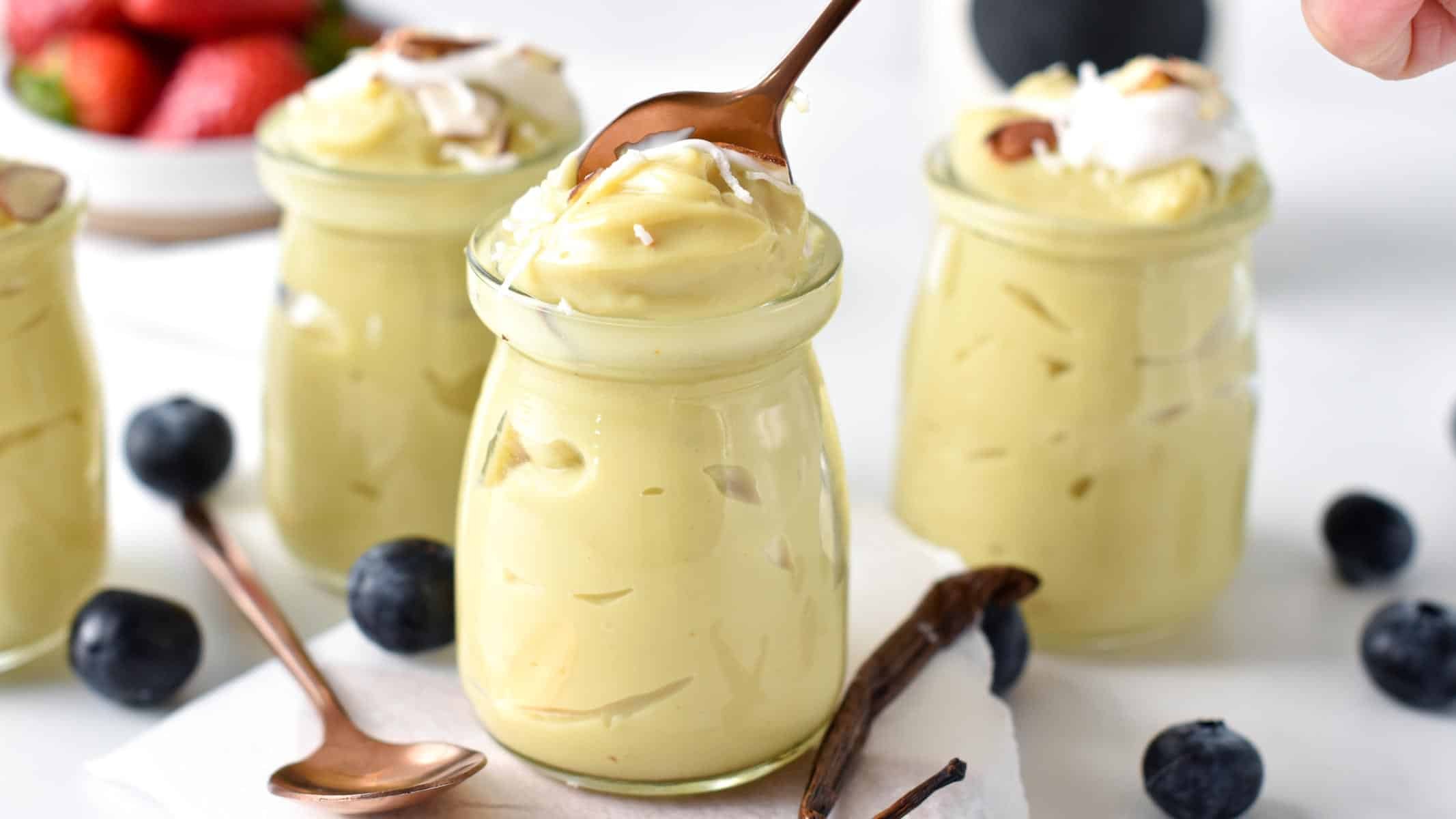 Refrigerating
Film the saucepan by placing a piece of plastic wrap in contact with the top of the custard. It should touch the custard to prevent a film from forming in the fridge.
Refrigerate for 3 hours or overnight.
Serving
After that time, remove the saucepan from the fridge and stir the mixture.
It will be very thick and perfect for piping but if you like your custard thinner, whisk in an additional 1/4 cup of plant-based milk to thin it out.
Serve the custard as a dessert on it's own in small yogurt jars topped with:
Sliced Almonds
Shredded Coconut
Or use the custard to drizzle on top of your favorite vegan cake or vegan dessert like this:
Flavors And Add-Ons
You can add many flavors to this simple custard recipe by adding 1 or 2 teaspoons of natural extract.
The best custard flavors are banana extract and coconut extract, or you can stir in 1/4 cup of mashed banana or strawberry puree.
Allergy Swaps
Here are some allergy swaps for you to try if needed.
Nut-Free – Use nut-free plant-based milk like soy milk, hemp milk, or oat milk.
Gluten-Free – Pick gluten-free, dairy-free milk such as soy milk, hemp milk, or almond milk.
Corn-Free – The recipe could work with arrowroot flour, but the texture is not as close to custard, so not my favorite.
Sugar-Free – Any sugar-free crystal sweetener with a 1:1 ratio replacement to sugar works, including xylitol, allulose, or erythritol.
Storage Instructions
This vegan custard can be stored in sealed jars in the fridge for up to 3 days.
You can also freeze the custard. Simply thaw it in the fridge the day before serving.
Frequently Asked Questions
Below are my answers to your most common questions about this recipe.
How Can I Fix Overly Thick Custard?
The custard thickens in the fridge and you can always thin it out later.
Simply whisk in more cold dairy-free milk to thin out the custard in your desired consistency.
For a pourable vegan custard, you may need to add 1/4 cup to 1/3 cup liquid.
Can I Add Flavors To The Custard?
Yes, you can stir in 1 or 2 teaspoons of natural extract like coconut extract, banana extract, or almond extract.
For a chocolate custard, you can whisk in 3 to 4 tablespoons of unsweetened cocoa powder in the warm milk at the beginning of the recipe.
Also, if unsweetened cocoa is added, the custard will be thicker and less sweet, so increase the sugar and adjust the milk to reach your favorite consistency.
More Vegan Dessert Recipes
Below are some more easy vegan dessert recipes for you to try.
Have you tried this vegan custard recipe? Share a comment or review below to let me know how you used yours.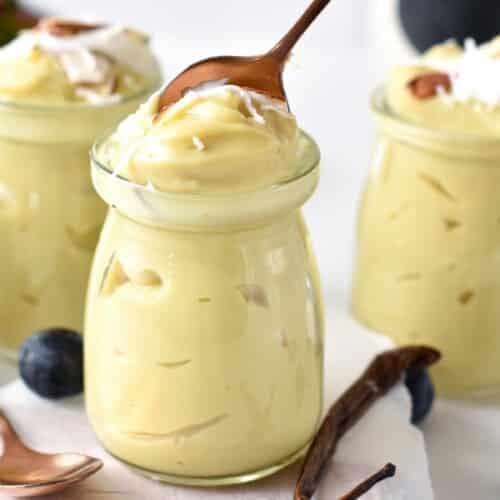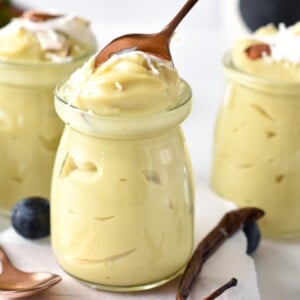 Vegan Custard
This easy Vegan Custard recipe is a creamy vanilla custard perfect for dipping fruits or serving on top of your favorite vegan cake. It's also a vegan, gluten-free dessert made with no eggs and with a sugar-free option.
Pin
Print
Review
Servings:
6
servings (about 1/2 cup)
Instructions
In a small mixing bowl, whisk 1/2 cup of milk and cornstarch until a slurry forms. Set aside.

In a small saucepan, add the remaining milk and sugar and warm over medium-high heat until it simmers and forms bubbles on the sides of the pan.

Stir in the slurry and reduce to medium heat. Keep cooking and stirring slowly with a spoon until the mixture thickens – it takes a few minutes.

Remove from the heat and stir in vanilla extract, turmeric for color if you like, and vegan butter for an ultra-creamy texture.

Set it aside uncovered for 20 minutes to steam out. Then, place a piece of plastic wrap on top of the saucepan, making sure it touches the mixture to seal the custard. No need to press. Just bring the plastic wrap in contact to prevent custard skin from forming on top when refrigerated.

Refrigerate for at least 1 hour or overnight.

The custard thickens in the fridge. You may like it thick as is or stir in an extra 1/4 cup of cold milk to thin it out.
Serving – Single Serve
Serve as single-serve desserts with layers of my whipped coconut cream recipe on top or on top of vegan chocolate cake or vanilla wacky cake.
Share on Facebook
Pin Recipe
Nutrition
Serving:
1
1/2 cup
|
Calories:
163.3
kcal
|
Carbohydrates:
24.7
g
|
Protein:
3.2
g
|
Fat:
5.2
g
|
Saturated Fat:
1
g
|
Polyunsaturated Fat:
2.1
g
|
Monounsaturated Fat:
1.7
g
|
Trans Fat:
0.02
g
|
Sodium:
85.4
mg
|
Potassium:
157.4
mg
|
Fiber:
0.5
g
|
Sugar:
14
g
|
Vitamin A:
603.3
IU
|
Vitamin B12:
1.2
µg
|
Vitamin C:
7.8
mg
|
Vitamin D:
1.3
µg
|
Calcium:
152
mg
|
Iron:
0.6
mg
|
Magnesium:
0.6
mg
|
Phosphorus:
1.8
mg
|
Zinc:
0.3
mg