This creamy, smooth, airy chocolate avocado mousse is the best healthy dessert packed with delicious chocolate flavors. This is a vegan dessert made with just 6 ingredients and refined sugar-free!
When you are a chef and live in the Hass avocado-growing country, you easily become an expert at cooking with avocado even making avocado dessert. In fact, avocados are not only for savory recipes and I have shown many times that you can bake delicious avocado desserts like my avocado chocolate cookies, avocado ice cream, or avocado brownies.
Why You Will Love This Chocolate Avocado Mousse
I'm convinced this is the absolute best chocolate avocado mousse recipe out there because it's so unique. It's:
Rich and creamy
Silky smooth and airy
Healthy and packed with Omega-3 fatty acids from avocado.
Vegan and gluten-free
Quick and easy dessert, ready in less than an hour.
Packed with omega-3 and antioxidants for raw cocoa powder.
Low-carb keto friendly using sugar-free sweeteners and chocolate.
Ingredients For Avocado Chocolate Mousse Recipe
All you need is to make a silky smooth avocado mousse in a blender, or food processor and a few wholesome ingredients.
Ripe Avocado. Simply press the avocado. If it is firm, it is unripe. It must be soft but not mushy, and if you remove the top cap of the avocado, the little part of the flesh showing must be flashy green, not brown or black.
Plant-Based Milk – Feel free to use any dairy-free milk you love, the fatter the milk is the creamier, and the less airy, the mousse will be. To keep the mousse airy and light use unsweetened almond milk or oat milk. For a chocolate avocado pudding use canned coconut milk or coconut cream.
Unsweetened Cocoa Powder. This adds a robust chocolate flavor to your avocado mousse and texture. It thickens the mouse.
Melted Dark Chocolate Chips – I am using 70% cocoa chocolate chips, it has a strong chocolate flavor, but it's still sweet so you don't have to add too much sweetener to sweeten the mousse.
Maple Syrup or date syrup or 3-4 soaked pitted dates. Any of the three sweeteners work well as refined sugar-free sweeteners in this mousse. But, if you choose dates, add 1-2 tablespoons extra almond milk or the mousse will be a bit more firm like chocolate pudding.
Vanilla Extract for flavor and to cover the taste of the avocado flavor even more
Sea Salt – that pinch of salt enhances the chocolate flavor, don't skip it!
How To Make A Vegan Chocolate Avocado Mousse

First, half the ripe avocado. Make sure their flesh is soft green with no black or dark spots.
In the bowl of a food processor, scoop out the avocado flesh and discard the kernel and avocado skin.

3Add the remaining ingredients: cocoa powder, melted dark chocolate chips, almond milk, vanilla extract, salt, and maple syrup.
Blend on high speed until all the ingredients are well incorporated and no more green pieces of avocado can be seen. Stop the food processor, use a silicone spatula to scrape the sides of the bowl, and bring the ingredients next to the blade. Process again until a silky, smooth chocolate avocado mousse forms. Transfer into glass mason jars or ramekin and refrigerate for 1 hour before serving.
Expert Tips To Make Vegan Chocolate Mousse With Avocado
Use ripe avocado without brown spots on the flesh. The brown spots or filaments in a ripe avocado taste bitter and add a gritty texture to the avocado dessert. You must use a green ripe avocado inside without any dark bits. You can discard any brown spot on the flesh, but often, the bitterness of the avocado has already spread to the rest of the vegetable.
Refrigerate the mousse for no more than 1 hour for an airy texture. Like in my tofu chocolate mousse, this avocado mousse is made with melted dark chocolate. The longer it stays in the fridge, the harder and firmer it becomes. After more than an hour, the mousse is packed and hard. Blend again with a splash of almond milk to thin it out and bring it back to its airy, fluffy mousse texture.
Adjust sweetener based on the strength of the chocolate chips. If you are using semi-sweet chocolate chips, they contain more sugar. Therefore, you need to decrease maple syrup. But, if you use strong chocolate like 85% cocoa, the mousse won't be very sweet and quite bitter. Add or remove some of the sweeteners accordingly.
Add the chocolate mousse toppings just before serving. Serve the mousse with coconut whipped cream or Vegan Whipped Cream, fresh raspberries, or shaved vegan chocolate bars. But, add these toppings just before serving for the best flavors.
More Avocado Dessert Recipes
It is amazing all the healthy vegan desserts you can make with avocado.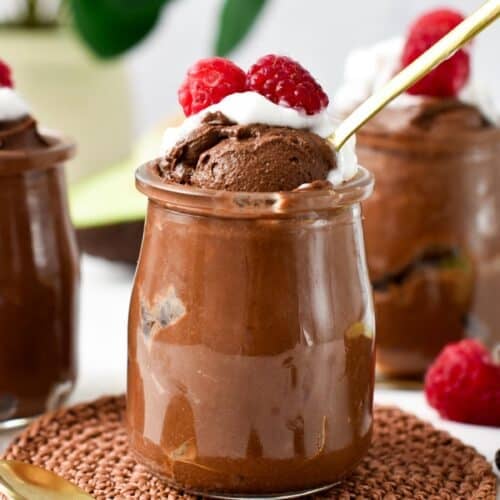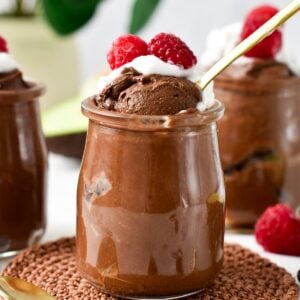 Chocolate Avocado Mousse
This creamy, smooth, airy chocolate avocado mousse is the best healthy dessert packed with delicious chocolate flavors. Plus, this is a vegan dessert, also refined sugar-free!
Pin
Print
Review
Servings: 4 people
Calories: 348.8 kcal
Instructions
In a food processor, add the avocado flesh, cocoa powder, melted chocolate chips, almond milk, vanilla extract, and maple syrup.

Blend until smooth and evenly combined. You may have to stop the food processor, scrape down the sides of the bowl, and repeat until no more green pieces of avocado can be seen.

Transfer the mousse into 3 dessert ramekins or glass mason jars and refrigerate for an 1 hour to set.

Serve with coconut whipped cream, fresh berries, or shaved dark chocolate.

If stored longer than an hour, the mousse firm up, blend again with a splash of almond milk to bring back its fluffy texture.
Notes
How to store chocolate avocado mousse?
Store for up to 3 days in an airtight container in the fridge.
Nut-free – replace almond milk with oat milk or canned coconut milk for a rich, thick chocolate mousse.
Sweetener – you can use date syrup, 3 soaked Medjool dates, or agave syrup.
Share on Facebook
Pin Recipe
Nutrition
Serving: 1ramekin | Calories: 348.8kcal | Carbohydrates: 32g | Protein: 4.8g | Fat: 25g | Saturated Fat: 7.9g | Polyunsaturated Fat: 2.2g | Monounsaturated Fat: 13g | Trans Fat: 0.01g | Cholesterol: 0.7mg | Sodium: 28.6mg | Potassium: 760.8mg | Fiber: 11.1g | Sugar: 15.1g | Vitamin A: 155.3IU | Vitamin B12: 0.1µg | Vitamin C: 10.1mg | Calcium: 64.9mg | Iron: 3.9mg | Magnesium: 109.1mg | Phosphorus: 159.1mg | Zinc: 1.8mg