Avocado Chocolate Cookies
These Avocado Chocolate Cookies are soft, fudgy flourless, gluten-free chocolate cookies made with ripe avocado.
Plus, these avocado cookies are also egg-free, gluten-free, and vegan approved.
Avocados are one of the best plant-based fruits to add healthy fats and omegas to your food. It's also a great way to replace oil in vegan baking recipes.
Let's see how you can use avocado to make delicious vegan oil-free chocolate cookies.
They are naturally:
Vegan
Gluten-free
Dairy-free
Egg-free
How To Make Avocado Chocolate Cookies
Avocado chocolate cookies are the easiest cookies to make in the bowl of your food processor.
Ingredients
All you need are:
Ripe Avocado – always taste the avocado before using it in this recipe. It must be ripe but without black spots or bitter aftertaste. Some overripe avocados have a weird flavor and won't do well in baking.
Peanut Butter or almond butter. The best is to use a brand new jar of natural peanut butter, so it's still very runny. Avoid any peanut butter with more than peanuts and salt as ingredients.
Maple Syrup
Coconut Sugar – or soft brown sugar.
Banana – the riper, the sweeter the cookies will be.
Unsweetened Cocoa Powder
Vanilla Extract
Sea Salt
Vegan Chocolate Chips for a double chocolate flavor!
Making The Cookie Batter
There's no secret you need a food processor or high-speed blender to make tasty avocado cookies.
Using a fork and mashing the ingredients even to their finest texture won't work.
So add all the ingredients, except the chocolate chips, to the bowl of a food processor and blend on high speed until it forms a sticky chocolate pudding.
When the texture is consistent, and no lumps of avocado or bananas show, fold in the dark chocolate chips.
Use a silicone spatula to stir the chocolate chips evenly into the cookie batter.
Optional Add-ons
If you want to make the cookies less soft and fudgy, add 1/2 cup of almond flour to the batter.
You can also stir chopped nuts into the cookie batter.
Forming Avocado Cookies
Preheat the oven to 350°F (180°C). Line a baking sheet with parchment paper. Lightly oil the paper with coconut oil.
Using two spoons, release a dollop of chocolate cookie batter on the paper, and using the back of a spoon, spread the cookie into its round shape.
It's a messy process because the batter is very fudgy and sticky.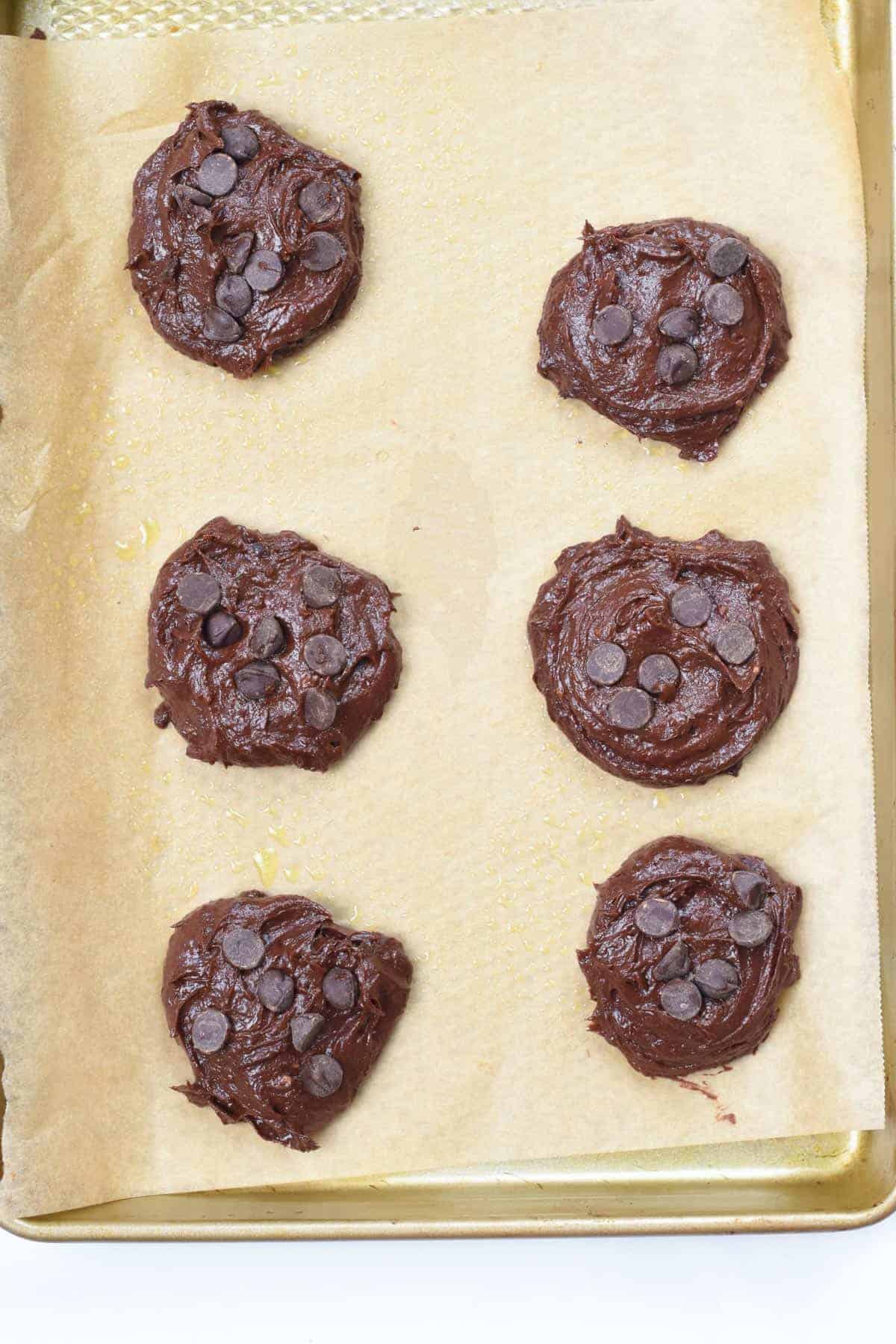 Baking The Cookies
Bake the avocado cookies in the center rack of the oven for about 15 minutes, until they puff and the outside is set and dry.
Cooling Down
Cool the chocolate avocado cookies down on the baking sheet for 10 minutes, then transfer them to a cooling rack to fully cool down to room temperature.
Refrigerating
Warm avocado cookies haven't had time to develop all their flavors.
In fact, warm avocado has a stronger flavor, so before having a bite into these lovely fudgy chocolate cookies, pop them in the fridge for an hour!
They will be super fudgy, and their flavor is fantastic when they are cold.
Storage
Since the cookies contain avocado and bananas, you must store these avocado banana cookies in the fridge in a sealed jar.
Keep in the fridge for up to 3 days, or transfer to the freezer and thaw at room temperature the day before.
Frequently Asked Questions
How Do Avocado Cookies Taste?
They are fudgy soft chocolate cookies with a light avocado flavor.
It's a recipe for avocado lovers, and if you don't like avocado flavor in food, it's probably not for you.
Can I Swap The Banana For Something Else?
You can replace the banana with 1/3 cup of unsweetened applesauce.
Can I Make Them Nut-Free?
Yes, you can make nut-free avocado cookies. To do so, replace the peanut butter with sunflower seed butter.
More Healthy Cookie Recipes
Below I listed some more healthy vegan cookie recipes for you to try.
Have you made these avocado cookies? Share a comment or review below to tell me how it went.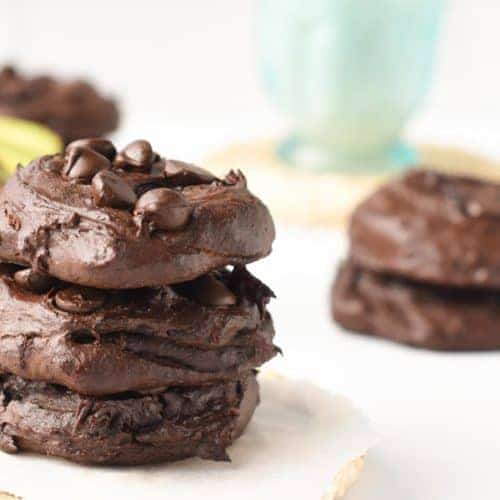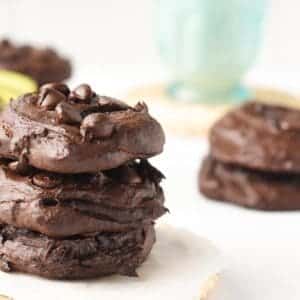 Avocado Chocolate Cookies
These Avocado Chocolate Cookies are soft, fudgy flourless gluten-free chocolate cookies made with ripe avocado. Plus, these avocado cookies are also egg-free, gluten-free, and vegan approved.
Pin
Print
Review
Servings: 12 cookies
Calories: 134.8 kcal
Ingredients
Recommended – to boost sweetness and cover the avocado taste
Instructions
Preheat the oven to 350°F (180°C). Line a cookie sheet with lightly oiled parchment paper. Set aside.

Before starting measure the amount of mashed avocado and mashed banana in your measuring cup. This prevents adding too much avocado that would add a weird flavor to the cookies or too many bananas that make the batter too runny.

In a food processor, using the S blade attachment add mashed avocado, banana, maple syrup, peanut butter, vanilla extract, unsweetened cocoa powder, salt, and sugar, if used.

Process on the high-speed setting until a sticky batter forms. You may have to stop the food processor a few times, scrape down the sides of the bowl with a silicone spatula and repeat until all the ingredients are blended together and no lumps of avocado or banana show.

Remove the blade from the food processor and stir in the chocolate chips.

Scoop out two tablespoons of batter, and drop them on a cookie sheet. Slightly flatten with the back of a wet spoon to avoid the batter sticking too much to your tools.

Sprinkle extra chocolate chips on top.

Bake for 15-17 minutes or until dry and set on top and side.

Warm avocado cookies can have a weird flavor so before you try them, cool them down for 10 minutes on the baking sheet, then 20 minutes on a cooling rack, and finally 1 hour in the fridge.

These cookies get their best fudgy texture and chocolate flavor cold.
Storage
Store in the fridge up to 3 days or freeze for later.
Share on Facebook
Pin Recipe
Nutrition
Serving: 1cookie | Calories: 134.8kcal | Carbohydrates: 18.3g | Protein: 3.3g | Fat: 6.6g | Saturated Fat: 1.5g | Polyunsaturated Fat: 1.4g | Monounsaturated Fat: 3.3g | Sodium: 103.5mg | Potassium: 189.5mg | Fiber: 2.3g | Sugar: 12.3g | Vitamin A: 10.1IU | Vitamin C: 1mg | Calcium: 25.4mg | Iron: 0.7mg | Magnesium: 41.9mg | Phosphorus: 66.4mg | Zinc: 0.6mg