Vegan Millionaire Shortbread Bars
These Vegan Millionaire Shortbread Bars are a healthier version of the classic millionaire bars, a no-bake vegan dessert bar 100% gluten-free and refined sugar-free.
You will love the buttery coconut flour shortbread base, and soft peanut butter caramel topped with a crunchy chocolate layer. Keep reading to learn more!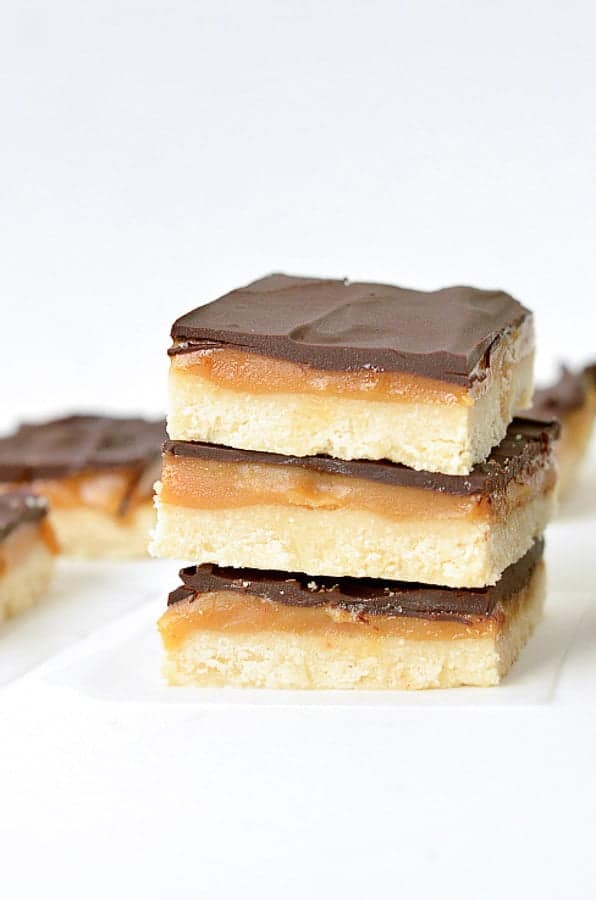 What Are Vegan Millionaire Shortbread Bars?
A classic millionaire's shortbread bar is a rich dessert bar made of three layers: a crumbly shortbread crust, sticky soft caramel, and a crunchy chocolate top layer.
Usually, they are made with lots of sugar, dairy, and processed ingredients like sweetened condensed milk, white sugar, white flour, and butter.
Here I am sharing a healthier version of this classic dessert 100% refined sugar-free, dairy-free, and no-bake to preserve all the nutrients.
How To Make Vegan Millionaire Shortbread
Call these as you like, caramel bars, millionaire bars, or chocolate caramel bars!
They are simply delicious no-bake shortbread bars with a soft peanut butter caramel and dark chocolate layer.
Ingredients
All you need to make these healthy no-bake vegan dessert bars are:
Coconut Flour – or almond flour. Coconut flour contains 4 times more fiber than almond flour, it is also sweeter in flavor, and therefore you can't swap one flour for the other with the same ratio. That's why I am providing 2 different recipes for the bottom layer of these no-bake millionaire bars. One recipe is using coconut flour, and one uses almond flour. Of course, you are free to choose the one you prefer based on your diet requirement. But I personally prefer coconut flour. The shortbread texture is way more intense. If you are concerned about eating raw flour, read my article about the raw flours that are safe to eat.
Maple Syrup – or any liquid sweetener you like. You can also use agave syrup or brown rice syrup – it has a lower GI or, if you watch sugar closely, use Monk fruit syrup. It is a great sugar-free keto option.
Coconut Oil – you can use refined coconut oil to avoid coconut flavor.
Peanut Butter or almond butter – make sure you choose pure peanut butter with no added oil, no added sugar. Feel free to use salted peanut butter if you want to make healthy salted caramel bars.
Vanilla
Dark Chocolate – I recommend 85% cocoa chocolate simply because the other layers are already sweet, and strong dark chocolate balances the sweetness better.
Can I Bake The Millionaire Shortbread Crust?
A classic millionaire shortbread bar has a crumbly baked shortbread crust.
If you are looking for a similar sensation and texture, you can definitely bake the crust on it is own before adding the raw caramel.
I recommend baking the crust at 350°F (180°C) for 15 minutes and cooling the crust for 15 minutes before adding the caramel layer.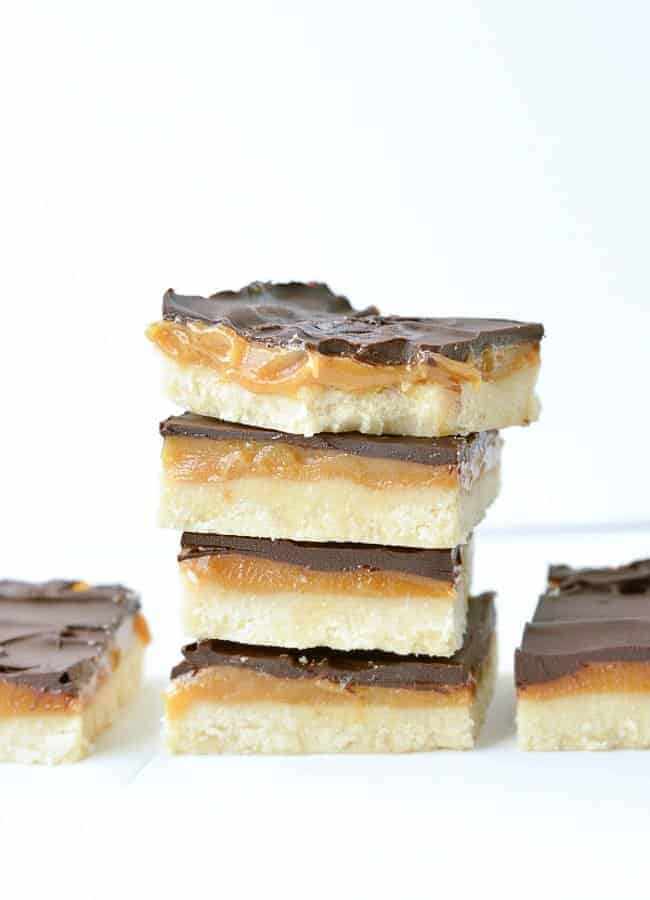 Storing Millionaire Bars
Millionaire bars are no-bake vegan desserts so these bars are dairy-free and egg-free, and therefore they can be stored easily in the fridge for up to 5 days or in the freezer for up to 3 months.
It is better if you store these in an airtight container to prevent the caramel from drying.
Also, if you want to freeze them, I recommend you place a piece of parchment paper between each bar.
It makes it easier to defrost the bars one by one.
More No-Bake Vegan Desserts
If you love no-bake vegan desserts, I recommend you also try:
Made these no-bake millionaire shortbread bars yet? Share a picture with me on Instagram. I love to see what you are making!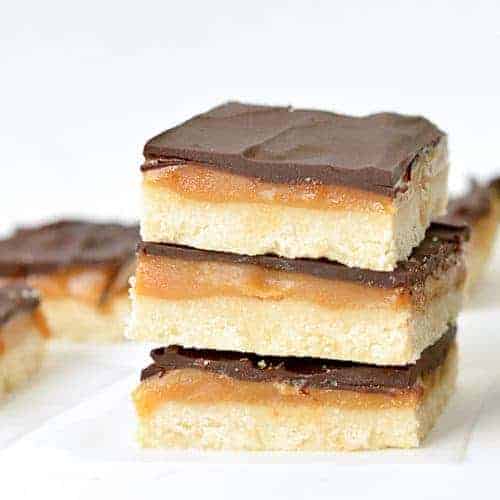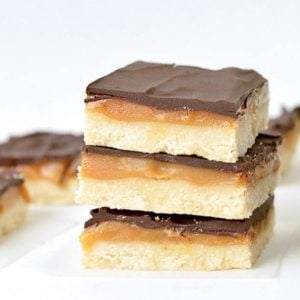 No-bake Vegan Millionaire Shortbread
Ingredients
Option 1: Coconut Flour Shortbread crust – gluten-free + nut-free
Option 2: almond flour shortbread crust – gluten-free + grain-free + keto
Instructions
Cover a 9-inch x 5-inch rectangle baking dish with parchment paper. Set aside.

Combine with a spatula at first, then knead the dough with your hands. The dough is soft and wet at first and dry as you go, becoming easier to shape into a ball.

Gather the dough into a ball and place it in the center of the prepared dish.

Press the ball with your fingers to evenly cover the bottom of the dish. You can smooth the top of the layer using a spatula or the back of a spoon.

Freeze for

10 minutes

while making the soft caramel.

In a small bowl, add fresh runny peanut butter, melted coconut oil, maple syrup, and vanilla.

Combine with a spatula until it forms a consistent, smooth caramel.

Remove the dish from the freezer and pour the caramel on top of the shortbread layer.

Spread the caramel evenly with the spatula and return the dish into the freezer for

10-12 minutes

or until firm.

Meanwhile, melt the chocolate and melted coconut oil in a saucepan under medium heat. Otherwise, you can microwave chocolate and coconut oil in a small bowl, by 30 seconds burst, stirring between, until smooth and fully melted.

Remove the dish from the freezer and pour the melted chocolate on top of the caramel layer.

Spread with a spatula and return to the freezer for

2-5 minutes

or until the chocolate layer is set.

Remove from the freezer, use the pieces of parchment paper to lift out the bar from the dish.

Slice with a sharp knife into 16 squares. You can slightly warm the blade under hot water before cutting to make this easier.
Storage
Store the bars into an airtight container in the fridge for up to 5 days or freeze and defrost 2-3 hours before. It can be eaten half-frozen as well.
Notes
The nutrition panel is for one bar using coconut flour and maple syrup.
Share on Facebook
Pin Recipe
Nutrition
Serving:
1
bar
|
Calories:
215
kcal
|
Carbohydrates:
17.5
g
|
Protein:
3.9
g
|
Fat:
15.3
g
|
Fiber:
3.1
g
|
Sugar:
14
g