Sugar-free Raspberry Sorbet Recipe (Only 4 Ingredients!)
An easy 4-ingredient Raspberry Sorbet recipe made in 15 minutes without an ice cream maker. This is the best instant summer frozen summer dessert to refresh without spending hours in the kitchen.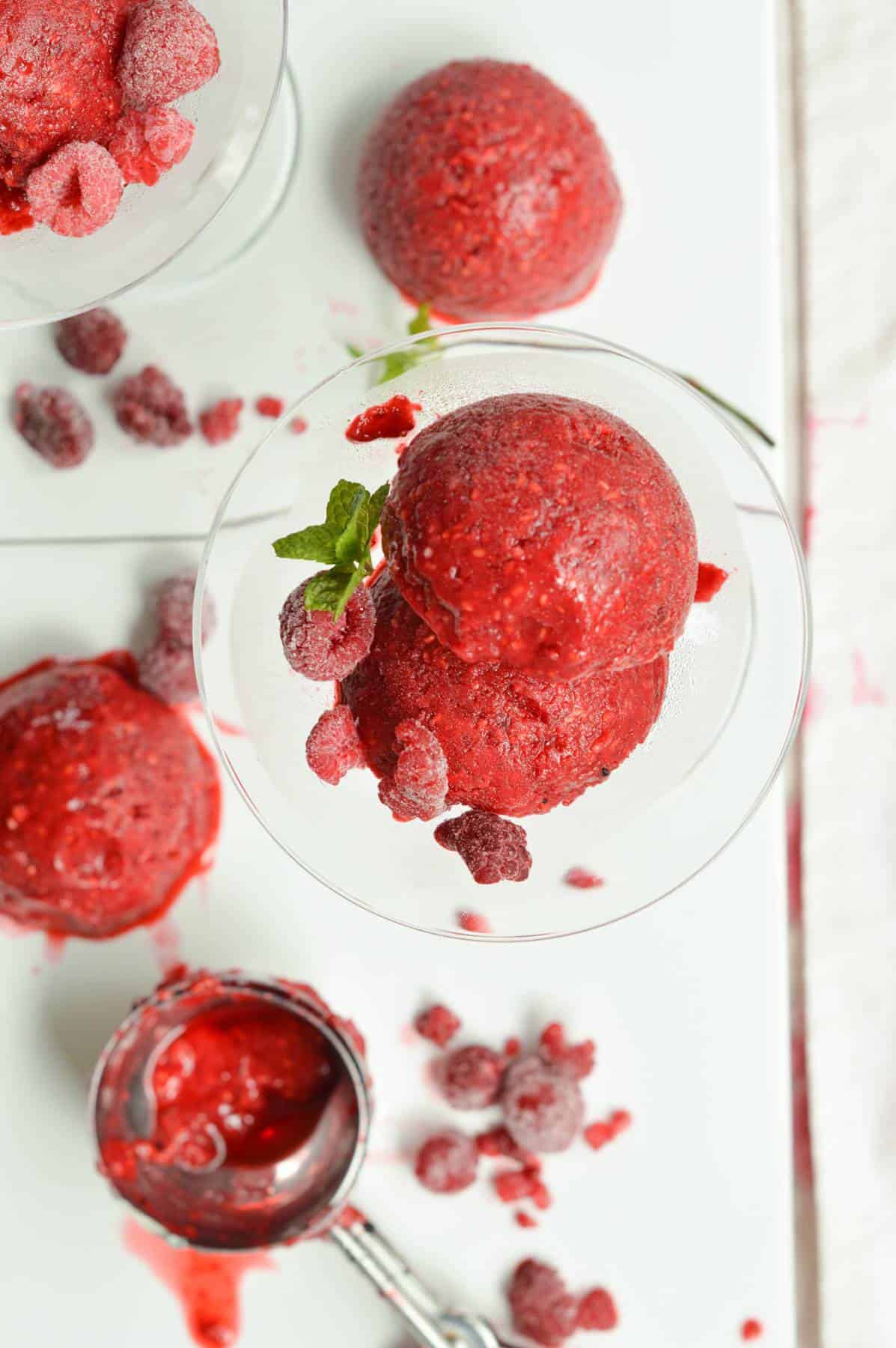 What's a sorbet?
A sorbet is a dairy-free frozen fruit dessert usually made of fruit, sugar, and water or lemon juice.
However, sorbets are often high in sugar and not the healthiest frozen dessert. But here I am sharing with you a sugar-free sorbet recipe.
How to make raspberry sorbet?
Raspberry sorbet is the easiest summer dessert you can make.
Ingredients
In fact, all you need to make a simple raspberry sorbet are three ingredients:
Frozen raspberries – of course, you can use fresh raspberries and freeze them but if you crave a quick frozen dessert, use store-bought organic frozen raspberries.
Sweetener of choice – I used sugar-free syrup in this recipe to cut down on sugar. But, feel free to use low GI brown rice syrup, maple syrup, or agave syrup.
Splash of water
Lemon juice to make a raspberry lemon sorbet even tastier!
Equipment
Of course, to turn your frozen fruits into a sorbet, you need a high-speed blender or food processor. That's the key to make this instant raspberry sorbet without an ice-cream maker.
Prepare the fruits
First, lay the fresh raspberries on a large baking sheet covered with parchment paper, make sure they don't touch each other.
Freeze for 4 hours or overnight. If you are using ready-frozen raspberries, they may have formed a block, stick to each other, so bang the bag on the kitchen benchtop few times to release the raspberries.
Blend
Then, add the frozen fruits in a jug of a high-speed blender with lemon juice (or water) and sweetener of choice. Blend on high speed until it comes together into a smooth frozen dessert.
Add more water, 1 teaspoon at a time, to thin out the sorbet but watch out! If you add too much, it will turn into soup.
Serve immediately
This raspberry sorbet is an instant sorbet recipe. It doesn't use an ice cream maker, and it won't store well in the freezer.
In fact, it will form icy spots and get hard as a rock.
Storage
Instant raspberry sorbet won't store very well in the freezer because the recipe is:
Low-in sugar
Not churned in an ice cream maker
It means that if you store this raspberry sorbet recipe, it will form icy crystals the next day.
A great option to store this sorbet is to transfer it into a popsicle mold, add a wooden stick to the center of each mold and serve as raspberry popsicles over the next few days.
My sorbet turned into a soup. What to do?
If this happens, it means:
You added too much liquid into the blender/food processor to blend the frozen fruits into a smooth sorbet.
The fruits weren't frozen enough.
But, don't worry, you can fix your sorbet by transferring the mixture into a 9×5-inch loaf pan covered with parchment paper.
Freeze for 1 hour or until just set but still easy to scoop and serve immediately in a popsicle mold and freeze until set. Serve as individual popsicles.
More no-bake dessert recipes
I love to create healthy no-bake desserts for summer days. Below I listed my favorite no-bake recipes for you to try:
Made this sugar-free raspberry sorbet? Share a comment or review below,
Your friend. Carine