Spinach Cookies (No Eggs, No Dairy)
These Spinach Cookies are healthy banana oatmeal cookies with an extra boost of green from fresh spinach!
These soft cookies are perfect as pre-workout cookies or as a healthy kid snack.
I love sneaking veggies in my kids' food, and after the baby carrot cookies, these Spinach Oatmeal Cookies are an alternative for you to try.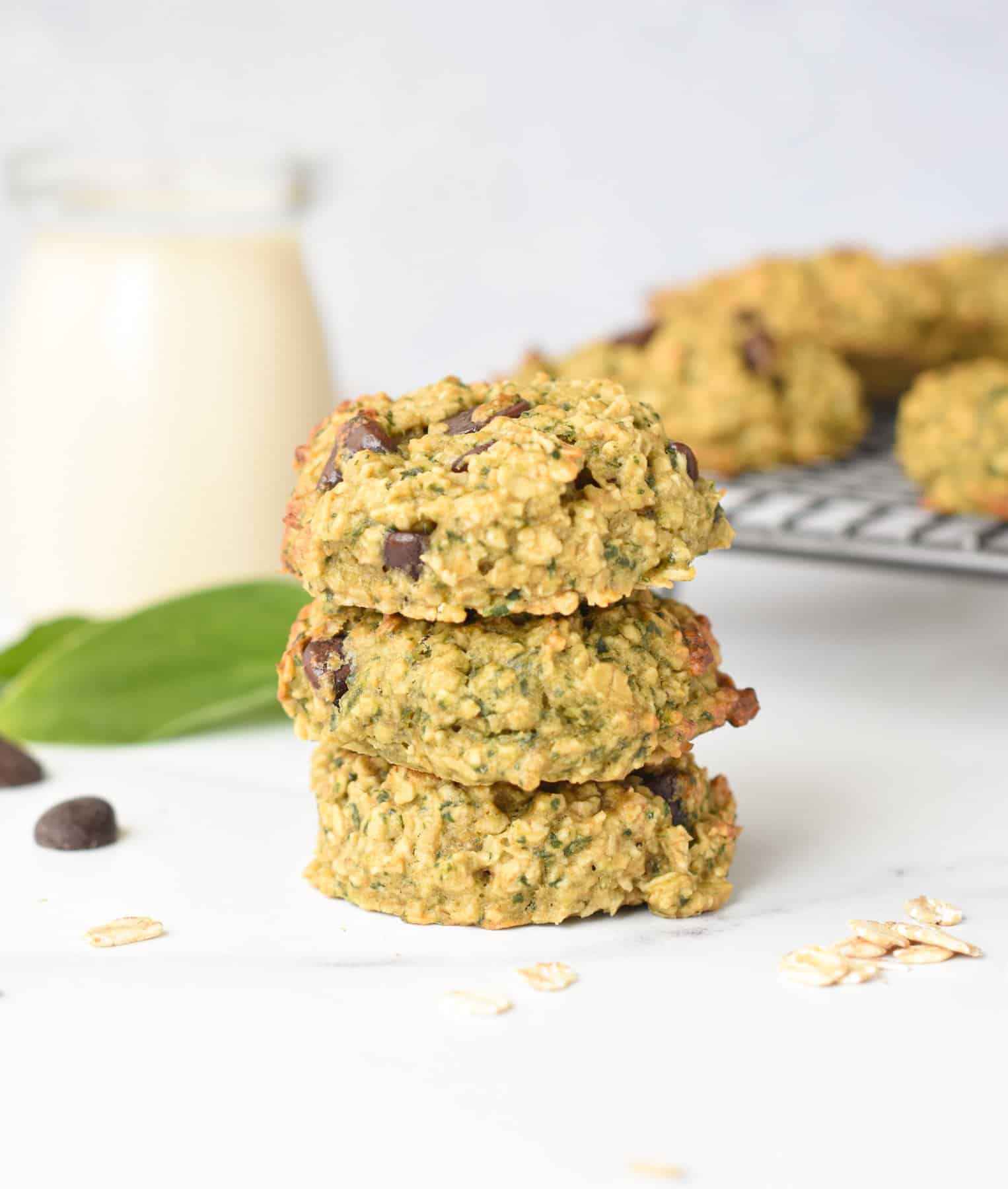 What Are Spinach Cookies?
Spinach cookies are simple, healthy cookies made without any flour and loaded with nutrients from spinach, banana, and oats.
They are ready in under 30 minutes and taste absolutely delicious!
How To Make Spinach Cookies
These Spinach Oatmeal Banana Cookies are easy to make in just 10 minutes.
All you need is a food processor and a few ingredients that you probably already have.
Ingredients
Quick Oats – I don't recommend old-fashioned rolled oats for this recipe because its coarse texture makes the cookies dry and dense.
Peanut Butter – Natural creamy peanut butter without added sugar or added oil. This is the best to make healthy peanut butter banana oatmeal cookies with spinach. Find out how to pick vegan peanut butter.
Maple Syrup – or any liquid sweetener you like.
Mashed Banana – ripe bananas are great because they add extra sweetness.
Fresh Baby Spinach Leaves
Baking Powder
Vanilla Extract
Chocolate Chips – optional, but kids love that addition!
Instructions
First, preheat the oven to 350°F (180°C). Line a baking sheet with parchment paper and lightly oil the paper with coconut oil. Set it aside.
Next, mash the ripe bananas and measure exactly 1/2 cup. It's important to be accurate because too much banana flesh makes the cookies ultra wet.
This amounts to about 2 small bananas. If you have extra mashed bananas, freeze for later and use them in my tropical smoothie recipe.
Place the mashed banana, peanut butter, maple syrup, and vanilla extract in the bowl of your food processor. Using the S blade attachment, process the mixture until smooth.
Finally, transfer the wet ingredients into a mixing bowl and combine with the dry ingredients until a wet cookie batter forms.
Scoop one tablespoon of dough on the cookie sheet and leave half a thumb of space between each cookie.
Slightly wet your fingers and press down each dough ball to flatten.
Baking
Bake the cookies in the center rack of your oven for 12-15 minutes or until golden brown.
Cool the cookies down on a cooling rack.
Texture
These are soft banana oatmeal cookies with a moist center and delicious banana chocolate flavor. You won't taste the spinach at all, and kids love their green color. They call them monster cookies!
Add-ons
I love to add 1/3 cup of chocolate chips to these healthy kid cookies, but any of the below are great add-ons as well:
Chopped Walnuts
Shredded Coconut
Dried Raisins
Cranberries
Pumpkin Seeds
Storage
These Spinach Cookies keep very well in an airtight container in the fridge for up to 4 days.
Another option is to freeze the oatmeal banana cookies and thaw them the day before eating.
Allergy Swaps
If you have some of the following allergies, you can swap ingredients:
Gluten-free – Make sure you use certified gluten-free quick oats.
Nut-free– Replace the peanut butter with sunflower seed butter.
Banana-free – Replace the mashed banana with applesauce, mashed sweet potato, or pumpkin puree.
More Vegan Recipes For Kids
If you like this kid-friendly recipe, you'll love these:
Have you made these Vegan Oatmeal Banana Cookies with spinach? Leave a comment or review below and tell me if you served this as a healthy dessert, healthy snack, or breakfast!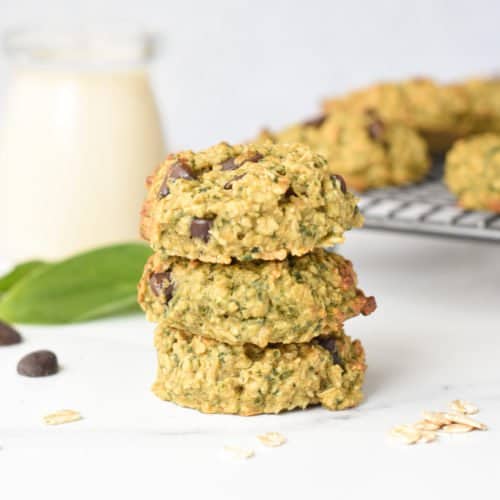 Spinach Cookies
Instructions
Preheat the oven to 350°F (180°C). Line a cookie sheet with parchment paper. Lightly oil the paper with coconut oil to prevent the cookies from sticking to the paper. Set it aside.

Peel, mash the bananas and measure 1/2 cup. Precision is important to prevent the cookies from being too soft.

Place the banana puree in the bowl of your food processor along with baby spinach leaves, peanut butter, maple syrup, and vanilla extract.

Using the S blade attachment, blend at high speed until the batter is fully combined and the spinach pulse into tiny pieces.

Transfer the batter into a mixing bowl and add in the quick oats and baking powder.

Stir until the batter is consistent, it should be wet, but it should not run out if you scoop out a dollop on the cookie sheet. If the batter is too runny, stir in an extra 1/4 cup of quick oats.

Stir in chocolate chips if desired.

Use an ice cream scoop maker to scoop about 1 tablespoon of cookie dough from the bowl and release them on the prepared cookie sheet.

Repeat, leaving half a thumb of space between each cookie.

Slightly wet your fingers and gently press the top of the cookies.

Bake for 12-15 minutes in the center rack of your oven until the sides of the cookies are golden brown.

Cool down on a rack and store in an airtight container in the fridge for up to 4 days or freeze and thaw at room temperature the day before.
Notes
Note 1: I didn't try the recipe with frozen spinach, and therefore I don't recommend this option. Note 2: Any liquid sweetener works like agave syrup, or coconut nectar. Don't use a granulated sweetener. Note 3: Any nut butter or seed butter can replace peanut butter, including sunflower seed butter and almond butter. Note 4: Quick oats work the best. Old-fashioned oats make the cookies coarse and dense. Note 5: This recipe requires a food processor to pulse the spinach into tiny pieces. The volume of wet ingredients is too small to use a blender. The mixture wouldn't blend very well, so use a food processor for the best results.
Share on Facebook
Pin Recipe
Nutrition
Serving:
1
cookie
|
Calories:
91.6
kcal
|
Carbohydrates:
12.1
g
|
Protein:
2.4
g
|
Fat:
4.1
g
|
Saturated Fat:
1.8
g
|
Polyunsaturated Fat:
0.8
g
|
Monounsaturated Fat:
1.3
g
|
Cholesterol:
0.1
mg
|
Sodium:
58.4
mg
|
Potassium:
128.3
mg
|
Fiber:
1.2
g
|
Sugar:
5.6
g
|
Vitamin A:
206.5
IU
|
Vitamin B12:
0.1
µg
|
Vitamin C:
1.3
mg
|
Calcium:
41.7
mg
|
Iron:
0.5
mg
|
Magnesium:
28.9
mg
|
Phosphorus:
57.2
mg
|
Zinc:
0.5
mg