This Coconut Margarita Recipe is an easy, delicious white Margarita recipe perfect if you can't choose between a Pina Colada and a Margarita!
This white cocktail tastes like a Pina Colada, except it doesn't contain pineapple juice but the authentic Margarita fruit flavor from the orange liqueur and lime juice.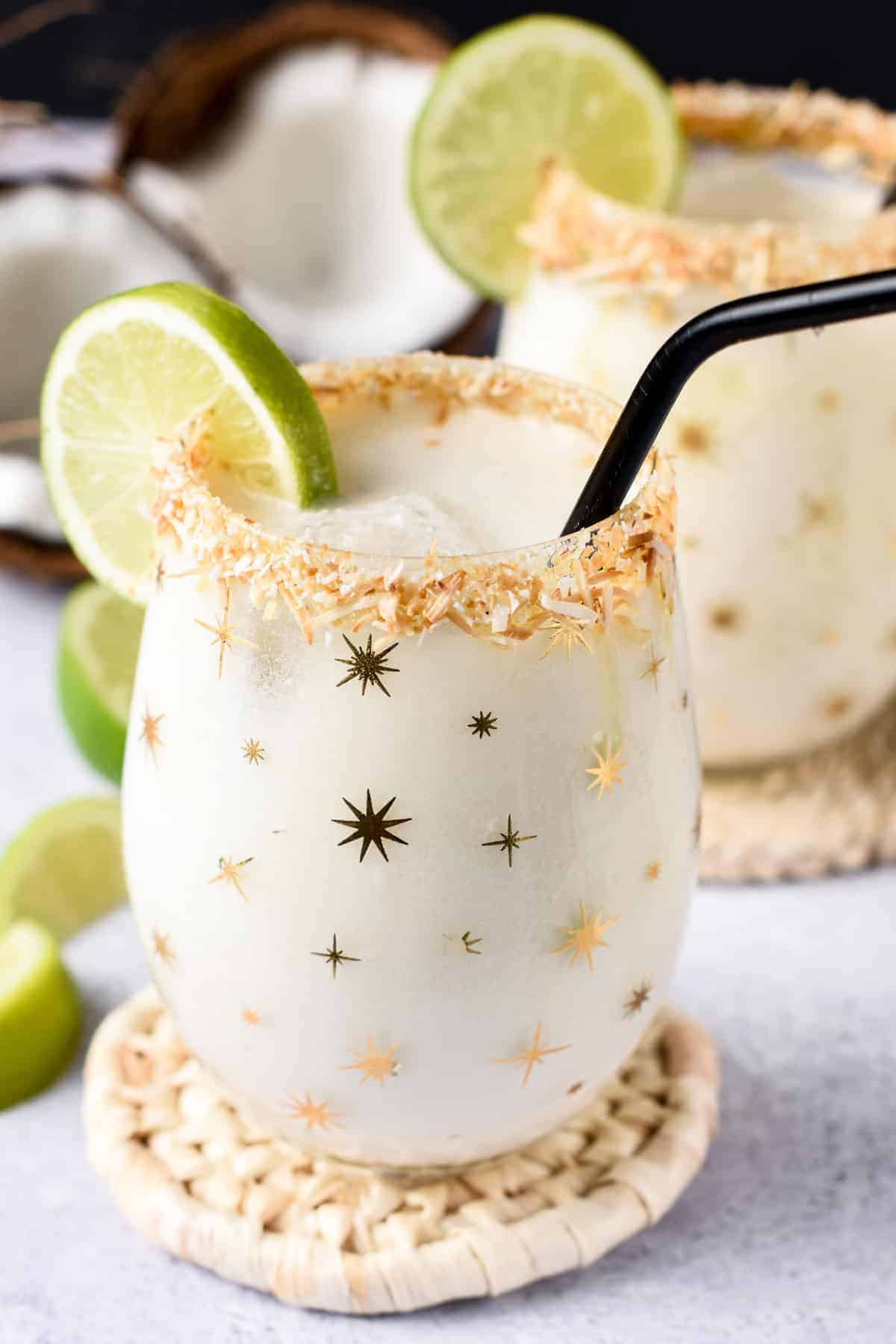 We love margarita as a celebration drink.
Our Skinny Spicy Margarita is a great cocktail for summer, so here's a Christmas Margarita with white color and light and sweet coconut flavor.
How To Make A Coconut Margarita
Most coconut cocktails call for cream of coconut, a delicious sweet coconut syrup that we love to use in our vegan coquito recipe.
But here, I wanted to make a less sweet cocktail, and below are the ingredients I chose to make a light and sweet coconut margarita.
Ingredients
For the white margarita:
Tequila Blanco or silver tequila
Triple Sec – or Grand Marnier or any orange liqueur you like. The particularity of a Margarita is the combination of Tequila, lime juice, and orange liquor, so this is a must!
Coconut Cream – if you use it from a can, shake your can first, or the coconut cream stays at the top of the can.
Unsweetened Coconut Milk – we used unsweetened long-shelves coconut milk.
Coconut Syrup or simple syrup – that's a non-alcoholic syrup with a strong coconut flavor. I found mine in the fruit juice section of our grocery store. If you can't find this, swap for agave syrup and add coconut extract to boost the coconut flavor of your drink.
Crushed Ice
Ingredients For The Glass Decoration
Toasted Coconut – I used large threads of coconut. If your coconut is not toasted, place 1/2 cup in a non-stick frying pan, cook, and stir for 2 minutes until golden. Don't add any oil. Cool down on a plate before using in the next steps.
Thick Liquid Sweetener – we used coconut nectar to boost the coconut flavor of the drink, but any liquid sweetener is fine, like agave or maple syrup.
Glass Size
This recipe serves three 3-ounce coconut margaritas (230 ml), so aim for a glass of 300 ml since you will fill the glass with 1/3 cup crushed ice to pour the cocktail on top.
Glass Preparation
In a classic Margarita recipe, the rim of the glass is covered with squeezed lime wedges and then dipped into salt.
Here, I rub the rim of the glass with coconut nectar – you can use any sticky sweetener like maple syrup or agave too. Then, dip the toasted shredded coconut to stick to the rim.
Place the decorated glass in the freezer to set for 10 minutes.
Shake Shake Shake
Fill half of a cocktail shaker with crushed ice, then add the tequila, triple sec, coconut milk, coconut cream, lime juice, and coconut syrup.
Shake vigorously to bring ingredients together and make the drink cold and frothy. It takes a good 30 seconds.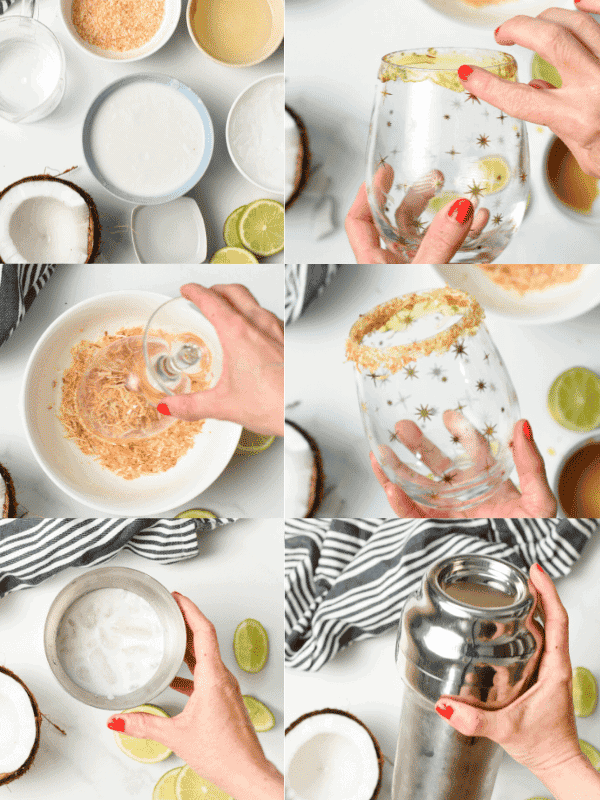 Serving
First, remove the glasses from the freezer. Then, fill it with ice cubes or crushed ice – about 1/3 cup is ideal.
Finally, serve the cocktail evenly between the 3 glasses.
Add a touch of fun with a fresh lime slice on the top of each glass!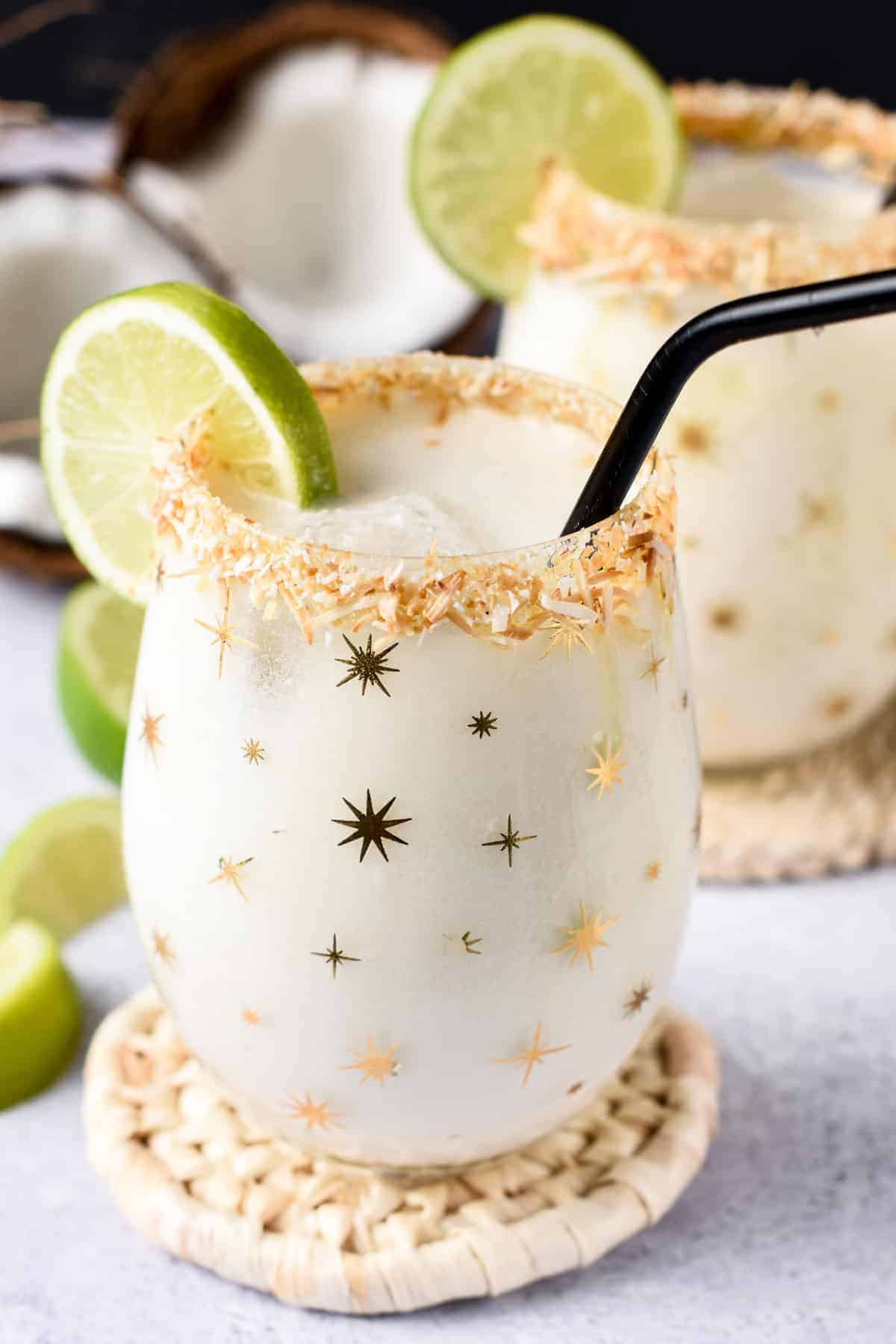 Flavoring Options
Of course, a cocktail can always be improved or adapted based on your taste buds!
Here are a few lovely options for you:
Pineapple Juice – add 1/2 cup of pineapple juice to make a coconut pineapple margarita – it tastes almost like Pina Colada.
Make It Skinny – swap the orange liqueur for orange juice and swap the simple syrup for coconut stevia drops.

More Cocktail Recipes
Below I listed some more cocktail and mocktail recipes for you to try:
Have you made this Coconut margarita recipe? Share a comment or review below.
Your friend, Carine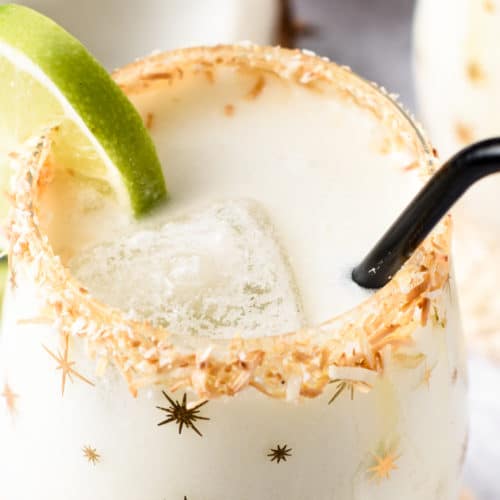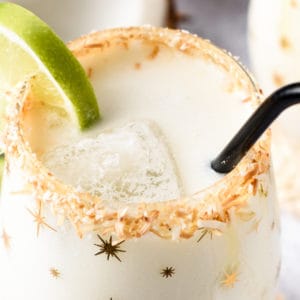 Coconut Margarita Recipe
An easy Christmassy Coconut Margarita recipe to celebrate winter with a delicious white cocktail.
Pin
Print
Review
Shop My Tools
Ingredients
Optional – for a stronger coconut flavor
Instructions
Place the toasted shredded coconut into a small shallow plate, wide enough to fit the diameter of your margarita glass. Set aside.

Rub the rim of a margarita glass with a lime wedge to wet about 2-3 mm of the rim.

Dip the glass upside down into shredded coconut, moving in a circular motion to stick the coconut to the wet part of the rim. Place the prepared glass in the freezer for at least 20 minutes, or fill it with ice to keep it cold.

In a cocktail shaker, add 1/3 cup crushed ice, tequila, triple sec, cream of coconut, coconut milk, freshly squeezed lime juice.

Close the shaker and shake vigorously for 60 seconds – that's long but worth it!

Remove the glass from the freezer. Fill it with 1/3 cup crushed ice and strain the cocktail over the glass into the prepared glass.

Enjoy immediately and garnish the glass with additional lime wedges on the rim or toasted coconut flakes.
Share on Facebook
Pin Recipe
Nutrition
Serving:
1
serving
|
Calories:
579.5
kcal
|
Carbohydrates:
41.5
g
|
Protein:
2.5
g
|
Fat:
27.8
g
|
Saturated Fat:
24.6
g
|
Polyunsaturated Fat:
0.4
g
|
Monounsaturated Fat:
1.2
g
|
Sodium:
29.9
mg
|
Potassium:
304.2
mg
|
Fiber:
0.2
g
|
Sugar:
26
g
|
Vitamin A:
19.1
IU
|
Vitamin C:
12.2
mg
|
Calcium:
23.2
mg
|
Iron:
2.3
mg
|
Magnesium:
49.3
mg
|
Phosphorus:
106.2
mg
|
Zinc:
0.9
mg