This Frozen Raspberry Margarita recipe is perfect for any occasion refreshing in summer or fun to share as a Christmas cocktail with vibrant red holiday colors.
There's always a great time to enjoy this frozen red margarita.
It's cocktail season! What's better for Christmas or New Year than Margarita to share and celebrate!
Margaritas are great cocktails to make in large batches to share, and you can always make a virgin margarita or lightened up margarita by twisting this recipe.
Let me share all my tips with you!
How To Make Raspberry Margarita
This frozen margarita is made from frozen raspberries, making it ideal for any season, and you don't have to wait for spring and fresh raspberries to enjoy this lovely red cocktail!
Plus, it's super easy to make in your blender. Mo cocktails shaker skills required!
Ingredients
Frozen Raspberry
Tequila – silver or blue tequila.
Orange Liqueur – like Grand Marnier or Triple Sec.
Fresh Lime Juice
Agave Syrup or simple syrup – agave is one of my favorite choices to sweeten cocktails naturally, and its flavor is amazing.
Fresh Mint – Mint, and raspberry are made to be together. The combination of flavors is the most amazing thing – a must-try!
Soda Water – to thin out the drink if needed.
Blending
In a high-speed blender, add all the ingredients together, preferably placing the frozen raspberries at the bottom of the blender.
Blend on the medium-speed setting and use the tamper tool of the blender to push the frozen fruits onto the blend and help the fruit blend.
If too thick, add water or soda water, 1/4 cup at a time until it reaches the best consistency.
Decorating Glasses
A classic Margarita is served in a glass with a salty rim. To decorate the glass, run a lime wedge around each margarita glass.
Then, dip the glass upside down into a shallow bowl full of fine salt to stick the sea salt around the glass rim.
You can check my Skinny Spicy Jalapeno Margarita Recipe for step-by-step pictures.
Pop the decorated glass in the freezer for 5-10 minutes to set the decoration.
Remove any salt that runs back to the center of the glass as you don't want too much salt in your margarita!
Serving
When the glasses are set, remove them from the freezer and serve the frozen margarita into each glass with a few fresh berries on top and mint leaves.
Margaritas are usually not served with straws, so serve as is, and enjoy the blend of salt on the glass rim and sweet raspberry margarita.
Healthy Margarita Options
Raspberries are one of the low-sugar fruits, and it's very low in calories. So you can definitely use this recipe to make low-sugar cocktails.
To do so, use the swaps below:
Replace orange liqueur with freshly squeezed orange juice – this cuts the sugar and calories but keeps the sweet and sour flavor of the drink.
Use sugar-free stevia-sweetened syrup or simply a few drops of stevia!
Frequently Asked Questions
Can I Use Other Frozen Berries?
Absolutely! you can use this recipe to make strawberry margaritas, blue margaritas – using blueberries or boysenberries.
What Should I Do If My Margarita Won't Blend?
This happens if the jug of your blender is too narrow at the bottom.
To help the blade pulse the frozen raspberries into a frothy margarita, add water or soda water, adding 1/4 cup at a time until it blends nicely.
Can I Use Fresh Raspberries?
I don't recommend fresh fruits in this recipe, or the margarita will be too runny, more like a syrup.
More Drink Recipes
Below I listed more vegan cocktails or mocktails to share with your family and friends on any occasion.
Have you made this frozen margarita recipe? Share a comment or review below to tell me how you served yours!
Your friend, Carine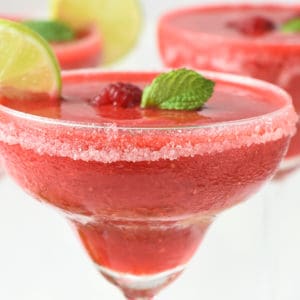 Raspberry Margarita
This easy Frozen Raspberry Margarita recipe is perfect for summer or Christmas. A delicious, vegan red cocktail to share with family and friends.
Pin
Print
Review
Ingredients
Optional – for a less frothy drink
To decorate the glass – optional
Instructions
Glass Decoration
Run a lime wedge around each glass rim, then dip each glass upside down into a shallow bowl filled with sea salt.

Freeze the glasses for 5 minutes to set.
Making The Margarita
In a blender, add all the ingredients: frozen raspberries, tequila, lime juice, orange liqueur, agave syrup, and mint leaves.

Blend on the medium-speed setting, using the tamper tool from your blender to push down the frozen fruits onto the blade and help the blender turn the margarita mix into a frothy mixture. If too thick and difficult to blend, add the soda water to thin out the drink.

Serve into 6 margarita glasses with fresh raspberry and fresh mint on top to decorate.
Share on Facebook
Pin Recipe
Nutrition
Serving:
1
Glass
|
Calories:
170.1
kcal
|
Carbohydrates:
20.5
g
|
Protein:
0.7
g
|
Fat:
0.4
g
|
Saturated Fat:
0.1
g
|
Polyunsaturated Fat:
0.2
g
|
Monounsaturated Fat:
0.1
g
|
Sodium:
5.3
mg
|
Potassium:
108
mg
|
Fiber:
3.5
g
|
Sugar:
14.2
g
|
Vitamin A:
29
IU
|
Vitamin C:
19.9
mg
|
Calcium:
17
mg
|
Iron:
0.4
mg
|
Magnesium:
13.8
mg
|
Phosphorus:
20.1
mg
|
Zinc:
0.3
mg