This refreshing Vegan Horchata recipe is a creamy, slightly sweet rice almond milk drink with a hint of cinnamon and vanilla.
It's a lovely white alcohol-free cocktail for Christmas or to refresh in summer.
As you know, we celebrate Christmas on the other side of the globe.
Christmas in summer means we are all into refreshing cocktails, and this dairy-free Horchata recipe is perfect for this occasion.
Plus, even the kids can have some, so it's a great family cocktail for the holiday season.
What's Horchata
Horchata, also known as Orxata, is a drink made of nuts or rice.
Most authentic Horchata recipes are made of homemade rice milk, combined with regular cow milk or evaporated milk, sugar, and spices.
It's a sweet beverage that originated in North Africa in the 11th Century and spread through the Spanish Empire to South America, where it's now very popular.
It's a non-alcoholic refreshing drink, a creamy 'Agua Fresca' translating to refreshing water.
The drink is flavored with a hint of cinnamon and vanilla.
Is Horchata Vegan?
Not always, most Horchata recipes are made from rice milk and regular cow milk to add a creamy texture to the drink, so they are not vegan.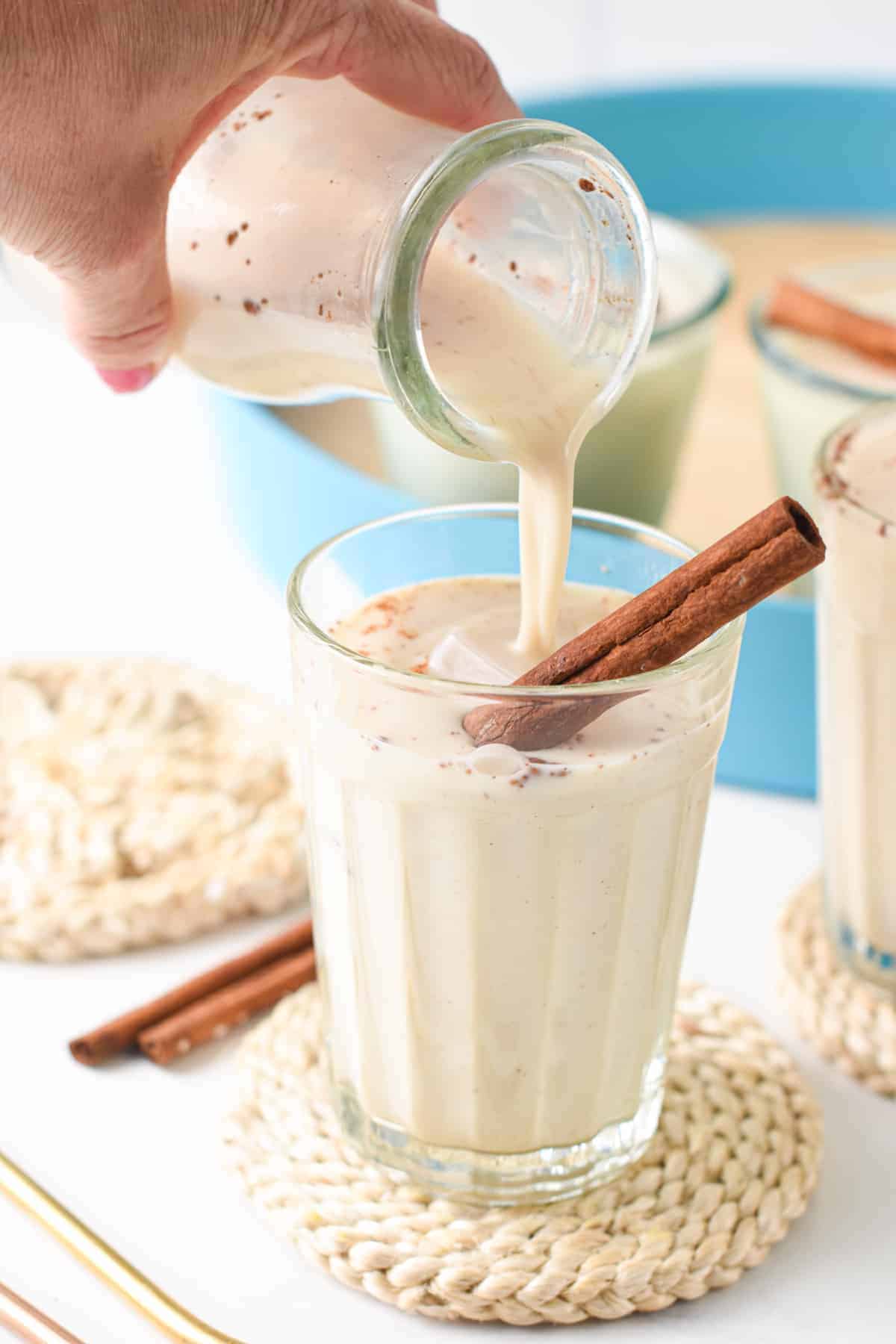 How To Make Vegan Horchata
A Vegan Horchata is a dairy-free non-alcoholic drink with a lovely white color, creamy texture, and delicious vanilla cinnamon flavor.
It's not only a great drink for summer but also a lovely refreshing alcohol-free Christmas cocktail.
Ingredients
You are probably wondering what horchata is made of. Well, it's pretty simple. This Vegan Horchata recipe is made of a simple few ingredients:
Long Grain White Rice
Cold Water
Unsweetened Almond Milk – we used activated almond milk. It contains more almonds, and it's thicker, making the drink creamier. Other options are coconut milk, soy milk, or oat milk but these three plant-based milk also add a strong flavor to the Horchata recipe, which masks the traditional rice flavor. The last option is to use rice milk, and you will turn your drink into a rice pudding flavor!
Vanilla Extract
Unrefined Cane Sugar – or any granulated sugar you love, we like using unrefined cane sugar for a healthier twist.
Ground Cinnamon
Cinnamon Sticks to serve.
The Day Before
It takes some time and patience to make a delicious creamy Horchata cocktail. The day before, place the long-grain white rice in a blender with water.
Blend on the high-speed setting until the water is cloudy white and thick, and the rice is pulsed into fine ground.
If your blender is not powerful enough for this process, pre-soak the rice in lukewarm water for an hour to soften.
Store the mixture in an airtight container in the fridge and soak overnight.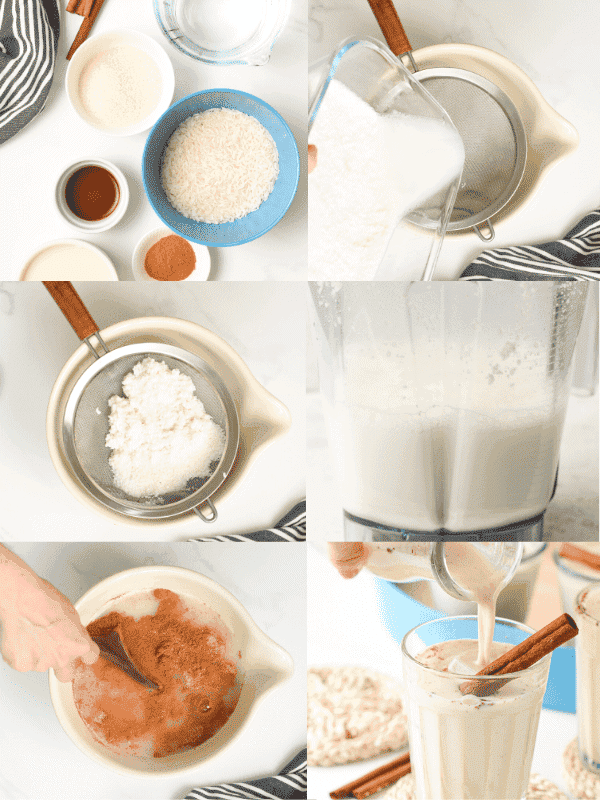 Assembling The Drink
Filter the rice milk over a sieve, fine mesh strainer, or nut milk bag.
Discard the rice strain and keep the rice milk.
Stir the rice water with the remaining ingredients. I personally like to blend the ingredients again to pulse the sugar nicely into the milk and avoid the sugar gravitating to the bottom of the drink.
Store the drink in the fridge in a jug over ice to keep it fresh before serving.
Start with a minimal amount of sugar and adjust to taste.
Serving
Serve over ice in a tall glass with a cinnamon stick in the glass to enhance the cinnamon flavor.
Enjoy your horchata with your Vegan Cornbread or Vegan Birria Tacos.
Frequently Asked Questions
Can I Make A Fast Horchata Without a Blender?
Yes, you can! By using ready-made rice milk from the store and 3 cups of rice milk, you can make a quick and easy horchata recipe.
Can I Add Alcohol To An Horchata?
Absolutely, make this recipe boozy by adding 1/4 cup of white or blue tequila for delicious cocktails.
Is Horchata Healthy?
Horchata is a sweet milk drink with a good amount of added sugar from lactose and sugar.
However, this plant-based horchata recipe is much healthier than the classic horchata recipe because it contains less saturated fat by using plant-based milk and less sugar added using unrefined sugar as a sweetener.
How To Make Vegan Horchata Creamier?
You can make it super-creamy by using fresh plant-based milk like fresh almond milk instead of UHT almond milk which is often watery.
You can also use coconut milk, oat milk, or soy milk. They contain more fat and make drinks thicker and creamier.
What Dinner Can I Pair It With?
Like any other milky drink, the Vegan Horchata is perfect to soften the effect of a spicy dish.
So you can use it as the drink for Vegan Birria Tacos, it's a divine combination!
More Vegan Drink Recipes
Below I listed some more vegan cocktail recipes and vegan smoothie recipes to refresh and share any time of the year.
Have you made this Mexican Horchata recipe? Share a comment or review below, and let me know how much you love it.
Your friend, Carine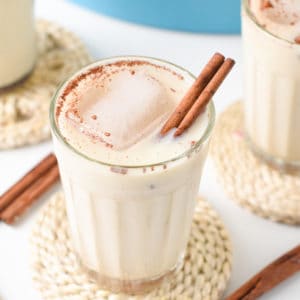 Vegan Horchata
A refreshing Vegan Horchata recipe is a creamy, slightly sweet rice milk drink with a hint of cinnamon and vanilla. It's a lovely white alcohol-free cocktail for Christmas or to refresh in summer.
Pin
Print
Review
Servings: 6 servings
Calories: 126.2 kcal
Instructions
In a blender, add uncooked rice and water. Blend on the high-speed setting until it breaks up roughly and the water is white and cloudy. Set aside in the fridge overnight in a sealed container.

The next day, stir the rice mixture, pour the rice mixture into a fine-mesh strainer over a mixing bowl. Discard the rice in the mesh.

In the mixing bowl, stir in almond milk, vanilla extract, cinnamon, and sugar. You can blend again for a few seconds to combine the sugar into the milk. Adjust the sugar to taste. I used 1/3 cup for a low-sugar drink. Add up to 2/3 cup of sugar.

Transfer to a pitcher and store in the fridge until time to serve.

Give a good stir in the pitcher before serving and serve over ice cubes with a stick of cinnamon.
Storage
Store up to 5 days in a sealed jug in the fridge.
Share on Facebook
Pin Recipe
Nutrition
Serving: 1serving (3/4 cup) | Calories: 126.2kcal | Carbohydrates: 34.3g | Protein: 0.4g | Fat: 1g | Saturated Fat: 0.1g | Polyunsaturated Fat: 0.5g | Monounsaturated Fat: 0.5g | Sodium: 114.4mg | Potassium: 14.9mg | Fiber: 0.6g | Sugar: 33.5g | Vitamin A: 2IU | Vitamin C: 0.1mg | Calcium: 110.3mg | Iron: 0.1mg | Magnesium: 1.7mg | Phosphorus: 0.5mg | Zinc: 0.1mg