Vegan Lemon Blueberry Muffins
These vegan lemon blueberry muffins are tasty blueberry muffins filled with tangy lemon zest and juice.
If there's a vegan breakfast muffin you need to add to your breakfast rotation, it's this one. Blueberry and lemon are made to be together. It's the best combo of flavors.
Plus, this vegan muffin recipe works with fresh blueberries or frozen blueberries when they are not in season.
It means you can make these delicious vegan blueberry muffins all year round.
How To Make Vegan Lemon Blueberry Muffins
To make fluffy blueberry muffins, you need just 15 minutes and minimal kitchen tools.
Let's see what you need to start this vegan blueberry lemon muffin recipe.
Ingredients
All you need to whip a batch of these delicious muffins are:
All-Purpose Flour or whole wheat flour
Baking Powder
Salt
Almond Milk
Baking Powder
Unrefined Cane Sugar or white sugar or a healthier alternative like date sugar or coconut sugar
Lemon Juice – freshly squeezed lemon juice taste better
Lemon Zest – from untreated lemon
Fresh Blueberries or frozen blueberries
Cornstarch
Olive Oil or any other oil like melted coconut oil, sunflower oil, or canola oil.
Vanilla Extract
Almond Milk
Preparation
Preheat the oven to 400°F (200°C). Line a 12-hole muffin tin with muffin liners. Slightly oil the paper cases with oil spray. Set aside.
Coating The Blueberries
In a small bowl, prepare the blueberries. Stir cornstarch with fresh blueberries until evenly coated.
If using frozen blueberries, postpone this step until the last minute – just before folding the berries into the muffin batter.
Vegan Buttermilk
In a large mixing bowl, prepare the vegan buttermilk mixture. Add almond milk, lemon juice, lemon zest, light olive oil, and vanilla extract.
Whisk to combine and set aside for a few minutes until it looks curdled.
In another bowl, add the dry ingredients: all-purpose flour, baking powder, cane sugar, and salt.
Stir the dry ingredients into the wet ingredients. Combine very well until no more lumps of flours shows.
Finally, fold in the coasted blueberries, and stir a few times to incorporate them evenly in the batter.
Baking The Muffins
Divide the muffin batter evenly into the 12 muffin paper liners.
Bake the muffins for 5 minutes at 400°F (200°C) then reduce the oven to 350°F (180°C) and keep baking for 15 to 20 minutes.
The blueberry lemon muffins are ready when golden brown, and a toothpick inserted in the center of the muffins comes out clean.
Let the muffins cool down for 5 minutes in the baking pan, then transfer them to a cooling rack.
Lemon Glazing
The lemon glaze makes all the difference in this simple vegan muffin recipe.
But before you prepare yours, make sure the muffins are perfectly cooled down, or the glaze melts in the muffin crumb.
In a small bowl, whisk lemon juice, powdered sugar, and lemon zest.
Add more lemon juice, a few drops at a time, to thin out the glaze, or on the contrary, add more powdered sugar to thicken the glaze.
Drizzle on top of the cooled blueberry lemon muffins, and add a pinch of extra lemon zest on top for an extra tangy flavor.
Add-Ons
You can add flavor to these vegan blueberry muffin recipe by stirring some of the below ingredients in the muffin batter:
Cinnamon Blueberry Muffins – Add 1 teaspoon of cinnamon.
Blueberry Chocolate Chips Muffins – 1/3 cup of dark chocolate chips.
Blueberry Oats Muffins – stir in 1/ cup of rolled oats and replace 1/3 cup of flour with oat flour.
Vegan Mixed Berry Muffins – Swap half of the blueberries for raspberries or blackberries.
Allergy Swaps
Below are some substitution ideas if you have allergies to some of the ingredients used in this recipe.
Oil-Free – You can replace the oil with the same amount of mashed banana, plant-based yogurt, or unsweetened apple sauce. You should expect a denser, moisture crumb as the oil has been removed.
Gluten-Free – I didn't try the recipe using all-purpose gluten-free flour, but feel free to try it.
Sugar – Other sweeteners that add a delicious sweetness to the muffins are coconut sugar, sugar-free allulose, or brown sugar.
Nut-Free – Replace the almond milk with soy milk, oat milk, or any non-dairy milk without nuts you love.
Lemon Juice – You can swap lemon juice for lime juice or one tablespoon of apple cider vinegar and two extra tablespoons of dairy-free milk.
Flour – You can swap all-purpose flour for white spelt flour or white whole-wheat flour.
Oil Swap – You can use any vegetable oil you love, but I prefer olive oil or avocado oil, as they contain a better ratio of omegas. Otherwise, try melted vegan butter.
Storage Instructions
You can store the muffins in a cake box, airtight container sealed, and place it in the fridge for up to 4 days.
You can also freeze the muffins for up to 1 month and thaw them at room temperature the day before.
Frequently Asked Questions
Below are my answers to your most common questions about this easy muffins recipe.
What Can Be Used In Place Of Eggs In Muffins?
You can make any muffin recipe vegan by replacing each egg with three tablespoons of oil, unsweetened applesauce, or mashed bananas.
Can I Bake The Recipe In A Mini Muffin Pan?
Yes, you can bake a classic 12-muffin recipe into 2 pans of 12-mini muffin holes.
Is Egg Necessary In Muffins?
No, you can make delicious muffins without eggs and without egg replacers.
As long as the liquid-to-dry-ingredient ratio is balanced, the muffins will be moist, fluffy, and tasty.
More Muffin Recipes
If you like muffins, you'll love these other muffin recipes: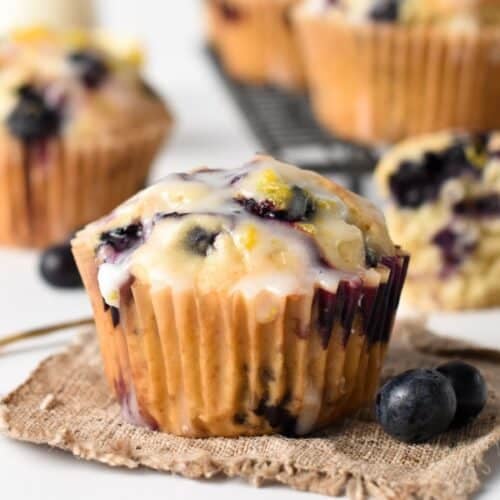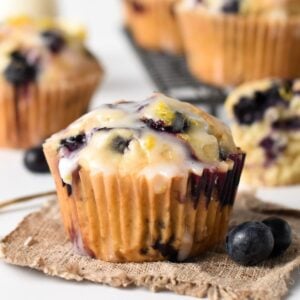 Vegan Lemon Blueberry Muffins
Instructions
Preheat the oven to 400°F (200°C). Line a 12-hole muffin tray with a paper liner. Set aside.

In a small bowl, stir blueberries and cornstarch until they are well coated. Set aside.

In a large bowl, whisk freshly squeezed lemon juice, almond milk, olive oil, lemon zest, and vanilla extract. Set aside for a few minutes until it looks curdled.

In another large mixing bowl, combine all-purpose flour, sugar, salt, and baking powder.

Combine the dry ingredients with the liquid ingredients until the batter is smooth and no lumps of flour can be seen.

Fold in the coated blueberries and stir until just combined. Don't over-mix the batter to avoid gummy muffins.

Fill the 12 muffin holes evenly.

Bake the muffins for 5 minutes at 400°F (200°C), then reduce to 350°F (180°C) and keep baking for 15-20 minutes or until golden brown and set in the center. Insert a toothpick in the middle of one muffin to check. If clean, they are ready to remove from the oven.

Cool down for 5 minutes on the muffin tin, then transfer to a cooling rack to cool completely at room temperature.
Lemon Glazing
When the muffins are cooled, prepare the lemon glaze.

In a small bowl, stir powdered sugar, lemon juice -and lemon zest. If too thick, thin it out with more lemon juice. To thicken, add more powdered sugar.

Drizzle the lemon glaze on top of the cooled blueberry muffins and add a pinch extra lemon zest if you like.

Refrigerate to set the glazing.
Storage
Store in an airtight container in the fridge for up to 4 days.

Freeze the muffin for up to 1 month in zip-lock bags and thaw at room temperature the day before.
Share on Facebook
Pin Recipe
Nutrition
Serving:
1
muffin
|
Calories:
191.5
kcal
|
Carbohydrates:
36.1
g
|
Protein:
2.4
g
|
Fat:
5.1
g
|
Saturated Fat:
0.7
g
|
Polyunsaturated Fat:
0.7
g
|
Monounsaturated Fat:
3.5
g
|
Sodium:
202.4
mg
|
Potassium:
47.2
mg
|
Fiber:
1.2
g
|
Sugar:
18.1
g
|
Vitamin A:
10.6
IU
|
Vitamin C:
4.6
mg
|
Calcium:
76.1
mg
|
Iron:
1.1
mg
|
Magnesium:
6.3
mg
|
Phosphorus:
39.9
mg
|
Zinc:
0.2
mg