Healthy peanut butter rice crispy bars
These healthy peanut butter rice crispy bars are easy, healthy snack bars made with 5 natural ingredients. They are dairy-free, refined-sugar-free, and gluten-free too! Keep reading to learn how to make peanut butter rice crispy treats without marshmallows!
Yes, a classic peanut butter Rice Krispies bar is not that healthy, even made at home. The classic recipe involves a lot of sugar from corn syrup and melted mini marshmallows, which means Rice Krispies based recipes are not vegan. Here I am sharing with you our healthy no-bake peanut butter rice crispy bar recipe made with only real ingredients.
Are rice krispies vegan?
Rice Krispies from the popular brand Kellogg's are not vegan. They are fortified with vitamin D3 derived from animal sources. However, there is many puffed rice cereals on the market containing no additives and 100 % vegan.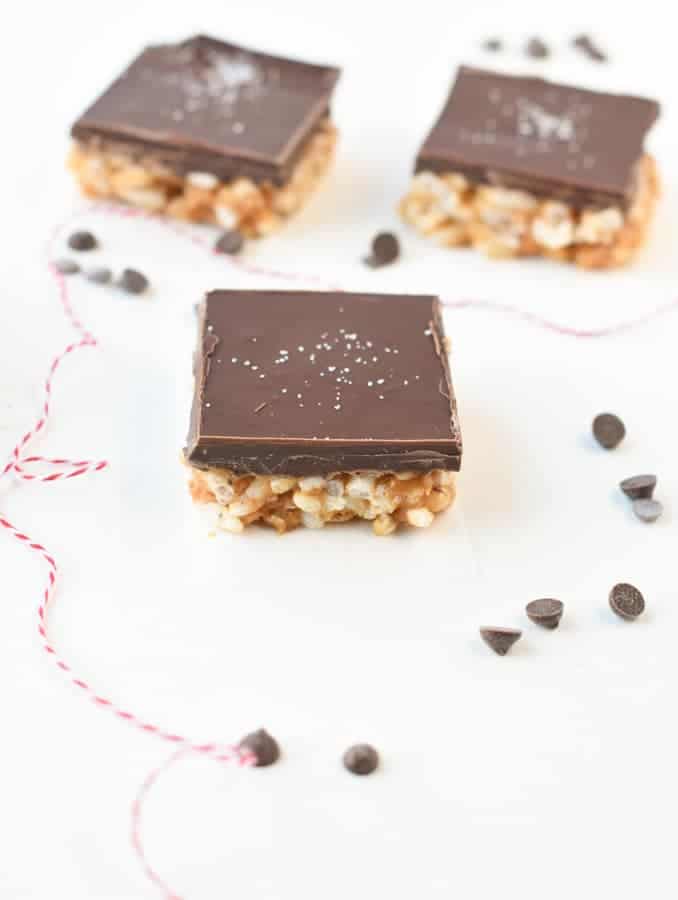 Healthy peanut butter rice crispy treat ingredients
All you need to make these healthy no-bake bars are 7 ingredients:
Natural peanut butter – use a fresh jar with oil on top and make sure there is no added sugar or added oil in your peanut butter.
Maple syrup – or any unrefined liquid sweetener you love like agave syrup or brown rice syrup. All these options are vegan approved.
Coconut oil – use refined coconut oil to avoid coconut flavor. This is the key ingredient to making peanut butter Rice Krispies treats without marshmallows and still have them hold together. Coconut oil sets the bars under just 21C.
Sea salt – optional, don't add if you are using salted peanut butter.
Vanilla extract
Puffed rice cereals – as mentioned above, rice Krispies from Kellogg's brand are not vegan approved. That's what these vegan rice krispie treats are made with natural puffed cereals with no added sugar or vitamin D3
Dark chocolate chips – I am using vegan chocolate chips, check the ingredients list to make sure there is no added milk powder.

How to make healthy peanut butter rice crispies treats?
First, line a square pan with parchment paper, lightly grease with coconut oil or cooking spray, and set aside. Then, in a large bowl add your favorite crispy cereals. It doesn't have to be puffed rice cereals by the way!
This recipe works with any of the healthy puffed crispy cereals options below:
puffed brown crispy rice
puffed unsweetened crispy rice
puffed quinoa
puffed amaranth
puffed spelt
Next, prepare the peanut butter mixture. Bring a small saucepan over low heat and combine the natural creamy peanut butter with vanilla extract, coconut oil, and maple syrup until creamy. Don't overcook this mixture or it can stick to the pan.
Finally pour the peanut butter mixture onto the puffed cereals and stir in to evenly coat all the puffed crispy cereals with the mixture.
Assemble the bars
The trick to making no-bake peanut butter rice crispies bars is to:
Spread the coated cereals firmly into the pan. Press it with your hands, place a piece of parchment paper on top of the bar and press hard with your hand to compact the bar and create a flat layer with no holes between the cereals. Then peel off the parchment paper.
Freeze them for 15 minutes. This will firm up the bottom layer quickly and make it easier to spread the chocolate layer on top.

Chocolate peanut butter layer
To make the top layer, melt dark chocolate chips, peanut butter, and coconut oil over low heat in a saucepan. When the liquid is melted and shiny, remove the bar from the freezer and evenly pour the chocolate on top of the bar. Then, quickly spread the melted chocolate all overt he rice layer to evenly cover the bar. Finally, return the dish into the freezer to set the top chocolate layer. It should take about 5-10 minutes.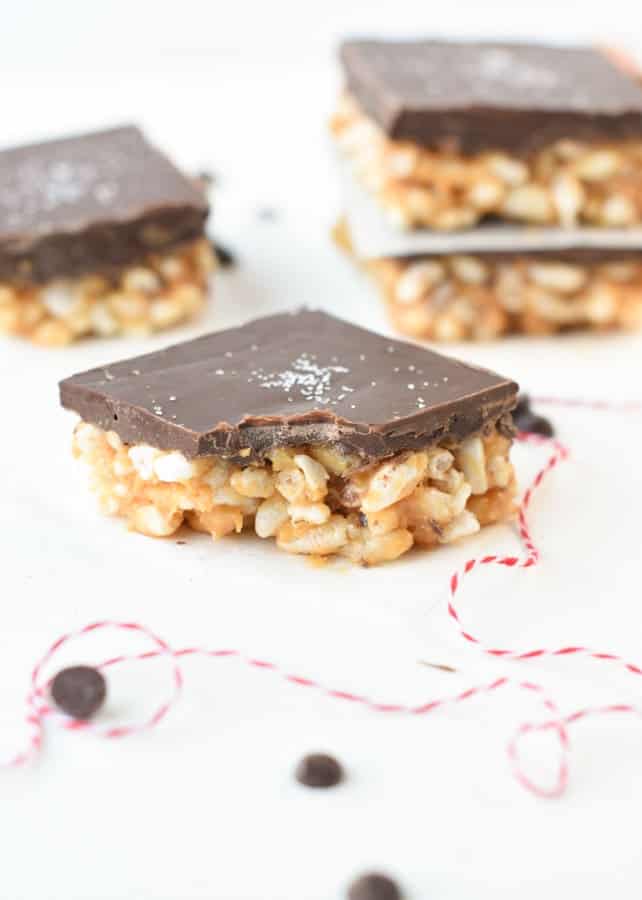 How to cut no-bake peanut butter rice crispy bars?
Often, rice vegan rice krispies treats bar crumble apart when you cut them out. The trick is to warm the knife blade, this makes it easier to cut through the chocolate layer, without breaking it into pieces.
How to store your no-bake bars
These vegan chocolate peanut butter rice crispy treats must be stored in the fridge for up to 2 weeks. They soften quickly at a temperature above 23C and they are better kept in a cold place. If you want to take away these bars, make sure they are stored in a cool place. Otherwise, if it is hot where you live, you can freeze the bars in an airtight container and thaw at room temperature. Their texture will be perfect after for 1 hour at room temperature so if you want to travel with these bars, freeze and store in a cold place in a container.
More no-bake peanut butter recipes
I love to create no-bake peanut butter snacks. They are easy, healthy, and handy! You may also want to try my healthy vegan snack recipes below.
Made these
easy peanut butter rice crispy treats
? Share a picture with me on
Instagram
or write your comment below! I love to hear your feedback and see your creations,
Your friend, Carine
Healthy peanut butter cereals bars
A healthy peanut butter treat made of puffed brown rice crispies cereals, ready in less than 30 minutes and made with real ingredients
Ingredients
¾

cup

Natural Creamy Peanut Butter

-

no added oil, no added sugar, fresh jar

⅓

cup

Maple Syrup

3

tablespoons

Coconut Oil

1

teaspoon

Vanilla Extract

¼

teaspoon

Salt -

- if peanut butter is unsalted

2 ½

cup

Crispy rice cereals

-

- brown or rice crispies or puffed quinoa or puffed amaranth
Chocolate Peanut Butter Layer
Instructions
Line a 9-inch x 9-inch square pan with parchment paper. Lightly oil the paper with cooking spray or coconut oil. Set aside

In a medium-size saucepan, add fresh runny peanut butter, maple syrup, coconut oil, salt, and vanilla. Bring under low/medium heat, stir and cook until it melts and comes together into a thick creamy paste. It takes just 1 minute, don't overcook it or it sticks to the pan. You can also microwave the mixture in a microwave-safe bowl by 30 seconds burst, stir between each session in the microwave, until creamy.

Place the rice crispy cereals into a large mixing bowl (start with 2 cups + 1/2 cups) and pour the peanut butter mixture on top.

Combine with a spoon until all the cereals are coated. If you used small puffed cereals you may want to add 1/2 cup puffed cereals, adjust to taste.

Pour the mixture into the prepared pan. First, spread evenly with a greased spatula. Then, lay a piece of parchment paper on top of the bar to fully cover the bar. Next, press/rub the surface hard enough to compact the bar and avoid air between rice crispies (see picture above in the post for tips)

Place the pan in the freezer to set, about 10-15 minutes, meanwhile prepare the chocolate layer
Chocolate layer
In a small saucepan, over low medium heat, melt dark chocolate chips, coconut oil, and peanut butter until smooth and shiny.

Remove the pan from the freezer and pour the melted chocolate all over the bar.

Spread the chocolate using a greased spatula until all the bar is coated with the melted chocolate

Return the pan to the freezer for 10 minutes or until the chocolate layer is set. Then, refrigerate for 1 hour before slicing.
Slicing
Remove from the fridge and wait for 5 minutes before cutting to avoid the chocolate top layer to crack.

If you can, warm the blade of your knife under a flame or boiling water (dry in a towel) and cut into 12 squares. The warm blade will cut the chocolate layer easily avoiding the layer to break in pieces.
Storage
Store in the fridge for up to 2 weeks. The cereals soften slightly after 1 week and that's normal.
Share on Facebook
Pin Recipe
Nutrition
Serving:
1
square
|
Calories:
300
kcal
|
Carbohydrates:
26
g
|
Protein:
6
g
|
Fat:
20
g
|
Saturated Fat:
12
g
|
Cholesterol:
1
mg
|
Sodium:
154
mg
|
Potassium:
280
mg
|
Fiber:
2
g
|
Sugar:
15
g
|
Vitamin C:
1
mg
|
Calcium:
85
mg
|
Iron:
1
mg