Sauteed Carrots In 15 minutes (Vegan, Gluten-free)
These Sautéed Carrots are crunchy, quickly browned carrots cooked in olive oil and flavored with fresh garlic and rosemary.
A healthy Mediterranean-style vegan side dish for your holiday table.

What Are Sauteed Carrots?
Sauteed carrots are a simple French dish made with sliced carrots cooked in a frying pan or Dutch oven.
I was born and raised in France, eating this sautéed carrot recipe all the time. French people sometimes like to serve this with a drizzle of cream, which I don't think is necessary.
I like them plain. They are slightly crunchy, with the lightly sweet flavor you could expect from carrots, and so well balanced with the combination of olive oil and rosemary.
Trust me, this vegetarian side dish is a must for your holiday table, and even the kids will love it!
How To Make Sautéed Carrots
Sauté means browning or cooking food fast over high heat in a small amount of oil. For carrots, it's a bit different because carrots are a hard root vegetable that won't soften if you only sautéed carrots in oil.
So to soften the sautéed carrots, we add a tiny amount of liquid, either vegetable stock or water and simmer for 5-7 minutes until fork tender.
Let's see the ingredients you need to make this easy side dish recipe.
Ingredients
All you need to sauté carrots are:
Fresh baby carrots – trim the end and peel the carrots before slicing. It's important to choose small baby carrots, their diameter is smaller, and they cook faster with the Sautee method.
Olive oil is my favorite choice to decrease saturated fat, but you can also use coconut oil or vegan butter.
Fresh rosemary or fresh thyme or other herbs you prefer, like oregano or rosemary. You can also swap fresh herbs for one teaspoon of dried herbs.
Garlic cloves
Sea salt
Pepper
Fresh parsley to serve.
Peeling And Cutting Carrots
First, make sure you selected small baby carrots for this recipe, or your carrots won't cook well in the center.
Then, prepare the carrots but washing them under tap water, trimming the ends, and peeling them well.
Next, let me show you how to cut carrots diagonally in the picture below.
That's the trick if you want to make delicious sautéed carrots or any other root vegetable. You must cut them thin, into about a 1/4-inch thickness, and diagonally!
To do so, tilt the knife blade to a 45-degree angle and slice.
Sautee Carrots
Now, warm the olive oil over medium-high heat in a skillet or Sautee pan. When the oil is hot, add sliced carrots, fresh herbs of choice – I used rosemary from our garden, and a pinch of salt and pepper.
Stir and cook few minutes until the carrots have a nice shine and are slightly fragrant and roasted.
Add in vegetable stock, cover, and cook carrots for about 5 minutes on medium heat.
Finally, remove the lid and cook until the liquid evaporates and the carrots are tender.
Serving
Serve in a large serving dish topped with finely chopped fresh parsley, salt, and pepper.
There are many fresh herbs that go well with carrots. You can swap parsley with some of the below options:

Storage Instructions
You can store these sautéed carrots in an airtight container in the fridge for up to 4 days. Or, you can freeze and thaw in the fridge the day before serving.
Rewarm
You can rewarm these sautéed carrots in a saucepan over medium heat or in a microwave-safe bowl.
Frequently Asked Questions
Below are some answers to your most popular questions about this carrot recipe.
How Long Does It Take To Sauté Carrots?
It depends on how thick you cut the carrots, but for 1/4 inches carrot slices, it takes just 10 minutes to sauté carrots.
Can I Add Another Vegetable To The Carrots?
Yes, you can use half a pound of carrots and half a pound of broccoli florets.
Sautéed broccoli and carrots are delicious together, and they cook at the same speed, so you can definitely use this recipe for this side dish variation.
Can I Use Other Herbs?
If you don't have fresh thyme or Rosemary, you can skip this or use one teaspoon of your favorite dried herbs instead.
For example, dried oregano and dried parsley go well with carrots.
Can I Freeze The Recipe?
Yes, you can absolutely freeze leftovers of this side dish in an airtight container for later.
More Vegetarian Side Dish Recipes
It's always great to add some vegetarian side dishes to your holiday table.
Whether you are vegan, vegetarian, or eat a bit of everything, some vegetables are always welcome.
Below I listed some delicious, healthy side dishes for you to try.
Have you made this carrot recipe? Share a comment or review below to let me know which meal you served on the side of these delicious carrots!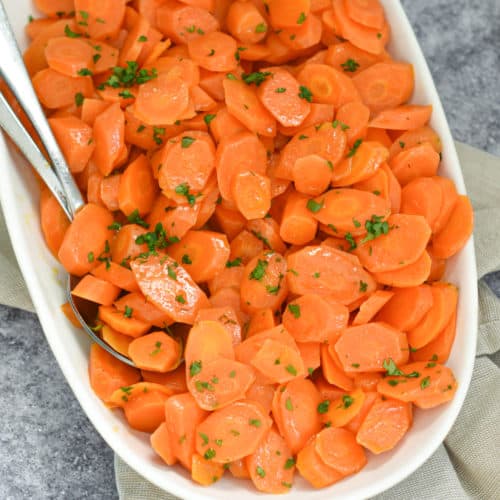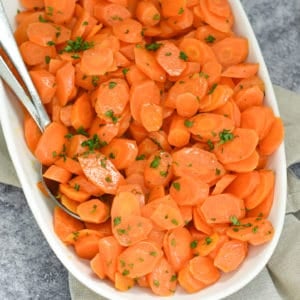 Sautéed Carrots
These Garlic Rosemary Sautéed Carrots are a South-of-France-inspired side dish delicious for your holiday table.
Pin
Print
Review
Servings: 6 servings
Calories: 106.9 kcal
Ingredients
To serve
2 tablespoons Fresh Parsley - or herbs of choice like parsley, basil
Instructions
Trim, peel carrots, and cut sliced diagonally into 1/4 inches slices – see my pictures above for help.

In a large cast-iron pan or sauté pan, heat olive oil over medium-high heat.

Add the slices of carrots and sauté carrots for 2-3 minutes until the carrots are evenly coated with oil and shine.

Add the vegetable stock, salt, pepper, and fresh rosemary branches. Cover the pan with a lid. Reduce to low heat and simmer for 5-7 minutes, depending on how soft you want the carrots. Keep cooking for about 5 minutes.

Remove the lid, remove the thyme and discard it. Stir in crushed garlic and keep cooking for a few minutes until all the stock has evaporated.

Remove from heat, transfer to a serving dish, and top with extra fresh herbs of choice and a pinch of sea salt and pepper.
Equipment
Share on Facebook
Pin Recipe
Nutrition
Serving: 1serving | Calories: 106.9kcal | Carbohydrates: 15.3g | Protein: 1.6g | Fat: 5.1g | Saturated Fat: 0.7g | Polyunsaturated Fat: 0.7g | Monounsaturated Fat: 3.4g | Sodium: 157.7mg | Potassium: 499.3mg | Fiber: 4.4g | Sugar: 7.3g | Vitamin A: 25415.2IU | Vitamin C: 11.7mg | Calcium: 55.8mg | Iron: 0.6mg | Magnesium: 19.7mg | Phosphorus: 56.3mg | Zinc: 0.4mg