French-Style Green Beans Almondine
This classic French Style Green Beans Almondine recipe makes the most delicious crunchy Green Beans cooked in sautéed shallots and toasted almonds.
Let's bring more vegetarian side dishes to your holiday table with these delicious sautéed Green Beans ready in 15 minutes.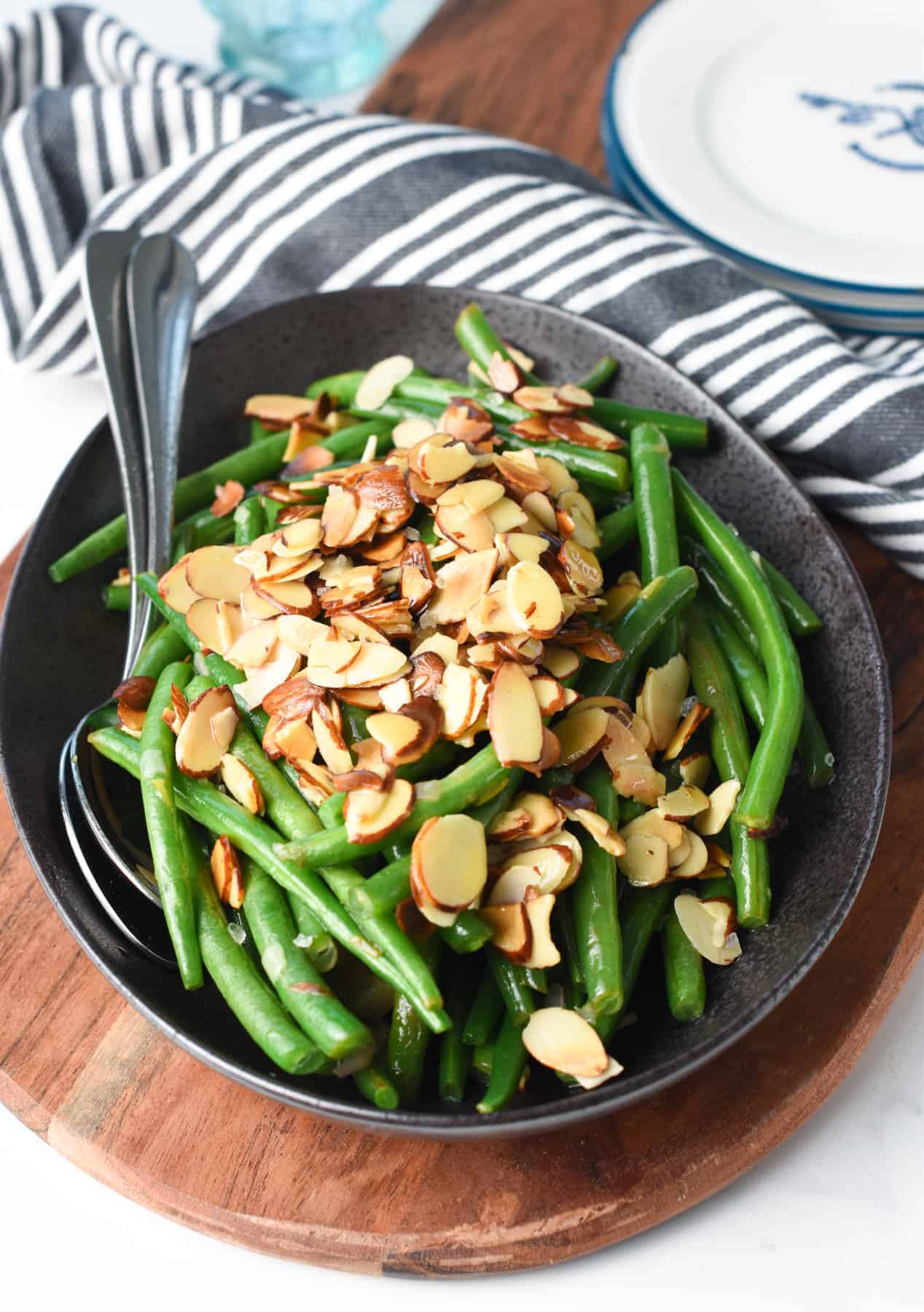 I continue my series of veganized French recipes with these French-style green beans.
What Are French-Style Green Beans?
You probably wonder what French-Style green beans are. So why is the French green bean recipe so different? Well, it's basically three things.
The secret of French Green Beans is to cook green beans in extra virgin olive oil, not in butter!
Plus, French people cook green beans in sautéed shallots instead of onions and top their green beans with toasted sliced almonds.
I grew up eating green beans cooked this way, and I really think that shallots, olive oil, and almonds make green beans so much tastier!
Some people call them Green bean almondine or haricot vert amandine in French. Call them as you like. These vegan green beans are a must-try!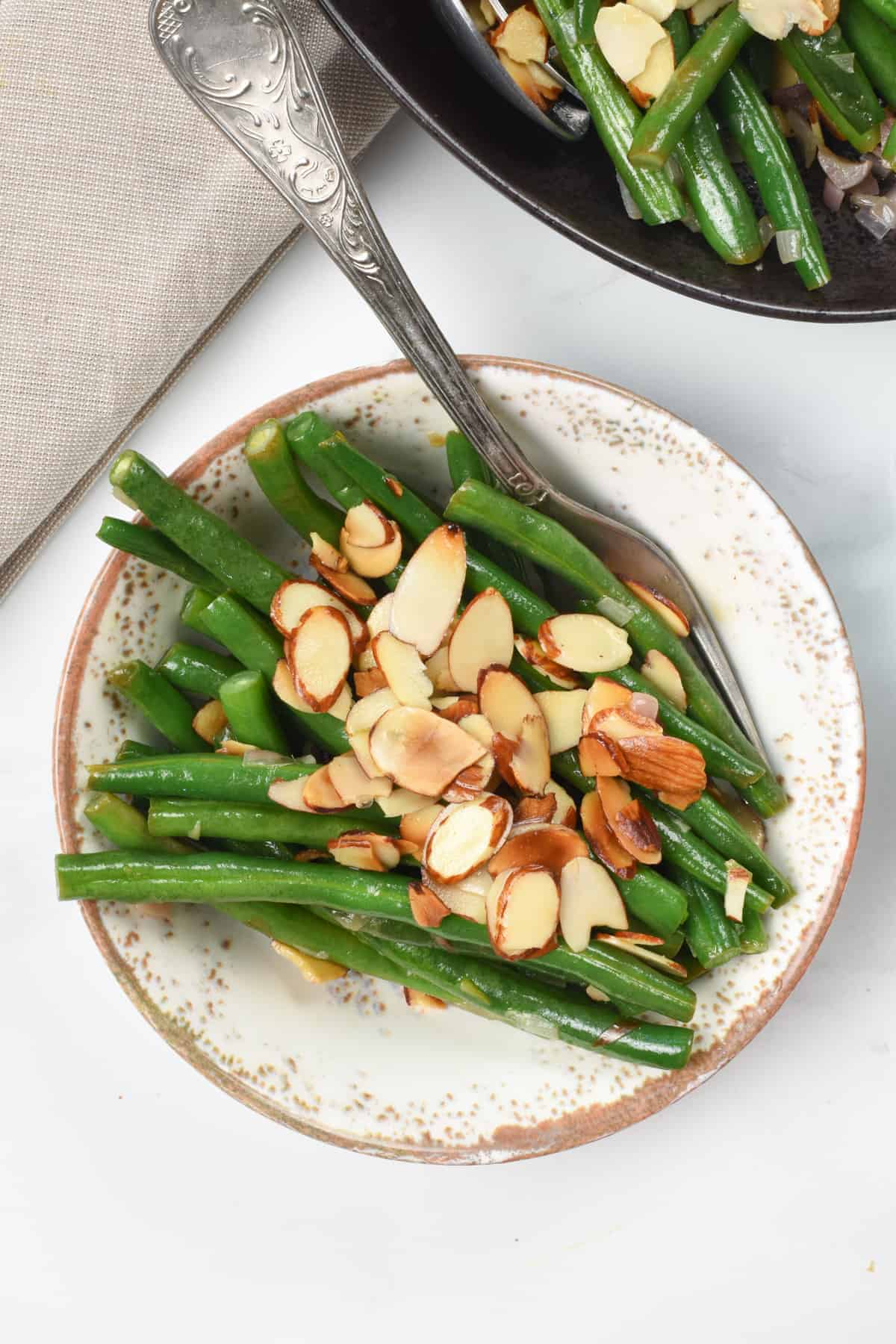 How To Make French-Style Green Beans Almondine
It's so easy to make this green bean recipe, it takes just 15 minutes, and it's absolutely amazing as a simple vegan meal or vegan side dish.
Let's see what you need to make these crunchy green beans with toasted almonds.
Ingredients
Thin Fresh Green Beans – use thin long, bright green beans, not the odd bunches that often get strings and are not as appellant and tasty.
Extra Virgin Olive Oil – this is the best oil to cook green beans as it contains less saturated fat and healthy omega sources.
Sliced Almonds
Salt
Ground Pepper
Vegetable Stock or cold water
Chopped Parsley
Crushed Garlic
Shallots – this is the secret ingredient to make the best green beans! Shallots look like small onions, but they have a light purple color and a much less strong flavor. While you can use white onion instead in this recipe, I highly recommend the shallots for the best flavors.
Preparing The green beans
There are two schools of thought when it comes to green beans recipes. Some people keep the ends of the green beans, and others trim the green beans. I personally think you should always trim green beans because their ends are not tasty at all.
Below I show you my technique to quickly trim green beans. I line them up on the chopping board so I can trim them by bunch instead of one by one. This is so much faster!
Now give the green bean a quick rinse under tap water in a sieve. Set aside.
Sautee almonds
In a large non-stick Sautee pan or skillet, warm one tablespoon of olive oil and toast the sliced almonds for a few minutes, just until golden brown and fragrant. Watch them carefully because almonds brown really fast.
Remove from the pan and set aside on a plate. Cover the plate with foil or lid to keep the almonds warm.
Rub the pan with a piece of absorbent paper to remove extra oil and pieces of almonds
Cook the green beans
Now, add the remaining oil to the pan and warm over medium heat. Stir in the finely chopped shallots into the pan and cook the shallots until they are golden and fragrant.
Then, stir in the trimmed, washed green beans into the pan and stir to evenly coat with the shallots and oil.
Add the vegetable stock – or cold water- crushed garlic, salt, and pepper and cook the beans for 5-7 minutes.
The green beans are cooked when they are slightly softer but still crunchy, and their color is vibrant.
Serve immediately topped with the toasted almonds and an extra drizzle of fresh olive oil if desired.
Season with salt and pepper to your taste.
Storage Instructions
You can store these French green beans for up to 3 days in an airtight container in the fridge.
In the next few days, rewarm your green beans in a casserole in the oven or in the microwave, or in a saucepan until hot.
You can also freeze these green bean almondine and thaw them in the fridge the day before serving.
More Side Dish Recipes
Below I listed more side dish recipes for you to try.
Have you made these French Green Beans Almondine? Share a comment or review below,
Your friend, Carine
Green Beans Almondine
These Sauteed French-Style Green Beans Almondine with shallots and olive oil are served with toasted sliced almonds. A delicious French vegetarian side dish, perfect for the holiday season.
Pin
Print
Review
Servings:
6
servings (75g, 3oz)
Shop My Tools
Instructions
In a large skillet, warm one tablespoon of olive oil over medium heat.

Add the sliced almonds and a pinch of salt. Toast for 2 or 3 minutes until golden brown and fragrant. Remove from the pan and set aside on a plate, cover with a lid to keep warm.

Rub a piece of absorbent paper on the skillet to remove oil and almond pieces.

Bring back to medium heat and warm the remaining olive oil.

Add the shallots and cook, stirring for a few minutes until fragrant and golden.

Stir in the trimmed green beans, sauté vegetable for 1-2 minutes in oil, add the vegetable stock and keep cooking uncovered until green beans are tender but still crunchy – it takes about 5-7 minutes.

Stir in salt, pepper, and crushed garlic at the end.

Serve warm with toasted almonds on top, extra salt, and fresh chopped parsley.
Storage
Store the cooked green beans in the fridge for up to 3 days in an airtight container or freeze for up to 3 months and thaw in the fridge the day before.
Share on Facebook
Pin Recipe
Nutrition
Serving:
1
serving
|
Calories:
203.2
kcal
|
Carbohydrates:
10.6
g
|
Protein:
5.8
g
|
Fat:
16.9
g
|
Saturated Fat:
1.7
g
|
Polyunsaturated Fat:
3.2
g
|
Monounsaturated Fat:
11.2
g
|
Trans Fat:
0.1
g
|
Sodium:
210
mg
|
Potassium:
323
mg
|
Fiber:
4.7
g
|
Sugar:
3.6
g
|
Vitamin A:
640.1
IU
|
Vitamin C:
11.5
mg
|
Calcium:
84.9
mg
|
Iron:
1.7
mg
|
Magnesium:
73.6
mg
|
Phosphorus:
128.3
mg
|
Zinc:
0.8
mg