An easy Spelt Pizza Dough recipe to make delicious crispy pizza base or pizza rolls. Bonus, this is a healthy pizza dough recipe made with wholesome white spelt flour, high in protein and fiber for a healthier pizza night.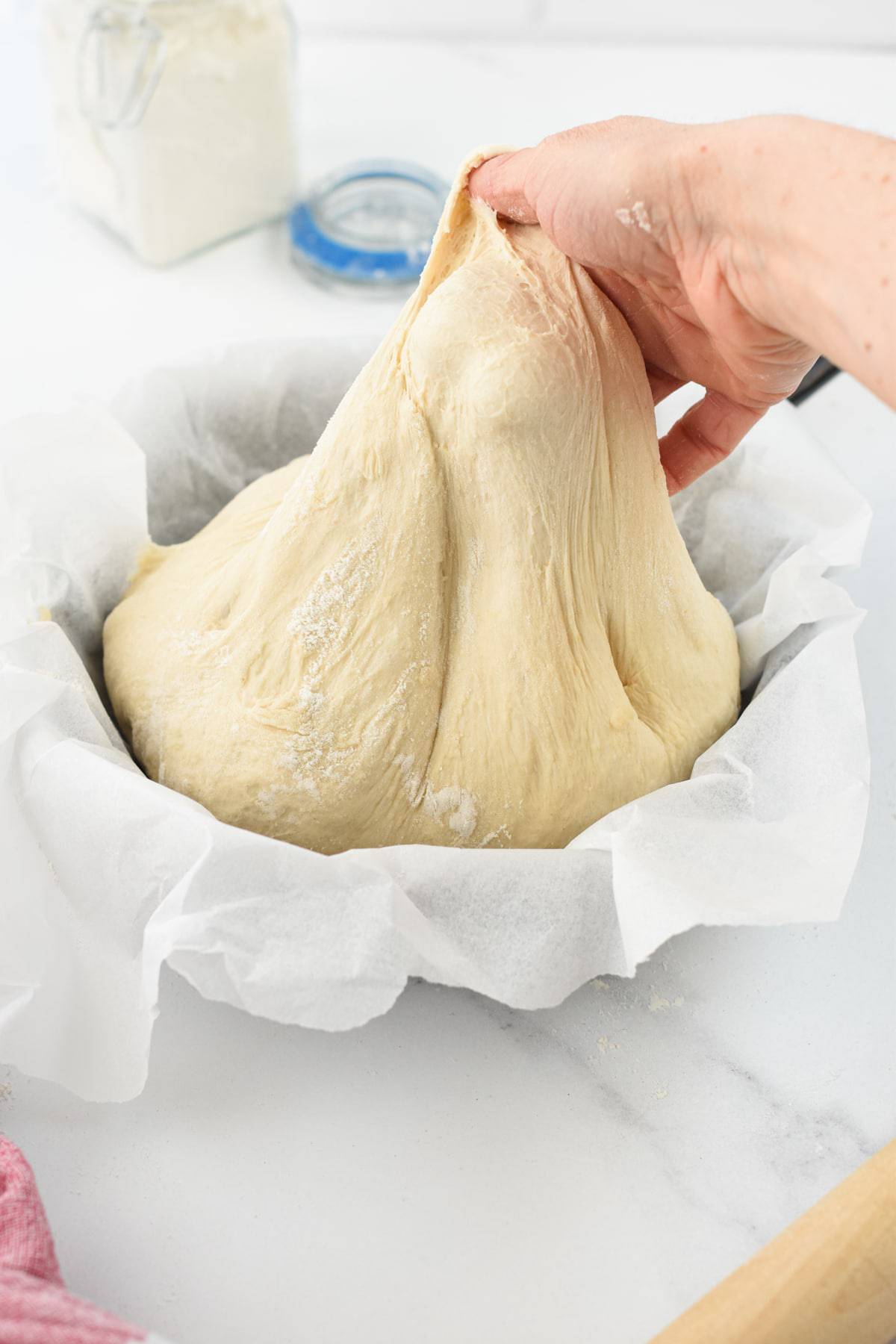 Why using spelt flour in pizza dough?
Nutrition-wise, spelt is a great choice to add vitamins, minerals, fiber to the body. It's also more water-soluble and lower in gluten than wheat, and therefore, it's easier to digest.
How to make Spelt Pizza Dough?
Spelt and wheat flour are very similar, and usually, you can swap one flour for the other in any baking recipe. But since spelt flour contains a bit more fiber and protein, it also makes dough tougher.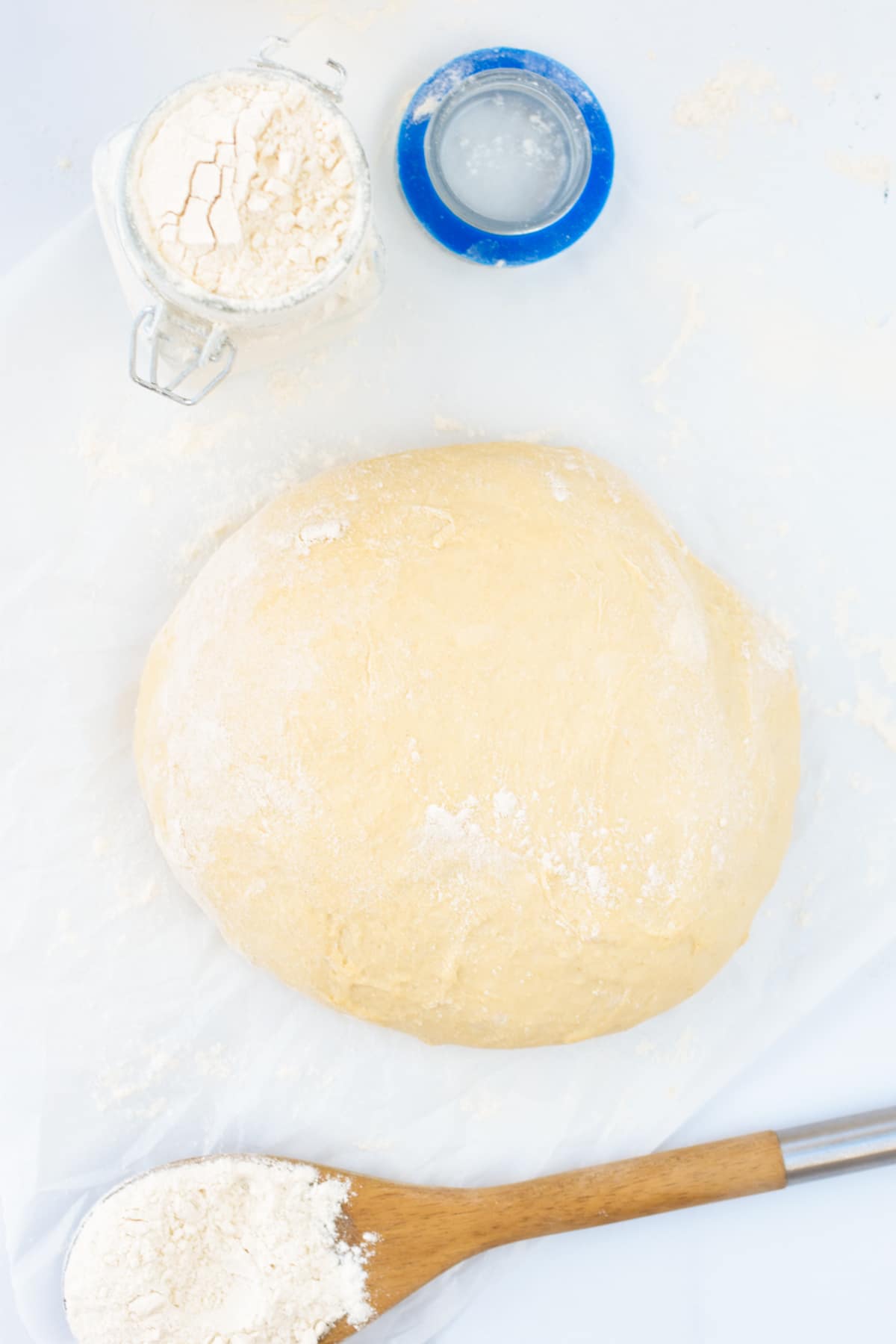 Consequently, spelt flour absorbs water more than all-purpose wheat flour. So to make a soft, stretchy spelt pizza dough, it's important to add a bit more liquid to the dough to achieve the right pizza crust texture or a bit less flour.
Ingredients
Spelt flour – you need about 4 cups of spelt flour for this recipe, including some extra to roll the dough. Don't use whole spelt flour, or the dough will be way too dry. You must use white spelt flour for this pizza dough recipe. You can use this recipe using all-purpose flour, but you may need to decrease the water slightly.
Salt
Garlic powder
Lukewarm water – thick bath temperature about 37°C (98°F).
Instant dried yeast – yes, yeast is vegan!
Olive oil
Activate yeast
In a bowl, combine warm water, sugar, and instant dried yeast. Whisk, cover the bowl and set it aside for 5 minutes until foamy.
Combine wet to dry ingredients
In a large mixing bowl or the bowl of your stand mixer, combine spelt flour, salt, garlic powder. Make a well in the center of the flour, then stir in the activated yeast mixture and olive oil.
Knead 5 minutes
Stir with a wooden spoon until the dough form. Then, transfer onto a lightly floured surface and knead the dough for 5 minutes by hand.
Stand mixer option
You can also knead the dough directly in a stand mixer using the dough hook attachment on speed 2 until the dough comes together.
Adjust the dough, adding more water one teaspoon at a time if the dough is too dry, or adding more flour one tablespoon at a time if the dough is too wet.
The dough is ready to rise when it's soft and elastic. To test, poke the dough ball with your finger. If it bounces back, it's ready to rise.
Rise 1 hour
Place the dough in an oiled mixing bowl, cover with plastic wrap, and a clean kitchen towel on top. Place the bowl in a warm place or preheated oven to 45C (110F) for about 40-60 minutes or until the dough doubled in size.
Knead 2 minutes
Sprinkle some flour on top of the raised down, punch down with your hands to deflate, and then transfer onto a floured surface. Knead again for 2 minutes, adding remaining flour if sticky.
Divide dough into 4 dough balls.
Roll dough
Then roll each dough ball on a floured surface into pizza bases of 10 inches (25 cm) for a thin pizza crust or 8 inches for a regular crust.
Bake
Transfer the rolled pizza dough onto a preheated pizza stone or baking sheet lined with parchment paper or a non-stick pizza pan.
Spread toppings on the pizza starting with flat ingredients first like 1/2 cup pizza sauce, spinach, mushrooms, zucchini, then your cheese of choice – we used vegan shredded mozzarella.
Pizza dough storage
You can store the pizza dough in the fridge after its second kneading time. Place the dough in an oiled airtight container and refrigerate for up to 2 days.
When needed, add more flour to knead and roll dough into a pizza base
Freezing pizza dough
To freeze pizza dough, knead the dough 2 minutes after its first rise. Then, divide the pizza dough into 4 dough balls and freeze each ball individually into airtight containers wrapped in plastic wraps.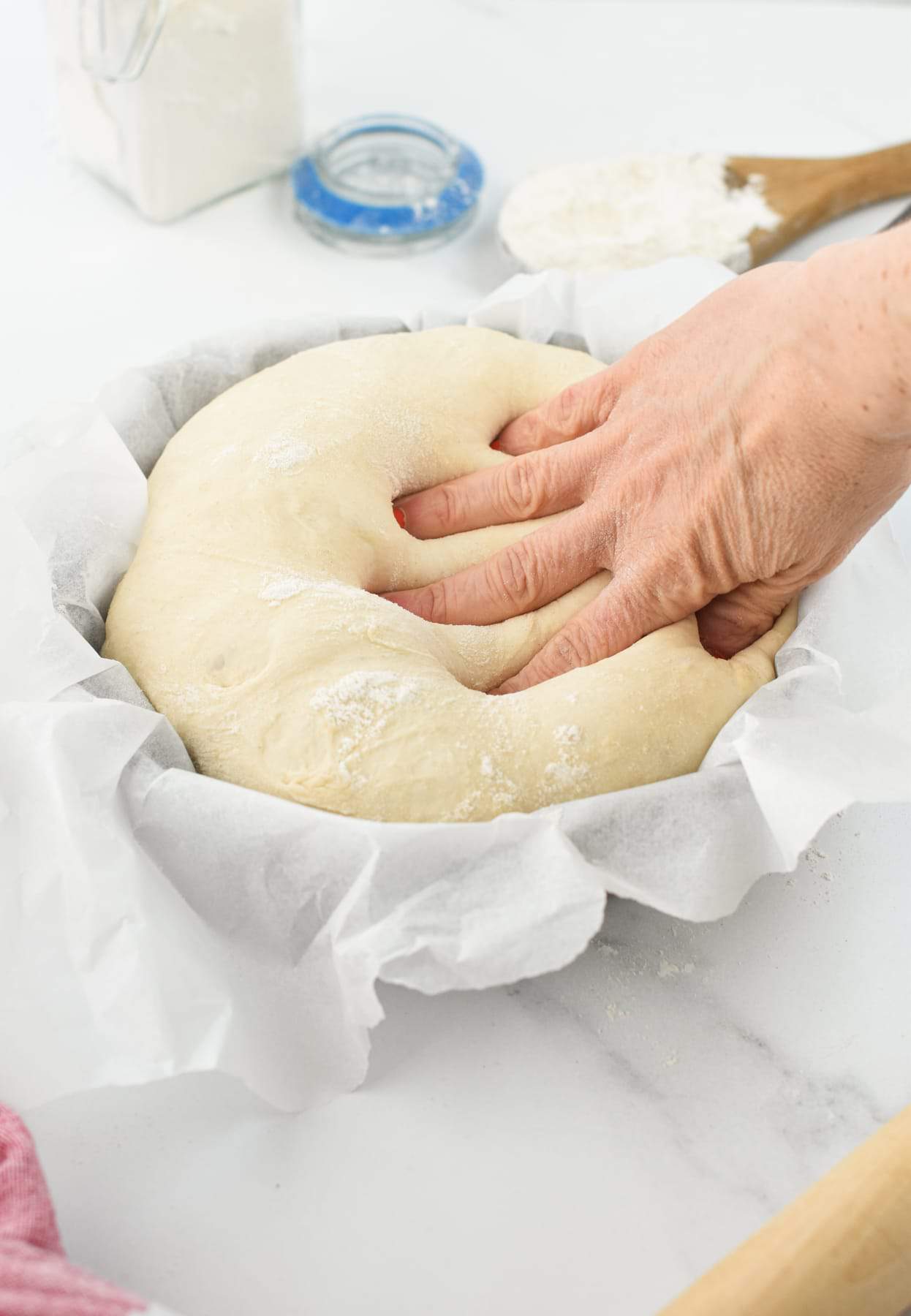 Thaw pizza dough the day before at room temperature.
Freeze pre-based pizza base
You can also pre-baked rolled pizza base and use the frozen pizza based directly to make pizza. You don't need to thaw pre-baked frozen pizza base.
To pre-bake your pizza base, bake on a pizza pan for 10 minutes at 350°F (180°C).
Pizza dough troubleshooting
Pizza dough is not difficult to prepare, but there are always challenges when it comes to baking, so below, I listed some tips and tricks to troubleshoot your dough.
Too wet – add more flour one tablespoon at a time, knead well between each addition to incorporate, and give time to the gluten from flour to incorporate.
Too dry – add more lukewarm water, not cold! Always add one teaspoon at a time to avoid a sticky dough.
It didn't double in size – that's not a big deal. The dough just needs warmth, so preheat the oven to about 110°F (45°C). Place the bowl with the dough in the oven until it rises.
More recipes
I love to create party food recipes and appetizers to entertain on the weekend. Below I listed my favorite appetizer recipes for you to try:
Have you made this spelt pizza dough recipe? Share a comment or review below to connect with me?
Your friend, Carine