A super Easy Vegan Pizza Dough recipe made with basic pantry ingredients and ready in one hour to enjoy a delicious thin pizza crust any time of the week.
Plus, this vegan pizza dough freezes very well, so you can meal prep lots of pizza for later!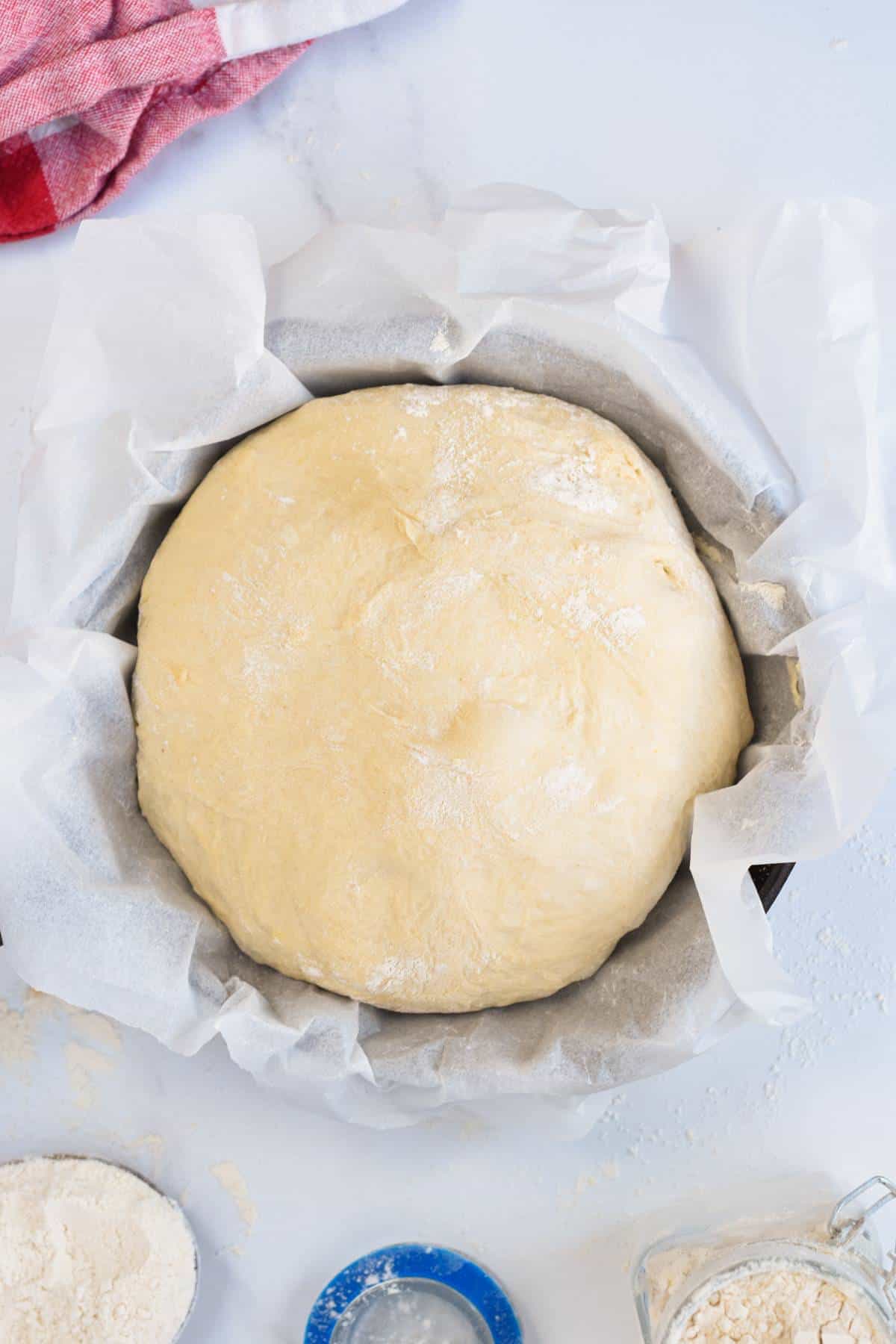 Is Pizza Dough Vegan?
Yes, most traditional pizza doughs are vegan, except for a few recipes that sometimes use yogurt to lighten the dough.
But, overall, most pizza doughs are made from vegan ingredients. Yeast is vegan, white flour is vegan, and water, so you are all good.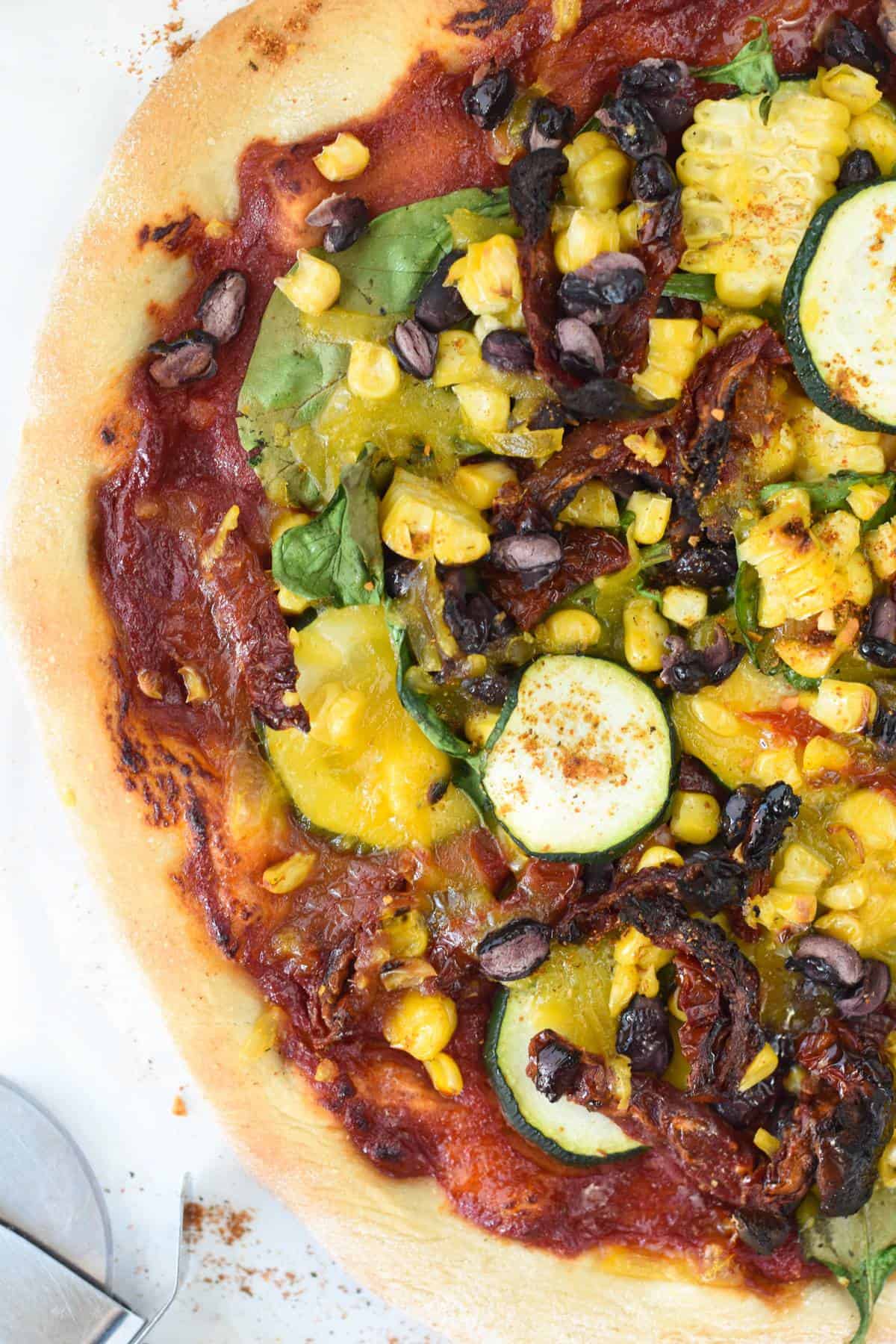 How To Make Vegan Pizza Dough
To make this easy vegan Pizza Dough recipe, you need only a few simple pantry ingredients:
Ingredients
All-purpose flour or bread flour – if you prefer to use spelt flour, follow my spelt flour pizza dough recipe instead.
Olive oil
Lukewarm water
Active dried yeast – don't worry, Yeast is vegan!
Sugar – any sugar works, including coconut sugar or maple syrup.
Step 1: Activate the Yeast
In a small bowl, combine yeast, sugar, and lukewarm water – think bath temperature around 98°F (37°C).
Whisk, cover the bowl, and set aside for 5 minutes until the yeast foams up.
Step 2: Combine Dry Ingredients With Liquid Ingredients
In a large bowl or the bowl of your stand mixer, whisk together the flour, salt, and garlic.
Stir in the liquid ingredients: olive oil and activated yeast. Stir with a wooden spoon until the dough comes together.
Adjust the dough if needed by adding more flour if the dough is too wet or more water if too dry.
Always add only 1 tablespoon of flour at a time and one teaspoon of extra water to avoid changing the dough texture too fast.
Step 3: Kneading For 5 Minutes
You can knead this vegan pizza dough by hand or with the dough hook attachment of your stand mixer on low speed 2-3.
Knead the dough for at least 5 minutes to form a soft and elastic dough, as seen in the picture below.
If you work the dough by hand, flour your hand with all-purpose flour and lightly flour the surface to prevent the dough from sticking.
Step 4: Rise Until Doubled In Size
The dough is ready when it's soft and elastic and if you push a finger in the dough, it bounces back – it doesn't stick to your finger.
At this point, transfer the vegan pizza dough to an oiled bowl, and cover the bowl with plastic wrap to seal.
Then, add a towel on top of the bowl to keep the dough warm.
Place the bowl in a warm place – I like to preheat the oven to 110°F (45°C) and place the bowl in a warm oven to raise the dough faster.
Step 5: Kneading For 2 Minutes
When the dough has doubled in size, transfer to a floured surface, punch dough to deflate, and knead for 2 minutes.
Step 6: Rolling
Divide the dough into 4 balls of the same size. One ball serves one pizza base.
Use a rolling pin to roll the pizza dough into a 10-inch diameter for a thin crust or 8 inches for a thicker crust.
Transfer the rolled dough onto a piece of parchment paper and add the toppings you love – see note below for options.
Bake the pizza at 430°F (220°C) on a pizza stone or baking sheet in the center rack of the oven.
Vegan Pizza Toppings
Below I listed some delicious vegan pizza toppings ideas to make a delicious pizza anytime.
Sauce
First, spread a sauce on the unbaked rolled pizza dough. It can be:
Pizza sauce
Homemade vegan pesto or store-bought vegan pesto made of vegan parmesan.
Hummus
Marinara sauce
BBQ sauce
Vegan coconut yogurt or vegan sour cream for a vegan white pizza base.
Vegetables
Then, add some flat toppings like:
Baby spinach leaves
Zucchini slices
Mushroom slices
Corn
Sundried tomatoes
Fresh basil
Jackfruit
Plant-based proteins
Now, add some vegan proteins like:
Beyond Meat Chunks
Canned Black Beans
Canned Chickpeas
Vegan Nuggets Bites – even frozen unthawed!
Sofritas – yes, tofu scramble tastes amazing on a pizza!
Vegan cheeses
This is optional, but there are so many absolutely delicious plant-based cheese available on the market that you should add some!
We love:
Shredded Vegan Mozzarella
Vegan Feta
Storage
You can store the pizza dough in the fridge or the freezer following my tips below.
Uncooked pizza dough
After you knead the dough for the second time, divide it into four balls. Lightly oil the outside of each ball and wrap them individually with plastic wrap.
Then place it in an airtight container. Store up to 4 days in the fridge or freeze for up to 3 months.
Thaw the pizza dough in the fridge the day before using.
Then, roll on a floured surface, adding flour to bring the dough back to its texture – freezing make the dough a bit sticky and moist.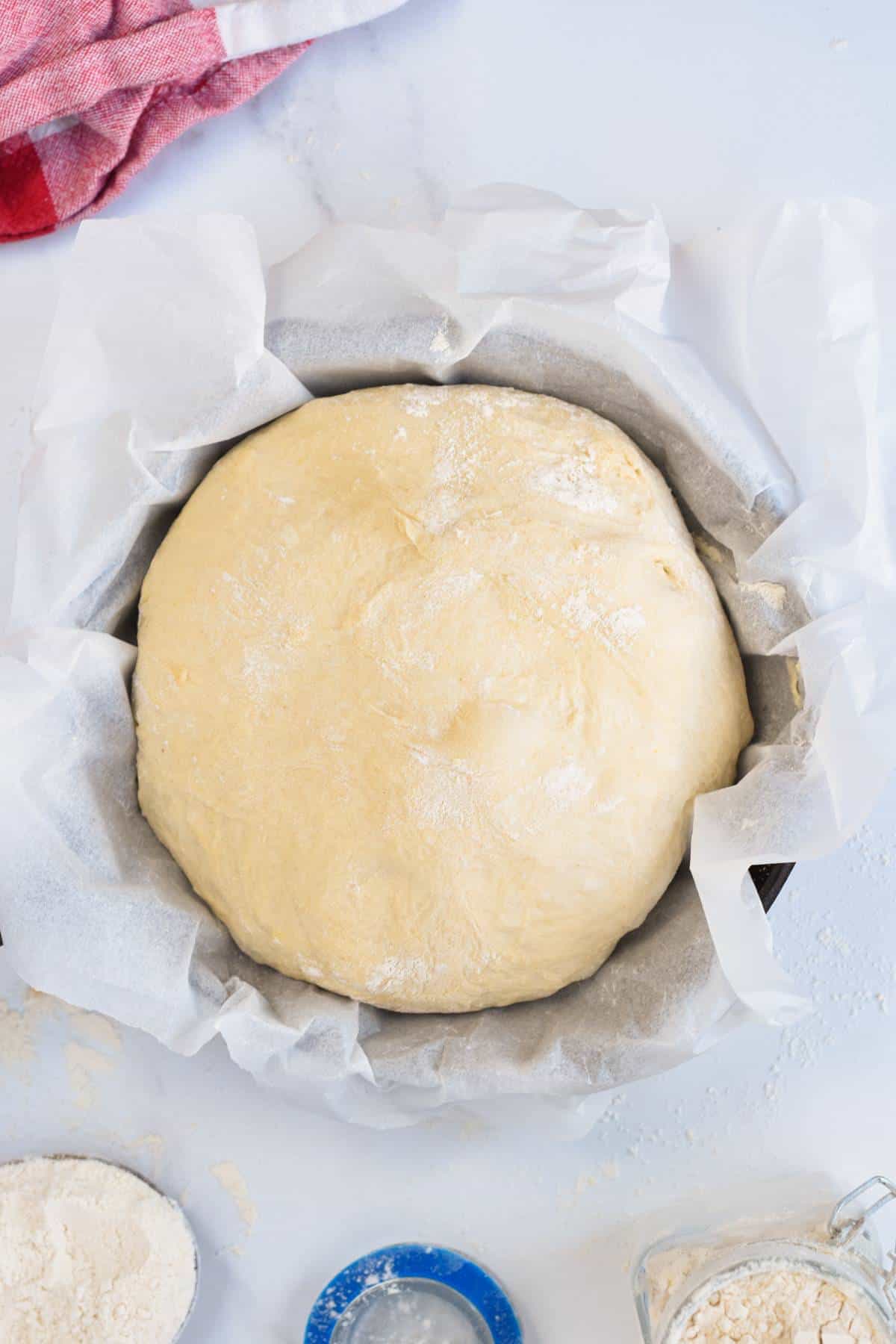 Pre-Baking Pizza Crust
You can also roll the 4 pizza balls into pizza bases.
Then, transfer the rolled pizza bases to a piece of parchment paper. Poke holes all over the crust with a fork.
Finally, pre-bake at 350°F (180°C) for 10 minutes. Cool down, wrap in plastic wrap, and freeze the pre-baked pizza base.
You don't need to thaw the pre-baked pizza base. Add toppings to the frozen base and bake following the regular baking instructions below.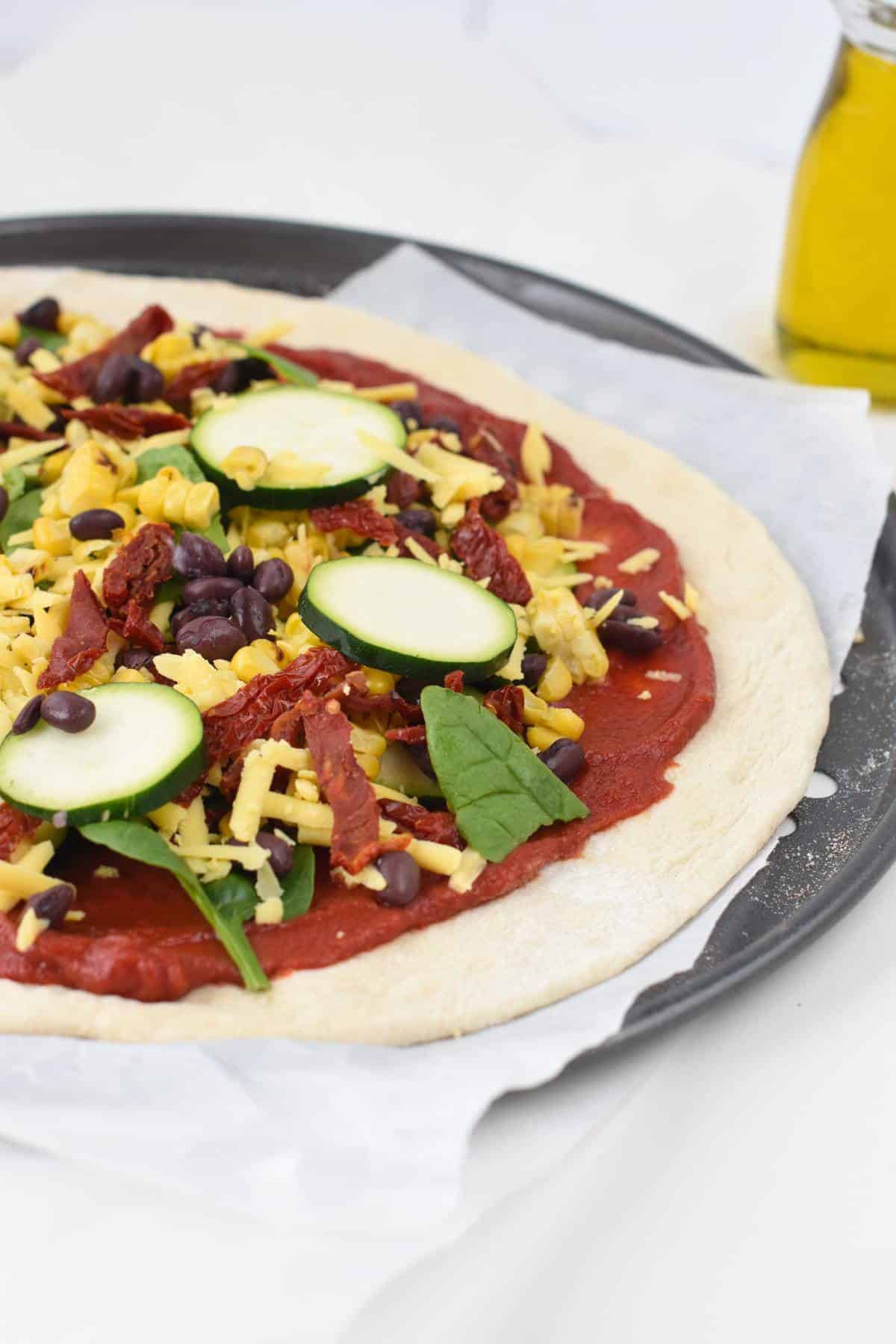 More Vegan Meal Recipes
Below I listed some quick and easy vegan meal recipes ideas for you to try:
Have you made this vegan pizza dough recipe? Share a comment or review below to let me know what your favorite toppings were!
Your friend, Carine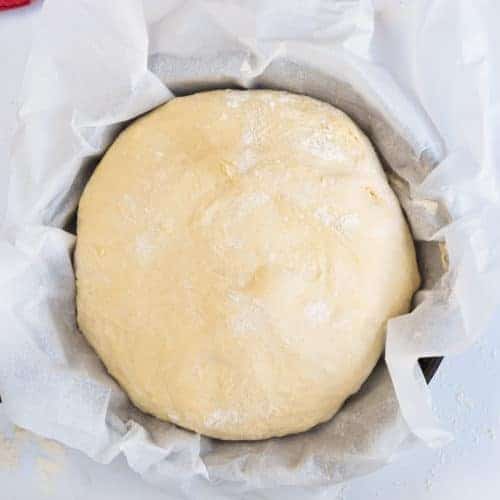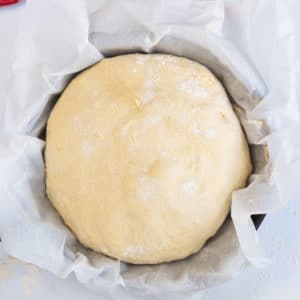 Vegan Pizza Dough
This easy Vegan Pizza Dough recipe is made with basic pantry ingredients to enjoy a delicious cruelty-free pizza any time of the week.
Pin
Print
Review
Shop My Tools
Instructions
In a small mixing bowl, whisk yeast, sugar, and lukewarm water. Set aside for 5 minutes until foamy.

In another bowl or the bowl of your stand mixer, sift spelt flour and salt.

Make a well in the center of the flour and add the yeast mixture and oil. Mix with a wooden spoon to bring them together.

Knead the dough in your stand mixer with the dough hook for 3-5 minutes or, if you don't have a stand mixer, transfer onto a floured surface and hand knead for 5 minutes, until smooth, elastic, and not sticky.

If too sticky, add a little more flour one tablespoon at a time. If too dry, add a teaspoon of water at a time. You know the dough is ready to raise when you poke it with your finger, and it slowly bounces back. If not, keep kneading adjust flour and water to get the consistency seen in the pictures above in this post.

Place the dough in a lightly oiled bowl. Cover with a piece of plastic wrap and a clean kitchen towel on top. Leave the bowl in a warm place or oven preheated at 45°C (110°F) for about 45 minutes to 1 hour or until the dough puffs and has doubled in size.

Remove dough from the bowl and knead again on a floured surface for about 2 minutes, adding flour if too sticky.

Divide the dough in 4 to make pizza bases or in half to make pizza rolls. Then roll each dough ball on a floured surface into pizza bases of 10 inches (25cm) of thin pizza crust or into an 8-inch disc for regular crusts.

Spread topping on the pizza base and bake on a pizza rack at 220°C (425°F) for 12 minutes until the dough is crispy and the cheese has melted.
Storage
You can freeze leftover pizza dough in an airtight container or pre-roll and pre-bake the crust for 10 minutes at 325°F (180°C), cool down, and freeze.

For a pre-baked rolled crust, you don't need to thaw the pizza dough. Add your toppings to the frozen base and bake at 400°F (200°C) until the cheese has melted and the crust is crispy.

Thaw uncooked frozen pizza dough at room temperature before using and roll with extra flour to form pizza base/pizza rolls.
Share on Facebook
Pin Recipe
Nutrition
Serving:
1
pizza base
|
Calories:
510.2
kcal
|
Carbohydrates:
81.4
g
|
Protein:
16.8
g
|
Fat:
11
g
|
Saturated Fat:
1
g
|
Polyunsaturated Fat:
0.7
g
|
Monounsaturated Fat:
5.4
g
|
Sodium:
588.6
mg
|
Potassium:
66.9
mg
|
Fiber:
15.8
g
|
Sugar:
1.5
g
|
Vitamin B12:
0.1
µg
|
Vitamin C:
0.1
mg
|
Calcium:
2.6
mg
|
Iron:
5.2
mg
|
Magnesium:
3.8
mg
|
Phosphorus:
43.8
mg
|
Zinc:
0.5
mg