Vegan Banana Chocolate Chip Cookies
These vegan banana chocolate chip cookies are soft, healthy banana bread cookies with the most delicious banana flavor and sweet chocolate chips.
These are healthy banana chocolate chip cookies, 100% dairy-free, egg-free, and refined sugar-free.
Are Banana Cookies Vegan?
No, most classic banana cookie recipes contain eggs and butter. Both are animal-sourced products and not vegan.
However, it's very easy to make your own vegan banana cookies at home by following one of my conscious baking recipes below.
How To Make Banana Chocolate Chip Cookies
There is no surprise. I love to make vegan banana cookies! They are the easiest, healthy baked goods to use ripe bananas sitting in the kitchen.
Here I am back with a moist, thick, soft banana bread cookie recipe.
For a different perspective on this recipe, watch my full step-by-step story about making these vegan banana cookies!
Banana Cookies Ingredients
As always, the recipe is pretty easy, and all you need are a bunch of simple, wholesome ingredients:
Ripe bananas – choose overripe bananas with dark spots on the skin to enhance the sweetness and banana flavor of your cookies.
Melted coconut oil – I didn't try any other oil in this recipe. If you are not a fan of coconut flavor, use refined coconut oil or light olive oil, or melted vegan butter.
Unrefined cane sugar – there are so many you can use, like demerara, panela, and turbinado sugar.
Soft brown sugar – this is the best to retain some moisture in the cookies. Other unrefined options that will provide similar results are muscovado sugar or coconut sugar. Watch out. These two turn the batter pretty dark brown.
All-purpose flour – or spelt flour or white whole wheat flour for a healthy twist. This recipe doesn't work with almond flour or coconut flour. You must use standard wheat flour.
Vanilla extract
Salt
Baking soda – or double the amount required by the recipe if you prefer to use baking powder.
Vegan dark chocolate chips
Mashing Bananas
First, peel and mash the bananas on a chopping board using a potato masher or a fork. It doesn't matter if there are banana bits left.
It actually adds moisture and a delicious banana burst of flavor to the cookie crumb.
Then, measure the mashed bananas in a measuring cup, fill, and sweet top for precision or weight on a kitchen scale in oz/grams.
Combining Banana And Sugar
Now, measure all the remaining ingredients precisely in a small bowl. Note that it's always better to measure coconut oil melted for precision.
If you melted too much coconut oil, return the extra to the jar, it will firm up later.
Then, combine the lukewarm coconut oil with mashed bananas, sugar, vanilla salt, and baking soda.
I love to use unrefined cane sugar and soft brown sugar for this recipe. You can use other options.
Scroll up for my tips on how to choose ingredients for healthy chocolate chip cookies with bananas.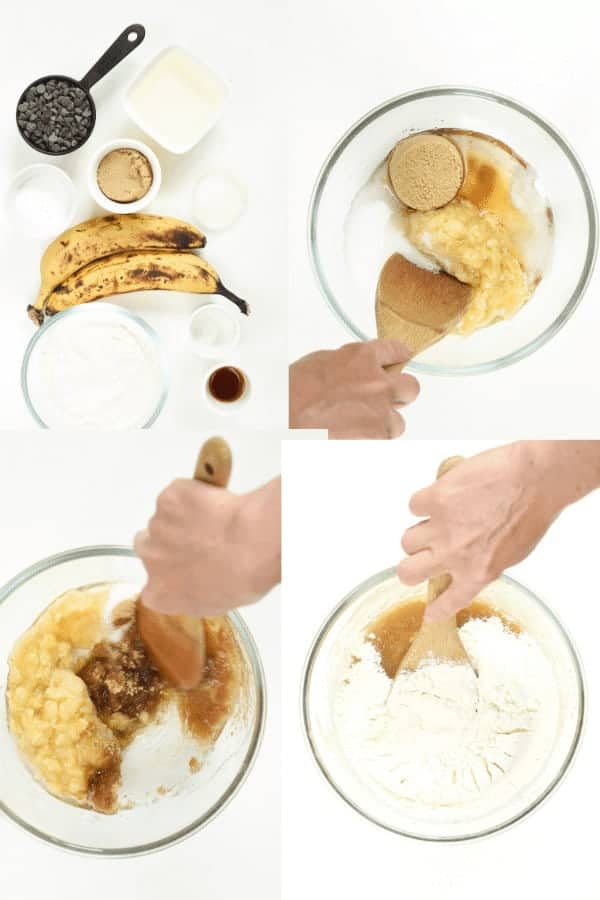 Adding Flour
Now, gradually add the flour. Remember to just combine the mixture, don't overmix, or the cookies will lose their soft, fluffy texture.
Finally, when the cookie dough is consistent, pour in 1/3 cup of vegan dark chocolate chips.
Shaping Cookies
Preheat the oven to 350°F (180°C) and line baking sheets with parchment paper.
Slightly oil the paper to prevent the cookies from sticking to the paper.
Then, scoop out about 3 tablespoons of cookie batter.
I personally like to generously oil my hands with coconut oil and roll the dough into a ball with my hand palm, then place it on the prepared baking sheet.
Leave 1.2 inch/3 cm between each cookie, they expand in the oven, and you don't want the cookies to touch each other.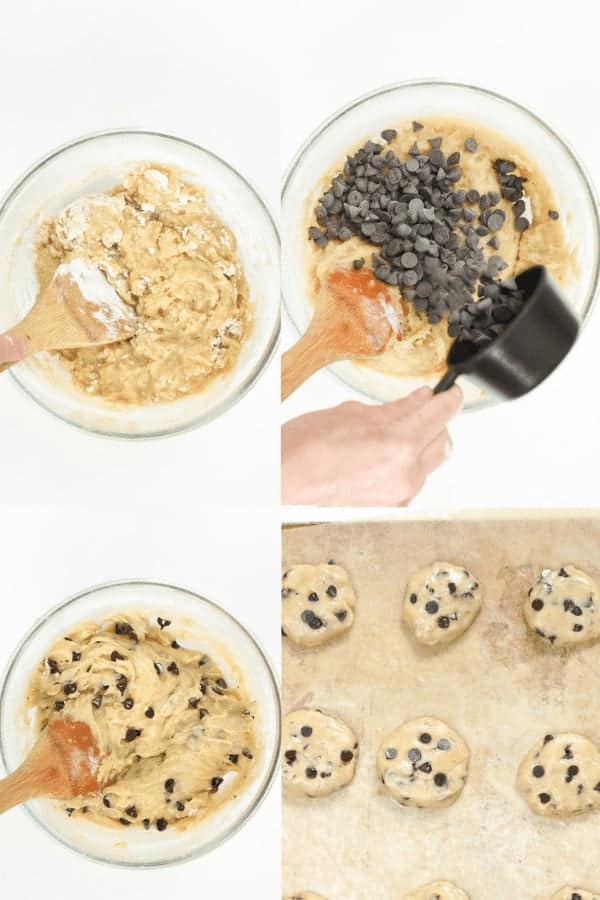 Baking Cookies
Bake the cookies for 12 to 15 minutes or until the top is golden brown.
Cool down 5 minutes on the baking sheet, then slide a spatula under each cookie to transfer to a cooling rack.
Cool on the rack for 30 minutes, and enjoy!
Storing Banana Cookies
These banana cookies store very well in a sealed container at room temperature for 2 days. However, to store them longer, place the container in the fridge.
They will last 4-5 days. Otherwise, freeze the cookies in zip-lock bags or sealed boxes.
Thaw your cookies at room temperature 3 hours before serving or overnight.
Frequently Asked Questions
Can I Use Gluten-Free Flour?
Yes, you can use an all-purpose gluten-free flour mix in this banana chocolate chip cookie recipe.
I recommend using a gluten-free blend that contains gums for better texture.
Note that gluten-free flour makes the cookies chewier and less fluffy.
Can I Use Vegan Butter?
Yes, you can replace coconut oil with vegan butter.
I love to use earth balance or Naturli. Both are made with clean vegetable oils and work very well in vegan cookie recipes.
If you use vegan butter, melt the butter first, then combine melted butter and sugar along with mashed bananas, vanilla, salt, and baking soda.
How Do They Taste?
These vegan banana cookies have a light crispy outside when out of the oven with a moist, fluffy crumb similar to banana bread.
They have a strong banana flavor with sweet, crunchy chocolate chips in the center.
Their texture softens after a few days, becoming closer to a banana bread cookie.
More Vegan Banana Cookie Recipes
I love creating vegan banana cookie recipes using ripe bananas.
Below I listed my favorites, including banana cookies with rolled oats for breakfast, chocolate banana cookies, or almond flour banana cookies.
Made these easy banana chocolate chip cookies? Share a picture below or comment to connect with me!
Your friend, Carine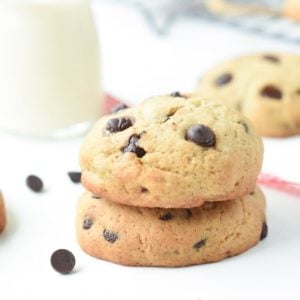 Vegan Banana Chocolate Chip Cookies
A soft, healthy banana chocolate chip cookie recipe with no eggs, no butter, or dairy made with coconut oil.
Pin
Print
Review
Servings: 10 cookies (1.8 oz/50g each)
Calories: 217 kcal
Instructions
Preheat the oven to 350°F (180°C). Line a cookie sheet with parchment paper. Slightly oil the paper with coconut oil. Set aside.

Peel, mash the ripe bananas with a fork or potato masher, and measure precisely, filling a measuring cup and sweeping the top or weighing in oz or grams (use the metric button above the ingredients for conversion).

In a large mixing bowl, combine mashed banana, melted lukewarm coconut oil, unrefined cane sugar, soft brown sugar, vanilla extract, baking soda, and salt.

Gradually stir in flour until it forms a thick cookie batter. Don't over-mix it, or the cookies won't be as light and fluffy.

Stir in vegan dark chocolate chips.

Scoop dollops of dough – one cookie is about 3 tablespoons of dough, 50g/1.8oz. I like to generously oil my hands and roll the dough between my palm to shape a ball.

Place the batter onto the prepared cookie sheet leaving 1.2 inch/3cm between cookies – they expand in the oven, which prevents the cookies from sticking to each other.

Bake for 12-15 minutes or until golden brown on top.

Cool 5 minutes on the cookie tray, then slide a spatula under each cookie to transfer onto a cooling rack.
Storage
Store in a cookie jar in the fridge for up to 4-5 days, or freeze in a sealed container and thaw the day before at room temperature.
Notes
Flours options – this recipe doesn't work with almond flour or coconut flour, you must use one of the below:
all-purpose flour
spelt flour
white whole wheat flour
gluten-free all-purpose flour blend
Share on Facebook
Pin Recipe
Nutrition
Serving: 1cookie | Calories: 217kcal | Carbohydrates: 30g | Protein: 2g | Fat: 10g | Saturated Fat: 9g | Cholesterol: 1mg | Sodium: 97mg | Potassium: 124mg | Fiber: 1g | Sugar: 15g | Vitamin A: 8IU | Vitamin C: 1mg | Calcium: 35mg | Iron: 1mg