These Healthy Apricot Bliss Balls are easy nourishing Apricot Coconut Bliss ball recipes with a soft, moist texture and perfect as pre-workout energy balls or a kid's snack.
These healthy sweet treats are also vegan, refined sugar-free, oil-free, and packed with plant-based nutrients to keep you energized all day long.
What Are Apricot Bliss Balls?
In Australia and New Zealand, energy balls are called bliss balls. These apricot bliss balls are small single-serve energy bites made from dried apricot instead of the classic Medjool dates.
They also contain almonds and coconut that add moisture and texture. They are great school snacks or post-workout sweet treats paired with healthy fats.
I am always looking for healthy snacks for the kids' lunchbox or afternoon tea, and these apricot bliss balls are the perfect lunch box addition! Finally, a low-fat energy ball recipe, no coconut oil needed, only a few simple ingredients that you probably have in your pantry.
The kids love their soft, moist texture and orange color. Plus, did you know that 100 grams of dried apricot are packed with 2.7mg of iron?
So if like me, you are raising vegetarian kids, these apricot balls are a great iron booster for your little one while enjoying a treat!
Let me share with you how to make them in just 10 minutes.
How To Make Healthy Apricot Bliss Balls
It's very easy to make bliss balls are home. All you need is a food processor and a few ingredients.
Ingredients
Dried Unsulphured Apricot – I used freshly dried apricots. They are soft and moist, and therefore, you don't need to soak them in hot water to make bliss balls. If yours are a few weeks old and very dry, you can presoak them in boiled water for 5 minutes and drain them before use.
Almond Meal or rolled oats or cashews
Unsweetened Desiccated Coconut – not shredded coconut that is coarser and much more difficult to blend.
Lemon Juice
Vanilla Extract
Maple Syrup or brown rice syrup for a low-GI option or coconut nectar or any liquid natural sweetener you love
Process
Place the pitted dried apricot, maple syrup, vanilla extract, and lemon juice in the processor bowl.
Using the S-blade attachment, blend the ingredients on the high-speed setting for 30 seconds.
Scrape down the sides of the bowl with a spatula and repeat until the dried fruits are pulsed into very tiny pieces.
Fold in dry ingredients: almond flour, desiccated coconut, and process again in 30-second bursts until the batter becomes sticky.
Forming Bliss Balls
Now, scoop about one tablespoon of batter and roll the mixture into balls between your hand palm.
Roll each apricot energy bite into some extra desiccated coconut to coat. You can also coat the balls with crushed pistachio or almond flour.
Repeat until no more batter is left. Place each bliss ball on a plate.
Refrigerate for 15 minutes before eating for the best flavors and texture.
Storage Instructions
Store the bliss balls in an airtight container in the fridge for up to 1 week.
Bliss balls are freezer-friendly snacks perfect to meal prep some healthy snacks for your week. You can double the recipe, freeze leftovers in zip bags and thaw at room temperature the day before.
Allergy Swaps
These apricot balls are naturally:
Vegan
Gluten-free
Egg-free
Dairy-free
If you have food allergies, I listed some options below.
Nut-free – you can replace the almond meal with ground sunflower seeds, ground sesame seeds, or oat flour. Remember that these options make the bliss balls a bit bitter, drier, and darker in color.
Coconut-free – you can replace the coconut with almond flour or oat flour. The balls might be dryer with oat flour, and you can add a bit of water to make them softer.
Add-Ons
Of course, you can make these apricot balls with some add-ons. To add some crunch, you can add 1/4 cup of the below ingredients into the final batter:
Chopped almonds
White chocolate chips
Crushed peanuts
Rolled oats
Or add one tablespoon of healthy seeds like:
Hemp seeds
Chia seeds
Sunflower seeds
Frequently Asked Questions
Below are my answers to your most common questions about these apricot coconut bliss balls recipes.
Are bliss balls actually healthy?
Yes, bliss balls are made from unrefined ingredients packed with fiber and natural sugar. They are usually made from high-fiber dried fruits, nuts, and seeds that also add healthy fats to your day.
How many bliss balls can I eat?
Bliss balls are sweet snacks and you shouldn't eat more than 2-3 of them to avoid too many calories. Even if they are made from natural healthy ingredients, the can compromise weight loss if you overeat them.
When should I eat bliss balls?
Bliss balls are high in carbs from dried fruits and are perfect as a pre-workout snack or sweet treat in the afternoon.
While they taste like little candy bars, they are a healthier choice packed with fiber, slow carbs, and healthy fats that keep you full.
Do energy balls really give you energy?
Yes, they contain sugar from fruits – mostly fructose and glucose from refined sugar-free sweeteners. Both raise your blood sugar level quickly giving you a boost of energy.
If the recipe also contains oats, or nuts, the fiber and fat from these ingredients slow down the release of the natural sugar, keeping your energy level stable for longer.
More Easy Healthy Snacks Recipes
Below I listed some more easy snack recipes to bake with your family.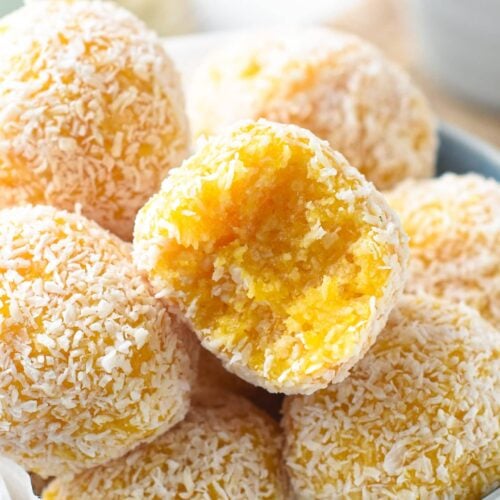 Apricot Bliss Balls
These healthy, no-bake energy balls are made with moist dried apricot, coconut, and almonds, perfect as a pre-workout snack or kid lunchbox sweet treat.
Pin
Print
Review
Servings: 10 Balls
Calories: 100.9 kcal
Ingredients
Optional
1 tablespoon Water - if needed
Instructions
In a food processor with the S-blade attachment, add dried apricot, maple syrup, lemon juice, and vanilla extract. Process with 30-second bursts, scraping down the sides of the bowl with a silicone spatula if needed. Repeat until it forms very tiny pieces of apricot – it takes about 1 minute.

Fold in dry ingredients: almond flour and Unsweetened Desiccated Coconut.

Process again with 30-second bursts, as before, until it forms a sticky batter that sticks together in your hands. If too dry, add a tablespoon of cold water. If too wet, add more almond flour 1-2 tablespoons at a time. Process after each addition.

Roll batter into balls of one tablespoon size.

Roll each ball into extra Unsweetened Desiccated Coconut to coat.

Store on a clean plate while rolling the remaining batter into balls.

Refrigerate 15 minutes before eating to enjoy their best flavor.
Storage
Store for up to a week in an airtight box in the fridge or freeze for later and thaw at room temperature.
Share on Facebook
Pin Recipe
Nutrition
Serving: 1 Ball | Calories: 100.9kcal | Carbohydrates: 13.1g | Protein: 1.5g | Fat: 5.6g | Saturated Fat: 3.7g | Polyunsaturated Fat: 0.1g | Monounsaturated Fat: 0.2g | Sodium: 4.1mg | Potassium: 196.3mg | Fiber: 2.3g | Sugar: 10g | Vitamin A: 468.6IU | Vitamin C: 0.8mg | Calcium: 19.2mg | Iron: 0.7mg | Magnesium: 10.9mg | Phosphorus: 22.5mg | Zinc: 0.2mg