Vegan Halloween Sugar Cookies
These Vegan Halloween Sugar Cookies are the best cut-out sugar cookies with scary Halloween shapes to celebrate Halloween this year.
Plus, you won't believe that these are egg-free sugar cookies and therefore, allergy-friendly Halloween treats to share.
Halloween is just around the corner, and my kids are already talking about their trick-or-treat time.
This year, I want them to share some vegan Halloween cookies with their friends, so we bought cute Halloween cookie cutters.
Here we used the Halloween cookie cutter shapes below:
Pumpkin
Bat
Witch hat
Ghost
Skull head
Here's how we make these vegan Halloween cookies.
How To Make Vegan Halloween Sugar Cookies
It's so easy to make sugar cookies that after trying this allergy-friendly version, you won't buy any from the store.
Dough Ingredients
All you need to make the sugar cookie dough are:
All-Purpose Flour – either wheat flour or a 1:1 gluten-free blend.
Baking Powder
Salt
Granulated Sugar
Cornstarch – We use a touch of cornstarch to bind the cookie dough together without using eggs.
Milk of Choice – almond milk, oat milk, or soy milk works.
Vanilla Extract
Unsalted Margarine or dairy-free butter you like – softened at room temperature for 30 minutes.
Icing Ingredients
We made an egg-free royal icing using our vegan royal icing recipe. It means it doesn't contain meringue powder, it's basically made of three ingredients:
Powdered Sugar
Milk – Almond milk, oat milk, or soy milk works great.
Liquid Food Coloring – We prepared a combination of Halloween colors: mainly orange and black icing. Plus we also made some purple icing mixing blue and pink food coloring and some green for the pumpkin stem.
Preparing The Dough
Making vegan sugar cookie dough is very easy.
Place the softened butter and sugar in the bowl of a stand mixer or in a large bowl.
Using the paddle attachment of your stand mixer or an electric beater, beat the butter on low-medium speed until it's fluffy and light in color.
Stop the stand mixer and add the cornstarch, vanilla extract, flour, baking powder, and salt.
Beat again on low speed until the cookie dough form.
It should look like a crumbly dough that sticks together when squeezed in your hand. If it's too wet, stir in more flour, 1 or 2 tablespoons at a time.
Remove the cookie dough from the bowl and divide it into two even portions.
Wrap them in plastic wrap, flatten them into a disc, and chill the dough for 1 hour.
Rolling The Dough
Slightly flour the benchtop with all-purpose flour.
Remove the plastic wrap of one of the dough discs. Knead 2 or 3 times then start rolling into a 1/4-inch thickness.
Use cookie cutters to cut out Halloween cookie shapes.
Baking The Cookies
Preheat the oven to 350°F (180°C).
Line two baking sheets with parchment paper and using oil spray, lightly oil the paper to prevent the cookies from sticking to it.
Using a flat spatula, transfer the cut-out sugar cookie to the baking sheet, leaving half a thumb of space between each cookie.
The sugar cookies won't expand in the oven, but keeping some space between them makes it easier to transfer them to a coiling rack later on.
Bake the cookies on the center and below-center rack for 8 minutes or until slightly golden brown on the sides.
Let the cookies cool down on the baking sheet for 5 minutes then transfer them to a wire rack to cool completely before decoration.
Cookie Decoration
Start by preparing one batch of my white royal icing recipe.
Then divide into the number of colors you intend to make. I split the batch into 4 bowls.
Then, add food coloring drops into each bowl to create the Halloween colors you want.
To decorate the cookies, you can place the icing in piping bags for precision. Or use a small spoon and a toothpick to spread the icing in narrow spaces.
Leave the cookies at room temperature for the glazing to set. It might take between 15 minutes and 1 hour depending on how thick you glazed the cookies.
If you want to add sprinkles, add them now, before the glazing hardens.
Storage Instructions
You can store the Vegan Halloween Sugar Cookies for up to one week in an airtight cookie jar and kept in a cool dark place.
Allergy Swaps
Below are some ideas to make this recipe if you have food allergies:
Gluten-Free – The recipe works with an all-purpose gluten-free flour blend containing added gums.
Sugar-Free – Granulated sugar-free sweeteners like erythritol or allulose work. Avoid xylitol because it makes cookies soft, not crunchy. For the icing, use powdered sugar-free erythritol.
Sodium-Free – You can skip the salt in the recipe if needed. Make sure you use unsalted margarine.
Corn-Free – You can replace cornstarch with tapioca flour or arrowroot flour.
Frequently Asked Questions
Where Can I Find Halloween Cookie Cutters?
In the recipe card below I listed some cookie cutter options for you.
Can I Freeze Sugar Cookies?
Yes, you can make ahead the cookies, bake, cool them completely then freeze them in zip lock bags.
Thaw the day before at room temperature on a wire rack. Decorate them the day you want the cookies to be ready.
More Egg-Free Cookie Recipes
If you like egg-free cookies, you'll love these: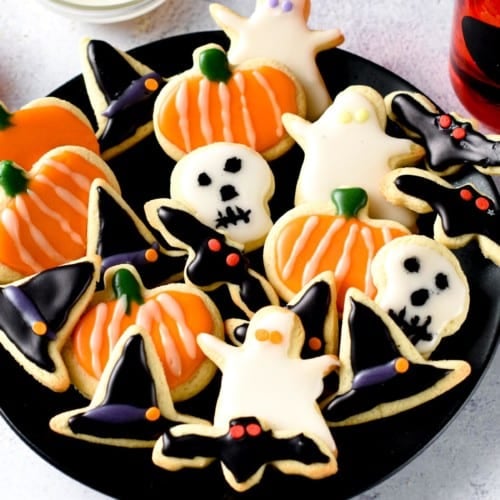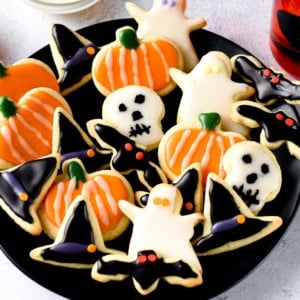 Vegan Halloween Sugar Cookie Recipe
These Vegan Halloween Sugar Cookies are the best cut-out sugar cookies with scary Halloween shapes to celebrate Halloween this year. Plus, you won't believe that these are egg-free sugar cookies and perfect allergy-friendly Halloween treats to share.
Pin
Print
Review
Servings: 16 cookies
Calories: 121.7 kcal
Instructions
In a stand mixer using the paddle attachment beat the softened dairy-free butter (or margarine) with sugar for 1 minute until smooth, creamy and fluffy. You can also use a hand beater and beat ingredients into a mixing bowl.

Fold in vanilla, cornstarch, salt, almond milk, and baking powder.

On the low-speed setting, gradually add the flour until the dough forms. Scrape the bowl again to bring all the ingredients together and combine until the dough is soft and crumbly but holds well if pressed in your hand. If too wet, add more flour 1 tablespoon at a time. If too dry, add 1 tablespoon of water.

Shape the dough into two discs of the same size and wrap them into a piece of plastic wrap or parchment paper. Chill for 1 hour in the fridge.

Preheat the oven to 350°F (180°C). Line two cookie sheets with parchment paper. Oil the paper with coconut oil or margarine. Set aside.

Remove the discs from the fridge and roll the dough into about 1/4 inch (0.6 cm) thick.

Use Halloween cookie cutters to shape sugar cookies and slide a flat tool under the cut cookies to transfer them to the baking sheets. Leave half a thumb of space between each cookie – they won't expand in the oven, but this makes it easier to remove them from the sheet later on. Reform a dough ball with the remaining cookie dough, roll again, and reshape more cookies.

Bake at 350°F (180°C) for 8-10 minutes in the center rack of the oven or until the cookies are set on top and slightly golden brown on the edges.

Cool down on a cooling rack for 10 minutes before transferring onto a wire rack and cool down for an extra 20 minutes or until cold to the touch.
Decoration
Prepare 1 batch of egg-free royal icing recipe. Divide the batch into 4 bowls. Add a few drops of liquid food coloring of your choice in each bowl: we made orange, purple by adding pink and blue food coloring, black, and kept a batch white.

Stir to incorporate the color, adding more drops to darken the color if needed. The icing should be thick, if you drop a dollop on a plate, it shouldn't be spreading fast. If it spreads too fast, your icing is too thin, add more powdered sugar until thick, it should be hard to stir in the bowl, and spread very slowly on a place.

Place each icing color in a piping bag to decorate each cookie. You can also add the icing to the sugar cookies with a small spoon then use a toothpick to spread the icing on narrow spaces of the cookie.
Storage
Store in a sealed cookie jar at room temperature for up to 1 week, or freeze and thaw the day before at room temperature.
Share on Facebook
Pin Recipe
Nutrition
Serving: 1cookie | Calories: 121.7kcal | Carbohydrates: 14.4g | Protein: 1.4g | Fat: 8.2g | Saturated Fat: 1.5g | Polyunsaturated Fat: 2.5g | Monounsaturated Fat: 3.9g | Trans Fat: 1.5g | Sodium: 210.6mg | Potassium: 16.8mg | Fiber: 0.4g | Sugar: 0.1g | Calcium: 2.5mg | Iron: 0.6mg | Magnesium: 3.1mg | Phosphorus: 15.3mg | Zinc: 0.1mg