Vegan Hot Cross Buns with a Fluffy Texture
Fluffy, homemade vegan hot cross buns with fragrant cinnamon, orange flavor to enjoy a comforting Easter family breakfast. A soft, flavorsome traditional bun to celebrate vegan Easter!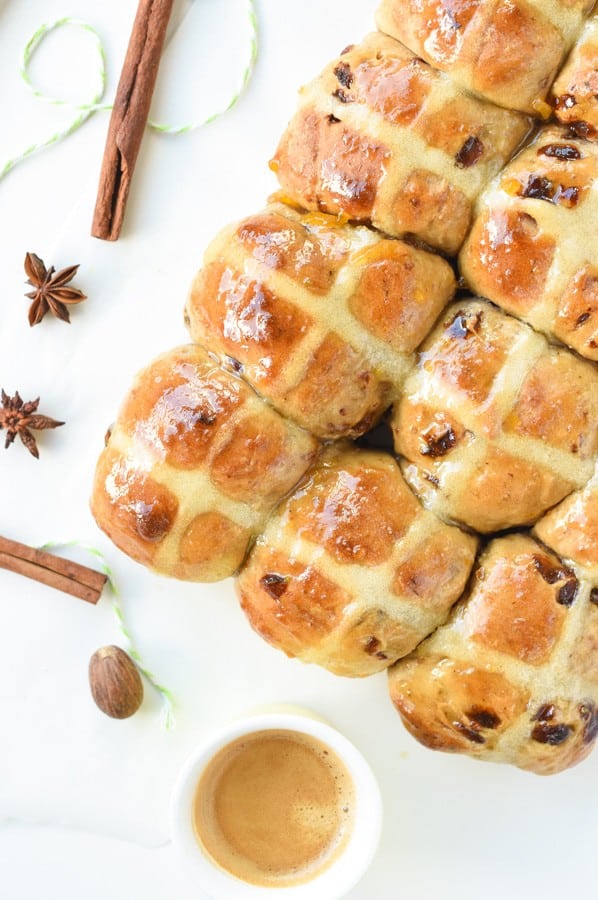 Are hot cross buns vegan?
Not all hot cross bun recipes are naturally vegan. Many hot cross bun recipes use one egg or butter in the batter. Some grocery stores sell hot cross buns without eggs and dairy, but the list of additives is often long and can hide non-vegan additives.
How to make vegan hot cross buns?
It's very easy to make hot cross buns without eggs or dairy. It simply required a little bit of patience, like for my vegan brioche recipe or vegan cinnamon rolls recipe, because the dough needs to rise two times.
Ingredients
The ingredients you need to make delicious, fluffy vegan hot cross buns are:
Flour – all-purpose flour or bread flour. I didn't try the recipe using a gluten-free flour blend, but it should work with blends containing gum.
Vegan butter – or vegan margarine. Earth balance or at work well in this recipe
Plant-based milk of choice – soy milk works the best. It adds a fluffier texture than almond milk.
Active dried yeast
Sugar – I am using unrefined cane sugar by coconut sugar or white sugar works as well.
Cinnamon
Nutmeg
Ginger
Orange zest – make sure you used untreated oranges to avoid pesticide residues.
Sultanas
Activate yeast
In a small bowl, combine almond milk, vegan butter, and microwave by 20-second bursts, stirring between, until the vegan butter is melted. Cool down for 1 minute, then stir in the active dried yeast.
Combine dry ingredients to wet ingredients
In another bowl or the bowl of your stand mixer, combine all the dry ingredients. Use a wooden spoon to mix flour, sugar, and mixed spices: cinnamon, nutmeg, and ginger. Then, make a well in the center of the flours and pour the milk yeast mixture along with orange zest and sultanas.
Knead the dough
Knead the dough using the dough hook attachment of your stand mixer or your hands. It takes about 6 minutes to form a sticky consistent dough.
First rise
Transfer the vegan hot cross bun dough into an oiled bowl, wrap with plastic wrap, and a clean towel. Then, place the bowl in a cool, dry room until the dough has doubled in size – it takes about 60-90 minutes.
Second rise
Line a large baking tray 9″ x 13″ inches with a lightly oiled piece of parchment paper. Then, push down the dough ball to deflate and transfer to a lightly floured surface. Roll a long cylinder, and using a sharp knife, divide the dough into 12 even pieces. Finally, roll each piece of dough into a ball and place them in rows onto the prepared baking tray, leaving half a thumb of space in between.
Wrap the baking tray with plastic wraps and let rise for another 30 minutes.
Crosses
Meanwhile, prepare the vegan hot cross bun mixture for the cross. In a small mixing bowl, combine flour and water. Place the mixture into a small ziplock bag, cut out one of the bag's corners and squeeze on top of each bun to form crosses.
Bake the hot cross buns
Bake the vegan hot cross buns in a preheated oven at 400°F (200°C) for 20-25 minutes or until golden brown on top.
Glaze
Cool down the hot cross buns in a cooling rack for 20 minutes before glazing. To make the hot cross bun glaze, whisk apricot jam or maple syrup with water.
Use a pastry brush to brush the top of each bun.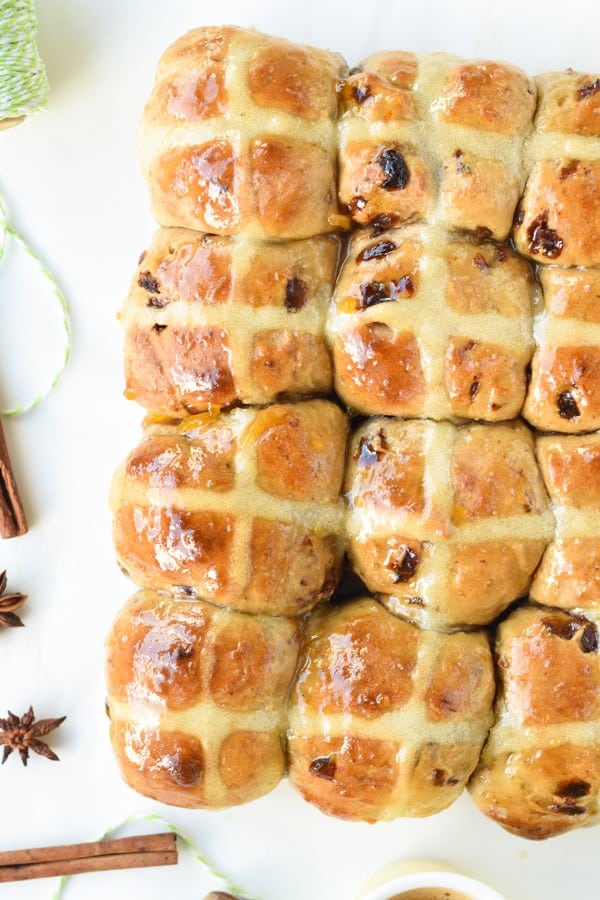 Cool at room temperature for 3 hours before serving.
How to serve hot cross buns?
You can eat these hot cross buns plain or cut halfway and spread some:
Vegan butter
Peanut butter
Almond butter
Jam
Maple syrup

How to store hot cross buns?
These vegan hot cross buns store well for 5 days at room temperature in an airtight container or wrapped in a clean towel. You can also freeze these hot cross bun and thaw the day before at room temperature.
Chocolate hot cross bun option
You can use this recipe to make vegan chocolate hot buns. To do so, add into the flour 1/3 cup of unsweetened cocoa powder and replace the sultanas with vegan dark chocolate chips.
Also, to make a chocolate cross on top of your buns, add 1 tablespoon of cocoa powder into the cross batter.
More vegan buns recipes
If you love making your own vegan bread, brioche, and buns, I have many others recipe for you to try:
Have you made these easy vegan hot cross buns? Share a comment or review below! I love to hear your feedback on my recipes.
Your friend, Carine