This easy Vegan Milkshake recipe is a 4-ingredient creamy dairy-free milkshake with delicious strawberry flavor.
The perfect vegan dessert or vegan drink on hot summer days.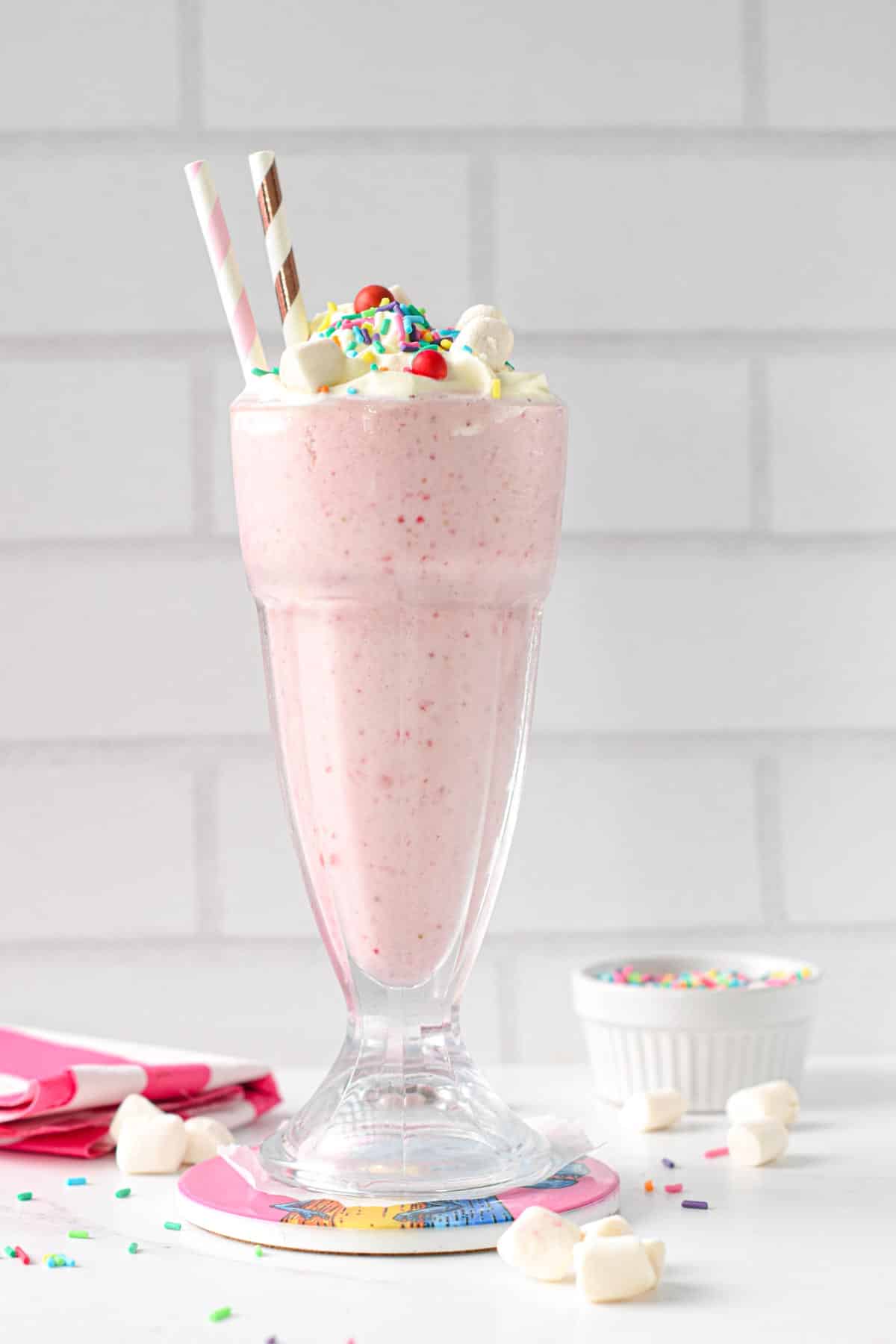 We all need to treat ourselves sometimes, and vegan milkshakes are just the drink for that!
But, you can make a healthy milkshake by picking healthier ice cream and using frozen fruits instead of added sugar from syrup.
So let me share with you how we make a healthier plant-based milkshake recipe at home.
Is Milkshake Vegan?
No, a classic milkshake is not vegan. Classic Milkshake Recipes are made of ice cream and milk.
Both ingredients are made from cow milk and sometimes butter or cream for the ice cream.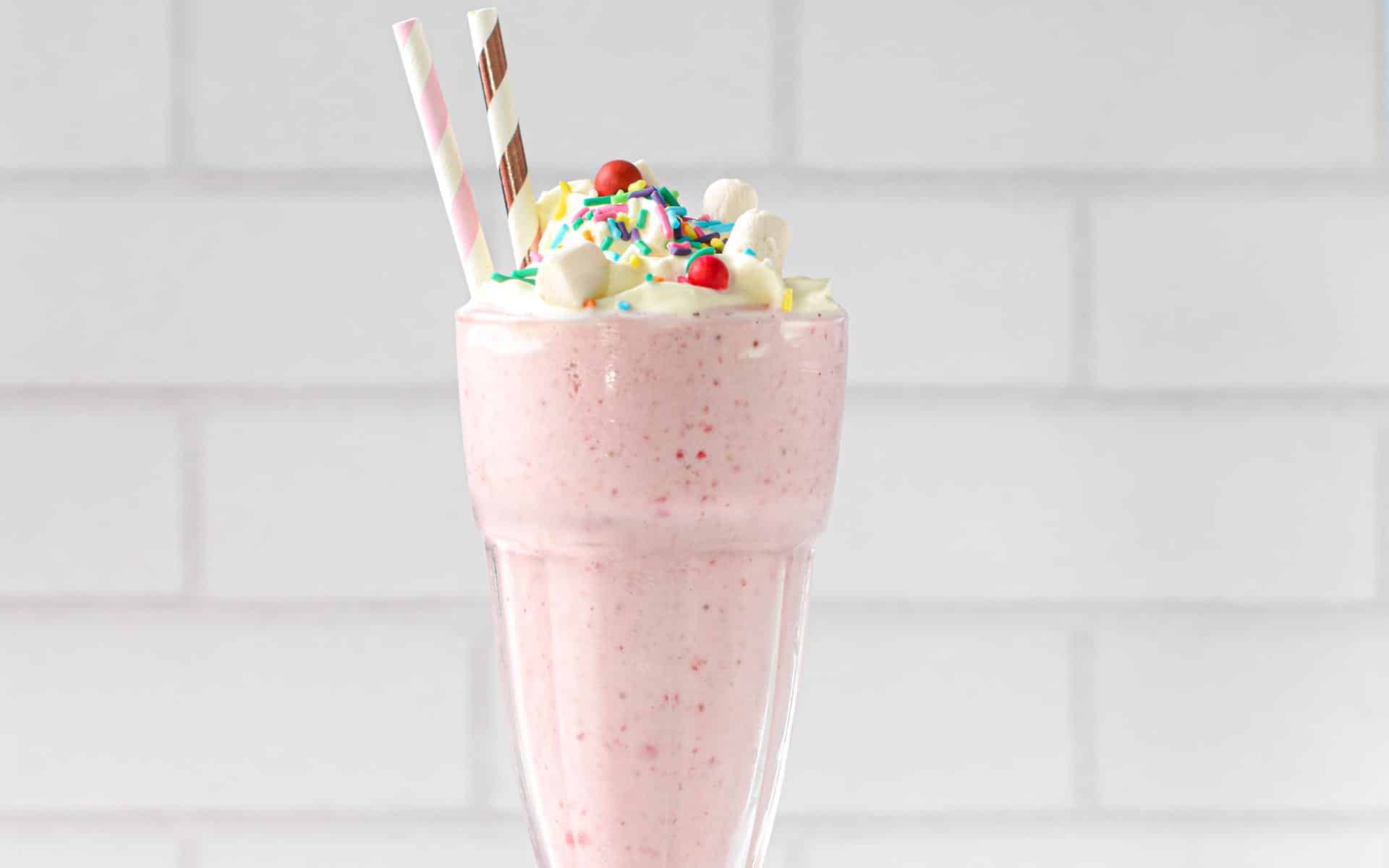 How To Make A Vegan Milkshake
A vegan milkshake is pretty easy to make in less than 2 minutes.
The good news about this recipe, you can adapt it to make all milkshake flavors, like a vegan chocolate milkshake or banana milkshake.
Ingredients
All you need to make your vegan milkshake are four ingredients
Vegan Vanilla Ice Cream – We used low-sugar coconut milk vanilla ice cream to make a healthier vegan milkshake.
Plant-Based Milk of Choice – Almond milk, coconut milk, or oat milk work in this milkshake.
Frozen Fruits – Use frozen strawberries for a strawberry milkshake or frozen banana for a banana milkshake.
Vanilla Extract – For an even stronger vanilla taste and flavor.
Making Plant-Based Milkshake
Pour all the ingredients into a high-speed blender. I like to add half of the almond milk first.
Then, add the remaining almond milk and blend until smooth.
Depending on the softness of your dairy-free ice cream, you may need to add all the almond milk or a bit less or more.
We like thick and creamy milkshakes, so 1/2 cup is enough.
Serving Vegan Milkshake
Serve the milkshake in a tall shake glass topped with dairy-free whipped cream like dairy-free coconut whipped cream.
Then add some of your favorite toppings to decorate:
Vegan Sprinkles
Glace Cherry
Chocolate Chips
Melted Chocolate Drizzle
Vegan Marshmallow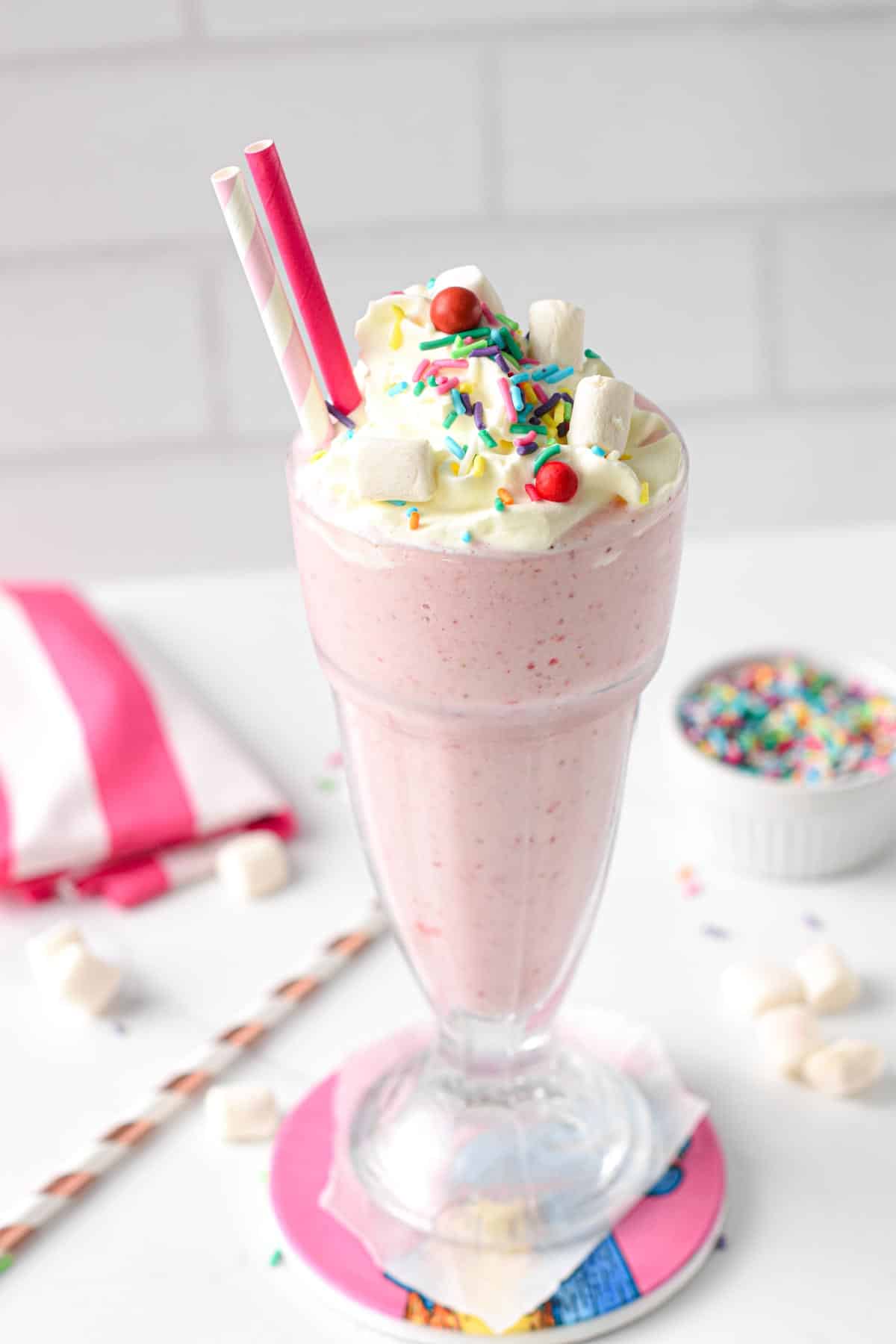 Vegan Milkshake Flavors
You can use this recipe to create a range of plant-based milkshake recipes.
Chocolate – Use a chocolate ice cream base, add 1 to 2 teaspoons of cocoa powder and replace the frozen fruits with frozen cubes of canned coconut cream. Or, use frozen bananas for a chocolate banana milkshake.
Vanilla – Use vanilla ice cream, skip the fruit, and use only 1/4 cup of milk. Add ice cubes if too thin.
Banana – Use vegan vanilla ice cream and frozen banana pieces.
Strawberry – Add frozen strawberries to the dairy-free vanilla ice cream.
Mint – Add 1 or 2 teaspoons of peppermint flavor and a few mint leaves.
Peanut Butter – Add 1 or 2 tablespoons of peanut butter or almond butter to reduce saturated fat. Use frozen banana and vanilla ice cream base.
Frequently Asked Questions
How Can I Pick Healthy Vegan Ice Cream?
Not all vegan ice creams are equal.
Some are high in sugar and loaded with fructose, but on the other hand, you can find delicious, healthier options.
Look for a natural sugar-free sweetener like erythritol, allulose, stevia, or refined sugar-free sweeteners that are better for you, including maple syrup.
Then, the type of milk is up to you.
For example, coconut milk-based ice creams can have a strong coconut flavor so if you are not a fan of coconut, try soy milk, almond milk, or oat milk ice cream.
The vegan ice cream used in this recipe is keto-friendly, made of coconut milk, and sweetened with stevia and erythritol.
Can I Make Milkshake Without Ice Cream?
Yes and no. Let's say that without ice cream, it's more of a Frappuccino or smoothie.
So you can make some of my smoothie recipes like my strawberry peanut butter smoothie or mango smoothie. Both have a thick creamy texture similar to a milkshake.
More Healthy Drinks Recipes
Below I listed some more vegan drinks recipes for you to try.
Made this vegan milkshake recipe? Feel free to leave a comment below if you enjoy this recipe.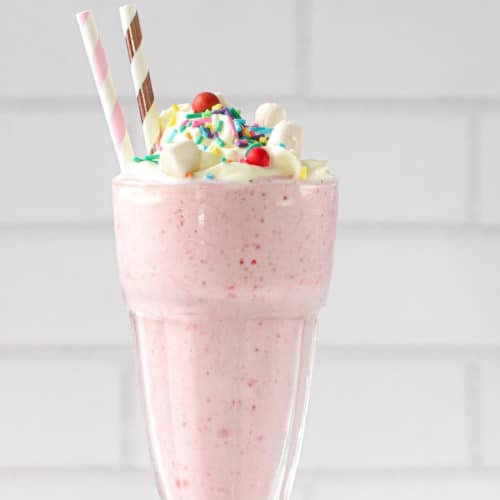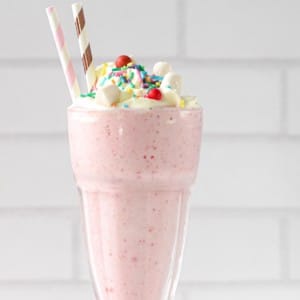 Vegan Milkshake
This easy Vegan Milkshake recipe is a 4-ingredient creamy dairy-free milkshake with delicious strawberry flavor. The perfect vegan dessert or vegan drink on hot summer days.
Pin
Print
Review
Servings: 2 shakes
Calories: 117.7 kcal
Instructions
In a blender, add vanilla ice cream, half the milk, frozen strawberries, and vanilla extract.

Blend and gradually add the remaining almond milk until it reaches your favorite texture. I personally add all of it, but depending on soft is your dairy-free ice cream, you may want to add less to keep the texture of the milkshake thicker.

Serve immediately with unsweetened coconut whipped cream and a few vegan sprinkles to decorate.
Share on Facebook
Pin Recipe
Nutrition
Serving: 1shake | Calories: 117.7kcal | Carbohydrates: 10.6g | Protein: 3g | Fat: 5.1g | Saturated Fat: 3.5g | Polyunsaturated Fat: 0.8g | Monounsaturated Fat: 0.3g | Sodium: 38.1mg | Potassium: 167.3mg | Fiber: 1.3g | Sugar: 5.4g | Vitamin A: 238.3IU | Vitamin B12: 0.6µg | Vitamin C: 36mg | Vitamin D: 0.7µg | Calcium: 91.3mg | Iron: 0.5mg | Magnesium: 7.1mg | Phosphorus: 13mg | Zinc: 0.2mg