This Iced Pumpkin Spice Latte is a Starbucks copycat recipe, but healthier 100% plant-based made at home with the most simple ingredients.
Plus, this is a healthier version of your favorite store-bought drink made with real pumpkin, no dairy, and no refined sugar.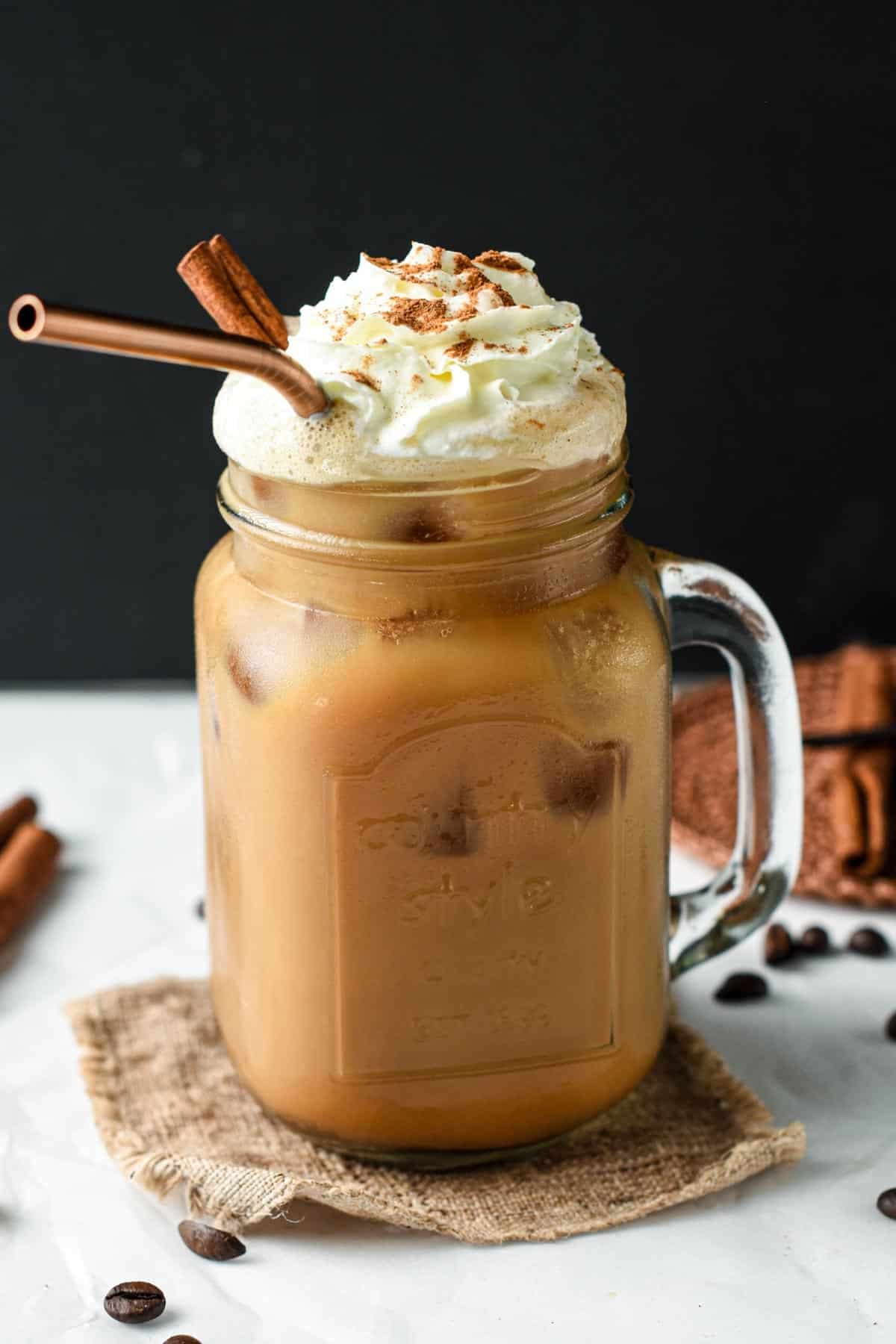 I am a coffee lover and if there's a season I adore, its fall because of all the pumpkin spice flavors and pumpkin latte.
When I am not making my healthy pumpkin spice latte, I like to make this iced version for a refreshing flavorsome coffee.
Actually, I never wait for fall to make this and I like to make one anytime I have leftover of my pumpkin puree recipe.
So let me share with you how to make the most flavorsome iced pumpkin spice latte at home.
How To make Iced Pumpkin Spice Latte
Making this recipe is crazy easy.
Ingredients
All you need to make this iced coffee with pumpkin flavors are.
Strong Coffee – I use an espresso machine and make 2 strong shots of espresso for this one-serving recipe.
Pumpkin Puree – Canned pumpkin puree is normally made with 100% natural pumpkin, but if you can't find any, you can make my homemade pumpkin puree.
Maple Syrup or any liquid sweeter you like. The classic recipe from coffee shops use a pumpkin flavored syrup so maple syrup combined with pumpkin pie spices will do the trick without using refined sugar.
Pumpkin Spice Mix – it's basically a combination of 1/4 teaspoon ground cinnamon, 1/4 ground of nutmeg and 1/8 teaspoon ground cloves or ginger or both.
Vanilla Extract –
Almond Milk – Use unsweetened almond milk or any non dairy milk you like, such as oat milk, soy milk, or hemp milk.
Brewing Your Coffee
First, brew the coffee. You can brew coffee using a French press or your coffee machine.
If you use a coffee machine, use a strong capsule and press twice on the espresso button to make a double espresso.
For French press, use a strong coffee bean ground, add in the press along with hot water. Set aside to let the strong brewed coffee diffuse in the water. Press and pour in a glass.
Let 1/2 cup of coffee cool down in the fridge or at room temperature for about 10 minutes.
Filling The Glass
Next, fill a tall glass with ice cubes to about 1/2 of its level.
Then, add all the iced drink ingredients into a blender, and blend for 30 seconds on high speed – speed 8 of your Vitamix to create pumpkin milk.
Pour the hot brewed coffee onto the ice cubes and top up with the pumpkin milk.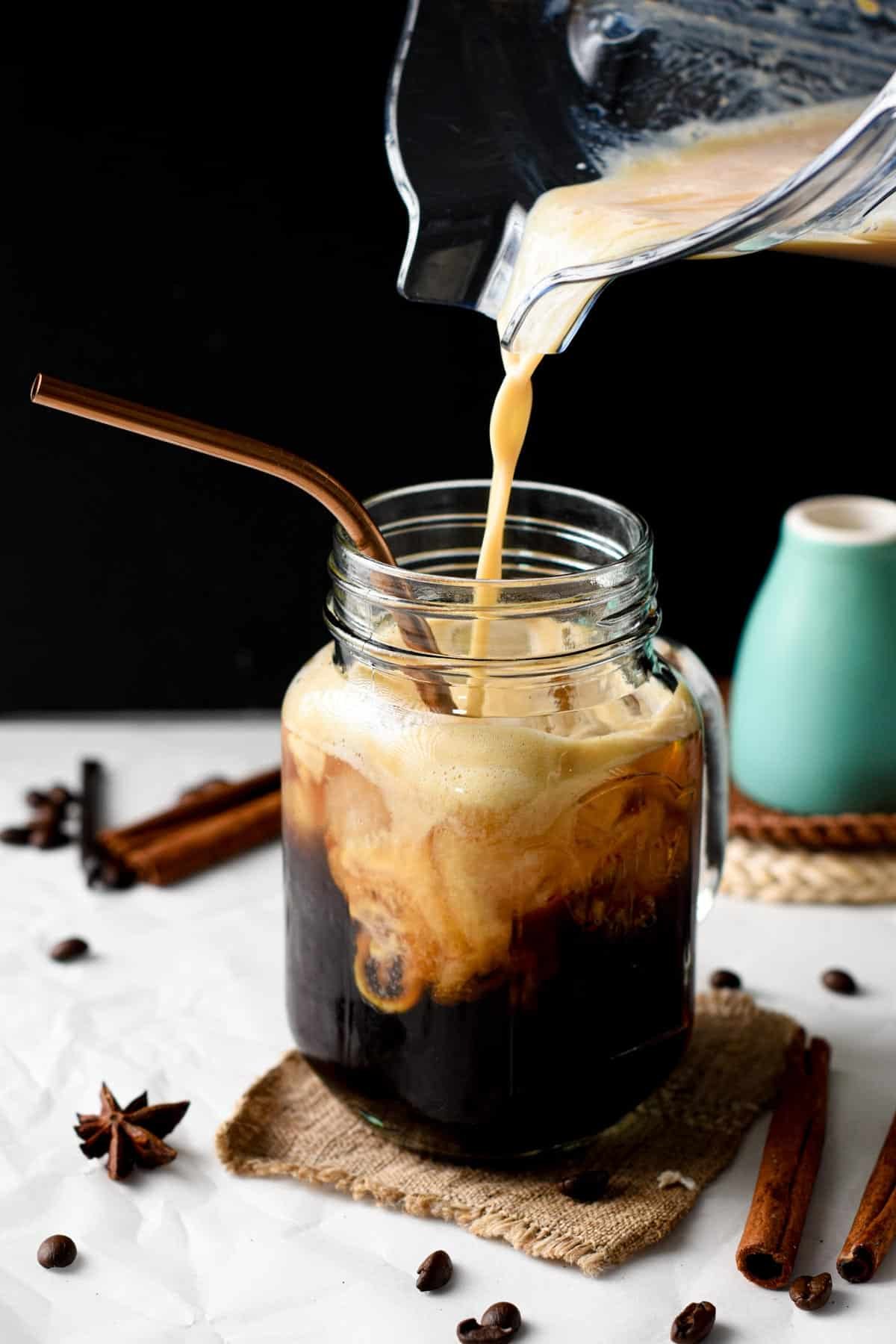 Serving Iced Pumpkin Latte
Like in your favorite Coffee shop, serve your iced coffee topped with whipped cream. There are many dairy-free options out there like coconut whipped cream or soy whipped cream.
But of course, whipped cream is optional and if you don't want to add the saturated fat from the cream, try frothing some soy milk in a milk frother and add on top of the glass.
Add an extra pinch of pumpkin pie spices on the top before drinking.
Storage Instructions
You can't store the ready-made drink for very long because the ice melt, diluting the drink and the flavor fade off.
But, you can make head the pumpkin milk and brew the coffee way before. Store both in the fridge and assemble the drink just before drinking for the best flavors.
Allergy Swaps
You can make this iced pumpkin latte sugar-free or with alternative milk let's see the options based on your allergy:
Nut-Free – Replace the almond milk with coconut milk or oat milk or hemp milk. Actually, any non-dairy milk works so if you like soy milk go for it.
Sugar-Free – Swap the maple syrup for erythritol or sugar-free maple syrup.
Coffee-Free – I know it sounds weird because an iced pumpkin spice latte is supposed to be served over coffee, but you can enjoy the drink without the coffee too if you serve this for kids or someone that doesn't like the coffee flavor. Just add a bit more almond milk.
Frequently Asked Questions
How Can I Make Homemade Pumpkin Spice?
To make the most basic pumpkin spice mix, combine an equal amount of ground cinnamon and ground nutmeg.
Then, stir in a touch of ground ginger and ground cloves. For this recipe, it's about 1/2 teaspoon cinnamon, 1/2 teaspoon nutmeg for 1/8 teaspoon of a mix of ginger and cloves.
Can I Make Pumpkin Spice Frappuccino?
Yes, simply blend the ice cubes with all the remaining ingredients – make sure the coffee is cold first.
Add more ice cubes for a frothier texture if needed.
More Drink Recipes
Below are more easy cold drinks recipes for you to try:
Did you try this homemade iced pumpkin spice latte? Share a comment or review below!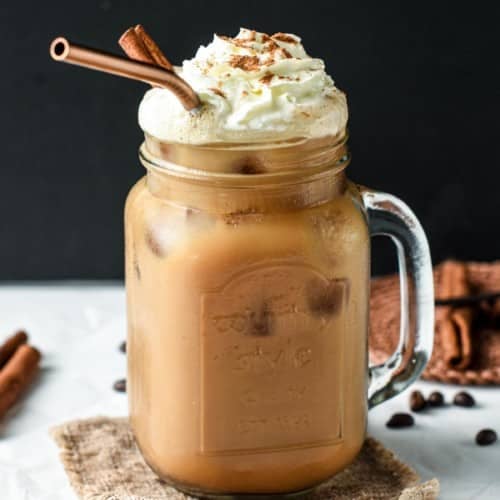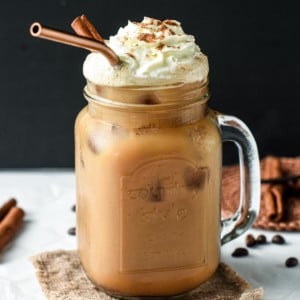 Iced Pumpkin Spice Latte
This Iced Pumpkin Spice Latte is a Starbucks copycat recipe made healthier, at home, with 100% plant-based ingredients. Unlike your favorite store-bought drink, this recipe is made with real pumpkin, no dairy, and no refined sugar.
Pin
Print
Review
Save
Saved Recipes
Instructions
Brew coffee – 2 strong espresso shots on your espresso machine or use a French press with strong ground coffee. Set aside 1/2 cup of freshly brewed coffee. Cool down in the fridge for 10 minutes

Fill a tall glass with ice cubes. Set aside.

In the jug of a high-speed blender, add all the remaining ingredients and blend until smooth like pumpkin milk.

Pour cooled brewed coffee over ice cubes and top up with pumpkin milk.

Serve plain or with whipped cream (we used dairy-free) and a pinch of extra pumpkin spices.
Share on Facebook
Pin Recipe
Nutrition
Serving:
1
serving
|
Calories:
179.8
kcal
|
Carbohydrates:
25.1
g
|
Protein:
7.5
g
|
Fat:
4.8
g
|
Saturated Fat:
0.5
g
|
Polyunsaturated Fat:
2.8
g
|
Monounsaturated Fat:
1
g
|
Sodium:
124
mg
|
Potassium:
504.9
mg
|
Fiber:
2.3
g
|
Sugar:
19.2
g
|
Vitamin A:
5599.3
IU
|
Vitamin B12:
2.5
µg
|
Vitamin C:
18.3
mg
|
Vitamin D:
2.8
µg
|
Calcium:
372.6
mg
|
Iron:
1.7
mg
|
Magnesium:
15.5
mg
|
Phosphorus:
14.8
mg
|
Zinc:
0.8
mg