Vegan Morning Glory Muffins
These vegan Morning Glory muffins are the best vegan breakfast muffins ever, packed with the best fall flavors from apples, carrots, cinnamon, ginger, and walnuts.
Plus, they are packed with only wholesome, nourishing ingredients to fill you with proteins and fibers in the morning.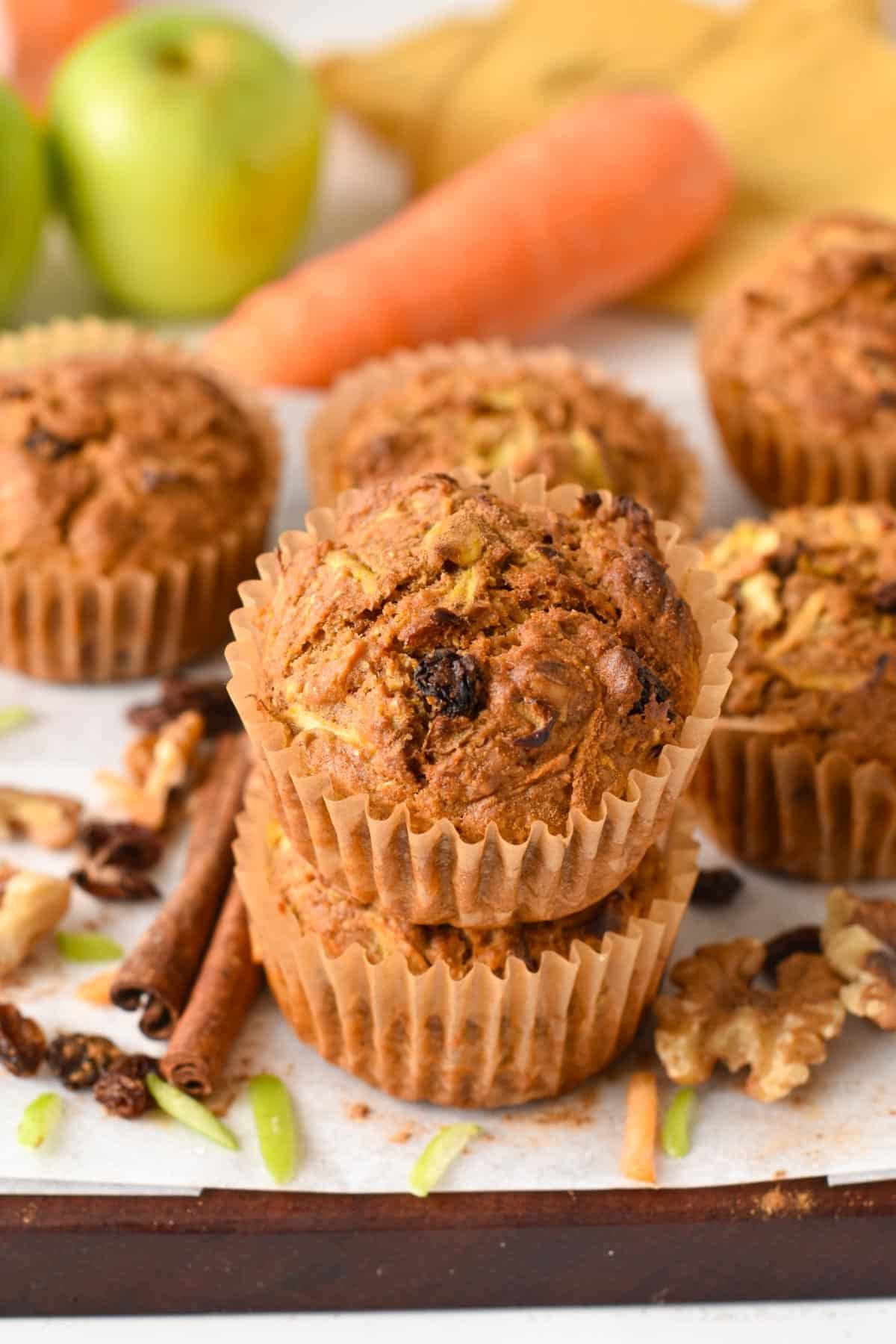 It's fall, and what's better than a Morning Glory muffin for breakfast on cold days? If you've never had a morning glory muffin, let me describe this for you.
It's a spiced carrot cake-style muffin packed with cinnamon, ginger, and orange flavors with a dense crumb filled with carrots, apples, raisins, and bits and pieces of walnuts.
How To Make Vegan Morning Glory Muffins
The amount of ingredients you need for morning glory muffin recipe is a bit overwhelming.
But I can guarantee that it's worth all the work. The taste and flavors are on point, and this is a no-fail vegan muffin for breakfast
Wet Ingredients
Plant-Based Milk – I like to use almond milk or soy milk for this recipe.
Orange Juice
Unsweetened Apple Sauce
Light Olive Oil, canola oil, or melted vegan butter.
Maple Syrup or any liquid sweetener you love, like agave syrup, coconut nectar, or rice syrup.
Vanilla Extract
Dry Ingredients
Whole Wheat Flour
All-Purpose Flour – You can also use white spelt flour. If you use wholewheat flour instead of wheat, the muffins will be packed less fluffy.
Flaxseed Meal
Coconut Sugar or light brown sugar
Baking Soda
Baking Powder
Salt
Cinnamon
Ginger
Add-On Ingredients
For texture and flavor, a morning glory muffins needs a lots of filling from:
Grated Carrots
Grated Apple – skin on, cored
Chopped Walnuts
Dried Raisins
Preparation
First, preheat the oven to 350°F (180°C). Line a 12-hole muffin pan with paper liners and lightly oil with cooking spray. Set aside.
Shredding Veggie And Fruits
Before you start, shred the carrots using a hand grater or food processor with the grater attachment.
Do the same for the apples. I like to keep the apple skin to add fiber to my muffins, but you can also peel the apples.
Mixing Ingredients
Next, in a mixing bowl, whisk all the liquid ingredients together. The orange juice is going to curdle the almond milk, creating a sort of buttermilk. When combined with the oil, maple syrup, applesauce, and vanilla extract, you get a creamy mixture that will keep the muffin crumb moist and delicious.
Set aside while mixing the dry ingredients together.
Combining Batter

In a large bowl, whisk all the dry ingredients together until well combined. Then, make a well in the center of the ingredients and pour the wet ingredients from the previous bowl.
Use a silicone spatula to stir the ingredients together. Halfway through stirring, add the grated carrots, grated apple, chopped walnuts, and dried raisins. Keep going to distribute into the muffin batter evenly.
Baking The Muffins
Fill each paper liner up to the top and bake in the center rack of the oven until a toothpick inserted in the center of the muffins comes out clean or with a little crumb on it.
Cool at room temperature in a wire rack for an hour.
Flavor Options
You can use this recipe to create different morning glory muffin flavors.
For example you can change the add-ons, swap some of them by some of the below:
Grated Zucchini – Make sure you squeeze out the water from the zucchini before adding it to the recipe.
Shredded Coconut
Dark Chocolate Chips
Sunflower Seeds or hemp seeds
Chopped Pecans of chopped almonds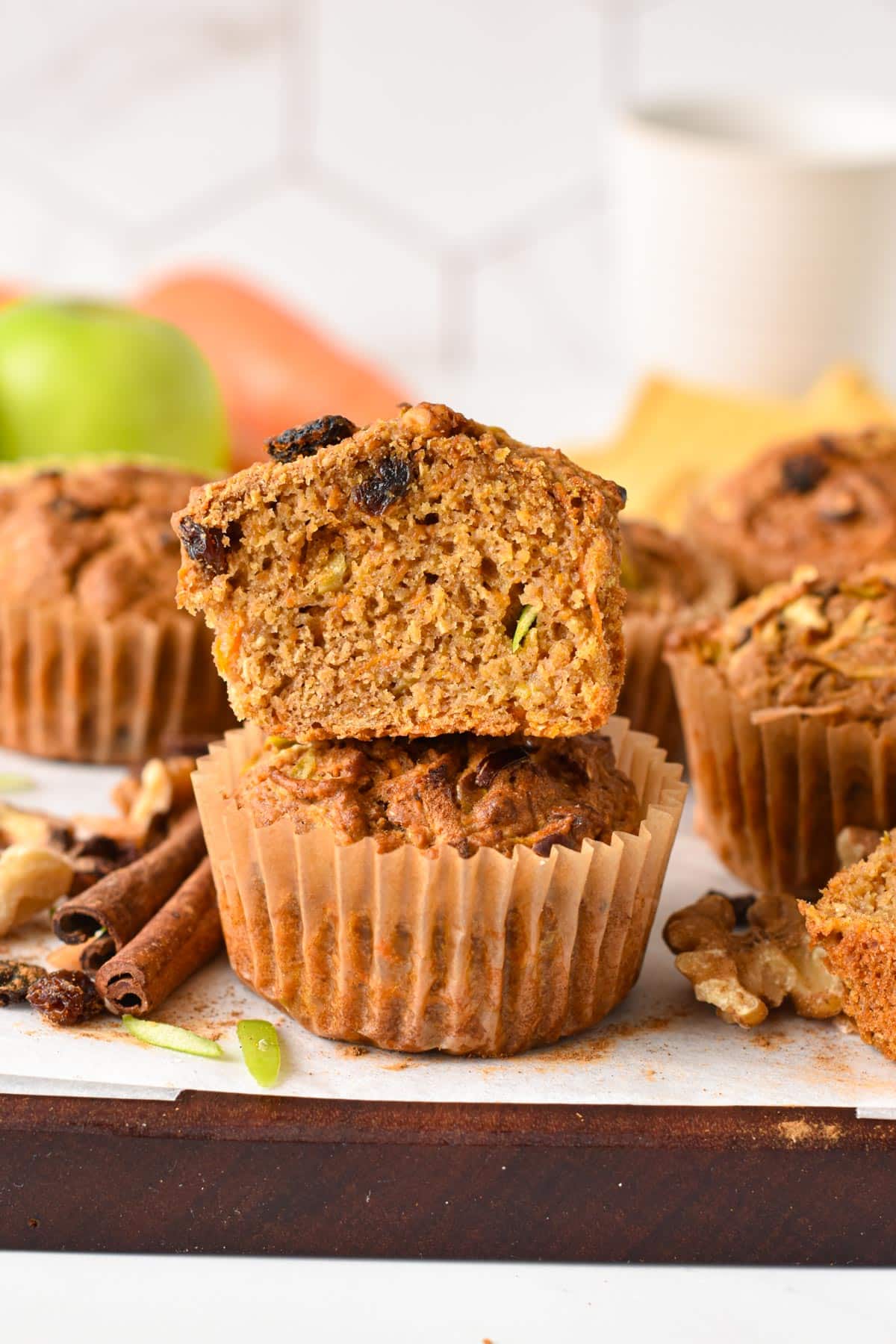 Storage Instructions
Fridge – Store the muffin in an airtight cake box in the fridge for up to 5 days.
Freezer – Freeze in sealed zip-lock bags or container for up to one month. Thaw at room temperature the day before.
Allergy Swaps
Below are some ingredient substitutions ideas if you need:
Gluten-Free – I didn't try this recipe using gluten-free flour, but you may achieve decent results using all-purpose gluten-free flour instead of wholewheat and oat flour instead of all-purpose flour.
Raisins – You can use any dried fruits like dried cranberries, dried dates, or apricots chopped into small cubes. Another option is to use dark chocolate chips if you don't like dried fruits.
Nut-Free – Swap the almond milk for coconut milk or soy milk. Then, swap the walnuts for shredded coconut or pumpkin seeds.
Applesauce – You can replace the unsweetened applesauce with mashed ripe bananas, pumpkin puree, or sweet potato puree.
Oil – I don't recommend making this recipe oil free or the muffins might end up very dry. You can use any oil from melted coconut oil to avocado oil.
Sweetener – The recipe required a combination of liquid sweetener and crystal sweetener for the best texture. Don't swap one by the other, but feel free to use any crystal sweetener like brown sugar, sugar-free allulose, or brown sugar. For liquid sweeteners, you can pick from maple syrup, sugar-free monk fruit syrup, or agave syrup.
Orange Juice Swap – Try another citrus fruit like mandarin, lemon, or tangelo juice.
Frequently Asked Questions
Below are my answers to your common questions about these healthy morning glory muffins.
Are Classic Morning Glory Muffins Vegan?
No, Morning Glory muffins are not naturally vegan. They contain dairy from milk, sometimes butter, and also have eggs.
What Is A Morning Glory Muffin Made Of?
A morning glory muffin is always made with wholewheat flour instead of white flour, usually used in muffin recipes.
Then, it's filled with applesauce, grated carrots, grated apples, dried raisins, nuts and flavored with cinnamon and ginger. It's a typical fall breakfast muffin recipe.
More Healthy Vegan Muffins
If you like this recipe, you'll love these other healthy muffins: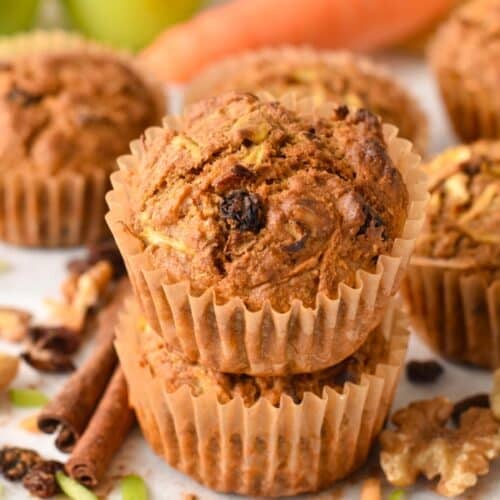 Vegan Morning Glory
These vegan morning glory muffins are the best vegan breakfast muffins ever, packed with the best fall flavors from apples, carrots, cinnamon, ginger, and walnuts.
Pin
Print
Review
Instructions
Preheat the oven to 350°F (180°C). Line a 12-hole muffin tray with a paper liner. Set aside.

In a mixing bowl, whisk all the liquid ingredients. Set aside.

In another large mixing bowl, whisk all the dry ingredients together.

Make a well in the center of the flour mixture and add the wet ingredients.

Combine, scraping down the sides to bring all the ingredients together, and halfway, fold in the grated carrots, grated apple, raisins, and walnuts.

Stir until well distributed into the batter.

Divide the batter evenly into the 12 muffin holes.

Bake on the center rack of your oven for 20-25 minutes or until they are golden brown and a pick inserted in the center comes out clean.

Cool down on a rack completely before adding any frosting.
Share on Facebook
Pin Recipe
Nutrition
Serving:
1
muffin
|
Calories:
276.2
kcal
|
Carbohydrates:
37.8
g
|
Protein:
3.9
g
|
Fat:
13.3
g
|
Saturated Fat:
1.7
g
|
Polyunsaturated Fat:
3.9
g
|
Monounsaturated Fat:
7.2
g
|
Sodium:
244
mg
|
Potassium:
240.2
mg
|
Fiber:
3.6
g
|
Sugar:
15.4
g
|
Vitamin A:
2689.6
IU
|
Vitamin C:
4
mg
|
Calcium:
91.8
mg
|
Iron:
1.5
mg
|
Magnesium:
41.3
mg
|
Phosphorus:
110.3
mg
|
Zinc:
0.7
mg