Healthy Cake Pops (No-Bake, Oil-Free, Vegan)
These healthy cake pops are easy no-bake cake pops made with a moist vanilla crumb made with almond flour, dairy-free yogurt, and no refined sugar.
Plus, this recipe is fast and ready in 15 minutes, no need to bake a cake for this recipe!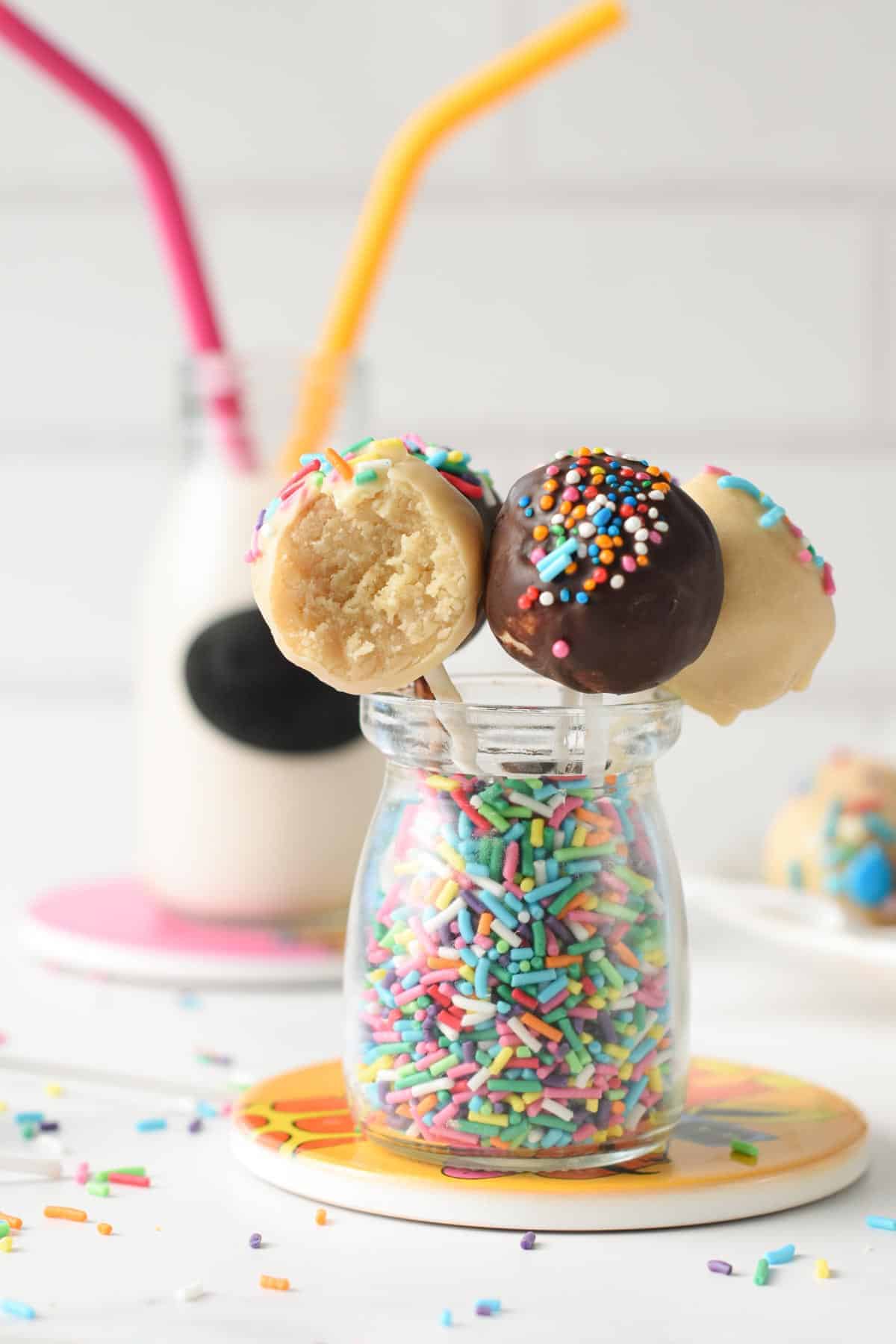 What Are Cake Pops?
An authentic cake pop recipe is made from a layer of vanilla cake, crumbled into pieces, and stirred with cream cheese or butter to form a sticky batter.
Then, the batter is rolled into balls and dipped into a coating made of sugar and milk.
Are Cake Pops Vegan?
No, cake pops are not naturally vegan because they are made from a classic cake recipe containing eggs and milk.
Are Cake Pops Healthy?
No, but these cake pops are better for you than traditional cake pops as it's naturally:
Dairy-free
Oil-free – this recipe doesn't require almond butter or coconut oil!
Refined sugar-free
Egg-free or flax egg required
Gluten-free
No baking – raw food is healthier for you as there's no heat involved that can degrade nutrients.
Plus, these single-serve cake pops are also packed with nutrients, proteins, and fiber from almond flour.
How To Make Healthy Cake Pops
It takes less than 20 minutes to make a healthier version of your favorite cake pops that taste amazing!
Let's see how to make no-bake cake pops.
Ingredients
All you need to make these cake balls are:
Blanched almond flour – the recipe works with homemade oat flour too but the texture is very dry and grainy so not my recommendation.
Coconut flour – you can't swap coconut flour it's the magic flour that binds the ingredients together and create a cake-like texture to the batter
Maple syrup or any liquid sweetener you like.
Greek yogurt of choice – I used dairy-free coconut Greek Yogurt, it has a similar texture and taste to cream cheese that is usually used in cake pops recipes.
White chocolate to coat the balls – you can use chocolate chips of white or dark chocolate depending on your tastebuds.
Sprinkles
Vanilla extract
Making The Cake Batter
First, in a large mixing bowl stir almond flour and coconut flour. Then, stir in yogurt, maple syrup, and vanilla extract.
Finally, scoop out one tablespoon of cake batter and roll it into small balls.
Place each ball onto a plate covered with parchment paper.
Freeze the balls for 10 minutes to let the batter set fully.
Meanwhile, melt the chocolate and place it in a tall narrow container.
Pick a cake pop stick in the top center of each cake ball.
Hold the stick and dip and twist the ball into the melted chocolate until fully covered
Place the cake balls on a cake stand to let the excess melted chocolate run down.
Add a touch of color by adding a sprinkle to the top.
Pop the cake pop stand in the fridge or freezer for a few minutes to set the chocolate layer faster.
If you don't have a cake stand, prick a card box with a skewer and use a cake pop stand.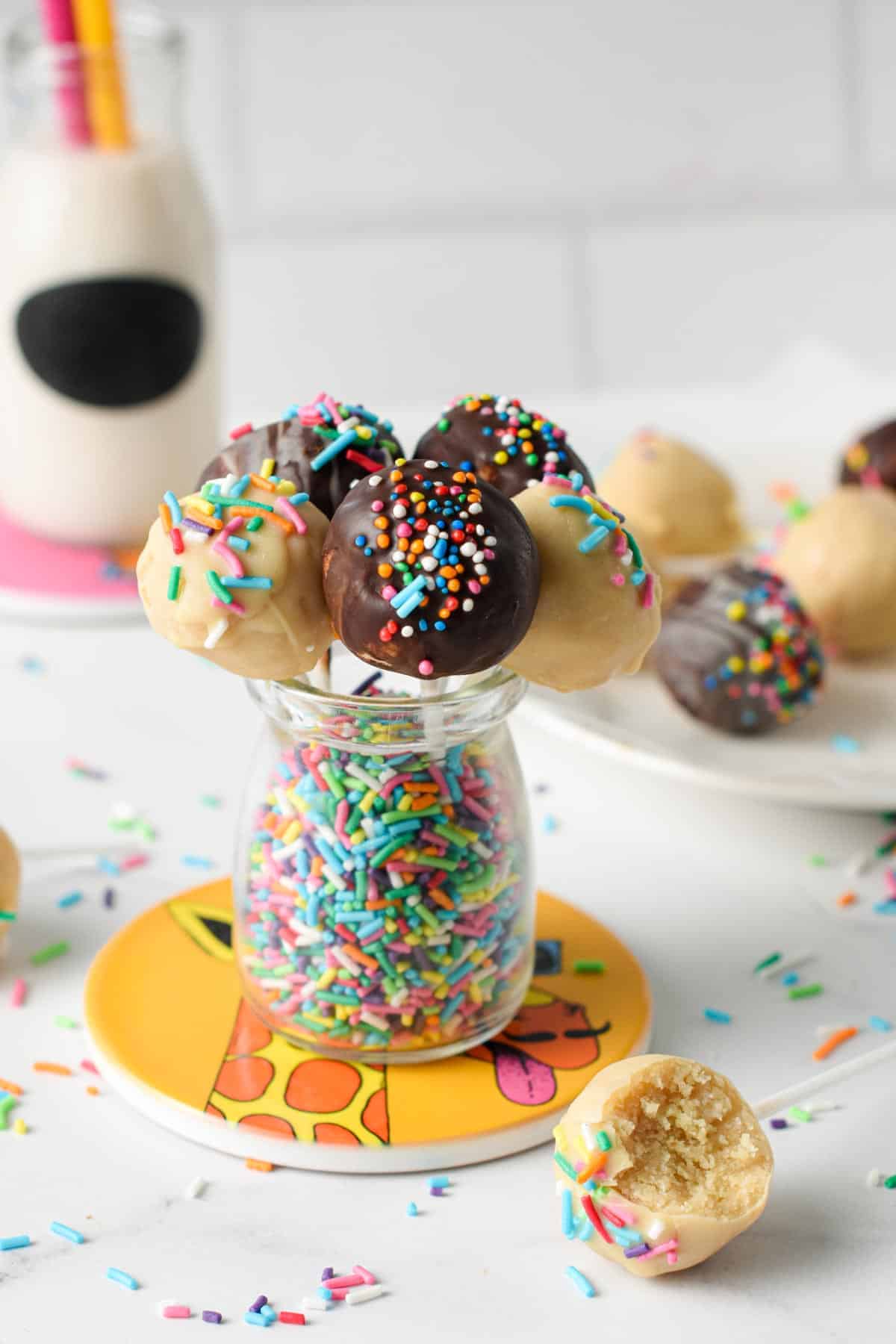 Storage
This cake pops store well in the fridge for up to 3 days, in a sealed airtight container.
You can also freeze these cake pops and thaw them in the fridge the day before.
Frequently Asked Questions
Can I Use Oat Flour?
Yes, you can replace the amount of almond flour with the same amount of oat flour but keep the coconut flour.
Increase the maple syrup by 1 tablespoon.
The texture of the cake pops with oat flour is much denser and drier so keep that in mind if you do the switch.
For best tasting, use almond flour and coconut flour.
Can I Make Keto Cake Pops With This Recipe?
Yes, the flours used in this recipe are low-carb keto-friendly flours.
To make the whole recipe sugar-free, use a sugar-free liquid sweetener and your favorite low-carb yogurt.
More Healthy Snack Recipes
If you like these healthy cake pops, you'll love these other easy snack recipes.
Have you made this healthy cake pop recipe? Share a comment or review below,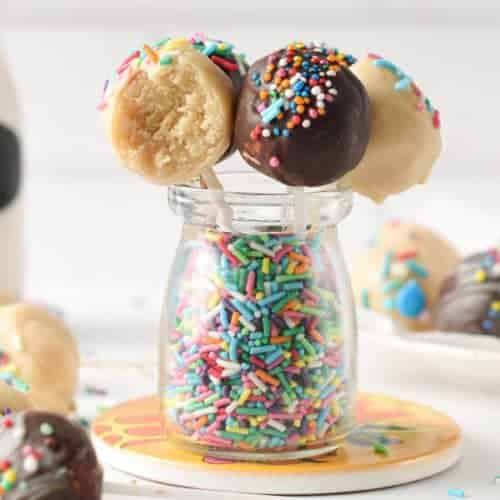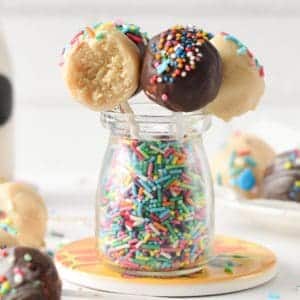 Healthy Cake Pops
These Healthy Cake Pops are easy vegan no-bake cake pops made with a moist vanilla crumb made with almond flour, yogurt, and no refined sugar.
Pin
Print
Review
Shop My Tools
Instructions
Before you start, prepare a cake pop stand. You can use a shoe cardboard box and prick holes with a skewer for a homemade cake pops stand option.

In a small mixing bowl, combine coconut yogurt, maple syrup, and vanilla extract until it forms a creamy paste.

Stir in the almond flour and coconut flour, and stir until the dough comes together.

Divide the dough into 16 small balls. Pick a cake pop stick on the top of each ball and place them on a plate covered with parchment paper. Freeze for 10 minutes.

Meanwhile, in a microwave-safe bowl, melt vegan white chocolate and coconut oil.

Place the melted chocolate in a tall glass and dip each cake pop in the melted chocolate, one at a time, waiting for a few seconds above the glass to let the extra melted chocolate run down the glass.

Place the cake pops on a cake pop stand to cool.

Add a pinch of sprinkles on top of each cake pops to decorate.

Repeat the steps above until all cake pops have been dipped and covered with melted chocolate.

Pop the cake pop stand in the freezer to set the chocolate shell faster if desired.
Share on Facebook
Pin Recipe
Nutrition
Serving:
1
ball
|
Calories:
118.3
kcal
|
Carbohydrates:
12.4
g
|
Protein:
2.2
g
|
Fat:
7.1
g
|
Saturated Fat:
2.6
g
|
Polyunsaturated Fat:
0.1
g
|
Monounsaturated Fat:
0.8
g
|
Cholesterol:
1.7
mg
|
Sodium:
11.6
mg
|
Potassium:
32.5
mg
|
Fiber:
1.2
g
|
Sugar:
10.1
g
|
Vitamin A:
2.5
IU
|
Vitamin B12:
0.2
µg
|
Vitamin C:
0.1
mg
|
Vitamin D:
0.2
µg
|
Calcium:
69.9
mg
|
Iron:
0.4
mg
|
Magnesium:
2.2
mg
|
Phosphorus:
14.5
mg
|
Zinc:
0.1
mg