This one-pot Vegan Broccoli Pasta recipe is a quick and easy 30-minute plant-based family dinner that the whole family loves.
It's also a simple pasta dinner that is easy to make gluten-free.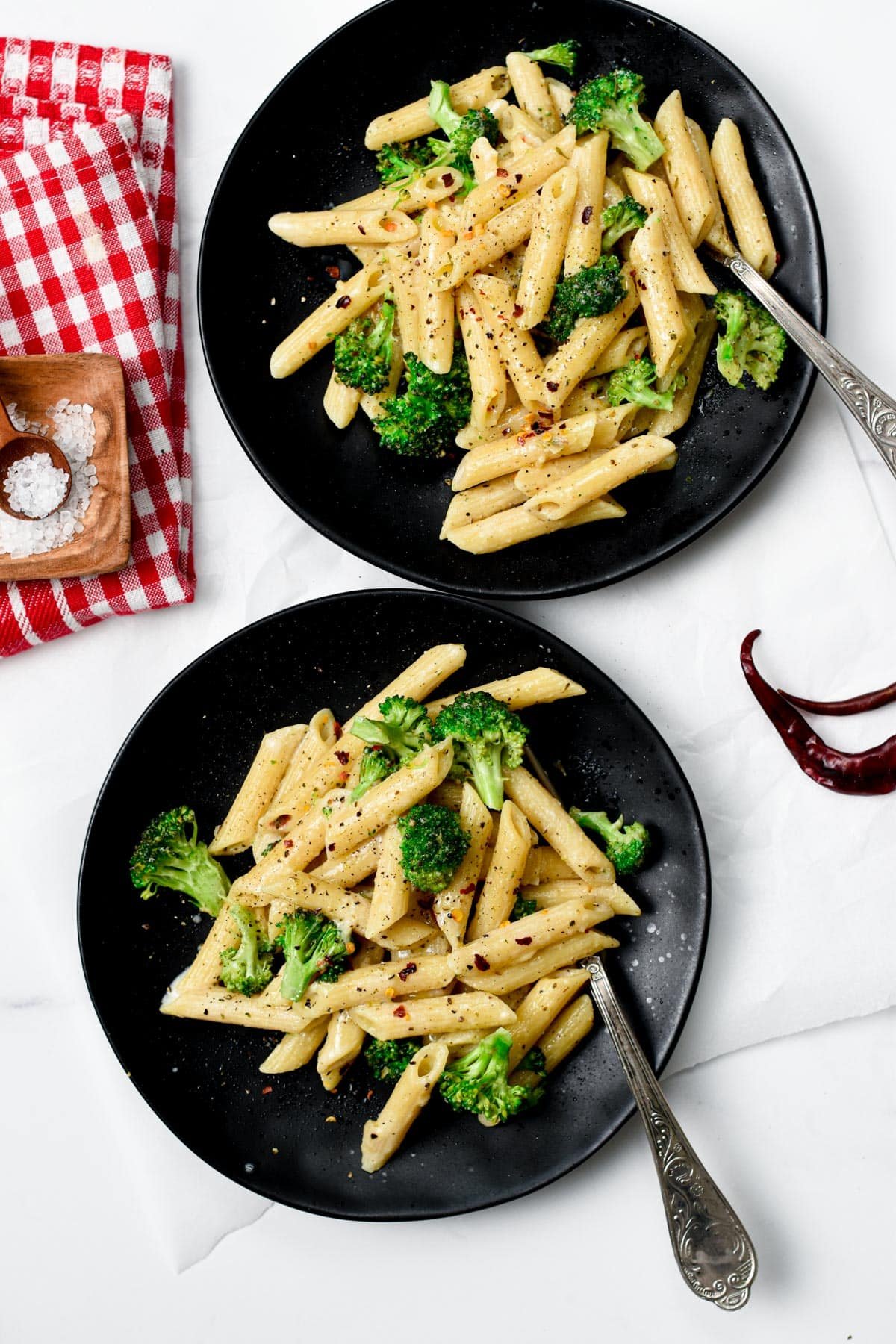 I love to prepare pasta dishes for my family because it's always easy to make, and everyone loves them.
Broccoli and pasta are two low-cost ingredients that are perfect for creating cheap healthy family dinners.
So let's see how you can make this vegan broccoli pasta recipe in less than 30 minutes and bring a dinner packed with veggies to your table.
How To Make Vegan Broccoli Pasta
Vegan broccoli pasta is a one-bowl pasta recipe where broccoli is cooked at the same time as your pasta, so you don't have to go through many steps and cleaning of pans.
Here the pasta is cooked in a plant-based creamy sauce with delicious pieces of broccoli and ready in 30 minutes with minimal washing.
Ingredients
To make this recipe, you will need the following:
Uncooked Pasta – I recommend a shape like penne, shell, farfalle, fusilli, or bow pasta. They fit the pan easily rather than Fettuccine or Spaghetti.
Fresh Broccoli – cut into tiny florets
Shallots or onion
Extra Virgin Olive Oil
Garlic Cloves
Vegetable Broth
Almond Milk – I prefer unsweetened almond milk, but you can also use any dairy-free milk including coconut milk, soy milk, or cashew milk.
Sea salt and Black Pepper
Nutritional yeast or vegan cheese like vegan Parmesan cheese
Italian Seasoning
Lemon Juice
Coconut Cream – Canned coconut cream or cashew cream.
This is a one-bowl recipe which means that the pasta is cooked directly in the pasta sauce, so you don't have many steps to follow.
Cooking The Pasta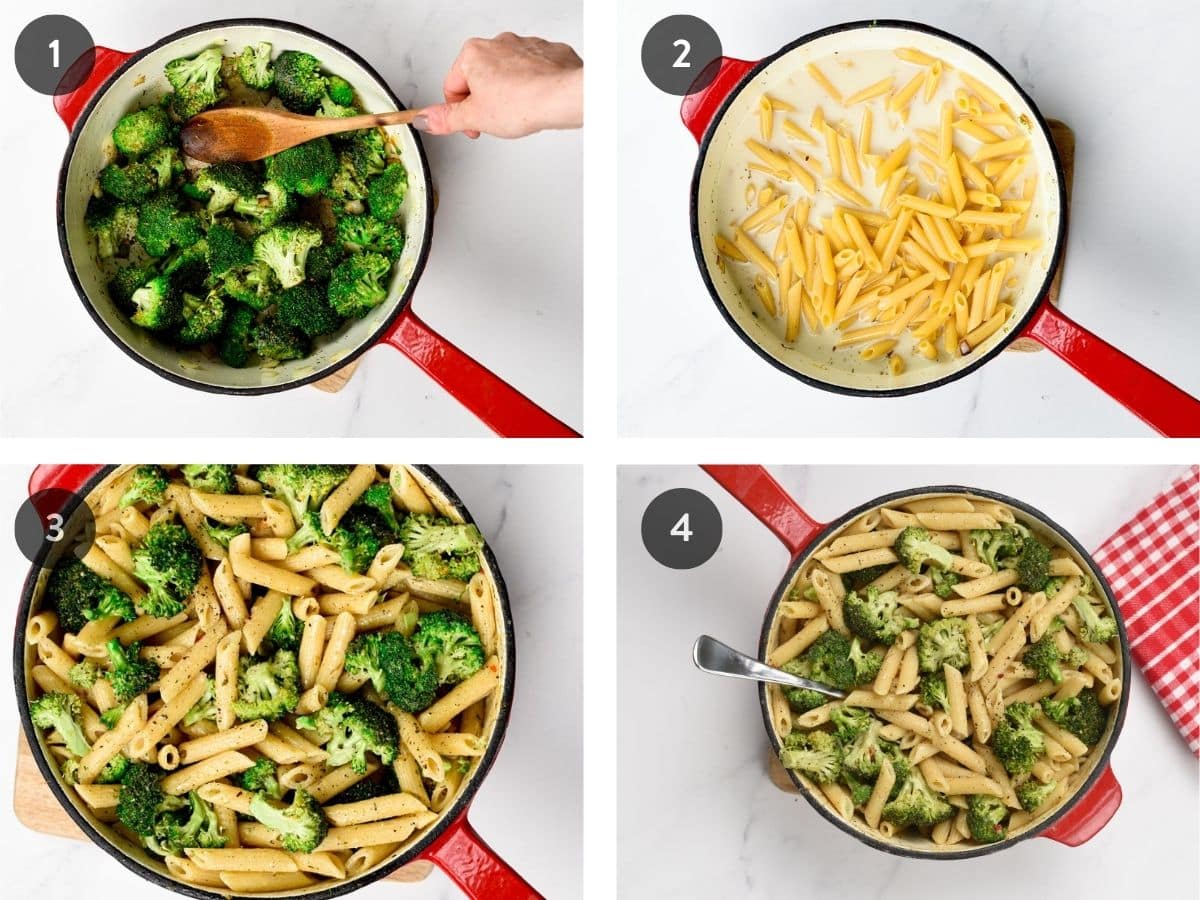 First, in a large wide skillet – make sure it's large enough to fit all the pasta – warm olive oil.
Add shallots or onion and cook until fragrant and translucent, which takes 2 to 3 minutes.
Stir in broccoli florets, garlic, Italian seasoning, salt, and pepper. Cook until the broccolis are half-cooked, crispy, and have a vibrant green color which takes 3 to 4 minutes. Use a slotted spoon to remove the broccoli from the pan and set it aside on a plate.
Add pasta, vegetable stock, and unsweetened almond milk. Cover with a lid and bring to a boil. Reduce to medium heat and cook, stirring once in a while to prevent the pasta from sticking together.
Cook on light heat until the pasta is cooked to your liking. Depending on how you like your pasta, their cooking time varies. Cook them until all the liquid has been absorbed by the pasta. For al dente pasta, it takes 20 minutes, and 25 minutes for a softer pasta.
Just before the pasta is fully cooked, add the broccoli, plant-based cream, lemon juice, and nutritional yeast and stir to combine with the pasta sauce.
Toss the pasta to make sure they're fully covered. Taste the sauce and season with salt and pepper if needed.
Serving
You can serve these creamy vegan pasta recipe with some delicious add-ons to enhance the flavor of the dish including:
Lemon Zest
Lemon Juice
Red Pepper Flakes
Cooked vegan meat like vegan ground meat, vegan sausage, or TVP meatballs
Storage Instructions
You can store leftover broccoli pasta in an airtight container in the fridge for up to 4 days.
You can also freeze the remaining pasta in a sealed container for up to 3 months.
Thaw in the fridge the day before and rewarm in the microwave or over medium heat in a non-stick saucepan.
Allergy swaps
If you need to replace some of the ingredients, I listed some options below.
Gluten-free use gluten-free pasta like quinoa pasta, rice pasta or buckwheat pasta. Keep in mind that gluten-free pasta cook at a different speed and sometimes, required more liquid. Look at the package instructions for more details.
Nut-free – replace almond milk for soy milk or oat milk
Cream swap – use cashew cream, you can make this in a blender. Blend 1/4 cup overnight soaked cashew nuts with 1/2 cup water until smooth and creamy
Frequently Asked Questions
Below are the most popular answers to your questions about this easy vegan broccoli pasta recipe.
Can I Use Low-Carb Pasta?
Absolutely! But watch out! Because some low-carb pasta made from edamame beans, for example, cooks way faster and absorbs less liquid.
You will have to either adjust the recipe liquid amount, starting with less and increasing if needed to avoid mushy pasta.
Can I Use Frozen Broccoli?
Yes, you can! But frozen broccoli won't crisp as well as fresh broccoli. They also require less cooking, or they turn into puree.
How Can I Add Protein To The Dish?
The best way to increase the protein content of this recipe is to use protein pasta. Some wheat pasta varieties are higher in protein or try chickpea pasta or red lentil pasta. You can also stir in some of your favorite canned, drained beans in the sauce, like cooked chickpeas or cooked lentils.
More Vegan Pasta Recipes
Below are some more popular pasta recipes for you to try.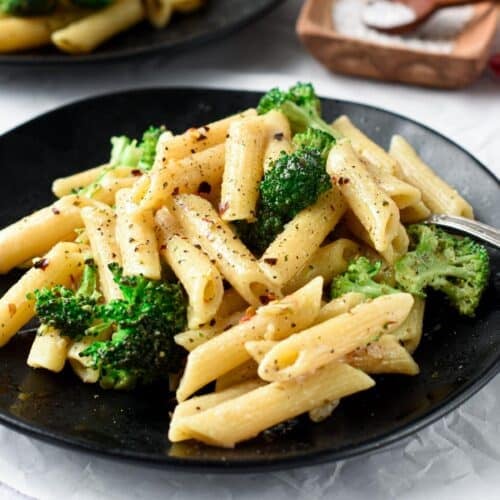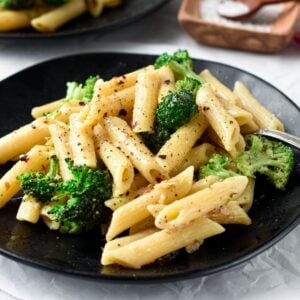 Vegan Broccoli Pasta
This one-pot plant-based Broccoli Pasta recipe is an easy 30-minute family dinner that the whole family loves.
Pin
Print
Review
Servings: 8 servings
Calories: 186.6 kcal
Instructions
In a large, wide skillet or pan (it must fit the cooked pasta) warm the olive oil over medium heat.

Stir in the minced shallots and garlic and cook for a few minutes until fragrant. Stir in fresh broccoli florets, and Italian seasoning and cook on low-medium heat until vibrant green – about 2 minutes.

Use a slotted spoon to remove the ingredients from the skillet and set aside in a bowl at room temperature.

Return the skillet to medium-high heat (no need to clean it), and pour the vegetable broth and almond milk. Add the dry pasta to the liquid, making sure you push down the pasta to entirely submerged them in the liquid.

Cover, bring to a boil, then reduce to low heat and cook, stirring once in a while, on light simmer, covered until the liquid is absorbed by the pasta – about 20-35 minutes. If the liquid gets absorbed too quickly and the pasta is not cooked yet, add more stock or water until the pasta is cooked to your liking.

During the last 5 minutes of cooking, stir in the coconut cream, lemon juice, nutritional yeast, and cooked broccoli.

Cook uncovered, until warm and creamy. Taste and adjust salt and pepper if needed.

Serve with fresh basil and a drizzle of lemon juice or olive oil.
Storage
Store leftovers in the fridge for up to 4 days in a sealed container. Freeze for up to months and thaw in the fridge the day before.
Notes
Note 1:Shallots can be replaced with chopped onions of the white or brown variety. Note 2: You can use buckwheat pasta or quinoa pasta as a gluten-free option. Note 3: Coconut cream, cashew cream, or soy cream.
Share on Facebook
Pin Recipe
Nutrition
Serving: 1serving | Calories: 186.6kcal | Carbohydrates: 30.6g | Protein: 7.1g | Fat: 5.3g | Saturated Fat: 2.3g | Polyunsaturated Fat: 0.7g | Monounsaturated Fat: 1.6g | Sodium: 498.7mg | Potassium: 546.6mg | Fiber: 5.8g | Sugar: 11.8g | Vitamin A: 1083.1IU | Vitamin C: 137mg | Calcium: 143.7mg | Iron: 1.9mg | Magnesium: 39.9mg | Phosphorus: 122mg | Zinc: 0.8mg