Vegan English Muffins are small round, yeast-leavened bread cooked in a hot skillet.
They are crispy on the outside and soft in the middle with a delicious yeast flavor.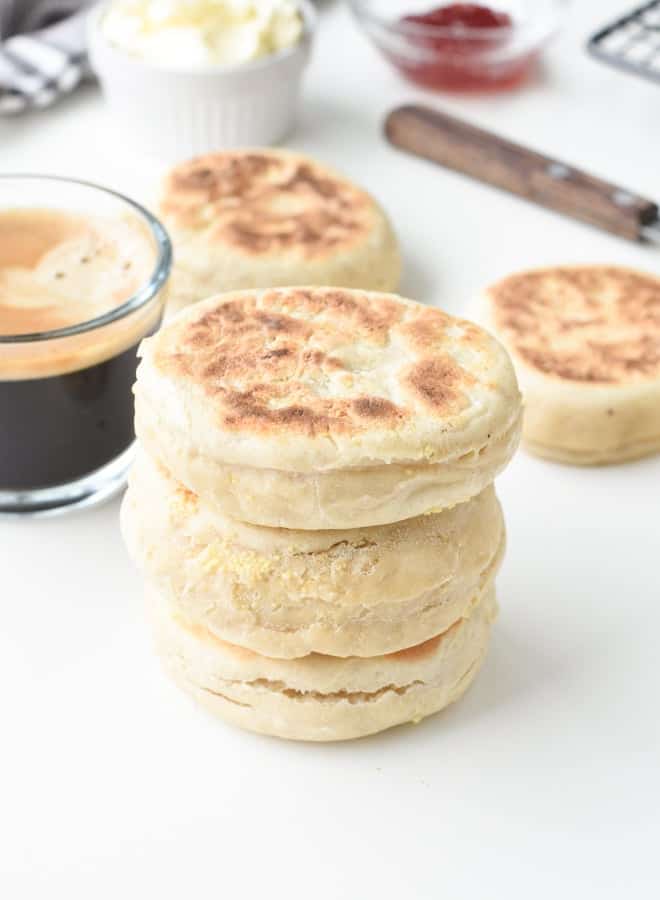 Are English Muffins Vegan?
No, the classic English muffin recipe contains milk and sometimes butter.
However, some store-bought English muffin brands are accidentally vegan-friendly, using vegetable shortening and water instead of milk.
Which English Muffin Brands Are Vegan?
Worldwide vegan English muffins brands are Rudi's Organic Bakery, Trader Joe's British Muffins (original and multigrain), and Weight Watchers' English Muffins.
New Zealand English Muffins brands are Quality Bakers' Muffin Splits.
Australian English muffins brands are Tip Top's Original English Muffins.
How To Make Vegan English Muffins
It's very easy to make your own vegan English muffins at home using 5 basic ingredients.
All you need is a bit of patience because these require two rises.
Ingredients For Vegan English Muffins
Bread Flour – or all-purpose flour. You can also use spelt flour or all-purpose gluten-free flour.
Water
Vegan Butter – or any plant-based spread you like.
Sugar – I prefer to use cane sugar, but you can use any light-colored crystal sugar for this recipe.
Almond milk – I prefer using unsweetened almond milk or any plant-based milk you like.
Apple Cider Vinegar
Active dried yeast – yeast is a great source of vegan minerals and vitamins.
Salt
Vegan 'buttermilk'
First, make the vegan 'buttermilk'. To do so, whisk together almond milk and apple cider vinegar in a small mixing bowl.
Then, add the vegan butter and bring the bowl in a microwave in 30-second bursts, stirring between, until vegan butter is melted.
Set aside for 10 minutes to cool.
Activate yeast
Now, stir in the active dried yeast and sugar into the lukewarm milk. Set aside 10 minutes until it becomes creamy and the yeast has dissolved.
Make the dough
In another large mixing bowl or the bowl of your stand mixer, add bread flour and salt.
Using the dough hook attachment, quickly combine the dry ingredients.
Now, add the yeast mixture and lukewarm water, and start kneading the dough for about 3 minutes on medium speed.
You can also knead the dough by hand. Lightly flour your hands to prevent the dough from sticking to your fingers.
When the dough is soft, elastic, and unsticks from the sides of the bowl, it's ready.
Rise until doubled in size
Transfer the dough into an oiled glass bowl. Wrap the top of the bowl with plastic wrap and a kitchen towel.
Place the bowl in a dark, lukewarm room and let rise for 1 hour 30 minutes or until it doubles in size.
You can also let it rise overnight for 24 hours.
Roll and shape round bread
Push down the dough and transfer it onto a lightly floured surface.
Knead the dough for a few minutes to remove any air, adding more flour if needed to prevent the dough from sticking.
Then, use a rolling pin to roll the dough on the work surface into a 1/2-thick layer.
Use a round cookie cutter or jar lid to cut out round pieces of dough.
Place each piece of dough onto a baking tray covered with parchment paper and fine cornmeal.
Repeat rolling leftover dough and cutting into circles until no more dough is left. This recipe makes about nine 3-inch English muffins.
Second Rise
Now, cover each baking tray with a kitchen towel and let the muffins rise for another 30 minutes.
Cooking English Muffins
Warm a pancake griddle or non-stick pan over medium heat. Cook each bread for 4-5 minutes on each side until crispy and puffy.
You can add a lid on top of the pan to help them raise even more.
Store the cooked muffins on the baking tray in a lukewarm oven at 122°F (50°C).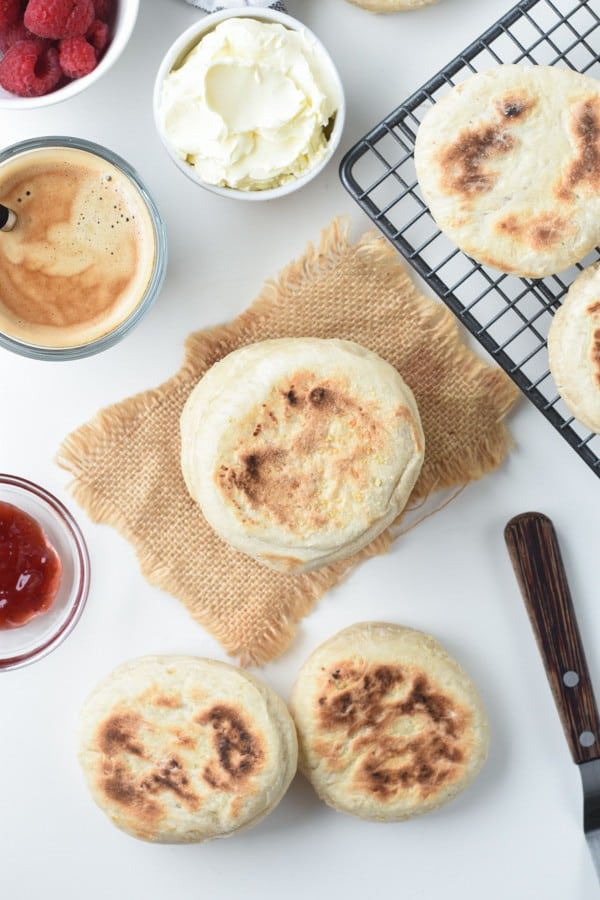 Toasting The Vegan English Muffins
Before serving, slice the muffins halfway and bring them into a bread toaster to add some crispiness to the center.
You can also use my oven toasting method below.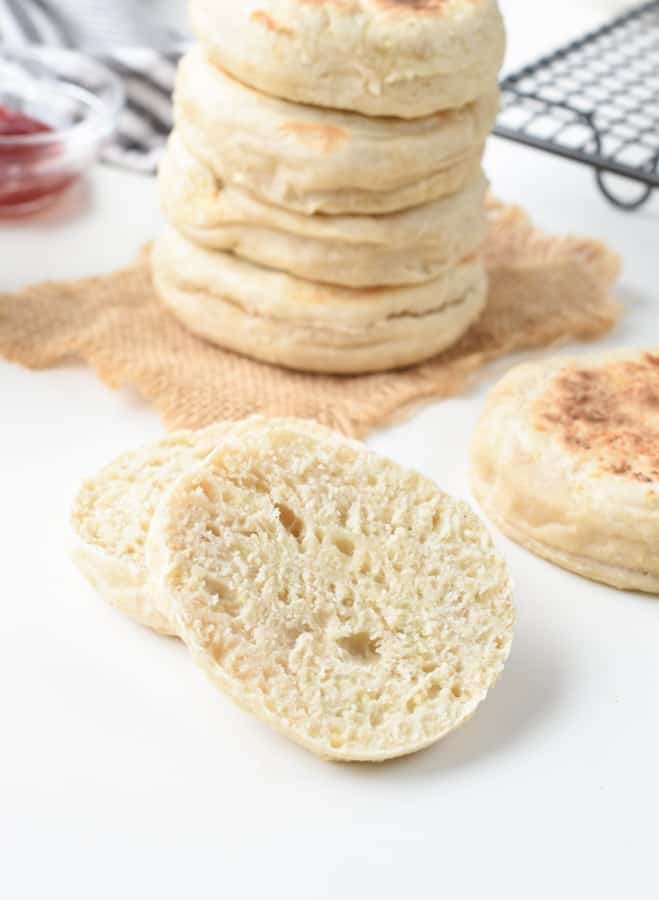 Toasting English Muffins In The Oven
Set your oven or toaster oven on broil mode. Cut the English muffins on a baking sheet with their cut side facing up.
Broil for 2-3 minutes on one side, then flip and broil for 1 minute on the other side.
Watch them carefully as they can burn fast on broil mode.
Serving Vegan English Muffins
English muffins can be used as breakfast toast or breakfast sandwiches. You can serve them with a sweet or savory filling/topping.
They are better sliced halfway and toasted in a bread toaster to add a crispy texture to the inside of the bread.
The best plant-based toppings for English muffins are:
a dollop of whipped margarine
jam
Nut butter of choice, like peanut butter or almond butter
Mashed avocado and spinach
Hummus and sundried tomatoes
Vegan cream cheese and toasted nuts or seeds
Storage Instructions
English muffins are yeasted bread, and therefore they last longer at room temperature than regular bread.
You can store the vegan English muffins for up to 2 weeks wrapped in a clean towel at room temperature.
You can freeze your vegan English muffins in a sealed box. Thaw the day before use. Also, they thaw faster if you cut the muffins halfway before freezing.
You can rewarm muffin splits in a toaster on defrost mode.
Frequently Asked Questions
Are English Muffins Gluten-Free?
No, the classic English muffin recipe is not gluten-free and uses all-purpose wheat flour.
Also, you can't use this vegan bread recipe to make gluten-free, vegan English bread.
All-purpose gluten-free flour creates a very hard, chewy, and dense bread, not puffy at all.
More Vegan Breakfast Recipes
I love baking for breakfast, and below, I listed my favorite vegan breakfast recipes for you to try.
Have you made this vegan English muffin recipe? Share a comment or review below! I love to hear your feedback on my recipes!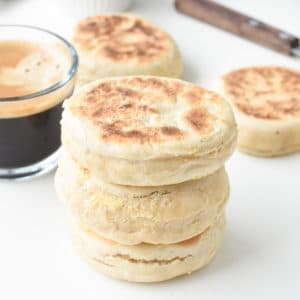 Vegan English Muffin Recipe
An easy 6-ingredient Vegan English muffin recipe delicious breakfast bread with soft yeasty crumb and crispy outside.
Pin
Print
Review
Servings:
8
English muffins
Ingredients
Optional – to coat the English muffin
Instructions
In a small bowl, add almond milk, apple cider vinegar, and vegan butter, and heat until the butter is melted. You can bring the bowl in 30-second bursts in the microwave or place the mixture over low heat in a saucepan and stir until vegan butter is melted.

Remove from heat, cool 10 minutes or until lukewarm, then stir in sugar and active dried yeast. Set aside for 10 minutes until the yeast is dissolved and the mixture is creamy.

In a large mixing bowl or the bowl of your stand mixer, add flour and salt and quickly combine using the dough hook attachment. Then, add the milk yeast mixture and lukewarm water. Knead for 4-5 minutes on low speed until dough is smooth and soft and unstick from the sides of the bowl.

Place the dough in a greased bowl, cover with film wrap and a kitchen towel and let rise for 2 hours in a warm, dark place or until the dough doubles in size. It can take longer if your room is cold. If you don't have a warm room in your house, you can preheat your oven to 40°C/100F, and place the bowl in the oven until the dough has doubled in size.

Meanwhile, prepare a tray covered with lightly oiled parchment paper. Set aside.

When the dough has doubled in size, sprinkle a pinch of flour on top of the dough, punch down the dough, and roll on a lightly floured surface into a 1/2-inch thickness.

Use a 3-inch round cookie cutter or drinking glass or jar lid to shape rounds of dough.

Dip each round of dough into cornmeal on both sides, then place it on the tray with parchment paper. You can reform a dough ball with leftover dough, roll it again, and cut out more English muffins.

Repeat until you formed 8-9 English muffins.

Cover the tray with a towel and let rise for 40 minutes.

Heat a non-stick frying pan over medium heat. Place 4 English muffins in the pan, Leaving 2 inches between each muffin to prevent them from touching each other.

Place lid on the pan and cook 5-6 minutes. Then, flip the muffin gently with a spatula and cook for 3-4 minutes on the other side, lid on again.

Set the muffins asides to cool down and keep cooking the remaining muffins.

Store at room temperature wrapped in a clean kitchen towel for up to 12 days or freeze in a sealed container for up to 3 months.
Serving recommendation
Slice the English muffins halfway and bring in a bread toaster until crispy on both sides. Spread your favorite breakfast spread on the top like peanut butter, jam, or vegan butter.
Share on Facebook
Pin Recipe
Nutrition
Serving:
1
muffin
|
Calories:
229
kcal
|
Carbohydrates:
42
g
|
Protein:
7
g
|
Fat:
3
g
|
Saturated Fat:
1
g
|
Trans Fat:
1
g
|
Sodium:
323
mg
|
Potassium:
106
mg
|
Fiber:
2
g
|
Sugar:
2
g
|
Vitamin A:
192
IU
|
Vitamin B12:
1
µg
|
Vitamin C:
1
mg
|
Vitamin D:
1
µg
|
Calcium:
29
mg
|
Iron:
2
mg
|
Magnesium:
17
mg
|
Phosphorus:
74
mg
|
Zinc:
1
mg