Vegan Savory Muffins – Zucchini & Sundried Tomatoes
This easy Vegan Savory Muffin recipe is perfect as a quick savory breakfast muffin or a vegan kid lunch for school.
Bonus, these vegan muffins are packed with three vegetables and a bunch of plant-based proteins!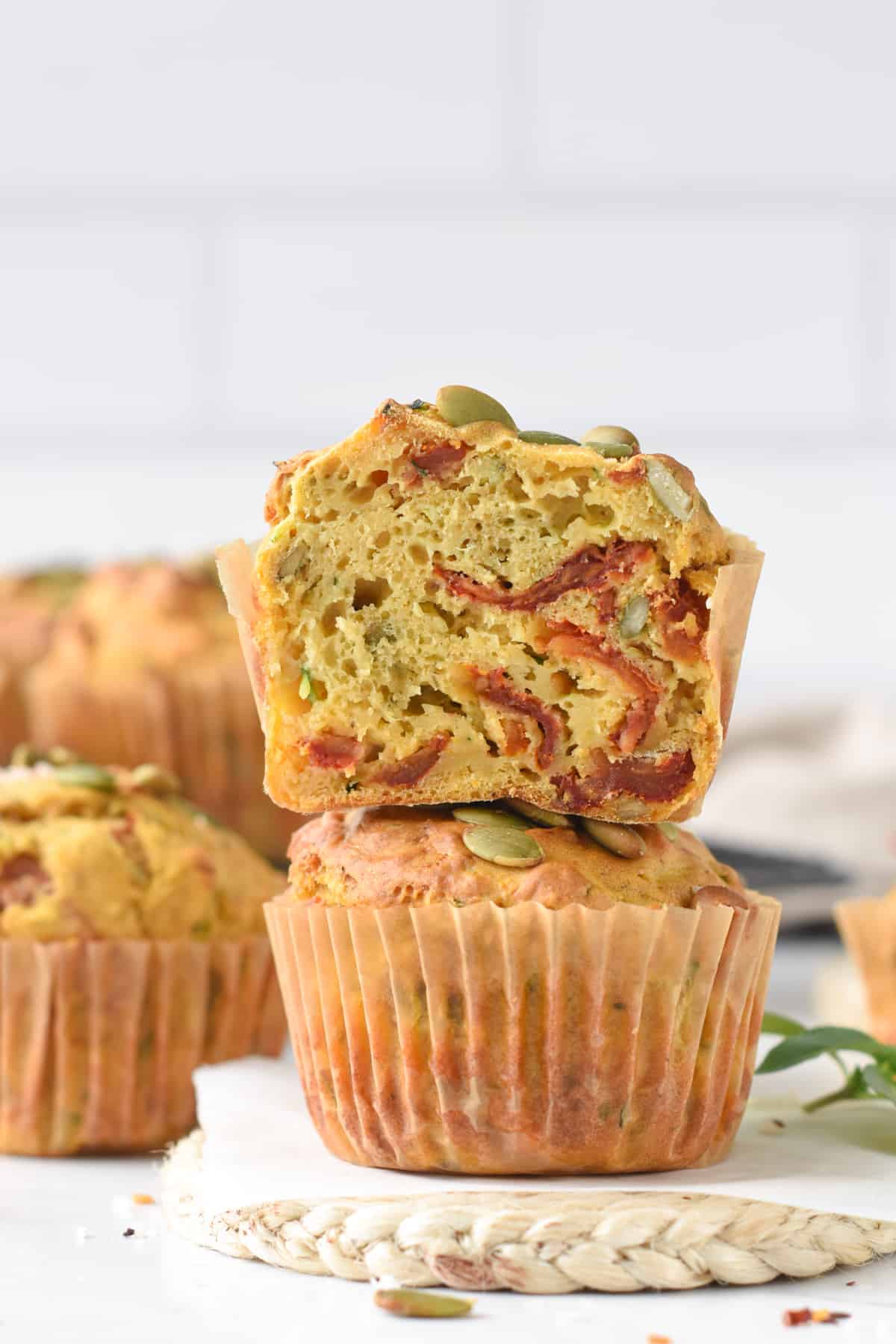 When it's back-to-school time, and you have your kids' lunchboxes to fill, you need easy meal prep recipes.
These vegan savory muffins have been on the weekly menu lately.
They are easy to make and customize, using different vegetables and spices to create a range of lunchbox muffins that kids love.
Let me share our favorite classic savory muffin recipe.
How To Make Vegan Savory Muffins
All you need to make vegan savory muffins are a few ingredients and just 30 minutes from start to finish.
Ingredients
The ingredients you need for this healthy savory muffin batter are:
Unsweetened Plant-based Milk – I like to use calcium-fortified soy milk as it contains many added vitamins and nutrients for your kids' wellbeing.
Apple Cider Vinegar or lemon juice – this helps curdle the non-dairy milk, giving a fluffy texture to the recipe.
All-Purpose Flour, spelt flour, or white whole wheat flour.
Baking Powder
Baking Soda
Salt
Nutritional Yeast – this adds a cheese flavor to the muffins without adding dairy. I am using vitamin-B12-fortified yeast.
Sweet Potato Puree or pumpkin puree – you can swap this for extra olive oil if you don't have homemade veggie puree available.
Olive Oil
Garlic Powder
Onion Powder
Dried Italian Herbs
Salt
Sundried Tomatoes – Did you know this ingredient contains a lot of plant-based protein? A great addition to any vegan sandwich or muffin.
Finely Grated Zucchini – peeled, and drained.
Pumpkin Seeds – to add on top of the muffins.
Vegan Buttermilk
First, prepare the vegan buttermilk. Then, in a large bowl, combine the soy milk and apple cider vinegar.
Set it aside until it curdles – it takes just 5 to 10 minutes.
Liquid Ingredients
Now, add the sweet potato puree and olive oil to the vegan buttermilk prepared above.
Whisk until smooth, or bring into a blender if you have lumps and pieces of puree left.
Blend on the high-speed setting until it forms a smooth orange liquid mixture.
Dry Ingredients
Next, in a large mixing bowl, whisk all the dry ingredients: flour, baking powder, baking soda, nutritional yeast, salt, garlic powder, onion powder, paprika, and dried Italian herbs.
Finally, stir the dry ingredients into the wet ingredients until a thick muffin batter forms.
In the end, fold in the grated, drained zucchini, sundried tomatoes, and some of the pumpkin seeds – keep 1/4 cup to sprinkle on top of the muffins.
Baking
Preheat the oven to 350°F (180°C). Line a 12-hole muffin pan with parchment paper and lightly spray the paper with olive oil to prevent the muffin batter from sticking to the paper.
Fill each muffin case up to 3/4 of its height.
Sprinkle the remaining pumpkin seeds on top of each muffin.
Bake on the center rack of the oven until a pick inserted in the center of the muffin comes out clean – about 30 minutes.
Cool down on a cooling rack before eating.
Serving
You can eat the savory muffins cold or lukewarm. To warm up the muffins, place them in an oven for 10 minutes at 250°F (120°C) until just warm.
Serve plain or cut in half and serve with some of the spread ideas below:
Vegan butter
Hummus
Fresh mashed avocado
Marmite
Savory Muffin Flavors
These muffins are customizable, and you can swap many ingredients to create different muffin flavors.
For example, you can replace the grated zucchinis with:
Grated carrots
Corn kernel
Cubed bell pepper
Black beans
You can also add 1/4 cup of fresh chopped herbs in the batter like some of the below:
Basil
Green onions
Parsley
Storage Instructions
These savory muffins can be stored for up to 3 days in the fridge in a sealed container.
You can freeze your muffins for up to 3 months in zip-lock bags or an airtight container of choice.
Thaw the muffins at room temperature the day before eating.
Gluten-Free Savory Muffin Options
You can make gluten-free, vegan savory muffins by replacing the wheat flour with the same amount of all-purpose gluten-free flour that contains gums.
You can also use half the chickpea flour, also called garbanzo flour, and half the all-purpose gluten-free flour with added gum.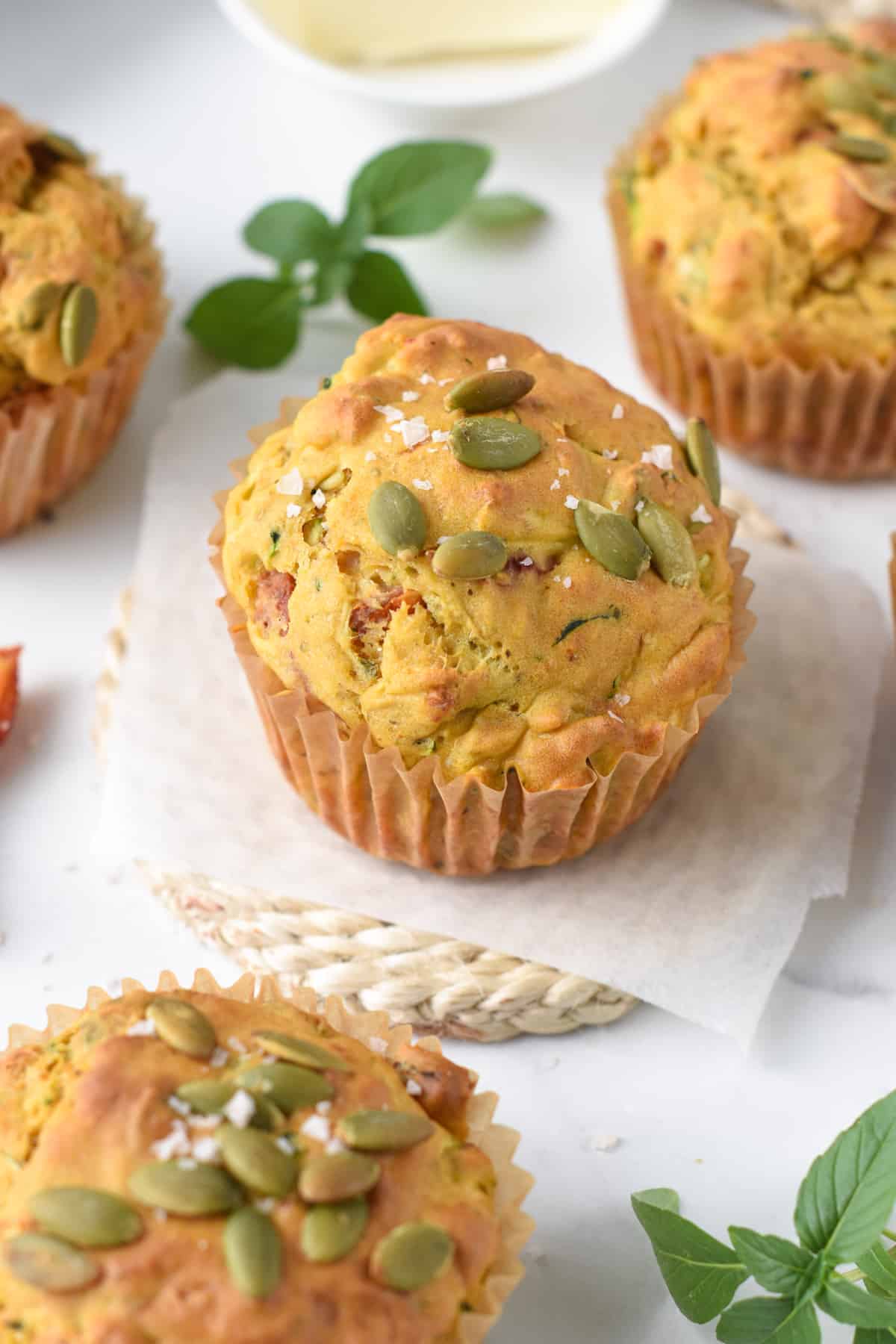 Frequently Asked Questions
Can I Swap The Sweet Potato Puree?
You can swap the sweet potato puree with homemade pumpkin puree or just add more olive oil.
Can I Add Vegan Cheese?
Yes, you can stir in up to 1/2 cup of your favorite dairy-free vegan shredded cheese in the batter. Add this at the same time you add the shredded zucchini.
Can I Skip The Nutritional Yeast?
Absolutely, but the texture will be more liquid because yeast absorbs moisture in the muffin batter.
If you remove the yeast, decrease the milk by 1/4 cup.
Note that without nutritional yeast, the muffin crumb color won't be as vibrant yellow, and the cheese taste will be removed.
More Vegan Muffin Recipes
Below I listed some other muffin recipes for you to try.
Have you made these vegan savory muffins? Share a comment or review below to connect with me and let me know how much you loved this recipe.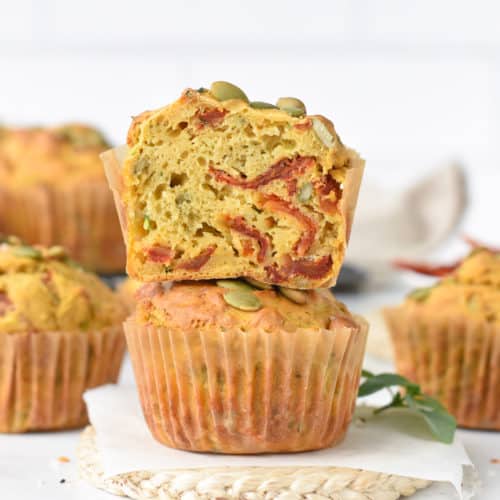 Vegan Savory Muffins
An easy Vegan Zucchini Savory Muffin recipe perfect as a quick breakfast or vegan kids' lunchbox addition for school.
Pin
Print
Review
Instructions
Preheat oven to 350°F (180°C). Line a 12-hole muffin tin with paper cases. Slightly oil with oil spray and set it aside.

In a bowl, whisk soy milk and apple cider vinegar. Set it aside for 10 minutes until it curdles. After that time, stir in the sweet potato puree and olive oil. If lumps of puree remain, blend on the high-speed setting to create a smooth batter – optional, but the muffins will be much moister. Set it aside.

In another bowl, whisk all the dry ingredients: all-purpose flour, nutritional yeast, baking powder, baking soda, salt, garlic powder, dried herbs.

Stir the wet ingredients into the dry ingredients until just combined.

Fold in shredded, drained zucchini, sundried tomatoes, pumpkin seeds (set aside 2 tablespoons to sprinkle on top), and optional fresh herbs.

Transfer the muffin batter into the prepared muffin cases – fill them up to 3/4 of their level and sprinkle the remaining 1/4 cup of pumpkin seeds on top of the muffins.

Bake on the center rack of the oven for 30 minutes or until golden brown on top and a pick inserted in the center comes out clean.

Cool down on a rack then enjoy cold or lukewarm, plain or with a dollop of vegan butter.
Storage
Store in the fridge for up to 3 days or freeze for up to 3 months. Thaw at room temperature.
Share on Facebook
Pin Recipe
Nutrition
Serving:
1
muffin
|
Calories:
131.6
kcal
|
Carbohydrates:
22.1
g
|
Protein:
5.3
g
|
Fat:
2.8
g
|
Saturated Fat:
0.5
g
|
Polyunsaturated Fat:
1.2
g
|
Monounsaturated Fat:
0.8
g
|
Trans Fat:
0.1
g
|
Sodium:
198.2
mg
|
Potassium:
322.9
mg
|
Fiber:
2
g
|
Sugar:
3.1
g
|
Vitamin A:
1633.4
IU
|
Vitamin B12:
0.2
µg
|
Vitamin C:
6.7
mg
|
Vitamin D:
0.2
µg
|
Calcium:
71.7
mg
|
Iron:
2
mg
|
Magnesium:
41.3
mg
|
Phosphorus:
107.5
mg
|
Zinc:
0.7
mg