Sweet Potato Muffins (Vegan)
These Sweet Potato Muffins are moist breakfast muffins with a delicious sweet cinnamon flavor.
A healthy and so delicious fall breakfast muffin recipe that is also dairy-free, egg-free, and refined sugar-free!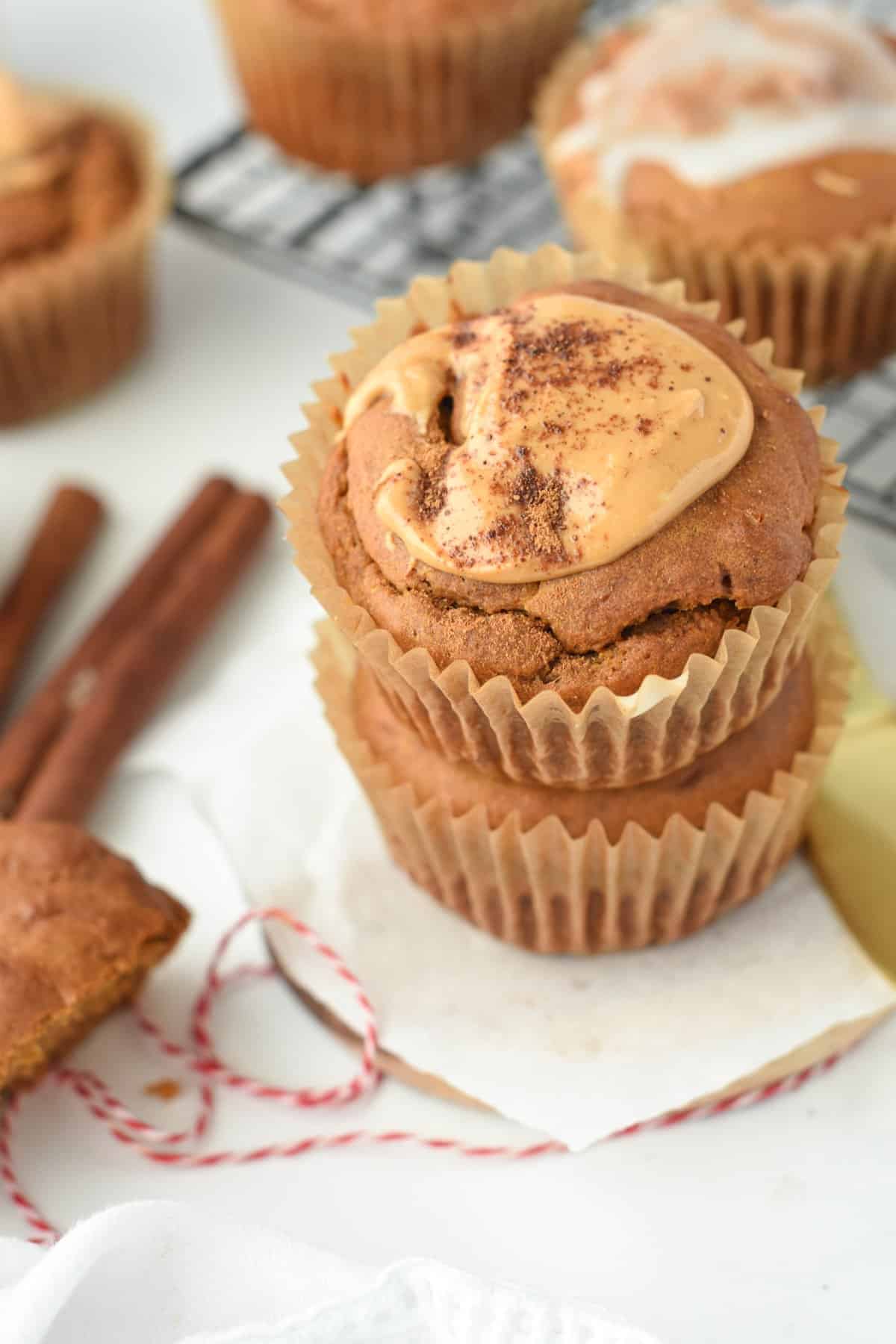 It's the fall season, and we all need some comforting, heart-warming breakfast to start the day.
If you are looking for something different from pumpkin pancakes or pumpkin muffins, try these sweet potato muffins!
You won't believe that a batch sneaks more than 2 cups of mashed sweet potatoes! What a great way to sneak extra vegetables into your day.
What Are Sweet Potato Muffins?
A sweet potato muffin is an ultra-moist muffin, very similar to pumpkin muffins in texture but made from mashed orange sweet potatoes instead of pumpkin puree.
It's flavored with cinnamon and fall spices that make the muffins fragrant and comforting on cold mornings.
How To Make Sweet Potato Muffins
These sweet potato muffins are vegan, so they have no eggs and no dairy.
Ingredients
All you need to make them are:
Mashed orange sweet potatoes
Oil of choice – you can use light flavor olive oil, canola oil, or melted coconut oil. Simply keep in mind that coconut oil makes the muffins heavier, so not my favorite choice in this recipe.
Almond milk or coconut milk
Vanilla extract
All-purpose flour – this recipe doesn't contain eggs, and therefore, it won't work with low-carb flours like coconut flour or almond flour. You can only swap all-purpose flour for ultra-fine oat flour for a healthier muffin recipe.
Coconut sugar or any granulated sugar you love, like unrefined cane sugar or brown sugar.
Baking powder
Baking soda
Cinnamon
Salt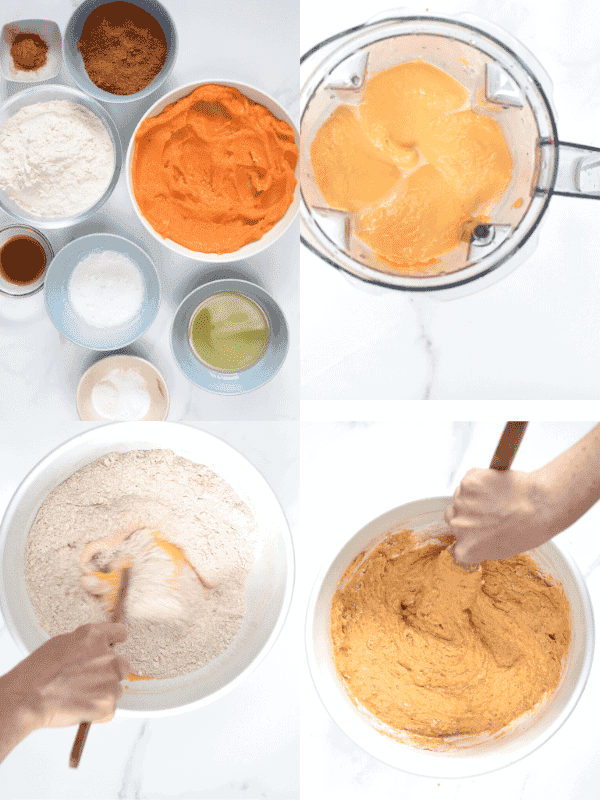 Making the Mashed Sweet Potato Puree
This is a great recipe for using leftover sweet potatoes that you bake, steam, or boil. Any method works well to cook orange sweet potato and make sweet potato mash.
So peel the skin off the sweet potatoes, and cook with the method you like until the sweet potatoes are fork-tender.
Then, mash on a board with a potato masher, fork, or even blend into a smooth puree in the food processor.

Making The Muffin Batter
Now, add all the wet ingredients to the jug of your high-speed blender or bowl of your food processor. Process or blend at high speed until a creamy, shiny orange batter forms.
Pour the liquid ingredients into a large mixing bowl.
Stir in all the dry ingredients: flour, cinnamon, sugar, baking powder, and baking soda.
Stir just until combined and no flour is showing. The batter should be fluffy, thick, and not runny.
If you like, you can add up to 1/2 cup of dark chocolate chips to the batter to make chocolate chip sweet potato muffins.
Baking The Muffins
Preheat the oven to 350°F (180°C). Line a muffin tin with paper cases and lightly oil the paper cases with oil spray. This prevents the muffin batter from sticking to the paper.
Now, scoop about 1/3 cup of the muffin batter into each paper case. Smooth the top with the back of the spoon, or add extra chocolate chips on top.
Bake in the center rack of the oven until the muffins are golden brown and a toothpick inserted in the middle comes out clean or with a few crumbs on it.
These sweet potato muffins are very moist in the center, so it's normal to see some left crumbs on the pick.
Bake between 25-35 minutes, then immediately transfer to a cooling rack for 1 or 2 hours.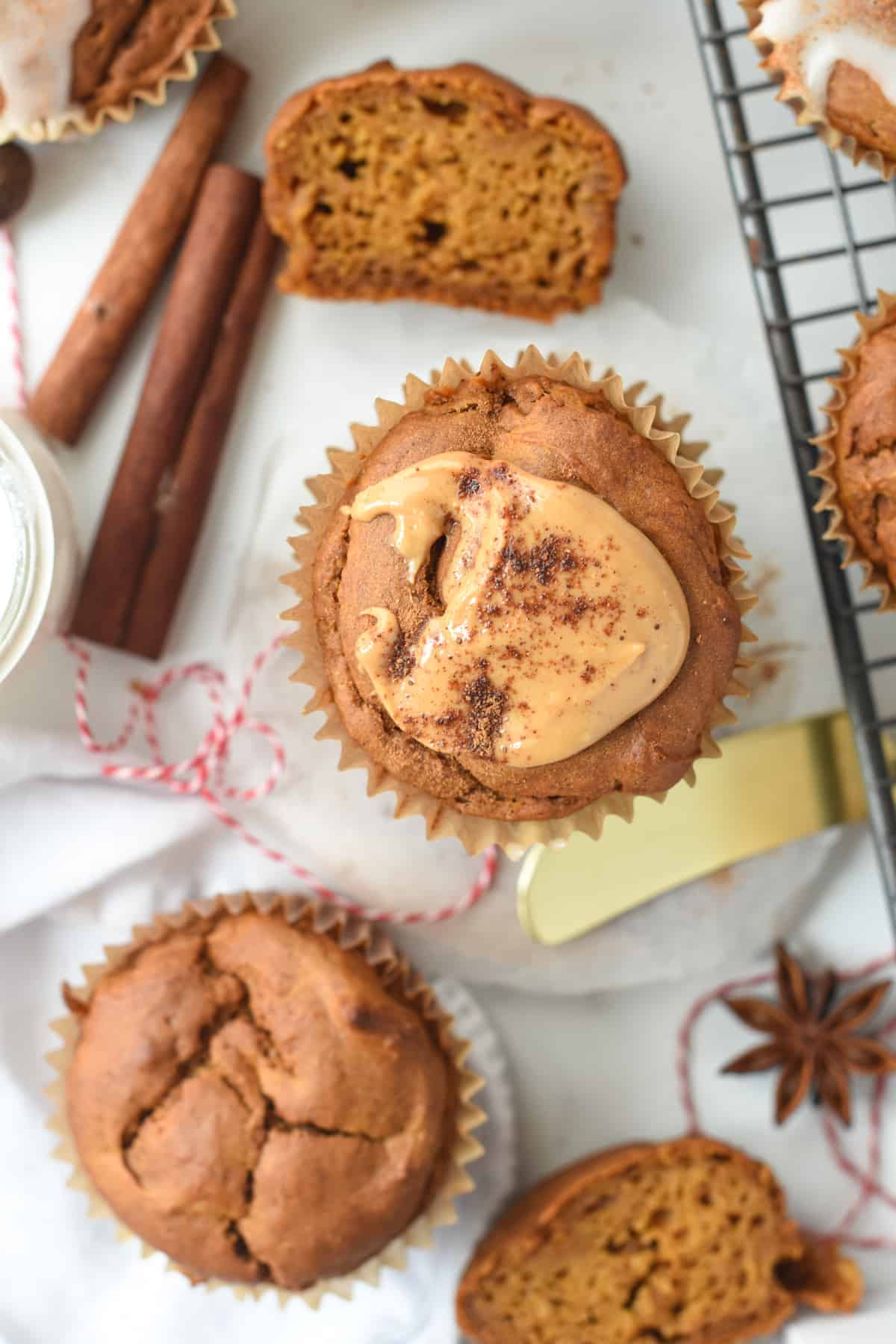 Decorate
Wait until the sweet potato muffins reach room temperature before adding frosting or toppings.
The best vegan toppings for this vegan muffin recipe are:
A dollop of Natural Peanut Butter topped with a pinch of ground cinnamon.
Natural Almond Butter
Cashew Butter
Storage
These sweet potato muffins must be stored in the fridge in an airtight container. They last up to 4 days in the fridge or up to 3 months in your freezer.
Thaw the frozen muffins at room temperature the day before serving.

Frequently Asked Questions
Why are my muffins dense and gummy?
This happens when you over-mix the muffin batter or you have added too much flour or not enough liquid in the recipe.
Always make sure you use US measuring cups and the scoop and sweep method to make my vegan baking recipes.
Why Are My Muffins Uncooked?
You either added too much liquid to the recipe or didn't cook the muffins for long enough.
Can I turn the recipe into sweet potato bread?
Yes, you can! Bake the recipe in a 9-inch x 5-inch loaf pan covered with lightly oiled parchment paper.
Baking time should be between 40 to 50 minutes as a loaf takes longer to bake.
Can I make the muffin oil-free?
Absolutely yes! You can replace the oil in the recipe with the same amount of:
Extra coconut milk or almond milk
Unsweetened apple sauce
Mashed banana. It makes delicious sweet potato banana muffins.
Can I use gluten-free flour?
Yes, as soon as your gluten-free all-purpose flour mix contains added gum, then it will work. However, the texture of these gluten-free sweet potato muffins is much chewier.
Can I use a Liquid Sweetener?
No, I don't recommend replacing granulated sweetener with maple syrup or agave syrup. The liquid sweeteners make the muffins dense and gummy.
Taste And Flavor
If you love sweet potatoes or not, you will be amazed by these muffins!
The muffins have cinnamon and caramel flavors from the coconut sugar and an ultra-moist texture.
But at no stage will you feel the sweet potato flavor!
All you get is the benefits from sweet potatoes, vitamins A, beta carotene, and a healthy sweet potato muffin to start the day.
Just as a note, one of my kids doesn't enjoy orange potatoes as a meal, but she didn't notice the sweet potato in the muffins and gobbled up many of them!
More Vegan Muffin Recipes
Below I listed ore vegan muffin recipes for you to try:
Have you made this sweet potato muffin recipe? Share a comment or review below to connect with me,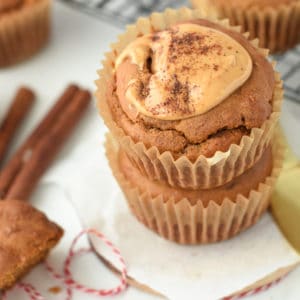 Sweet Potato Muffins
Delicious fluffy, moist Sweet Potato Muffins with cinnamon flavors and 100% vegan.
Pin
Print
Review
Instructions
Preheat oven to 350°F (180°C). Line a 12-hole muffins tray with a paper liner. Slightly oil the paper with cooking spray to prevent the muffins from sticking to the paper. Set aside.

Peel the sweet potatoes, dice, and boil until fork tender. Drain and steam out for 10 minutes.

Mash with a potato masher, fork or use a food processor to form a creamy sweet potato puree.

In a blender or food processor, add the sweet potato puree, vanilla extract, oil, coconut milk. Blend on high speed until creamy and smooth with no lumps of sweet potato show. Transfer this wet mixture into a large mixing bowl. Set aside.

In another mixing bowl, whisk flour, coconut sugar, salt, baking soda, baking powder, and cinnamon.

Stir the dry ingredients into the wet ingredients until just combined – don't over mix, or the muffins could come out gummy.

Transfer the batter evenly into the 12 muffin cases and bake at 350°F (180°C) for 30-35 minutes on the center rack of your oven until a toothpick inserted in the center of the muffin comes out clean.

Cool immediately on a cooling rack for 2 hours before decorating with peanut butter and cinnamon.
Storage
Store in an airtight box for up to 4 days in the fridge, or freeze for later and thaw at room temperature.
Share on Facebook
Pin Recipe
Nutrition
Serving:
1
muffin
|
Calories:
201.9
kcal
|
Carbohydrates:
29.2
g
|
Protein:
2.9
g
|
Fat:
8.5
g
|
Saturated Fat:
2.3
g
|
Polyunsaturated Fat:
1.9
g
|
Monounsaturated Fat:
4
g
|
Trans Fat:
0.1
g
|
Sodium:
208.6
mg
|
Potassium:
288.6
mg
|
Fiber:
2.2
g
|
Sugar:
7.9
g
|
Vitamin A:
10089.9
IU
|
Vitamin C:
10.4
mg
|
Calcium:
45.3
mg
|
Iron:
1.5
mg
|
Magnesium:
22.2
mg
|
Phosphorus:
61.7
mg
|
Zinc:
0.3
mg