Eggless Blueberry Muffins
These Eggless Blueberry Muffins are easy, egg-free blueberry muffins with the most fluffy texture filled with Juicy blueberries.
If you have egg allergiesor don't want to use expensive eggs in baking, these eggless muffins with blueberries are perfect for you.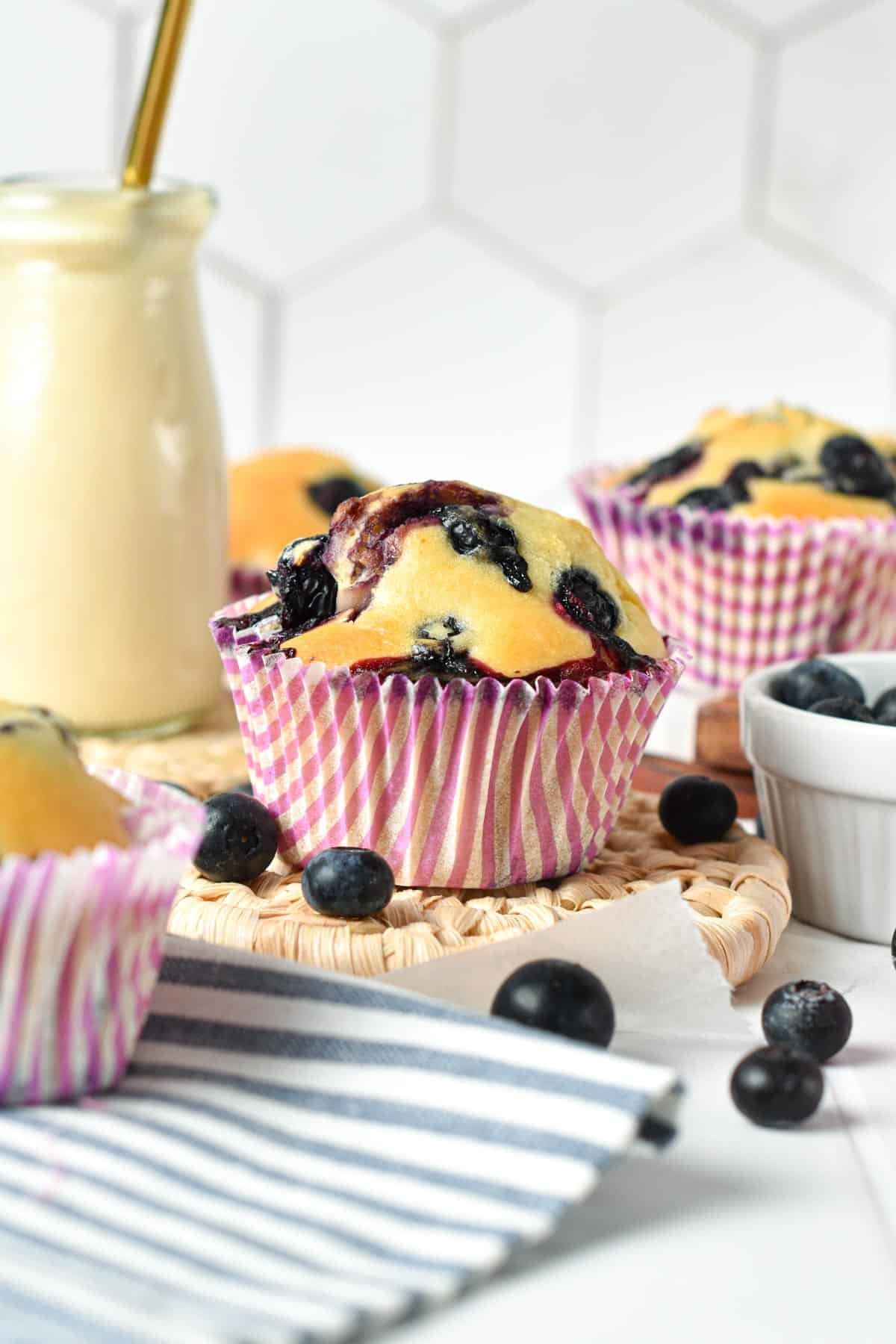 I love eggless recipes, and I never use an egg in baking simply because there's just no need!
It tastes as good, and you won't tell these muffins are egg-free. And on top of it, you do a good thing for the environment and chicks.
How To Make Eggless Blueberry Muffins
The good thing about this eggless blueberry muffin recipe: you don't need egg replacers or fancy store-bought ingredients.
Ingredients
All you need to make bakery-style, egg-free muffins are simple ingredients that you probably have in your pantry right now.
Milk of Choice – Any dairy-free milk I tried makes great muffins, from soy milk to almond milk. Pick your favorite plant-based option.
Apple Cider Vinegar or lemon juice.
Avocado Oil, sunflower seed oil, or any vegetable oil you have at home.
Vanilla Extract
Baking Powder
All-Purpose Flour
Sugar – Any crystal sweetener works well for this recipe. White sugar is ideal, but healthier options like coconut sugar, date sugar, or unrefined cane sugar are also great.
Salt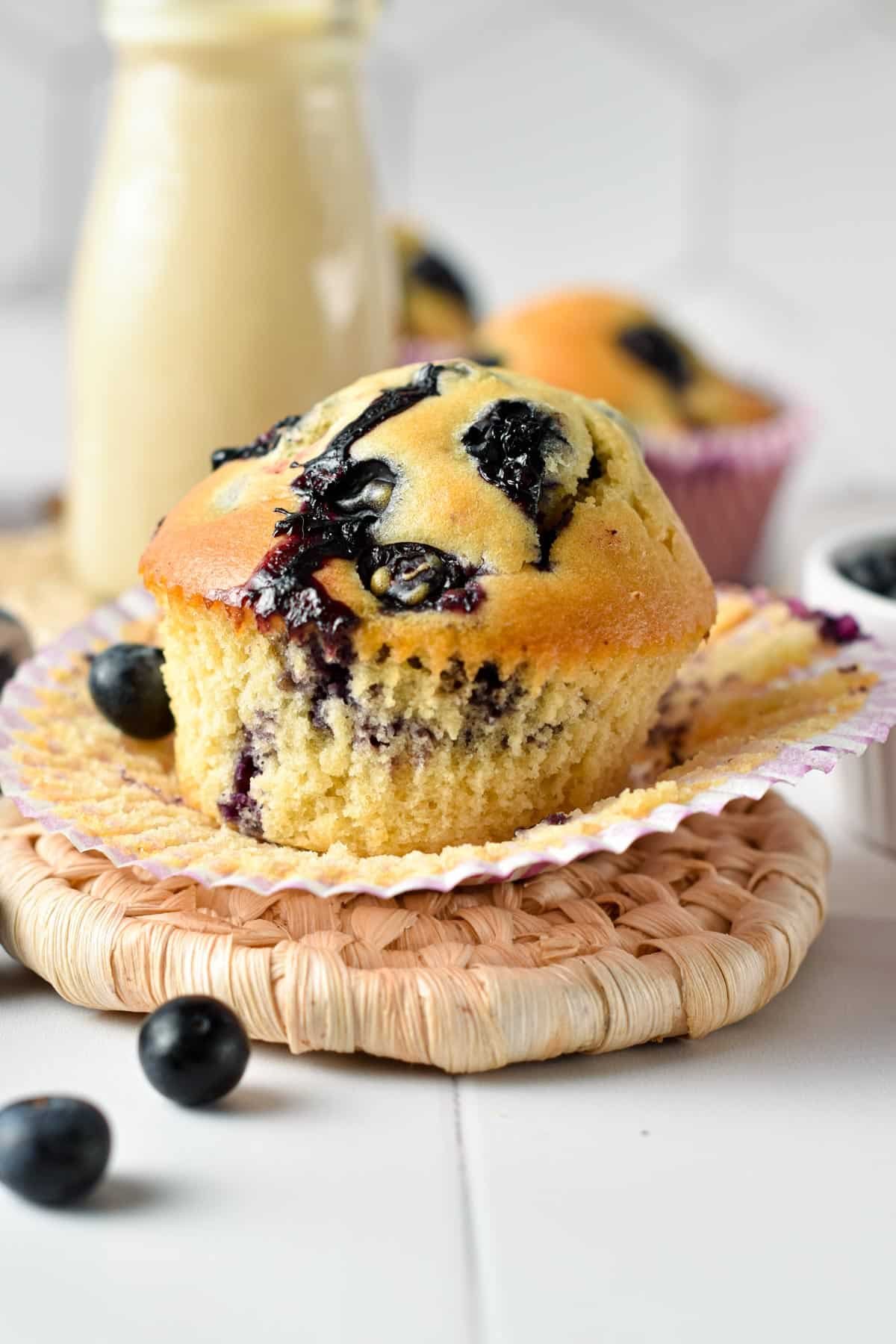 Making The Muffin Batter
Whether you are using fresh or frozen blueberries, I recommend coating the berries with cornstarch before adding them to the muffin's batter.
This extra step prevents the berries from sinking into the muffin cup's bottom.
If you are using fresh blueberries, you can coat them before you start the recipe and set them aside in a bowl.
But, for frozen blueberries, it's preferable to add the cornstarch just before stirring the berries in the batter.
Preheat the oven to 350°C (180°C). Line a 12-hole muffin pan with paper liners. Use cooking spray to oil the cups. Set aside.
Next, in a large mixing bowl add plant-based milk and apple cider vinegar. Stir and set aside for 10 minutes until it looks thicker and curdles. This is your dairy-free buttermilk.
Combining Ingredients
In another large bowl, add the dry ingredients: all-purpose flour, salt, sugar, and baking powder. Whisk until well combined.
Finally, bring back the bowl with the milk mixture, and stir in olive oil and vanilla extract. Fold in the dry ingredients and whisk until the muffin batter is smooth.
In the end, fold in the coated blueberries.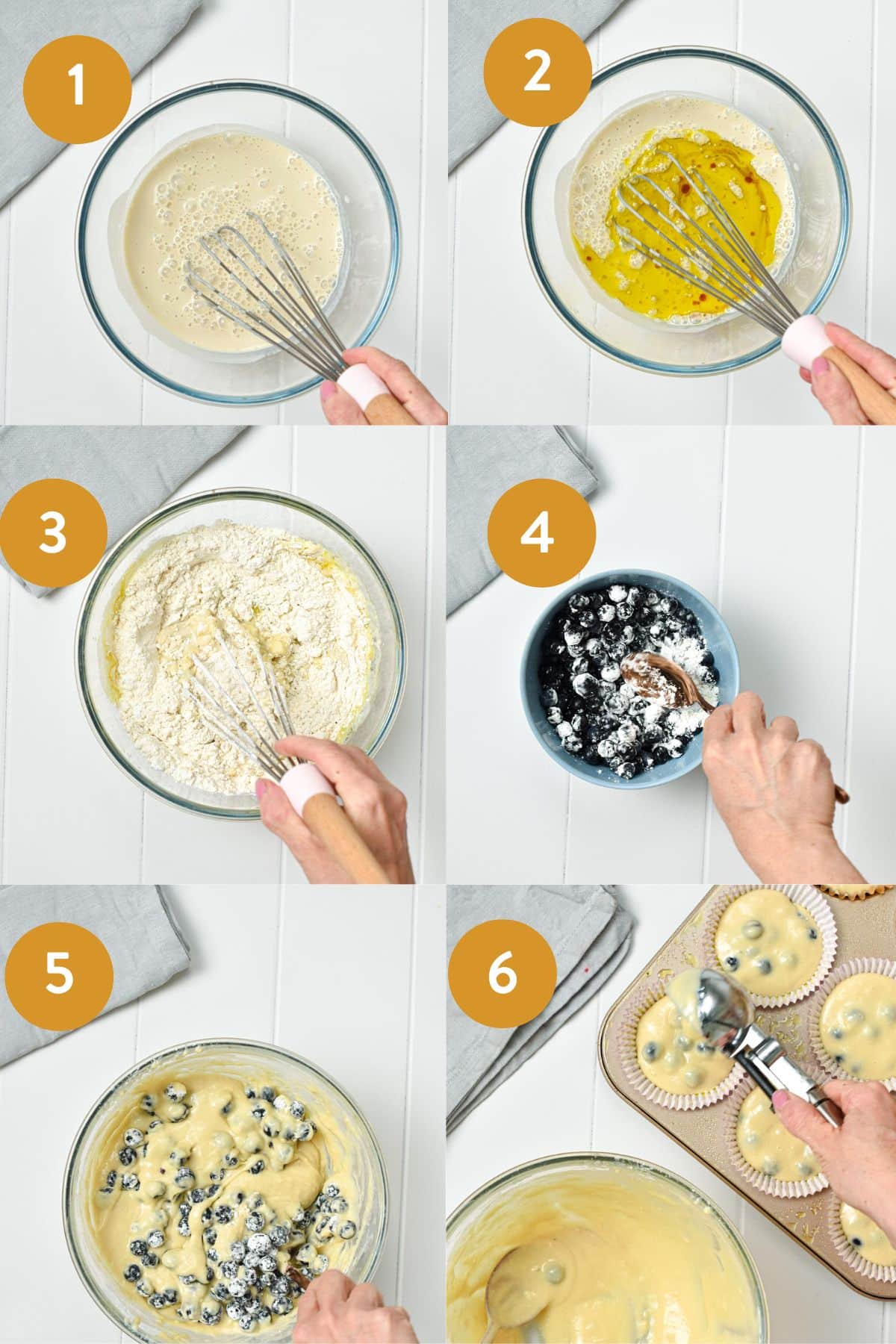 Baking The Muffins
Stir to combine evenly into the batter then divide the batter into the 12 muffins' paper liners.
Bake on the center rack of the oven for 25 to 30 minutes at 350°C (180°C). The baking time depends on the type of berries you used.
Frozen blueberries release more juice, and the muffins can take a few more minutes to bake in the center.
You know the muffins are ready when they show a nice bump on top, a golden brown color, and a toothpick inserted in the center comes out clean.
Cooling
Let the muffins cool down for 5 minutes at room temperature in the muffin tin before transferring them to a cooling rack.
Then, release them on a wire rack to fully cool down.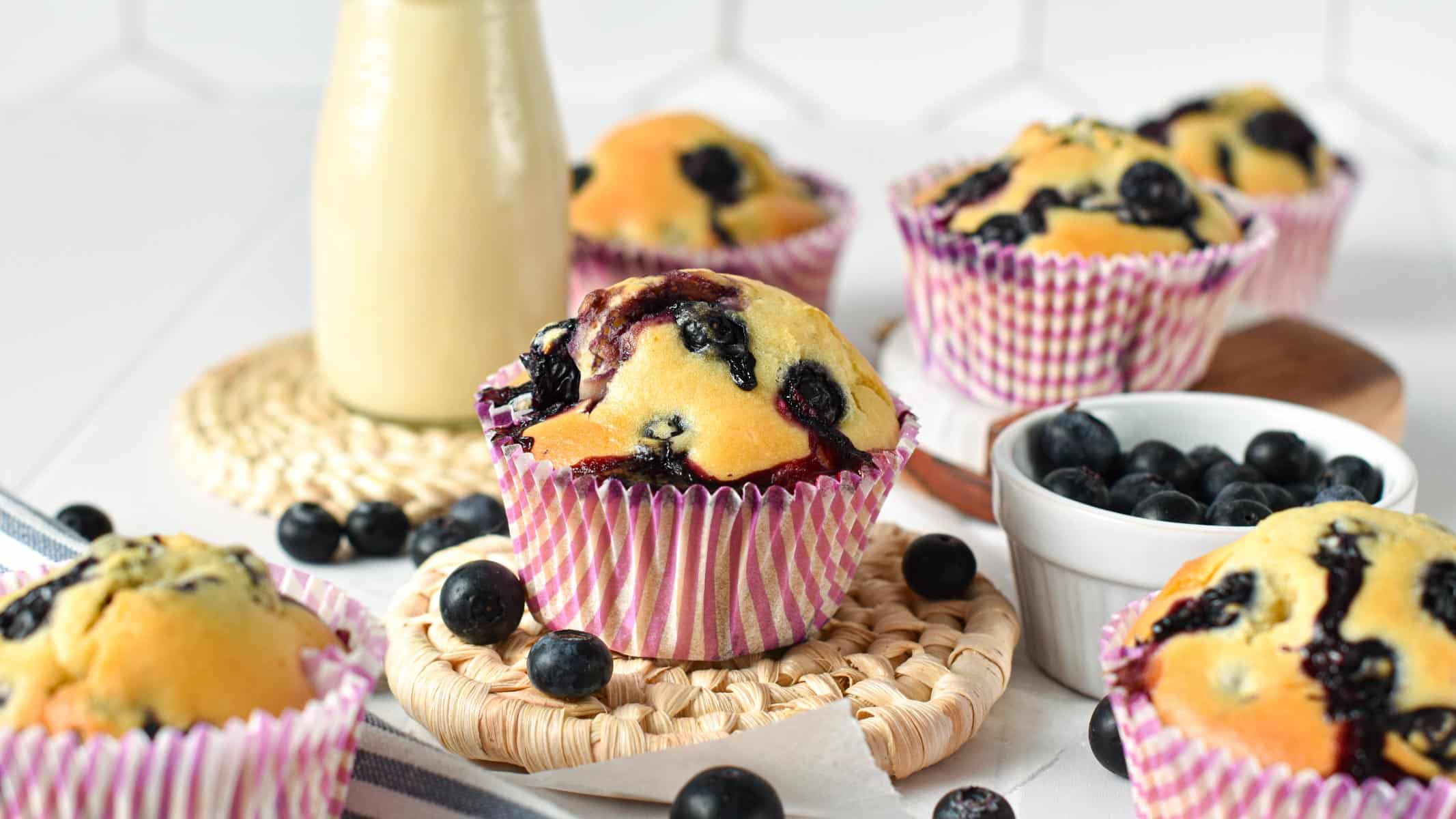 Flavor Options
You can be creative and add different spices or swap some of the blueberries with other ingredients to create a range of eggless muffin flavors.
Chocolate Chips Blueberry Muffins – Swap half of the blueberries for your favorite chocolate chips flavor.
Cinnamon Oats Muffins – Add 1/3 cup of rolled oats and 1 teaspoon of cinnamon to the batter.
Mixed Berry Muffins – Swap the blueberries for a mix of berries like boysenberries, raspberries, and blueberries.
Blueberry Lemon – Add 1 tablespoon of lemon zest, swap the vanilla extract for lemon extract, and replace 3 tablespoons of milk with freshly squeezed lemon juice. Otherwise, use my blueberry lemon muffins vegan recipe.
Allergy Swaps
I listed below some substitution options if you are allergic to some of the ingredients.
Nut-Free – Pick nut-free milk. Any milk works such as coconut milk, oat milk, or soy milk.
Oil-Free – You can swap the oil for the same amount of unsweetened apple sauce or mashed banana. It makes the muffins sweeter and a bit denser, but it works.
Oil Options – You can use any vegetable oil for this egg-free muffin recipe, like canola oil, olive oil, avocado oil, or sunflower oil. A plant-based melted butter is also a viable option.
Sugar Options – You can use any crystal sweetener, like white sugar, unrefined cane sugar, or sugar-free allulose.
Gluten-Free – You can try a gluten-free flour blend. I haven't tried the option yet, but it usually works if the mixture contains gum. The muffins will probably become denser and a bit chewier since it's an eggless recipe. Eggs are often used in gluten-free baking to make muffin crumbs fluffier. Make sure you also use a gluten-free baking powder or swap for half the amount of baking soda.
Storage Instructions
These egg-free blueberry muffins taste delicious for up to 4 days, if stored in the fridge, and placed in an airtight container to stay moist and fresh.
You can also store leftovers in the freezer for up to 1 month in freezer zip-lock bags.
Frequently Asked Questions
Below are my answers to your most common questions about this recipe.
What Can You Substitute For Eggs In Blueberry Muffins?
You can adapt any blueberry muffin recipe to make it egg free.
Replace each egg with three tablespoons of mashed bananas, unsweetened apple sauce, or yogurt.
You can also stir one tablespoon of cornstarch or ground flaxseeds with three tablespoons of lukewarm water. Use it as an egg in the recipe.

Does Martha White Muffins Have Eggs?
Yes, the ingredients listed in their muffin mix packaging include eggs.
Can I Substitute Milk For Water In Blueberry Muffins?
You can, but the texture of the muffins will be dry and tough. Milk adds fat and proteins to the muffin crumb, creating a moist and light texture.
Why Are My Muffins Tough?
A tough muffin means you added too much flour or not enough raising agents.
It can also be that you used gluten-free flour blends instead of wheat flour.
Always measure flour correctly, use fresh baking powder, and make sure you have acidities like lemon or vinegar in the batter to activate the raising agent.
Why Do Muffins Become Flat And Touhh If They Are Over-Mixed?
Overmixing the muffin batter overactivates the gluten in the flour.
Gluten gives texture to muffins, but when gluten proteins are overactivated, they toughen the batter, resulting in a gummy, dense and packed muffin that won't rise.
More Eggless Recipes
If you like to bake without eggs, try these recipes: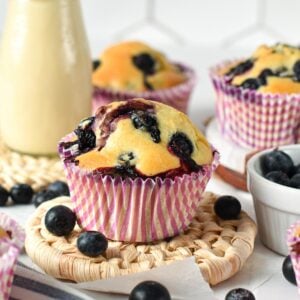 Eggless Blueberry Muffins
These Eggless Blueberry Muffins are easy, egg-free blueberry muffins with the most fluffy texture filled with Juicy blueberries.
Pin
Print
Review
Servings: 12 muffins
Calories: 159.2 kcal
Instructions
Preheat the oven to 350°F (180°C). Line a 12-hole muffin pan with muffin paper liners. Use cooking spray to oil the liners. Set aside.

In a large mixing bowl, prepare the homemade buttermilk mixture. Whisk apple cider vinegar with milk. Set aside for 10 minutes until it curdles.

In another large mixing bowl, whisk dry ingredients: cinnamon, all-purpose flour, sugar, salt, and baking powder.

Add to the oil and vanilla extract to the bowl with the buttermilk. Stir to evenly combine.

Stir the dry ingredients into the wet ingredients until the batter is smooth. Don't over-stir the batter to avoid tough blueberry muffins.

In a small bowl, quickly stir the blueberries with cornstarch until well coated, then fold them in the muffin batter.

Gently stir the blueberries in the batter.

Use a cookie scoop to fill the muffin pan evenly.

Bake the muffins at 350°F (180°C) for 25-30 minutes or until they are golden brown.

After 20 minutes, insert a toothpick in the center of one muffin. If wet, keep baking.

Cool down at room temperature for 5 minutes in the muffin pan, then on a wire rack for 1 hour or until safe to handle by hand.
Storage
Store in a cookie box or airtight container in the fridge for up to 4 days.

You can freeze muffins in zip-lock bags for up to 1 month. Thaw on the benchtop at room temperature the day before.
Share on Facebook
Pin Recipe
Nutrition
Serving: 1muffin | Calories: 159.2kcal | Carbohydrates: 27.3g | Protein: 2.4g | Fat: 5.1g | Saturated Fat: 0.7g | Polyunsaturated Fat: 0.7g | Monounsaturated Fat: 3.5g | Sodium: 202.2mg | Potassium: 41.1mg | Fiber: 1.1g | Sugar: 10.3g | Vitamin A: 10.2IU | Vitamin C: 2.4mg | Calcium: 75.5mg | Iron: 1.1mg | Magnesium: 6mg | Phosphorus: 39.4mg | Zinc: 0.2mg