This Breakfast Fruit Salad is an easy recipe to start the day with a refreshing, vitamin-loaded rainbow bowl!
Bonus, this fruit salad recipe is also easy to adapt based on your fruit season, keep reading to learn more.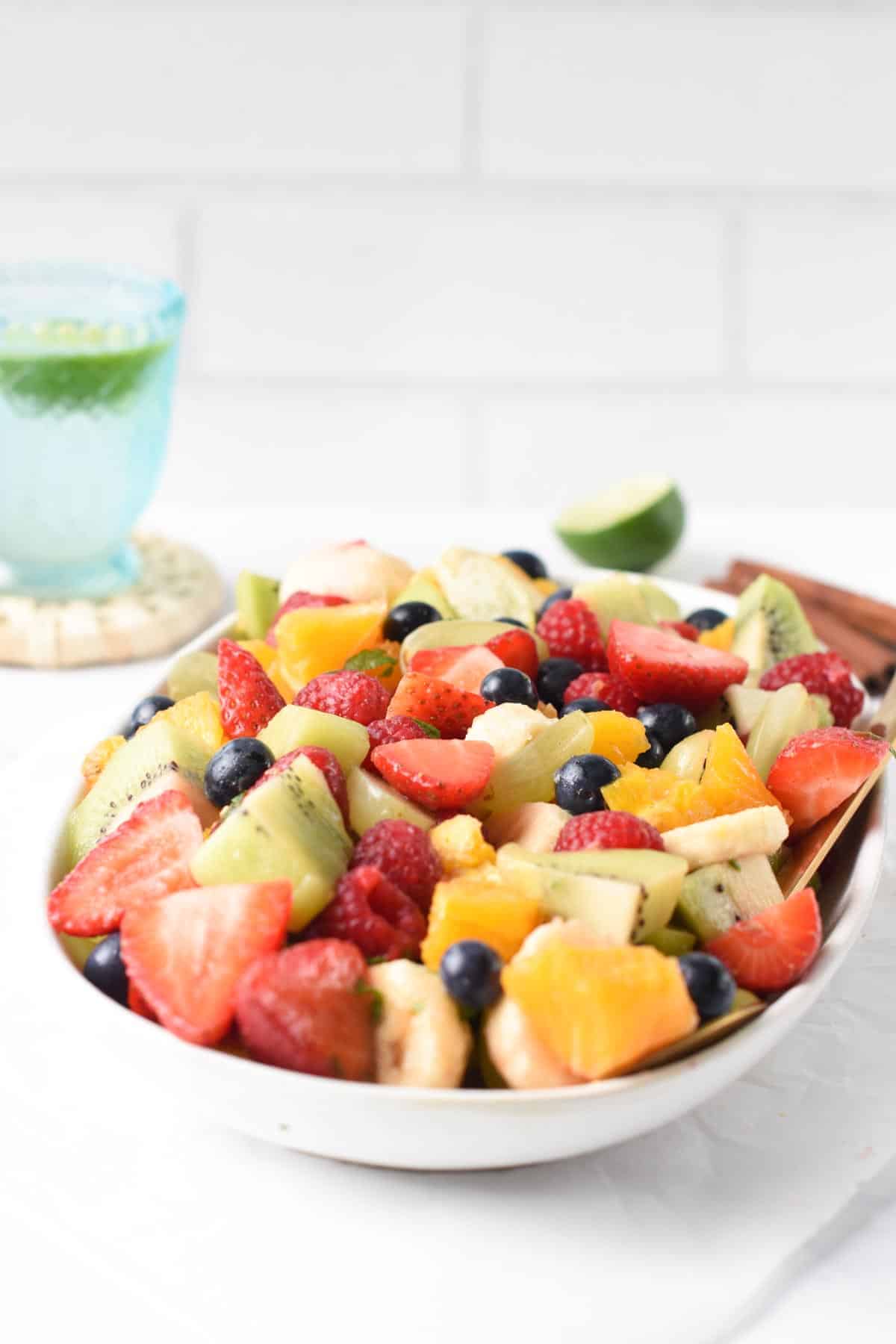 Fruit salads are perfect for breakfasts during the holiday season or in summer.
It's a light breakfast option to serve after a few days of food indulgence or on hot days to hydrate in the morning.
Can I Eat Fruit Salads For Breakfast?
People often wonder if they can have fruit salad for breakfast, and the answer is yes!
Fruit for breakfast is a healthy, simple, and natural way to start the day with:
In fact, fruits, compared to fruit juice are packed with fiber that keep you full for longer and reduce the absorption of fructose in fruits.
It means your blood sugar level is steady for longer and you won't feel a crash of energy after eating fruits as fast as if you drink juice in the morning.
So this breakfast fruit salad is a great side dish to any protein breakfast.
Of course, in order to get proteins and fill full for the day, you should also add some high-protein recipes to your breakfast plate.
For example, a protein muffin or protein oatmeal is a great side to a bowl of fruit salad in the morning.
Can I Make Fruit Salad For A Crowd?
The good thing about fruit salad is that you can easily whip a large batch in less than 20 minutes.
To increase the size of this recipe, simply double or triple the batch of fruits!
How To Make The Best Breakfast Fruit Salad
It's super easy to make a fruit salad for breakfast. Just follow these three rules:
Use seasonal fruits – the most simple fruits are the best like apples, oranges, and bananas.
Focus on fruits high in vitamin C for energy in the morning like oranges, grapefruits, and all citrus range.
Add some fresh herbs like mint or spices like cinnamon or turmeric.
The best combination of your favorite fruits is up to you but a rainbow of fruits is great for a colorful vibrant salad.
The more fruit variety, the more vitamins, and nutrient variety!
Ingredients
All you need to make a fresh fruit salad are a bunch of 6-10 different fruits.
Grapes – cut them in halves lengthwise.
Strawberries – cored, cut in halves. or diced.
Blueberries
Oranges – peeled and diced, keep the juice released during the cutting process to drizzle on top of the tossed fruits.
Banana – peel, sliced into thick slices.
Mango – peeled, diced.
Kiwi Fruits – peeled, cut.
Peeling The Fruits
Peel the citrus, banana, and mango and cut them into cubes of a similar size.
Place all the fruits in a large bowl or large serving plate, and gently toss to avoid breaking the soft fruits like berries.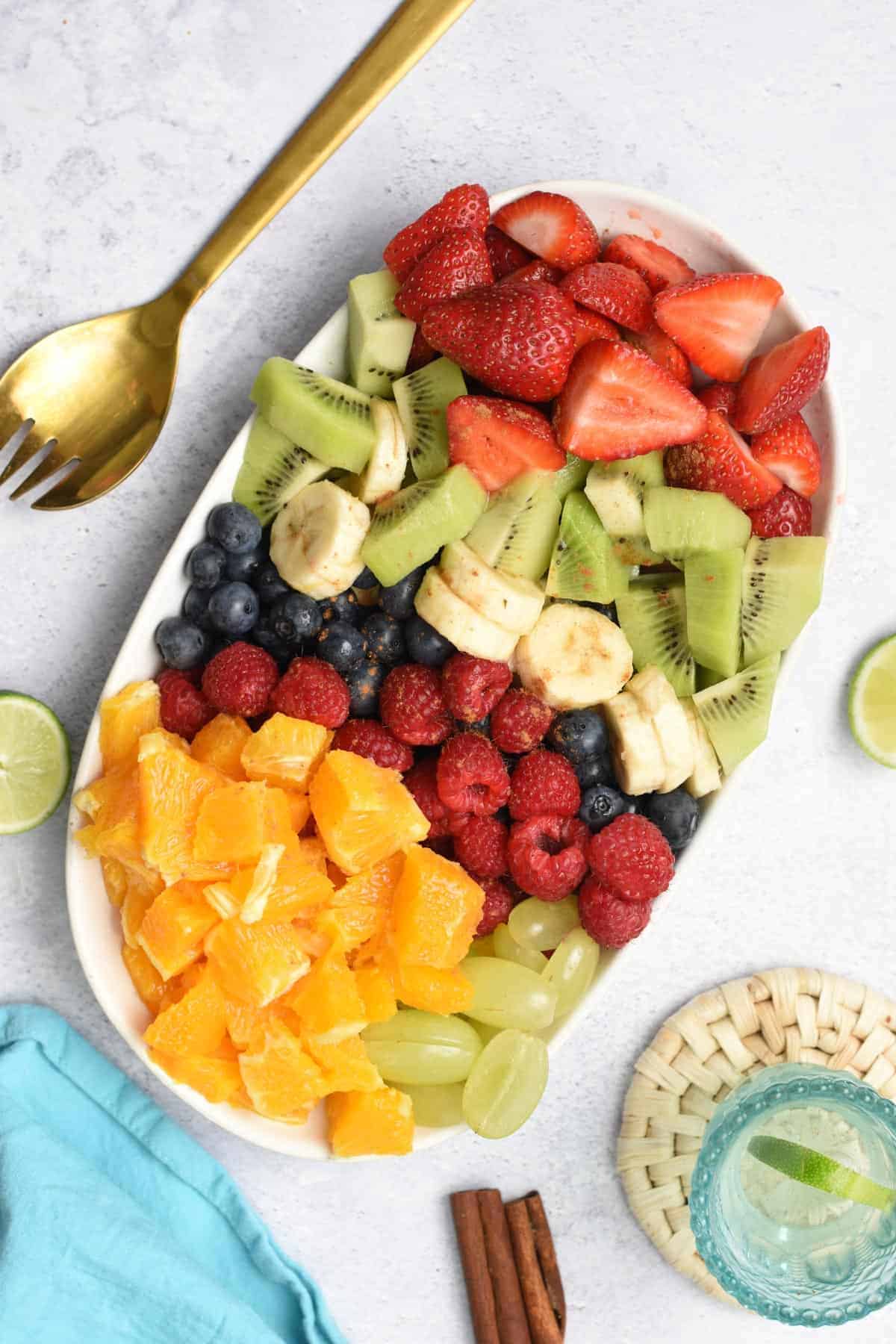 Seasoning
Just before serving, drizzle some of the below ingredients on top of the fresh fruit salad:
Lime juice
Lemon juice
Orange juice
Rosewater
Orange blossom water
Vanilla extract
Fresh mint leaves finely chopped
I don't recommend seasoning the salad way more than 30 minutes before serving or the fruits get soaked in the juice and softened.
Storage
A fruit salad must be stored in the fridge and last up to 2 days if you didn't add any syrup or juice on top.
If you drizzle some juice or added herbs the taste and texture will change quickly.
Your fruits get soggy and herbs fade in color and taste.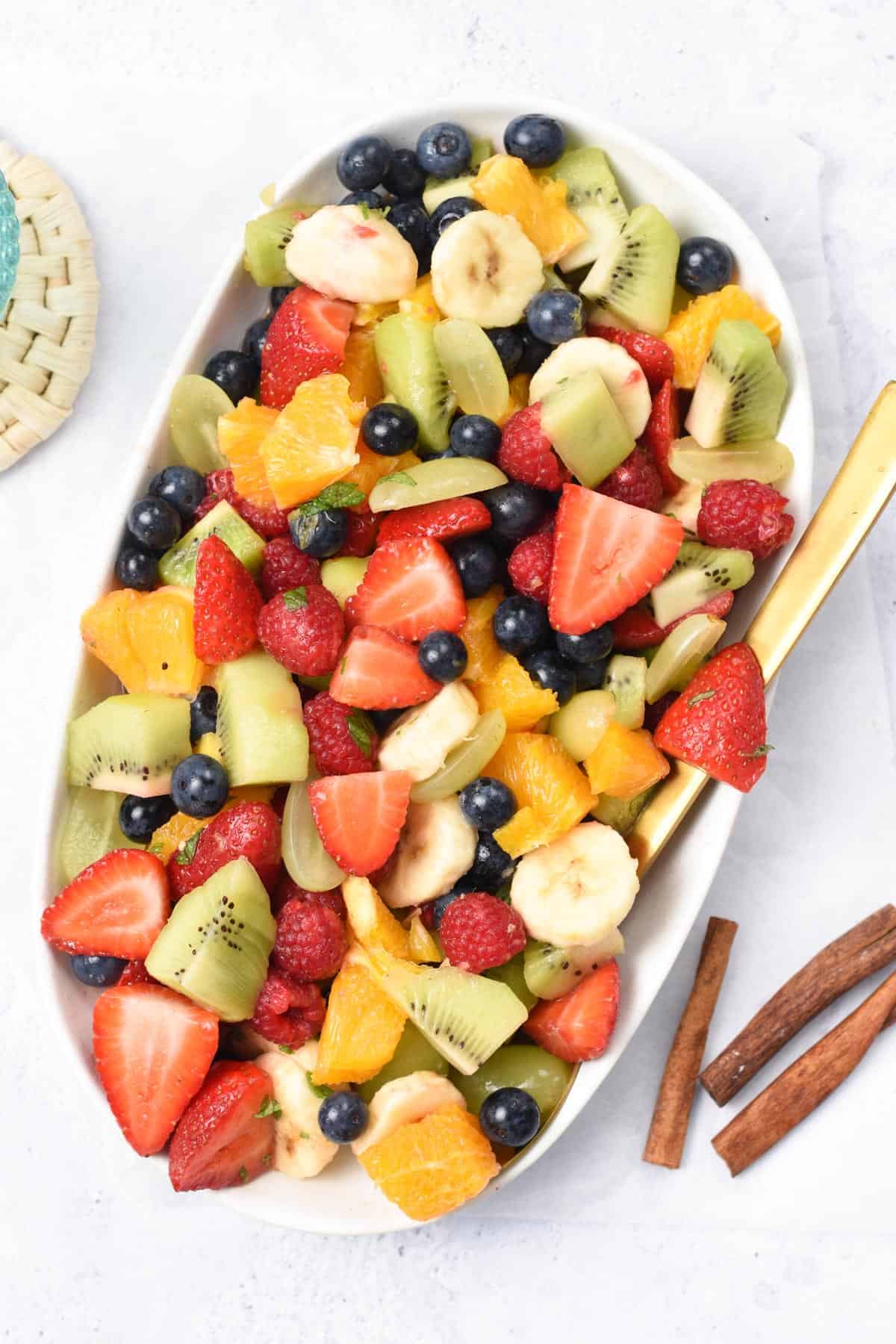 Frequently Asked Questions
Can I Use Frozen Fruits?
Yes, frozen berries for example do very well in a fruit salad. They don't release too much water in the dish and add some freshness.
How Can I Serve The Fruit Salad?
You can top up the fruit salad with a dollop of yogurt or ice cream of choice.
Can I Make Low-carb Fruit Salad?
Absolutely yes! Focus on low-fructose fruits like boysenberries, raspberries, blueberries, strawberries, green apples, lemon, and lime.
More Healthy Breakfast Recipes
Below I listed some more fruit-based breakfast recipes for you to try.
Have you made this easy fruit salad recipe as a healthy breakfast? Share a comment below to tell me how much you like it?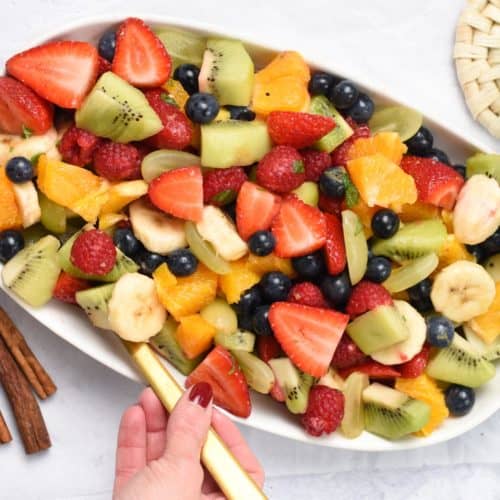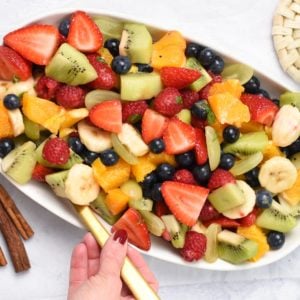 Breakfast Fruit Salad
This Breakfast Fruit Salad is an easy recipe to start the day with a refreshing, vitamin-loaded rainbow bowl! Bonus, this fruit salad recipe is also easy to adapt based on your fruit season.
Pin
Print
Review
Servings: 6 people
Calories: 138.4 kcal
Instructions
Peel the mango, oranges, and kiwi fruits. Dice them and place them in a large mixing bowl.

Wash the berries and grapes under cold tap water. Drain the berries and grapes in absorbent paper to remove excess water.

Core and slice the strawberries in halves.

Add banana slices, strawberries, raspberries, and blueberries to the bowl.

Cover the bowl and store it for up to 1 day in the fridge or serve immediately with the following syrup.
Fruit Salad Dressing
In a small bowl, stir the orange juice, lime juice, maple syrup, cinnamon, and orange zest.

Just before serving, drizzle the previous syrup over the fruits, add freshly chopped mint if using, and gently toss fruits to flavor with dressing.
Storage
Store in an airtight container in the fridge for up to 1 day if fruits are soaked in syrup or 2 days if fruits are plain.
Large batch
Feel free to double or triple the recipe for a large crowd fruit salad.
Equipment
Share on Facebook
Pin Recipe
Nutrition
Serving: 1bowl | Calories: 138.4kcal | Carbohydrates: 34.7g | Protein: 1.8g | Fat: 0.6g | Saturated Fat: 0.1g | Polyunsaturated Fat: 0.2g | Monounsaturated Fat: 0.1g | Sodium: 3.9mg | Potassium: 409mg | Fiber: 4.4g | Sugar: 26.2g | Vitamin A: 580.1IU | Vitamin C: 82.8mg | Calcium: 50.9mg | Iron: 0.5mg | Magnesium: 27.3mg | Phosphorus: 41.5mg | Zinc: 0.3mg