Mexican Soup (Vegan, Gluten-Free)
This Mexican Soup is an easy 30-minute dinner packed with proteins, vegetables, and delicious Mexican flavors.
Plus, the soup is vegan and gluten-free, so you don't have to bother about food allergies.
If you love Mexican recipes and when you've tried our Lentil Tacos or Tempeh Tacos, you'll love this Mexican soup recipe.
What's A Mexican Soup?
It's full of protein-loaded black beans and tomatoes, so this taco soup is a healthy and nourishing lunch or dinner.
While a traditional Mexican soup contains meat, like chicken or ground beef, our recipe is a meat-free version full of spices and herbs.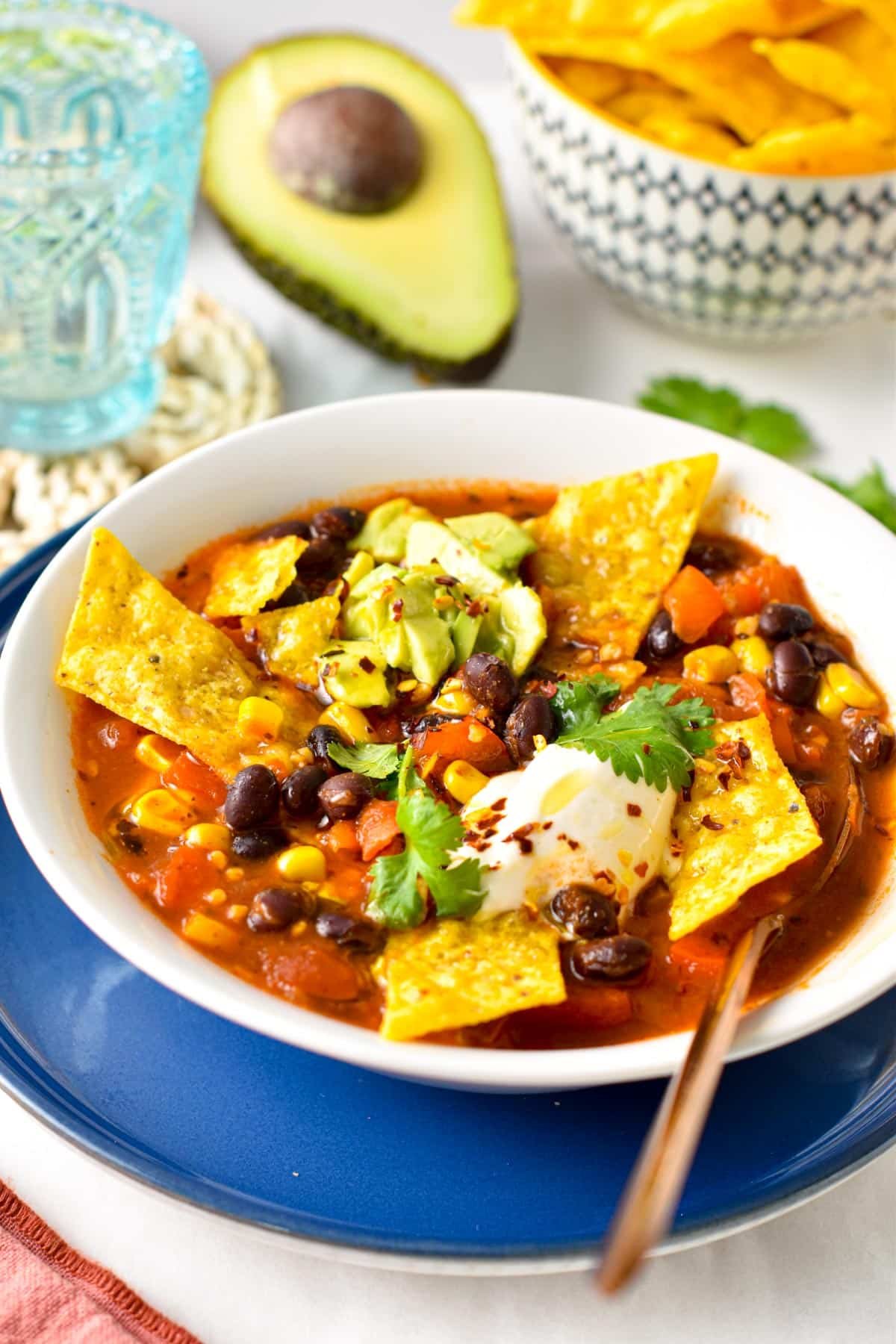 How To Make Mexican Soup
It takes under 30 minutes to make this high-protein soup packed with beans.
Ingredients
All you need to make this delicious Mexican inspired recipe are:
Black Beans – Use a can of organic black beans and drain it of its water. You can keep the water for other recipes.
Olive Oil – We use locally-sourced extra-virgin olive oil.
Red Onion – You can also use yellow onions, but it won't be as flavorsome.
Garlic Cloves
Red Bell Pepper or any other bell pepper color you like.
Corn Kernel – Frozen or canned and drained. You can also cook corn on a cob on the barbecue and scrape the kernels. This is even better, but takes a bit more work.
Canned Diced Tomatoes with green chilies or plain.
Tomato Paste
Taco Seasoning – I recommend adding the minimum amount first, then increasing to taste. Some seasoning mixes are a bit spicier than others, and adding too much can turn the soup ultra spicy.
Reduced Salt Vegetable Stock – If your stock is not reduced in sodium, use half stock and half water to prevent an overly-salty soup.
Preparation
Warm some olive oil over medium heat in a large pot or cast-iron pan. Add the finely chopped red onion and garlic, stir, and cook for a few minutes until fragrant.
Stir in the diced red bell pepper and stir and cook until softened.
Add the black beans, corn kernel, taco seasoning, and canned diced tomatoes. Cook and stir for one minute, then add the tomato paste and vegetable stock.
Give a quick stir, cover the pot with a lid and reduce to low heat. Simmer the soup for 15 minutes, stirring once in a while until fragrant and warm.
Tasting And Adjusting
Taste the soup, add more taco seasoning to boost flavor, or a pinch of chili powder to turn the soup spicy.
You can add some optional ingredients to this soup as a boost of flavor:
Lime Juice – This adds a tangy flavor and also helps if the soup tastes too spicy. Add 1 or 2 tablespoons.
Sugar or maple syrup – This adds a sweet note that decreases the acidity of the tomatoes in the soup. Add one tablespoon.
Salt – I didn't add any salt, since the vegetable stock and seasoning already contain some.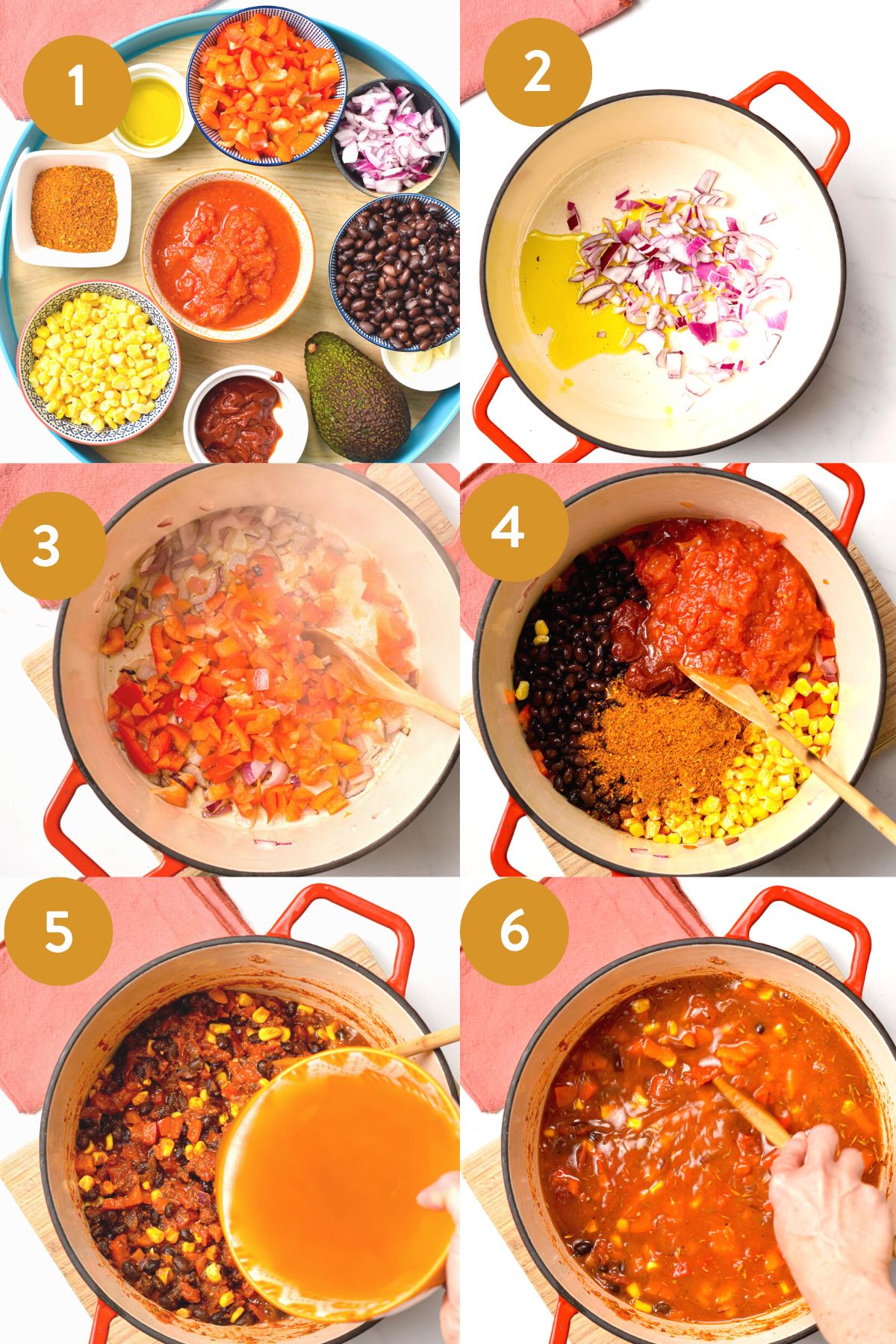 Serving Mexican Soup
This soup is even better served with toppings.
Our favorite toppings are a combination of plant-based cheese, vegan sour cream, and fresh cilantro. For a comforting soup, add pieces of tortilla chips on top.
There is more tortilla soup topping ideas for you to try below.
Pieces of tortillas chips or fresh corn tortillas cut into strips.
Sour cream – we used plant-based sour cream
Plant-based cheddar cheese
Fresh cilantro
Red chili pepper
Jalapenos slices
Allergy Swaps
If you are allergic to some of this recipe's ingredients, I've listed below some substitution suggestions to adapt the soup.
Corn-Free – Replace the corn with more canned black beans or canned pinto beans.
Red Onion can be replaced with white or brown onion.
Oil-Free – You can stir-fry the onion with water or skip the first steps, where the vegetables are stir-fried in olive oil. Cook and simmer all the ingredients together in stock.
Canned Tomatoes with chilies can be replaced with regular canned tomatoes. You can add fresh chili or chili powder for a spicy kick.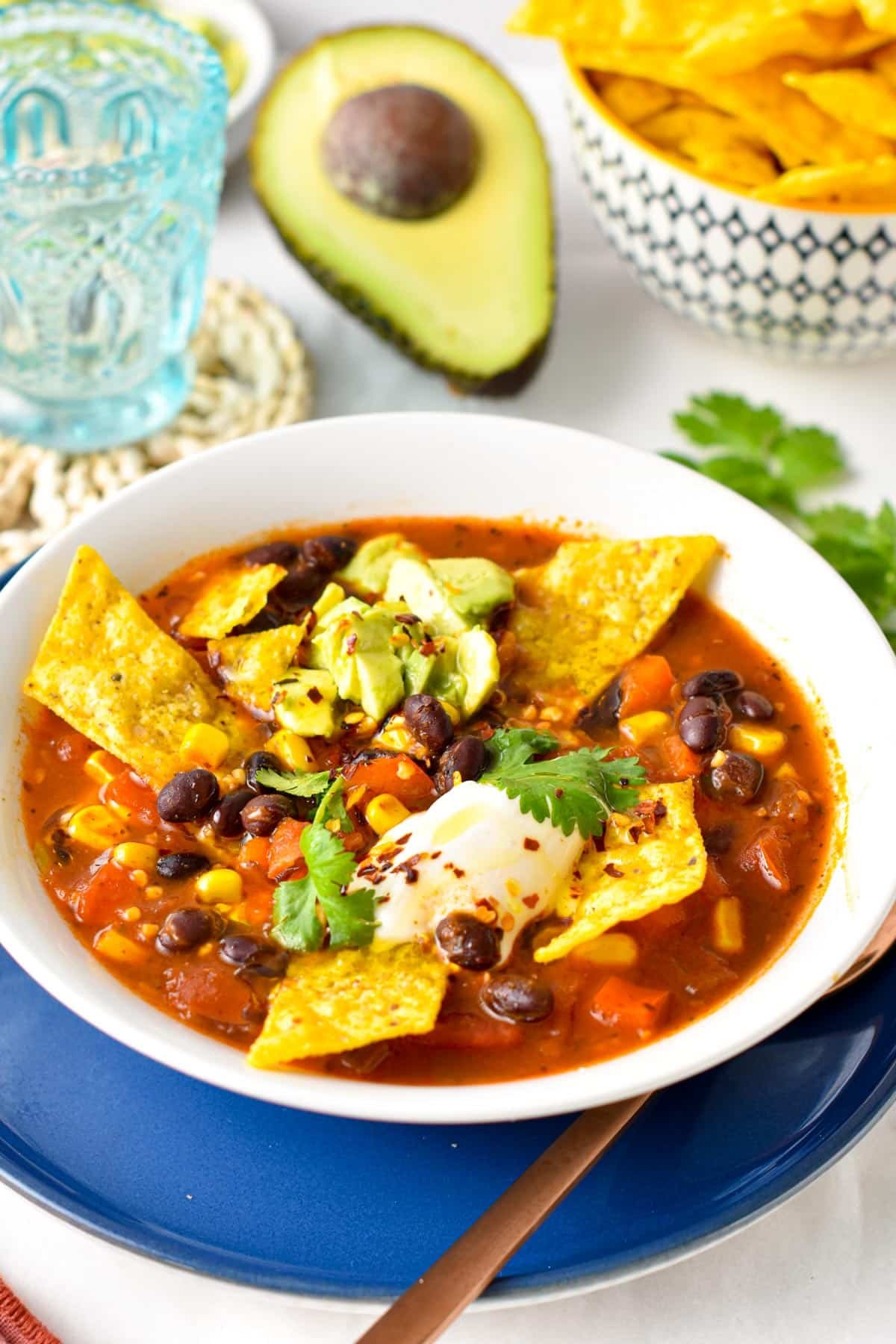 Homemade Taco Seasoning
You can replace the 1 ½ tablespoon of ready-made taco seasoning in this recipe with your own taco mix.
Stir the ingredients below in a small bowl and use it as a swap to 1 ½ tablespoons of seasoning.
½ tablespoon of chili powder – Some powders outside the US are very spicy, cut down on chili powder if it's your case.
1 ½ teaspoon of ground cumin
1 teaspoon of salt
1 teaspoon of ground paprika
1/4 teaspoon of onion powder
1/4 teaspoon of garlic powder
½ teaspoon of dried oregano
Storage Instructions
This Mexican soup recipe can be stored well in an airtight container in the fridge.
You can store the soup for up to 4 days and rewarm it in a covered non-stick pot over medium heat until the soup is simmering.
You can also rewarm the soup in the microwave in a microwave-safe bowl until warm.
Frequently Asked Questions
Find below my answers to your most frequent questions about this recipe.
How Can I Add More Protein To The Recipe?
You can stir-fry some plant-based meat alternatives with onion and garlic.
Try 7 oz of Beyond Meat, rehydrated textured soy protein, or seitan shredded chicken.
These options taste like ground meat and mimic the texture of a classic tortilla soup but are plant-based.
Can I Add More Beans?
Yes, if you like your soup rich and dense, add an extra can of drained black beans or pinto beans.
Have you tried this Mexican soup recipe? Share a comment or review below to connect with me.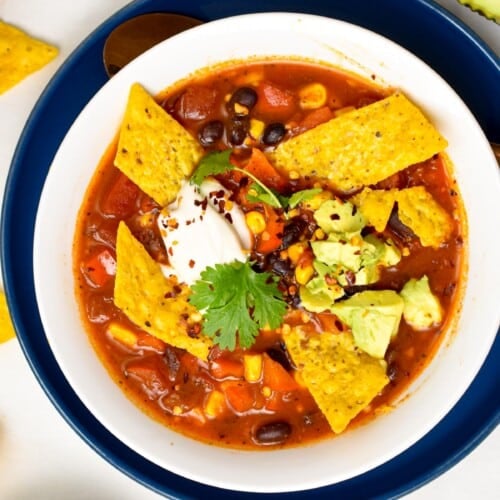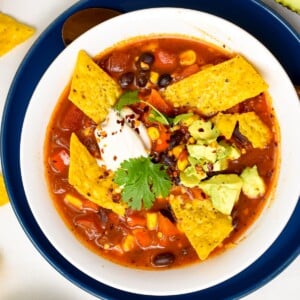 Mexican Soup
This Mexican Soup is an easy 30-minute dinner packed with proteins, vegetables, and delicious Mexican flavors.
Pin
Print
Review
Shop My Tools
Instructions
In a large pot, add olive oil and warm it over medium heat.

Stir in the onion and garlic and cook for a few minutes until fragrant.

Add the diced red bell pepper and cook until the vegetable have softened – about 1-2 minutes.

Add canned, drained black beans, frozen corn kernel, taco seasoning, canned diced tomatoes with chilies, and canned diced tomatoes. Stir to combine.

Pour the reduced-salt vegetable stock (if yours contains more salt, use half water and half regular stock) and tomato paste.

Stir to combine, cover and simmer over low-medium heat for 15 minutes until fragrant.
Taste and Adjust
Taste the soup and add more taco seasoning, salt, or a simple pinch of chili powder to boost spicy flavors. Add lime juice for a tangy flavor or maple syrup for a touch of sweetness.
Serving
Serve the soup topped with sour cream, cheese, tortilla chips, and freshly chopped cilantro.
Share on Facebook
Pin Recipe
Nutrition
Serving:
1
bowl
|
Calories:
122
kcal
|
Carbohydrates:
13.2
g
|
Protein:
1.9
g
|
Fat:
7.9
g
|
Saturated Fat:
1.1
g
|
Polyunsaturated Fat:
1.1
g
|
Monounsaturated Fat:
5.2
g
|
Trans Fat:
0.002
g
|
Sodium:
665
mg
|
Potassium:
281.7
mg
|
Fiber:
3
g
|
Sugar:
5.1
g
|
Vitamin A:
1198.9
IU
|
Vitamin C:
31.7
mg
|
Calcium:
15.8
mg
|
Iron:
0.7
mg
|
Magnesium:
18
mg
|
Phosphorus:
44.2
mg
|
Zinc:
0.4
mg