Tempeh Tacos are protein-packed vegan tacos filled with ground tempeh cooked in a blend of Mexican spices and cauliflower rice.
It's a delicious low-carb, high-protein filling for tacos also full of iron and perfect for a healthy vegan dinner.
We are big fans of vegan tacos and when we don't make lentil tacos or Sofrita tofu tacos, we love to use tempeh.
It took us a few years to enjoy tempeh basically because we didn't know how to cook tempeh.
In fact, store-bought tempeh is pretty strong and earthy in flavor, and if cooked without seasoning, it's difficult to enjoy it fully.
But as soon as you find the right tempeh marinade or tempeh seasoning, it turns into the most delicious meal packed with protein, iron, and riboflavin.
So if you are looking for a change to black beans in vegan tacos. let me share with you how to make tempeh tacos for your next vegan taco night.
What's Tempeh?
Tempeh is basically a pressed cake made of cultured soybeans. The result is a hard, nutty, earthy block of packed soybeans with a lumpy texture.
It's very different from tofu, which is flavorless, soft, and made from soy milk.
Nutrition wise tempeh is easier to digest if you have sensitivity to soy products because the soybeans are fermented. It's also higher in proteins and iron.
How To Make Tempeh Taco Meat
It's very easy to make this tempeh vegan taco meat.
Ingredient
All you need are:
Tempeh – Also known as fermented soybeans block and sold next to tofu in store.
Olive Oil – Prefer locally-sourced extra-virgin olive oil.
Red Onion
Cauliflower Rice – I am using frozen cauliflower rice, you can make your own by breaking a cauliflower head into florets, Then, place the florets in a food processor and pulse them until a rice-like texture forms.
Cumin
Paprika
Garlic Powder
Tomato Paste – I like to use organic tomato paste made from only tomatoes.
Soy Sauce or tamari sauce
Water
Lime Juice – If you don't have lime juice, you can also use lemon juice.
Salt and Pepper
Maple Syrup – If you don't like maple syrup, you can use any liquid sweetener you love like coconut nectar, agave syrup, or rice malt syrup.
Oregano
Chili Powder– Totally optional if you don't like spicy tacos.
Tempeh Ground
First, you need to prepare the block of tempeh to make it looks and taste like ground meat. Tempeh blocks are dense, hard, and sticky.
The best way to ground tempeh is to break it into large pieces and place them in a food processor.
Then, pulse them a few times until the blade turns the tempeh into a ground meat-like texture.
Set it aside in a bowl.
Cooking Tempeh Taco Meat
Warm some olive oil over medium heat in a large skillet or non-stick pan.
Next, add diced red onion and cook it until fragrant and translucent.
Add the ground tempeh and cauliflower rice and all dry spices: garlic powder, salt, oregano, paprika, cumin, or chili powder.
Stir fry the tempeh for a few minutes until fragrant which takes about 2 minutes.
Reduce to low-medium heat and add the soy sauce, lime juice, tomato paste, maple syrup, and water.
Stir well, cover, and simmer for 10 minutes, stirring once in a while until it thickened into a meat-like consistency.
Making Tempeh Tacos
When tempeh taco meat is ready, warm corn tortillas or wheat tortillas in a non-stick pan.
Place the tortillas on a place and fill with 1/2 cup of tempeh taco meat.
Top the vegan tacos with some of the following vegan taco toppings:
Jalapeno
Diced Avocado or Avocado Slices
Coconut Yogurt or vegan sour cream
Fresh Cilantro
Red Onion
Hot Sauce
Salsa Sauce
Diced Bell Pepper
Vegan Cheese
Serving Tempeh Meat
Tempeh is a low-carb vegan protein source. Therefore, it's a perfect protein to make high-protein low-carb plant-based dinners.
You can use my low-carb gluten-free tortillas to make keto-friendly vegan tacos or my Quinoa Tortilla for a super-easy option.
Or, use this tempeh meat to make a taco salad.
Place lettuce leaves in a bowl, top with 1/2 cup of tempeh meat and all your favorite taco toppings like avocado, red bell pepper, corn kernel, red onion, and salsa sauce.
Storage Instructions
This tempeh taco meat can be stored for up to 4 days in a sealed container in the fridge. You can freeze the taco meat in zip-lock bags or containers for up to 3 months.
Thaw the tempeh filling the day before in the fridge. Rewarm in a non-stick skillet or microwave-safe bowl and use in tacos.
Allergy Swaps
Below are some options to make this recipe allergy friendly.
Low-FODMAP – tempeh is fermented and therefore a low FODMAP ingredient compared to tofu. To adapt this recipe skip the onion and garlic and replace cauliflower rice with ground walnuts.
Gluten-Free – Use corn tortillas and tamari sauce instead of soy sauce. Make sure your store-bought tempeh doesn't contain added grains containing gluten.
Frequently Asked Questions
Below are your most frequent questions about this recipe.
Is Tempeh Gluten-Free?
Most of the time tempeh is gluten-free, made from soybeans and culture.
However, some brands combine tempeh with grains, so it is worth checking the ingredients listed in the packaging to avoid grains containing gluten.
Can I Use Firm Tofu Instead Of Tempeh?
Yes, the recipe works with firm tofu as well.
First, press the tofu between absorbent paper to remove the liquid.
Don't pulse the tofu in a food processor, instead make ground tofu by rubbing the tofu between your fingers to create a ground texture.
Can You Eat Raw Tempeh?
Most store-bought tempeh products are pasteurized, so it's safe to eat raw.
Always refer to the brand packaging for more details. If unpasteurized, tempeh must be cooked.
Also, keep in mind that raw tempeh has a slimy texture and for most, an unpleasant earthy flavor.
Does Tempeh Taste Like Meat?
You can make tempeh taste like meat when cooking it with the same spices. By grounding tempeh like in this recipe, you also give it the same texture as ground meat.
More Vegan Taco Recipes
Below are some more plant-based taco recipes for you to try
Have you made these tempeh tacos? Share a review or comment below.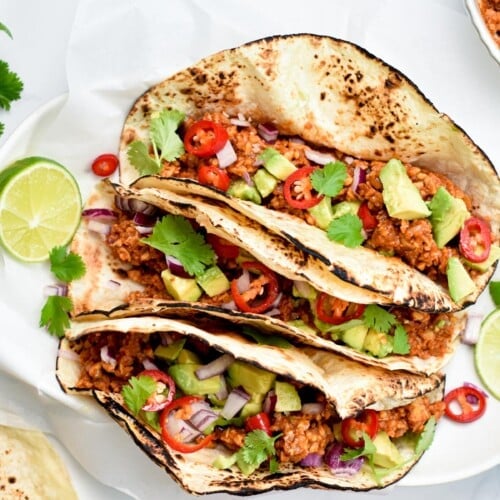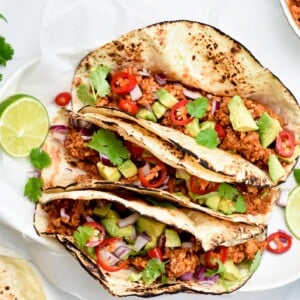 Tempeh Tacos
Tempeh Tacos are protein-packed vegan tacos filled with ground tempeh cooked in a blend of Mexican spices and cauliflower rice. It's a delicious low-carb, high-protein filling for tacos also full of iron, and perfect for a healthy vegan dinner.
Pin
Print
Review
Save
Saved Recipes
Servings:
6
tacos (1/2 cup)
Instructions
First, crumble tempeh into a ground texture. You can place the tempeh in a food processor and pulse it a few times or use your hand to break it into small pieces. Set aside in a bowl.

In a large skillet, heat olive oil and stir fry the onion until fragrant – about 1 minute.

Stir in ground tempeh and cauliflower rice. Stir fry for 1 minute.

Stir in spices: cumin, garlic powder, paprika, oregano, salt, and pepper, or chili powder.

Stir in tomato paste, lime juice, water, tamari/soy sauce, and maple syrup.

Reduce heat, and simmer for 5-6 minutes or until the mixture thickens. The longer you cook the mixture, the thicker and dryer the sauce will be. For a smoother sauce, stop heat around 3-4 minutes.
Serving tempeh tacos
Serve tacos with fresh coriander, diced avocado, diced red onion, salsa sauce and vegan sour cream or dairy-free coconut yogurt.
Notes
Cauliflower Rice: I used ready-made frozen cauliflower rice. To make your own from fresh cauliflower, cut cauliflower florets and pulse in a food processor using the S-blade attachment until it forms a 'rice'-like texture. Cauliflower Rice Swap: Replace with finely chopped walnuts for an IBS-friendly option. Cooking Raw Brown Lentils: Scroll up in this post to check my tips on cooking raw lentils.
Share on Facebook
Pin Recipe
Nutrition
Serving:
1
serving (1/2cup)
|
Calories:
133.7
kcal
|
Carbohydrates:
13.9
g
|
Protein:
9.8
g
|
Fat:
5.7
g
|
Saturated Fat:
1.1
g
|
Polyunsaturated Fat:
1.7
g
|
Monounsaturated Fat:
2.2
g
|
Sodium:
789.1
mg
|
Potassium:
538.8
mg
|
Fiber:
2
g
|
Sugar:
6
g
|
Vitamin A:
417.6
IU
|
Vitamin B12:
0.03
µg
|
Vitamin C:
24.4
mg
|
Calcium:
72
mg
|
Iron:
2.4
mg
|
Magnesium:
52.7
mg
|
Phosphorus:
152.7
mg
|
Zinc:
0.8
mg