This Vegan Pumpkin Mug Cake is a delicious healthy snack ready in 90 seconds. It tastes like a fluffy pumpkin muffin except it's a single-serve recipe baked in the microwave for a quick snack.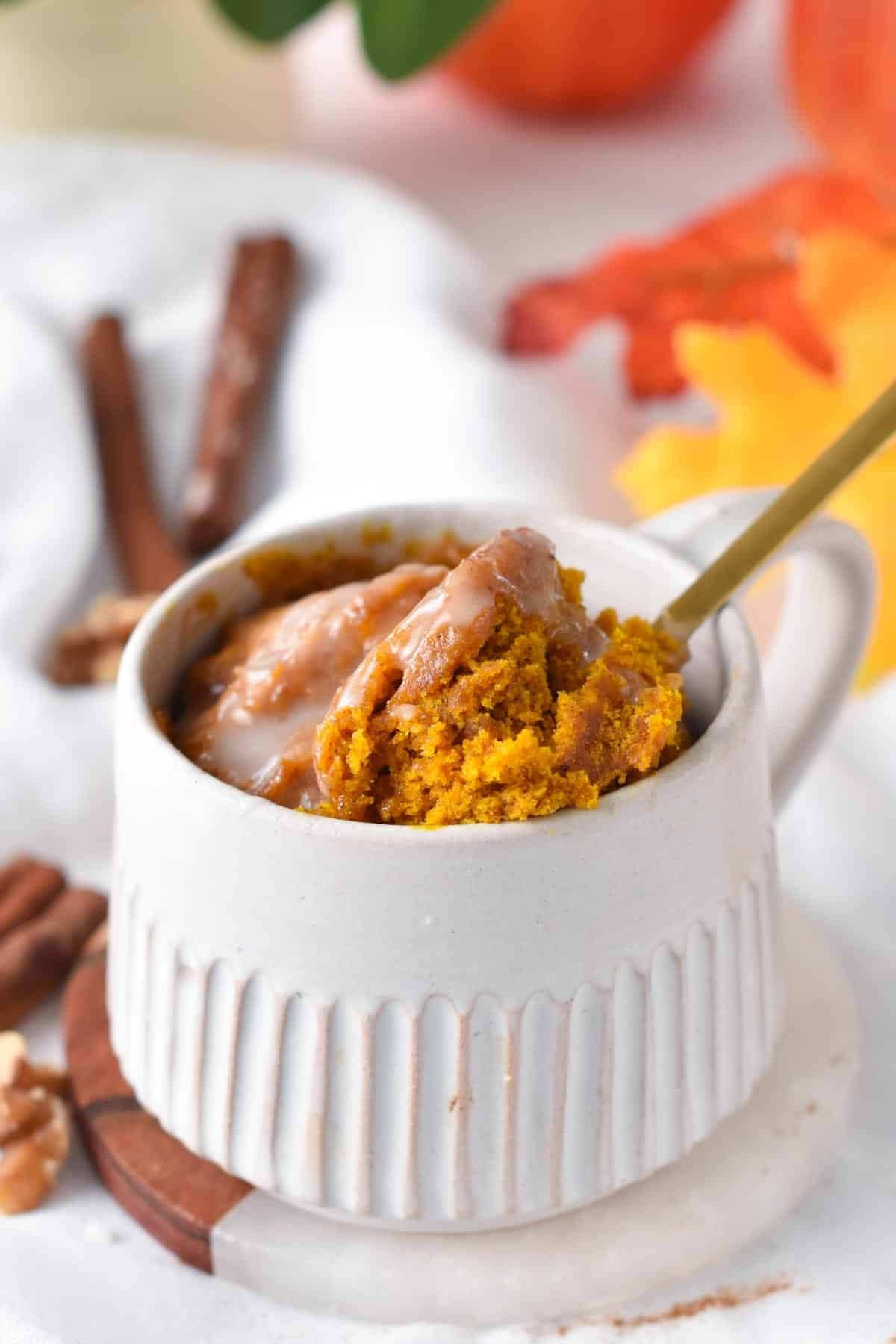 The Fall season is here, and if you don't feel like baking a batch of pumpkin muffins, try this healthy pumpkin mug cake.
How To Make Vegan Pumpkin Mug Cake
A pumpkin mug cake has essentially all the same ingredients as a cake or muffin, but it's easy to whip up in a coffee mug and bake in under 2 minutes in the microwave.
Ingredients
All you need to make this easy pumpkin spice mug cake are: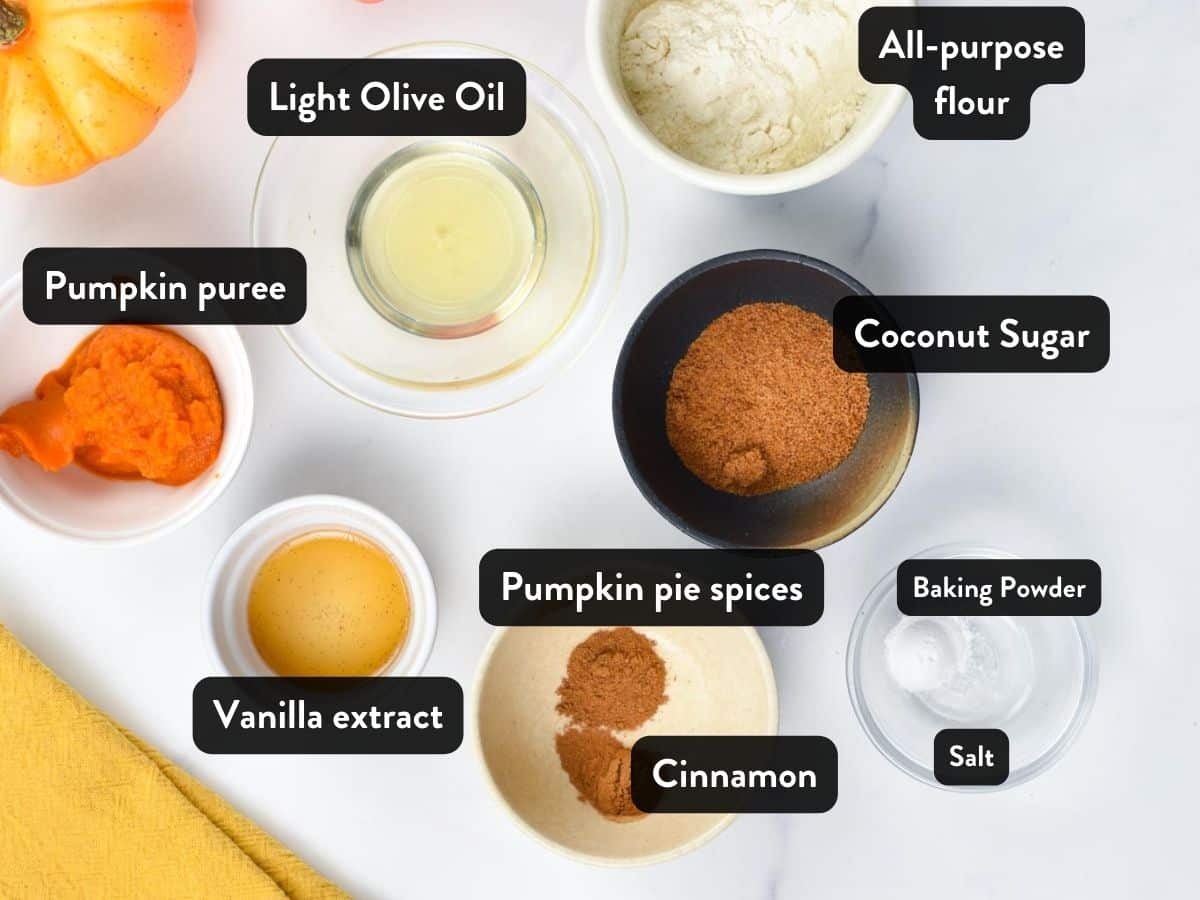 All-Purpose Flour – You can also use oat flour or white spelt flour. If you use oat flour, the mug cake is more fragile, and dense, and less fluffy.
Pumpkin Puree – I use pure canned pumpkin puree. Don't confuse it for pumpkin pie filling. Pumpkin puree is made with just one ingredient: pumpkin. It has no added sugar or added oil.
Coconut Sugar
Light Olive Oil – You can also use melted coconut oil, melted vegan butter, or any oil you like to bake with.
Vanilla Extract
Pumpkin Pie Spice
Baking Powder
Cinnamon
Pinch of Salt – optional if you want to decrease sodium, skip the salt.
Preparation
You have two options for this recipe: you can prepare the mug cake in a small bowl or in the coffee mug itself.
I do like a small shallow bowl as it makes it easier to stir the dry ingredients with the wet ingredients.

In the bowl, stir the pumpkin puree, oil, vanilla extract, coconut sugar, and spices. Then, stir in flour and baking powder.
Add a teaspoon of almond milk if the batter is too thick or very hard to combine.
Baking In The Microwave
Transfer the mug cake batter to a microwave-safe mug. Bake it in the microwave at 900W for 90 seconds or until the mug cake rises above the mug and stays high for about 20 seconds.
You know a mug cake is cooked when the top is set and dry to the touch. If it is too wet in the middle, return it to the microwave and microwave it for an extra 10 seconds.
Flavor Options
You can play with flavors and serve the mug cake with:
Chocolate Chip Pumpkin Mug Cake – Stir a tablespoon of dark chocolate chips or vegan white chocolate chips in the pumpkin batter before baking in the mug cake.
Banana Pumpkin Mug Cake – Swap the oil for a tablespoon of mashed banana.
Peanut Butter Pumpkin Mug Cake – Replace the oil with a tablespoon of pure peanut butter or almond butter.
Serving
This single-serving dessert is even better topped with:
A scoop of vanilla ice cream.
A drizzle of my vegan royal icing. It's basically a tablespoon of icing sugar with a few drops of almond milk that I drizzle on top of the warm mug cake.
A pinch of pumpkin pie spices to boost the fall flavors.
Chopped pecans, walnuts, or hazelnuts
Allergy Swaps
This pumpkin mug cake is naturally dairy-free and egg-free. However, below are some ingredient swap ideas for you to try.
Gluten-Free – You can replace the all-purpose flour with gluten-free oat flour. A regular all-purpose flour gluten-free flour might work too, but it often leaves the mug cake dense.
Coconut Sugar – You can use any sweetener instead, like sugar or maple syrup.
Oil-Free – You can swap oil for almond milk, soy milk, or unsweetened apple sauce.
Frequently Asked Questions
Here are my answers to your most frequent questions.
Why is my mug cake not rising?
You need the perfect ratio of baking powder to flour. Too little of it, and it doesn't rise. Too much of it, and it over-rises and shrinks.
Why is my mug cake so dense?
Mug cakes tend to be dense if there's not enough baking powder.
What causes a mug cake not to be fluffy?
Mug cakes can lack fluffiness if they are lacking baking powder or if the batter hasn't been well mixed and ingredients are stuck to the bottom of the mug.
More Mug Cake Recipes
If you love easy desserts, I have many mug cake recipes for you to try. Here's some inspiration for you below.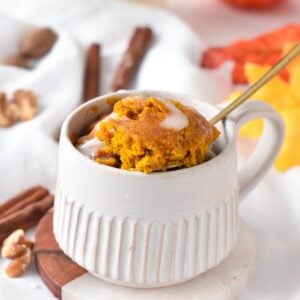 Vegan Pumpkin Mug Cake
This Vegan Pumpkin Mug Cake is a delicious healthy snack ready in 90 seconds. It tastes like a fluffy pumpkin muffin except it's a single-serve recipe baked in the microwave for a quick snack.
Pin
Print
Review
Servings: 1 mug cake
Calories: 302.8 kcal
Instructions
Select a microwave-safe coffee mug with a diameter of about 3 inches (8 cm) and a minimum height of 1.9 inches (5 cm). This prevents the batter from overflowing.

In the mug, whisk the wet ingredients: pumpkin puree, oil, and vanilla extract.

Whisk in coconut sugar, spices, baking powder, and flour until the batter is smooth and thick. If it is too dry, stir in the optional almond milk.

Bake in the center of the microwave for 90 seconds at 800W for 70-90 seconds. If your microwave works at lower power, you may have to increase baking time by 10-20-seconds.

Enjoy immediately with a drizzle of icing sugar and almond milk, or add some vegan dark chocolate chips on top.
Oven baking
Bake the mug cake in an oven preheated to 350°F (180°C) for 15 to 18 minutes or until a toothpick inserted in the center comes out clean. Use an oven-safe greased ramekin or 4-inch cake pan.
Notes
Note 1: White sugar or sugar-free erythritol for zero calories and no sugar added.
Share on Facebook
Pin Recipe
Nutrition
Serving: 1mug cake (whole recipe) | Calories: 302.8kcal | Carbohydrates: 39.7g | Protein: 3.8g | Fat: 14.5g | Saturated Fat: 2.1g | Polyunsaturated Fat: 1.6g | Monounsaturated Fat: 10.3g | Sodium: 141.1mg | Potassium: 163.7mg | Fiber: 2.9g | Sugar: 10.5g | Vitamin A: 9533.8IU | Vitamin C: 2.6mg | Calcium: 90.5mg | Iron: 2.5mg | Magnesium: 21.5mg | Phosphorus: 76.2mg | Zinc: 0.3mg