Fluffy vegan pancake recipe
This fluffy vegan pancake recipe is a super simple vegan pancake recipe for breakfast. They taste like regular pancakes using only 8 ingredients.
We are all looking for the perfect vegan pancake recipe. One that tastes like regular pancakes without the hassle of making flax egg or the strong banana aftertaste of most vegan banana pancake recipes. Here I am sharing with you the perfect vegan pancake recipe: easy, super fluffy, golden, and delicious with a drizzle of pure maple syrup!
How to make the ?
The secret to making fluffy vegan pancakes is to combine the dry ingredients with vegan buttermilk and baking powder.
Vegan buttermilk is obtained when curdling non-dairy milk with an acidic ingredient. It usually takes only 10 minutes for the milk to curdle and thicken. This mixture, when in contact with baking powder, creates the fluffiest pancakes ever! Bonus, making your own vegan buttermilk takes only a few minutes and requires only 2 ingredients:
– it can be , or . However, is higher in fat and provides the best texture, similar to . Note that non-dairy milk must be at room temperature to create the best buttermilk texture.
Acidic ingredient – it can be or

Vegan
The first step to making this fluffy vegan pancake recipe is to prepare the vegan buttermilk as I mentioned before. Then, combine all the dry ingredients together in a mixing bowl. You will need:
All-purpose – gives the best with this . You cannot use , or as a substitute for in this . Other options are or all-purpose

gluten-free

blends. However, these options make the pancakes heavier and not as fluffy.
or half the amount of
Salt
– you can use coconut for a option.
The last step consists of bringing together the dry ingredients with vegan buttermilk, vegetable oil, and vanilla extract. Whisk the ingredients together to avoid lumps and form a thick pancake batter.
How to cook pancakes?
The best way to cook pancakes is to use a non-stick pancake griddle or frying pan. First, heat the pan under medium heat. Then, oil the surface with vegetable oil or any oil like coconut oil or avocado oil. Finally, scoop out the pancake batter into the heated pan. It is recommended to scoop the pancake batter using a measuring cup in order to make pancakes of similar sizes. As a general rule, 1/3 cup of pancake batter gives you the ideal size.
For a different perspective, watch my Web Story: making fluffy vegan pancakes!
toppings
The best way to serve this fluffy vegan pancake recipe is to add some healthy toppings like:
Fresh fruits – a handful of sliced bananas, blueberries, raspberries, or strawberries.
– add a drizzle of one of the following on top of your stack: , almond butter, or cashew butter.
Sweetener – the best are , rice or

agave

Other ideas are , chocolate chips, seeds, or nuts.
add-ons
You can tweak this recipe by adding some add-ons to the pancake batter :
Vegan – scoop out the batter into the pan and sprinkle some on top of the .
1/2 cup blueberries – fresh or frozen, add them directly into the . This option creates the most delicious
– you can replace the in this with . It will give a light banana flavor to the pancakes and makes the oil-free.
How to store

vegan pancakes

?
All vegan recipes are by essence egg-free and dairy-free and therefore they store very well out of the fridge, at room temperature for up to 24 hours. This super simple vegan pancake recipe can be stored for up to 3 days in the fridge or can be frozen in silicon zip-lock bags.

More breakfast
You may also want to try one of the vegan recipes below for breakfast!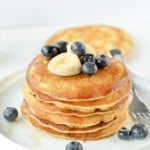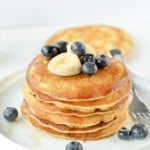 Chickpea flour pancakes
Chickpea flour pancakes an easy vegan, grain-free, and oil-free pancake recipe with only 4 ingredients.
Check out this recipe
Vegan Crepes
Vegan crepes are easy 5-ingredient french-style thin pancakes for breakfast or dessert.
Check out this recipe
Made these vegan pancake recipe? Share a picture with me on Instagram! 
Your friend, Carine
Fluffy vegan pancake recipe
An easy vegan pancake recipe with fluffy texture.
Ingredients
Vegan 'buttermilk'
1

cup

Soy milk

-

or unsweetened almond milk - at room temperature

1

tablespoon

Apple cider vinegar

-

or lemon juice
Other ingredients
1

cup

All purpose white flour

2

tablespoons

Sugar

-

or coconut sugar or maple syrup

1

tablespoon

Baking powder

1/2

teaspoon

Salt

1

tablespoon

avocado oil

-

or vegetable oil

1

teaspoon

vanilla extract
Instructions
Prepare the vegan 'buttermilk'
In a small mixing bowl, whisk soy milk with apple cider vinegar. You can use any dairy-plant milk by the pancakes are fluffier with soy milk. Set aside

10 minutes

. Note: in the video the oil is added in the buttermilk step, it is up to you, you can also add it in the next step.
Prepare the pancake batter
In a large mixing bowl, add all the dry ingredients: flour, sugar, baking powder, and salt.

Whisk in the vegan buttermilk, oil, and vanilla.

Let the batter rest for

5 minutes

while you heat the griddle.
Cooking the vegan pancakes
Heat a large pancake griddle or frying pan over medium heat. Add 1 teaspoon of oil and swirl the pan to coat.

Scoop out 1/3 cup of pancake batter per pancake - don't cook more than 2 pancakes at a time to prevent them from spreading and sticking to each other. Cook on one side until bubbles form on the surface and the edges dry out and look set - it should take 2 or 3 minutes.

Flip the pancake and cook on the other side for another 2 or 3 minutes until golden-brown. Transfer to a cooling rack or plate and repeat these steps until you run out of batter.
Vegan Servings ideas
You can serve vegan pancakes with liquid sweeteners like rice syrup, maple syrup, or agave syrup. Other tasty toppings are jam, fresh fruits, whipped coconut cream, or vegan yogurt.
Share on Facebook
Pin Recipe
Nutrition
Serving:
1
pancake (1/3 cup)
|
Calories:
156
kcal
|
Carbohydrates:
28
g
|
Protein:
3
g
|
Fat:
3
g
|
Saturated Fat:
1
g
|
Sodium:
427
mg
|
Potassium:
108
mg
|
Fiber:
1
g
|
Sugar:
10
g
|
Vitamin A:
155
IU
|
Vitamin C:
5
mg
|
Calcium:
185
mg
|
Iron:
1
mg