This Strawberry Pink Lemonade is a healthy, alcohol-free, sparkling lemonade to celebrate Spring!
It's deliciously flavored with fresh strawberries and lemon juice and naturally sweetened with refined sugar-free sweeteners.
When summer is just around the corner, it's time to make a fun alcohol-free drink with this easy lemon pink drink recipe.
Is Lemonade Healthy?
Not really; regular lemonade is high in added sugar.
However, you can make homemade lemonade with less sugar and sweetened with natural sweeteners that are better for you.
How To Make Homemade Pink Lemonade
It's very easy to make a lemonade recipe at home, but even tastier and fancier to make it pink!
All you need to make this delicious strawberry lemonade is:
Fresh Strawberries or raspberries, or watermelon. Pick your favorite pink or red fruits.
Fresh Lemon Juice – I prefer freshly squeezed lemons, but you can also buy ready-made lemon juice.
Sparkling Water – there are many different types of sparkling water, and my preference goes for lightly sparkly, small-bubble options.
Water
Blending
In a high-speed blender or Nutribullet, add the fresh strawberries and water before blending until smooth.
Pour the liquid over a sieve with fine mesh to discard the strawberry pulp and only keep the juice.
In a large lemonade pitcher, add freshly squeezed lemon juice, strawberry juice made before, maple syrup or liquid sweetener you like, and the sparkling water.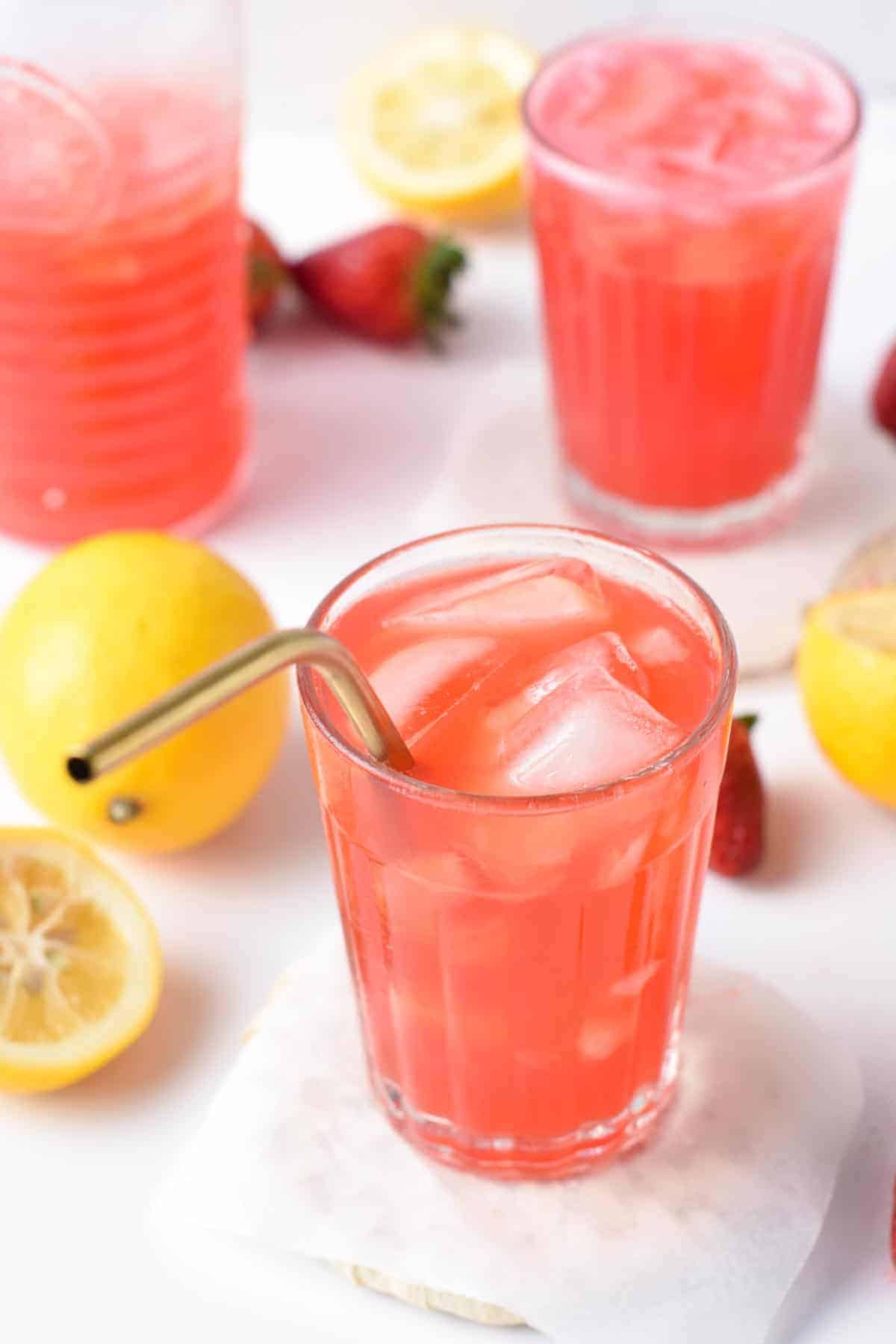 Serving
You can serve the lemonade immediately or store 30 minutes in the fridge to cool down.
Serve over ice cubes with a few mint leaves.
Storage
Since the lemonade contains sparkling water, it's essential to seal the bottle or pitcher to avoid carbon dioxide from escaping.
The lemonade can be stored for up to 3 days in the fridge or frozen in ice cubes.
Use frozen lemonade ice cubes to flavor cocktails or water.
Frequently Asked Questions
Can I make sugar-free lemonade?
Yes, you can skip the sweetener or use a sugar-free natural sweetener like stevia drops or powdered allulose, or erythritol.
Do I Have To Use Sparkling Water?
Not at all. You can make plain lemonade using filtered tap water instead of sparkling water.
Other delicious options are berry-flavored kombucha or soda water.
I Don't have Strawberries, What Can I Use?
You can use raspberries or a sachet of strawberry herbal tea to flavor the lemonade and turn it pink.
Soak your herbal tea in water for 3 minutes until pink and flavorsome.
Then, combine with the remaining ingredients.
Can I Use Frozen Fruits?
Yes, absolutely, you can use thawed strawberries or raspberries for this recipe.
Have you made this easy lemonade recipe? Share a comment or review below to connect with me.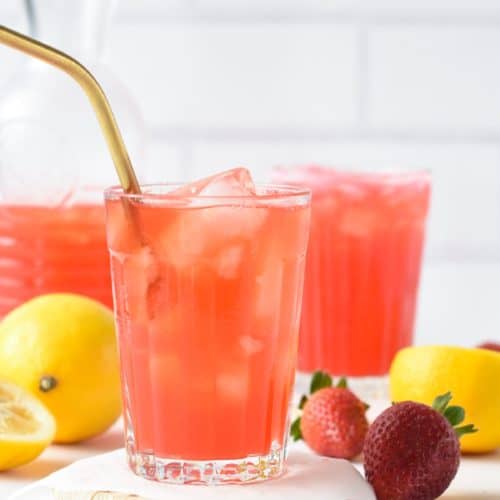 Strawberry Lemonade
This Straweberry Pink Lemonade is a healthy, alcohol-free refreshing lemonade to celebrate Spring! It's deliciously flavored with fresh strawberries, lemon juice and naturally sweetened with refined sugar-free sweeteners.
Pin
Print
Review
Save
Saved Recipes
Instructions
In a blender, blend the strawberries and cold water

In a lemonade pitcher, add the sparkling water, lemon juice and sweetener you like. Stir the mixture.

Place a sieve above the pitcher and pour the blended strawberry mixture to filter the strawberry pulp. Discard the pulp or keep in the fridge to flavor dessert for later.

Refrigerate the lemonade 30 minutes before serving.

Serve over ice cubes with fresh mint if desired.
Notes
Note 1: You can use any red fruit, fresh or thawed, like raspberries or watermelon.
Share on Facebook
Pin Recipe
Nutrition
Serving:
1
glass
|
Calories:
60
kcal
|
Carbohydrates:
14.9
g
|
Protein:
0.1
g
|
Fat:
0.1
g
|
Saturated Fat:
0.1
g
|
Polyunsaturated Fat:
0.1
g
|
Monounsaturated Fat:
0.1
g
|
Sodium:
14.4
mg
|
Potassium:
74.8
mg
|
Fiber:
0.4
g
|
Sugar:
12.9
g
|
Vitamin A:
2.3
IU
|
Vitamin C:
11
mg
|
Calcium:
27.8
mg
|
Iron:
0.1
mg
|
Magnesium:
7.2
mg
|
Phosphorus:
4.4
mg
|
Zinc:
0.2
mg