What Is Veganism? Learn About The Vegan Lifestyle
More people are choosing to live cruelty-free and adopt a vegan lifestyle. Since 2014, veganism has seen a 500% increase. Choosing a vegan lifestyle has many benefits.
You're not only saving the lives of animals but are also changing the many environmental impacts that come with eating meat.
If you're interested in adopting the vegan diet, you understand that the definition of veganism is more difficult than you think. It's common to have questions and are not sure what falls under the vegan diet and what doesn't.
Don't worry, we got you covered. Here's more information about veganism, including why people go vegan, what to eat, and more.
What Is Veganism?
A vegan diet doesn't include any products that come from living beings.
This includes not only meat but also dairy products, honey, and more. In other words, vegans eat plant-based food (which is why it's also called a plant-based diet).
Besides, those who follow the vegan diet follow the vegan lifestyle. This way of living removes all aspects of animal cruelty and all forms of animal exploitation from their use and consumption.
For example, vegan individuals don't use products that test on animals, don't wear leather or wool, and don't indulge in entertainment and sports that exploit animals (such as attending horse races).
If you follow the vegan diet, do you also have to follow the vegan lifestyle? This is a choice. But veganism embodies both the diet and the lifestyle. If you just prefer eating a vegan diet, most people refer to this as eating a plant-based diet.
History of Veganism
The roots of vegetarianism go deep in history, with the first mentions of the philosophy that puts animal meat off-limit traced to India between 3000 and 1300 BC.
It was also a relatively common trait of Greek and Roman philosophers who believed that killing animals made them impure.
The first known Vegan was a 10th Century Arab Poet, al-Ma'arri who rejected the consumption of any food made with or produced by animals – so it included milk and eggs.
The term vegan was coined much later, in 1944 when a member of the Vegetarian Society – Donald Watson – who also didn't want to consume dairy products created The Vegan News – a newsletter for what are now called Vegans in the Vegan Society.
Vegan is a play on the word Vegetarian. Donald Watson wanted a term that showed it was the beginning and end of vegetarian.
The Vegan News was publishing vegan recipes and in a way, The Conscious Plant Kitchen – and all the other Vegan food blogs – is carrying some of that heritage!
While Veganism started strictly as a diet, it evolved to reject all use of animal-based products shortly after its creation.
The Reasons Why People Go Vegan
While preventing the harm and killing of animals is one of the main reasons people go vegan, going vegan has different benefits. Here are some of the most prominent ones.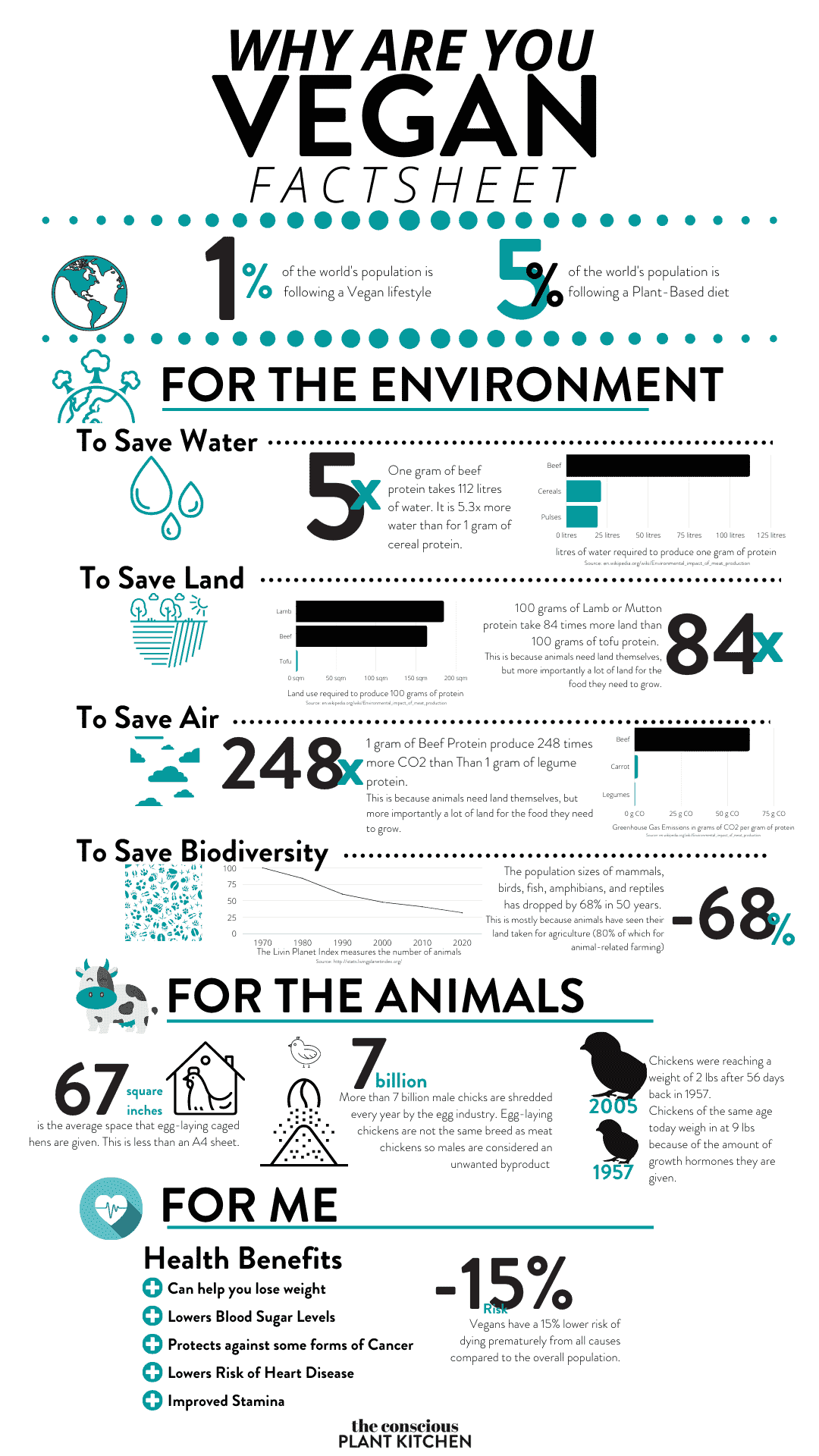 Cruelty
Globally, we breed 70 billion animals for consumption. That's about 10 animals for every human being on the planet, slaughtered every year.
Because of statistics like this, it's no surprise that the number one reason people choose the vegan diet is not supporting animal cruelty.
To meet the demands of the population, we overbreed animals and cram them on farms for profit.
Many vegans believe that animal deaths are unnecessary and that humans don't need to eat meat to survive. Others don't like the cruelty that comes with factory farms and other forms of exploitation.
A common argument you might hear is, "my local farmer breeds their cows in a respectable way."
While small-scale animal farming often leads to far less animal suffering, it brushes off the fact that the animals are still mostly killed in slaughterhouses that don't necessarily treat them the same respectable way.
Also, the vast majority of meat consumed in the world now comes from large-scale animal farms.
You might be surprised that only 4 companies are responsible for the slaughtering of 81% of cows globally.
The question of animal exploitation also considers zoos and wildlife reserves. This issue is more complicated as modern zoos tend to have a much more positive impact on the planet by raising awareness and participating in breeding programs that would see species disappear otherwise.
Environmental Impacts
Going vegan also offers many benefits to the environment. We use 30% of the Earth's land for raising animals (the equivalent of the whole continent of Asia).
To put things in perspective, to grow 100 grams of Tofu protein takes 2.2 square meters of land.
Producing the same 100 grams of Lamb protein takes a staggering 185 square meters and 164 square meters for beef protein (source).
Caring for mass amounts of animals results in wasted and depleting resources. Livestock grazing is causing plant species to become threatened with extinction.
Nearly half of the water used in the United States goes toward raising livestock.
Factory farms also release gases that are harmful to our environment.
These gases include carbon dioxide, nitrous oxide, and methane.
Factory farms use these gases to raise animals, grow the food that animals need to survive, and maintain the building, animal waste, and fertilizers.
It is also possible to compare the greenhouse gas emission of meat versus plants.
Growing 100 grams of cow protein produces 62 grams of CO2, while 100 grams of legume protein only produces 0.25 grams of CO2 or 250 times less!
Health Benefits
Many animal products are high in cholesterol, calories, and other health issues. These dietary concerns may cause obesity, heart disease, and more illnesses.
But that's not the only health benefit of switching to a vegan diet. Most vegan diets are high in magnesium, fiber, vitamins C and E, folic acid, phytochemicals, iron, and healthy fats.
In addition, the typical vegan meal is usually lower in calories than the average meat eater's meal, which is why vegans tend to be thinner than meat-eaters.
Keep in mind that switching to a vegan diet doesn't guarantee you eat a healthy diet. You'll have to get plenty of fruits, vegetables, nuts, seeds, and other nutritious plant-based foods in your diet.
There are plenty of unhealthy and high-calorie plant-based foods, such as French fries. So be careful when choosing your foods and opt for healthier meat alternatives.
What Do Vegans Eat?
In short, vegans only eat food that comes from the ground.
This doesn't only include fruits and vegetables but also nuts, legumes (such as beans), grains (such as rice), and oils (such as olive oil).
Meat and dairy alternatives are also popular. Imitation meat is usually made of soy, mushrooms, and other ingredients that mimic the taste of meat. If you are going for a meat alternative, try to always go for the least processed option.
There are more dairy alternatives now than ever. For example, soy and almond milk are popular. There are even other dairy-imitation products, such as butter made of a combination of oils.
What's Not Included in the Vegan Diet?
Meat and dairy products are the most obvious contributors to a non-vegan diet. But many new vegans will be surprised at how many animal products we eat.
For example, honey is a product made by bees.
Gelatin is a product found in Jell-O, marshmallows, candy, ice cream, and even some cakes. Gelatin is made of collagen from different animal body parts, which means this ingredient isn't vegan.
Vegans can't only buy products with the "vegan" label, as there are many types of products that don't consider putting the label. If a product is not marked vegan, that doesn't mean it isn't vegan.
You'll have to read the ingredients to ensure the product contains no animal products. Read our vegan grocery list to learn what to buy and which additives are not vegan.
How To Swap Animal Products For Vegan Alternatives
Are you still wondering how to become a vegan? There are many vegan-friendly alternatives to animal products to ensure you still eat the food you enjoy.
But following these steps will ensure you make the switch in the healthiest way.
Know What to Eat
As stated previously, there are several alternatives to animal products. But it does help to know what to eat ahead of time.
Common examples include:
Vegan meat (brands like Impossible Meat, Boca, Gardenia, Beyond Meat, and more. You can also substitute meat for tofu, tempeh, and seitan). They have nutritional profiles very close to animal protein, often without any supplements. There are some chicken replacements such as Sunfed Chicken where poultry proteins are replaced with pea protein.
Vegan milk (coconut milk, almond milk, rice milk, soy milk, hemp milk, and oat milk) – many include Vitamin B12, Vitamin B3, Vitamin D, Calcium, and Protein.
Vegan cheese (Daiya, Chao by Field Roast, and more)
Honey alternatives (agave, maple syrup, brown rice syrup, molasses, and more)
Vegan ice cream (brands include Coconut Bliss, So Delicious, and even big-box brands have vegan ice cream alternatives)
Vegan eggs (substitute eggs for plant-based ingredients such as mashed bananas, applesauce, soaked flax seeds, and soaked chia seeds. There are also vegan egg replacers available).
Are you still asking questions such as "what is protein for vegans?" Do some research. For this example, vegans eat meat alternatives such as tofu and seitan for protein. Legumes (such as lentils, chickpeas, or black beans), nuts, and some veggies are also wonderful sources of protein.
It's recommended you visit your local grocery store or health food store and see what vegan alternatives they offer. Don't hesitate to ask your vegan friends for advice!
Protein-Rich Recipes
If you are after vegan protein-loaded recipes, try these:
Add to Your Diet, Don't Subtract
"If you don't eat animal products, then what do you eat?"
This is a question that most meat-eaters ask vegans. We consume so many animal products, that many think of vegans as "not having anything to eat."
When switching to the vegan diet, it may be easy to only focus on what you're subtracting from your diet. Instead, focus on what you're adding.
First, find delicious vegan recipes you can cook. Many recipes span a variety of categories. These include:
You can even make your own homemade vegan cheese and more.
When you cook vegan meals, you'll notice most of these recipes use similar ingredients.
These may include beans, whole grains, nuts, legumes, tofu (or other meat alternatives), milk alternatives, and even seeds. Make sure you stock up your fridge and pantry with these ingredients.
Keep Learning
No one becomes a vegan expert. The key to a successful vegan diet and lifestyle is always to keep learning.
There are always new books, documentaries, websites, magazines, forums, and blogs that focus on vegan topics and offer new insights.
Research different ways to nourish your body with plant-based foods. Set goals regularly; for example, you can strive to grow vegetables in your garden rather than buy vegetables at the store.
Always know the latest in animal treatments and how you can combat them. While it may make you sad, knowing how to decrease animal suffering will make the biggest difference.
Don't stop supporting brands that support veganism. For example, don't hesitate to try that new vegan restaurant or grab a vegan snack brand you've never seen before.
Stay Positive About Food
It's normal to worry if you'll crave animal products again or wonder what your family and friends will think of your diet.
Try and always stay positive about food and the dietary choices you're making.
Focus on the delicious food you'll be eating and how you're not giving up your favorite food, only replacing animal products with plant-based alternatives.
Take veganism as a journey. Try new foods you never tried before. Experiment with different dishes. Indulge in international foods (you'll be surprised at how many cultures eat a few animal products).
If you're still nervous, be slow with veganism. Devote certain days a week to vegan days. Opt for flexitarianism to kick it off!
You can also start small; for example, stop eating meat before you cut out animal products. This way, you're warming yourself up to veganism rather than quitting cold turkey (see what we did there?).
Remember that you are reading this article because you care about animals, the environment, or your health. And you want to make an impact.
Some can switch hard and fast to the vegan diet, but what matters is that you make a change that you can keep for the long run!
Frequently Asked Questions
What's The Difference Between Vegan And Vegetarian Diets?
A vegetarian diet only excludes eating animals while a vegan diet excludes any animal (meat, fish), animal-derived products (egg, milk), or animal-made products (honey).
Do Vegans Need Vitamin B12 Supplements?
Vitamin B12 is produced by bacteria living in the ground. They are eaten by animals and find themselves on a non-vegan's plate in their meat.
For vegans, B12 must come from either B12 supplements, B12-fortified ingredients such as milk or drinks, or from eating raw, loosely washed vegetables.
Switch With Us!
What is a vegan? Veganism is not only cutting animal products out of your diet but living a life that's free of cruelty. If you want to switch to the vegan lifestyle, start with your diet.
We offer delicious plant-based meals that are healthy and easy to make. Take a look at our vegan recipes!