Chocolate Protein Muffins
These Chocolate Protein Muffins are healthy chocolate muffins packed with 5 grams of protein per serving.
They are perfect for fixing your chocolate cravings and keeping you full for hours. Bonus, these protein muffins are vegan since they are made without eggs, dairy, or butter.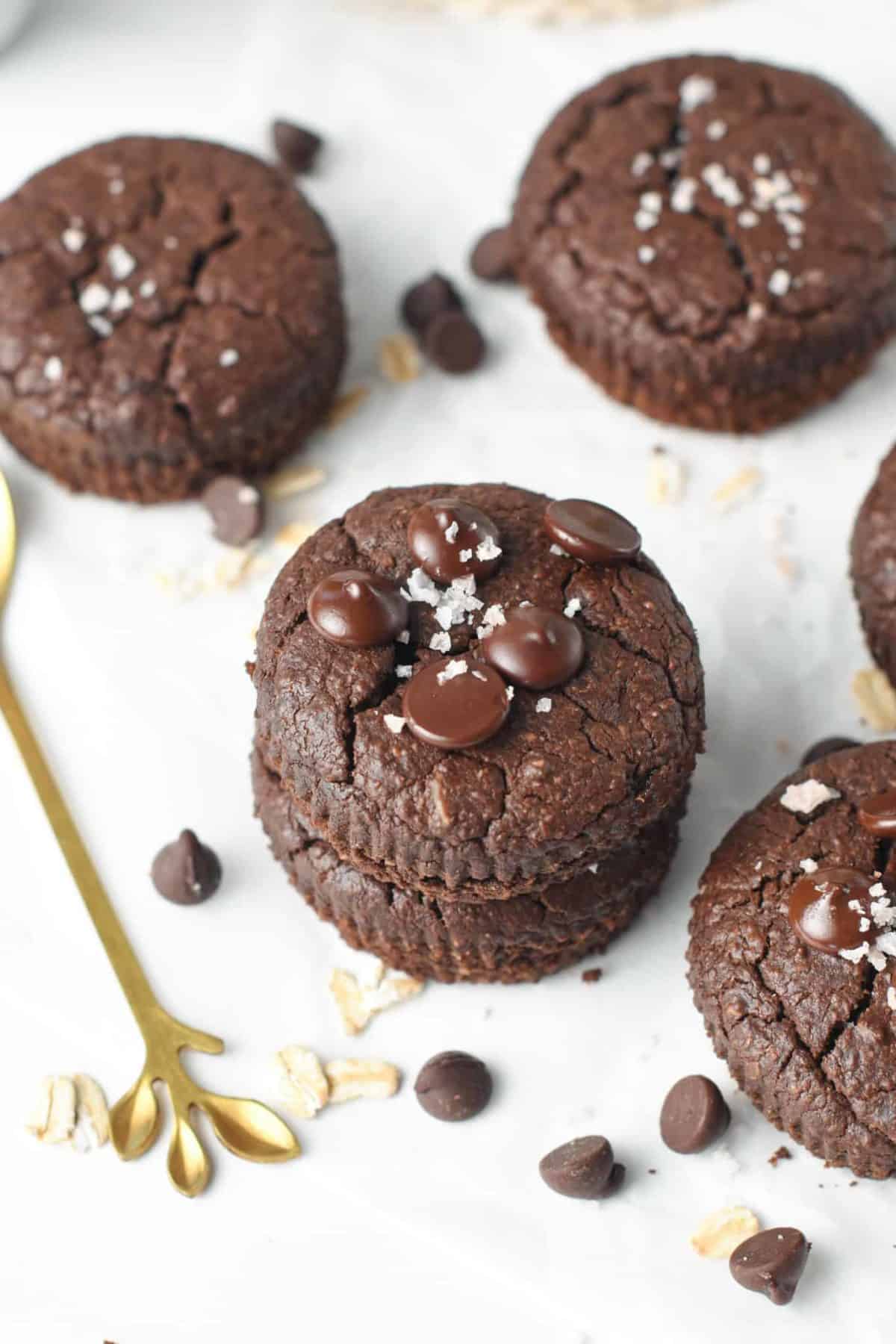 We love vegan high-protein recipes! They are so fulfilling and perfect for any time of the day to fix a quick craving with no guilt.
So let's see how you can add protein powder to your muffins to make them even better for you.
How To Make Chocolate Protein Muffins
It's super easy to make chocolate protein muffins using your favorite protein powder and a few basic ingredients.
The key to making high-protein muffins is to use quality plant-based proteins like:
High-protein flour – oat flour is our favorite choice. We make our own homemade oat flour in a blender or food processor.
High-protein milk – like protein-fortified soy milk or almond milk.
Plant-based protein powder for a protein booster.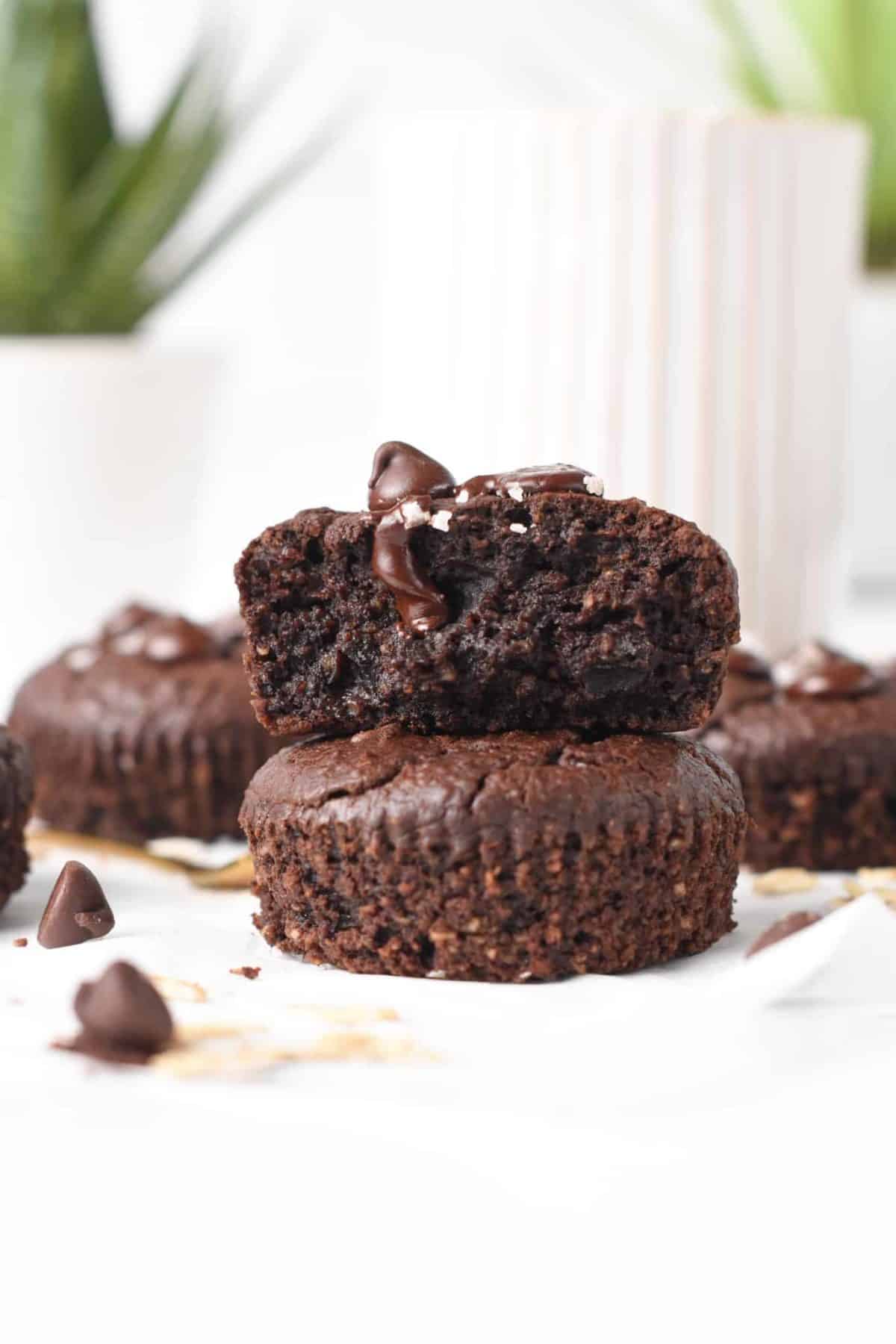 Ingredients
All you need to make these delicious healthy protein muffins are:
Unsweetened soy milk – we used protein-fortified soy milk to increase proteins in the recipe.
Dairy-free yogurt – any yogurt works well, but to keep the recipe dairy-free, we used soy yogurt. It's as high in protein as regular Greek yogurt.
Apple cider vinegar
Homemade oat flour – oat flour is naturally higher in protein than all-purpose flour and, therefore, the best choice to boost the protein in your muffins recipes.
Unsweetened cocoa powder
Chocolate protein powder – we used pea protein powder for this recipe.
Baking powder
Unrefined cane sugar or any granulate sweetener you love, including sugar-free erythritol or coconut sugar.
Chocolate chips – optional but delicious for a double chocolate flavor.
Light olive oil or melted coconut oil.
Vanilla extract
Salt
First, preheat the oven to 350°F (180°C).
Line a muffin tin with muffin paper liner. I made 10 muffins with this recipe, so you won't need to fill the 12 holes.
Slightly spray oil in the paper liner, then fill with the batter – about 1/4 cup for each muffin.
Protein Muffin Batter
In a large mixing bowl, whisk liquid ingredients: soy milk, yogurt, apple cider vinegar, olive oil, and vanilla extract. Set aside until it gets slightly creamy and curdles.
In another mixing bowl, whisk all the dry ingredients together until they are evenly combined: oat flour, sugar, unsweetened cocoa powder, chocolate protein powder, salt, and baking powder.
Next, combine the dry ingredients with the wet ingredients and stir well until they come together into a chocolate muffin batter.
Fold in the chocolate chips at the end if used.
Making Ten Muffins
Finally, fill the 10 muffin cups with the batter – about 1/4 cup per muffin. Don't make them too thick, or they take longer to bake.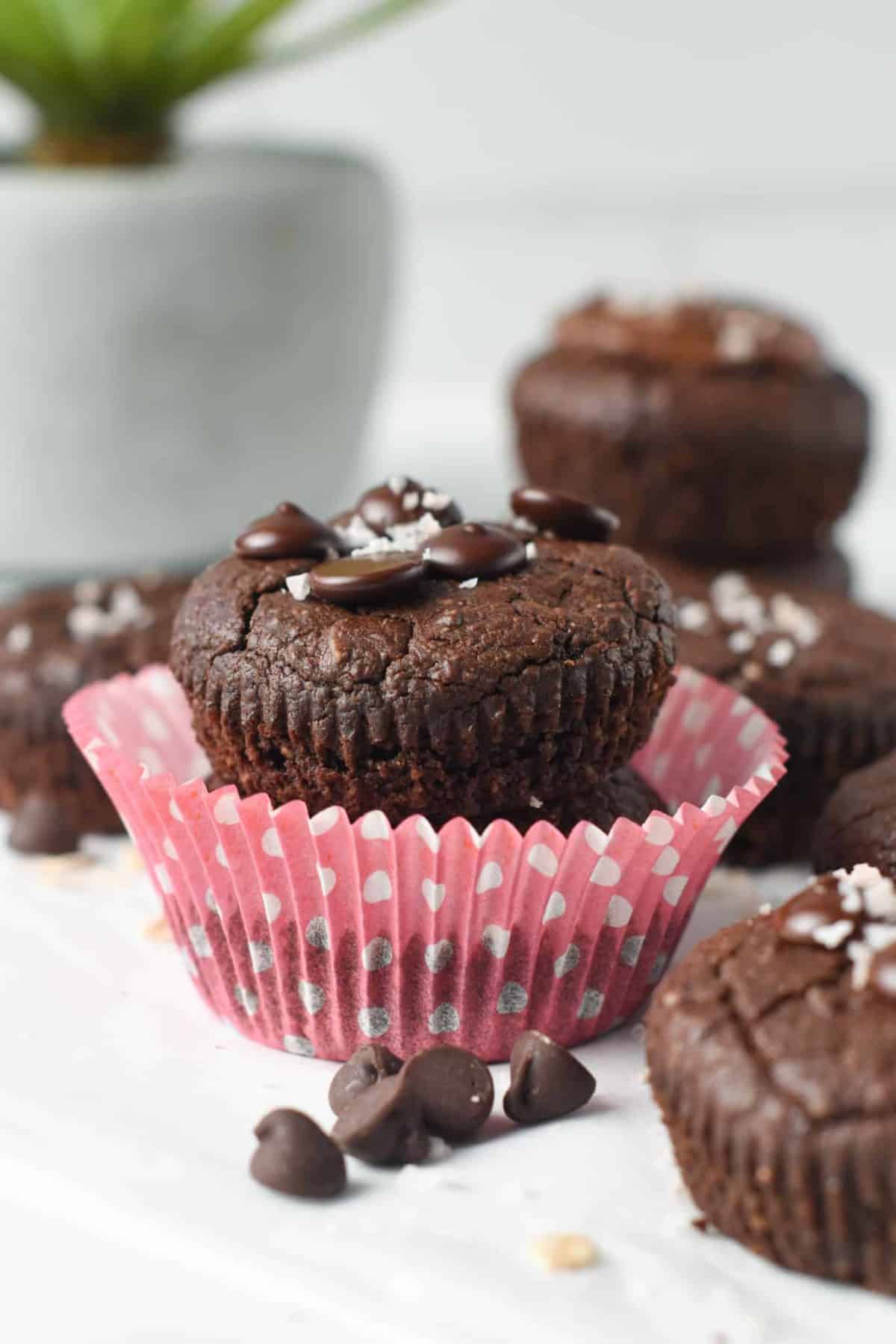 Baking
Bake the muffins in the center rack of your oven for about 20-30 minutes or until a toothpick comes out clean when inserted in the center of the muffins.
Cool them down on a cooling rack for 1 hour before adding the protein frosting on top.
Protein Cupcakes
You can also use this protein muffins recipe to celebrate and turn them into cupcakes!
You can frost these healthy muffins with any frosting you like, but we love high-protein frosting.
To make a protein frosting, whisk:
1/2 cup of PB2 Powdered Peanut Butter
1/4 cup almond milk or yogurt
Other dairy-free frosting recipe ideas are:
Storage Instructions
These protein muffins store very well at room temperature, in an airtight box for 2-3 days.
Otherwise, place them in the fridge in an airtight container or freeze them for later.
Finally, thaw the muffins the day before eating.
Frequently Asked questions
Below I listed the answers to your most common questions.
Can I Use Coconut Flour Or Almond Flour?
No, the recipe won't work with low-carb flour.
In fact, these are egg-free cupcakes, and therefore, low-carb flour would come together without binding ingredients like eggs.
What Are The Best Protein Powder For Baking?
We don't recommend using high flavor protein powder like soy or hemp.
Also, whey protein powder is known to dry out baked goods, plus it's not vegan, so we don't use it in our recipes.
Can I Make These Muffins Gluten-Free?
Yes, you can find some gluten-free certified oats at the grocery store and blend them into oat flour to make your own gluten-free oat flour.
Another option is to use all-purpose gluten-free flour, but the muffin will come up dense and packed.
More Vegan Protein Recipes
If you enjoy high-protein vegan recipes, you'll love these:
Have you made this high-protein cupcake recipe? Share a comment or review below to connect with us!
Your friend, Carine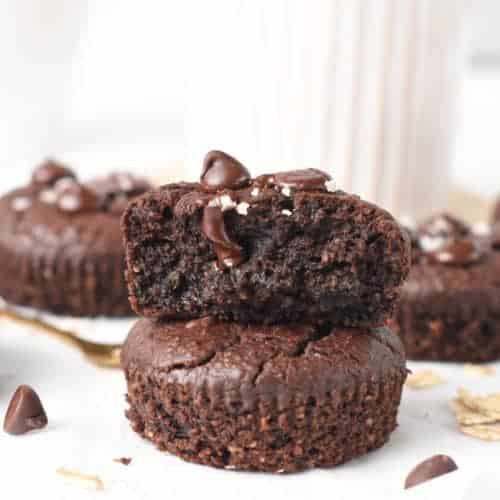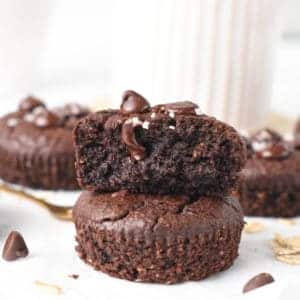 Chocolate Protein Muffins
These Chocolate Protein Cupcakes are healthy high-protein chocolate treats to fix your chocolate cravings for a vegan, egg-free snack or breakfast.
Pin
Print
Review
Save
Saved Recipes
Servings:
10
protein muffins
Instructions
Preheat oven to 350°F (180°C). Line 12-holes muffin tray with 10 paper liners – the recipe makes 10 muffins. Lightly spray oil on the paper to prevent the cupcakes from sticking to them.

In a large mixing bowl, whisk milk, yogurt, and apple cider vinegar. Set aside for 5 minutes until it curdles – this is what we call the vegan 'buttermilk'.

In another bowl, stir all the dry ingredients: flour, protein powder, cocoa powder, sugar, baking powder and salt. Set aside.

In the bowl with the soy milk, stir in olive oil and vanilla extract.

Stir in the dry ingredients into the wet ingredients in three addition to avoid lumps. Stir well between each addition. The batter should be fairly liquid by smooth with no lumps.

Fill each cupcake liner up to 3/4 level.

Bake on the center rack of your oven for 20 minutes or until a toothpick inserted in the center of the cupcakes comes out clean.

Cool them down on a cooling rack for 2 hours before frosting. Don't frost if the cupcakes are hot, or the vegan chocolate frosting will melt.
Storage
Store for up to 3 days in the fridge in an airtight cake box, or freeze for later.
Share on Facebook
Pin Recipe
Nutrition
Serving:
1
muffin
|
Calories:
162.2
kcal
|
Carbohydrates:
21.4
g
|
Protein:
5.3
g
|
Fat:
7.7
g
|
Saturated Fat:
1.5
g
|
Polyunsaturated Fat:
1.2
g
|
Monounsaturated Fat:
4.6
g
|
Cholesterol:
5
mg
|
Sodium:
209.6
mg
|
Potassium:
159.4
mg
|
Fiber:
2.4
g
|
Sugar:
10.7
g
|
Vitamin A:
56.4
IU
|
Vitamin B12:
0.9
µg
|
Vitamin C:
0.1
mg
|
Vitamin D:
0.3
µg
|
Calcium:
107.7
mg
|
Iron:
1.1
mg
|
Magnesium:
36.5
mg
|
Phosphorus:
102.1
mg
|
Zinc:
0.6
mg