Quinoa Tortillas (2 Ingredients, Egg-Free)
These 2-Ingredient Quinoa Tortillas are the easiest gluten-free tortillas with the perfect soft, flexible texture.
Plus, they are loaded with plant-based proteins and fiber to keep you full and energized.
I have a passion for quinoa recipes. I have several of them available, and there's a reason for that.
Quinoa is one of the rare complete vegan protein sources. It means it contains all the amino acids you need in your body on a vegan diet.
So adding quinoa to your meals or desserts, like in my quinoa brownies or quinoa breakfast bake, is a great way to boost your amino acid profile.
How To Make Quinoa Tortillas
These quinoa tortillas are the easiest tortillas recipe since they are made with only two wholesome ingredients.
Ingredients
Uncooked Quinoa – You don't need quinoa flour for this recipe, just uncooked quinoa, and you can use white quinoa or red quinoa.
Tap Water
Optional Ingredients
Then, of course, you can add some optional flavoring, especially if you are new to baking with quinoa.
Garlic Powder
Sea Salt
Paprika, Cumin, Turmeric
Soaking Or Roasting Quinoa
Quinoa, even soaked for hours, always has a slight bitterness that some people don't appreciate.
To cover the bitterness of quinoa, you can:
Soak the quinoa in cold water for at least 3 hours or overnight.
Roast the quinoa. To roast the quinoa, place the grains on a baking sheet and bake them at 350°F (180°C) for 10 minutes, stirring halfway, until golden and fragrant. Cool the quinoa down on a plate or bowl before using it in this recipe.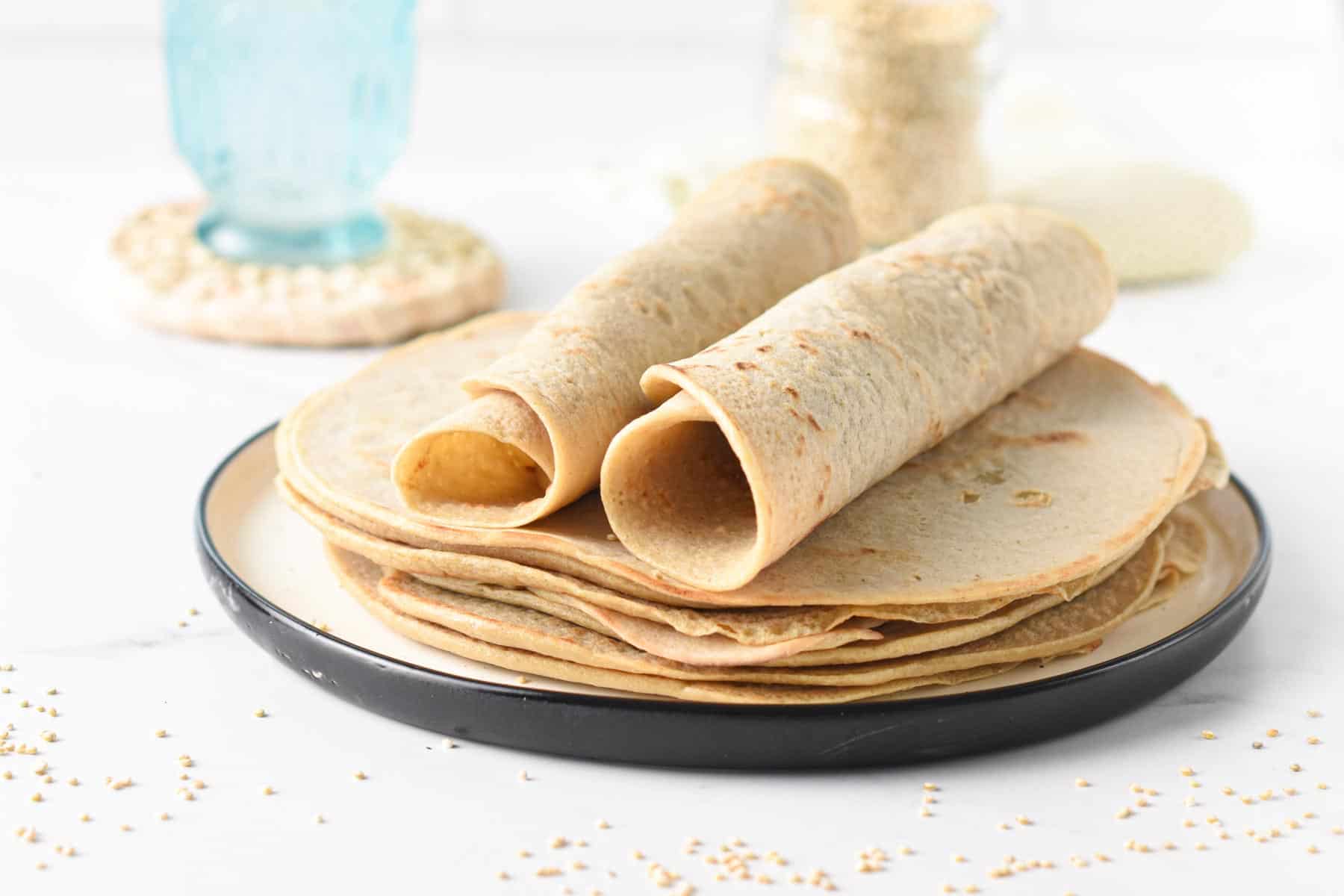 Making The Quinoa Wrap Batter
To make the batter, you need a high-speed blender. I am using a Vitamix pro that I set on speed 9-10.
In the blender jug, add quinoa and water. Blend on the high-speed setting until it forms a smooth and liquid batter.
Set it aside in a bowl while warming the non-stick pan.
Cooking Quinoa Tortillas
Warm a non-stick skillet or pan over medium-high heat. Rub the surface with olive oil using a piece of absorbent kitchen paper.
Scoop 1/4 cup of batter in the center of the pan, and using the back of a spoon or back of the measuring scoop, spread by applying a circular motion.
You can also rotate the pan, but it sometimes breaks the batter apart, and the tortillas won't be as round.
Cook for 2 to 3 minutes on one side, then flip and cook for an extra 1 to 2 minutes on the other side.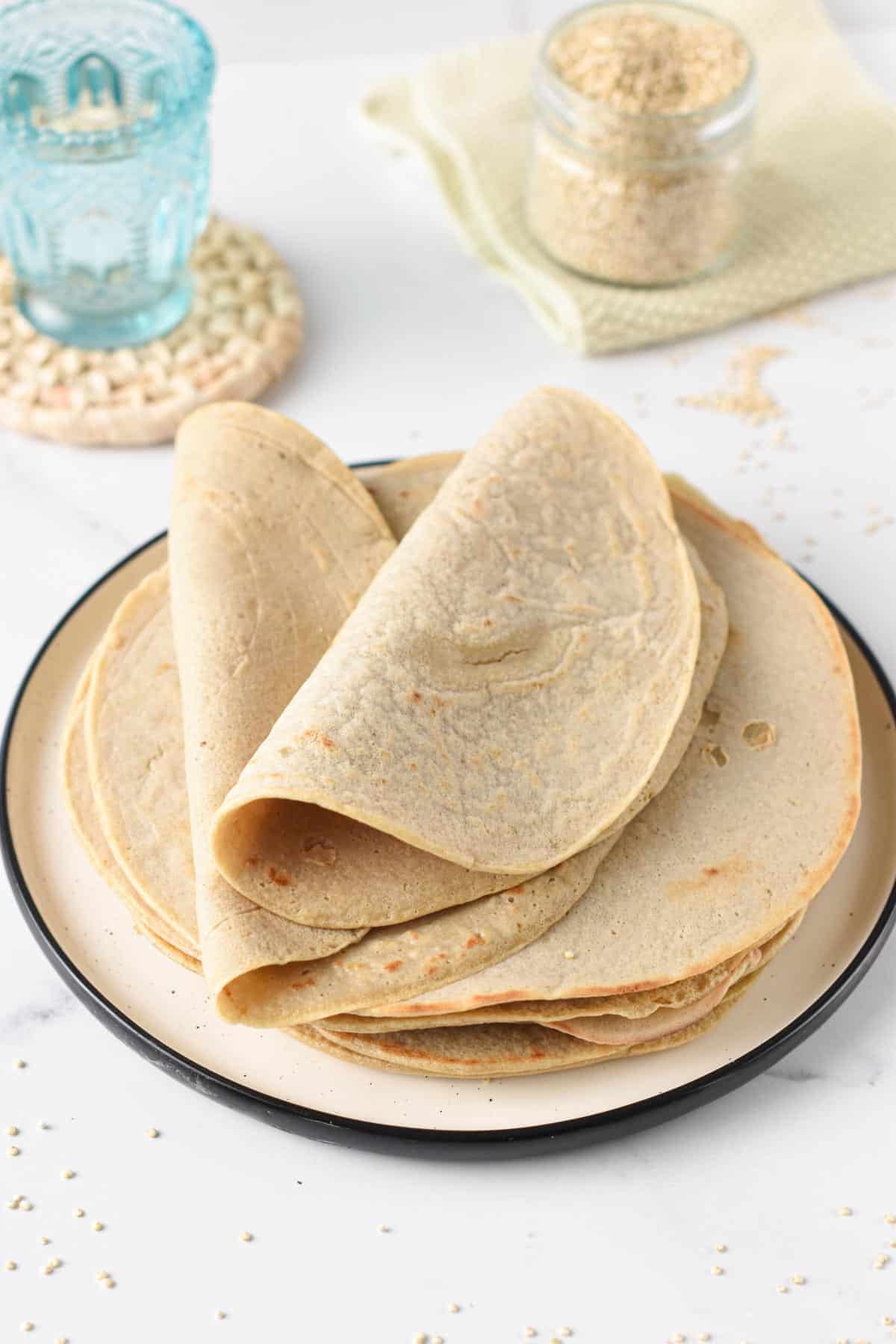 Serving
You can serve these quinoa tortillas with any sweet or savory filling.
Sweet fillings that we love are:
Peanut butter
Almond butter
Banana slices
Dark chocolate chips
Coconut
Chopped nuts
The best savory filling for these quinoa crepes are:
Fresh vegetables like avocado, lettuce, cucumber, and carrots
Hummus
Guacamole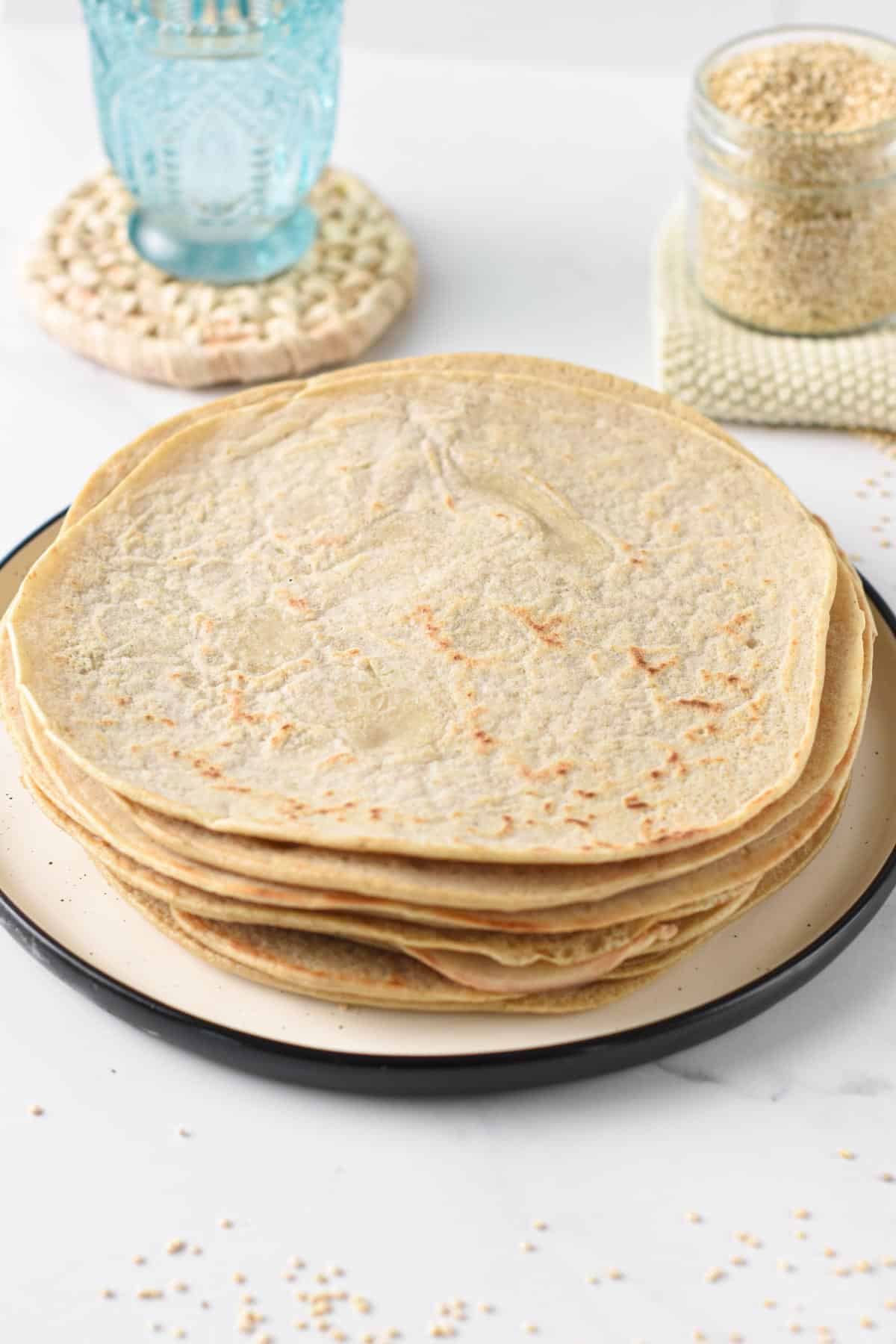 Storage
Store the tortillas in the fridge, it's better if you place a piece of parchment paper between each or they tend to stick to each other very easily.
Store for up to 3 days or freeze for later.
Frequently Asked Questions
Below are the answers to your most frequent questions about these quinoa crepes.
Can I Use Quinoa Flour?
Yes, you can use the same amount of quinoa flour to replace raw quinoa.
Stir everything together in a bowl, then cook as the recipe is written.
Can I Add Flavors To The Batter?
You can add one teaspoon of vanilla extract and 2 to 3 tablespoons of sugar, and a pinch of cinnamon to turn these into quinoa crepes.
Or, add 1/4 teaspoon of garlic powder and a pinch of turmeric or paprika to make flavored quinoa wraps.
Why Do My Tortillas Stick Together?
The warm quinoa tortillas can stick together.
First, cool down on a wire rack to evaporate the steam.
Then, if you want to stack them, make sure they are cold straight out of the fridge or place parchment paper between each to avoid them sticking together.
What Can I Do If My Tortilla Batter Split In The Pan?
The batter splits in the pan if your pan is too hot or if you tilt the pan with a too-large angle, moving the batter too fast.
Spread with the back of your spoon for the best results.
The batter shouldn't stick. If it does, it means you didn't oil the pan enough or you are using a pan that doesn't have a non-stick surface.
More Tortilla Recipes
Below I listed some more tortillas, flatbread, and crepe recipes for you to try:
Did you try these quinoa tortillas? Share a comment or review below.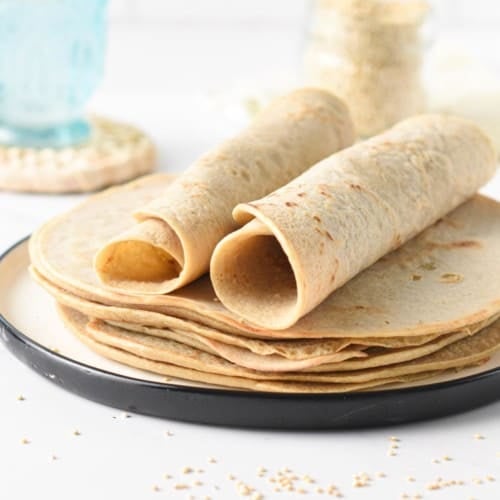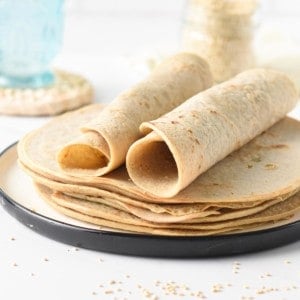 Quinoa Tortillas
These easy 2-Ingredient Quinoa Tortillas are healthy vegan gluten-free tortillas perfect to make a quick high-protein wrap.
Pin
Print
Review
Ingredients
1 ¼

cup

Quinoa -

uncooked

1

cup

Water

-

at room temperature
Instructions
Warning: you MUST use a Tefal crepe pan for this recipe or the batter can stick to other pan surface!

Soak the quinoa in a bowl for at least 3 hours to remove its bitter flavor and soften the grain, making it easier to blend too. You can also roast the raw quinoa on a baking sheet in preheated oven at 350°F (180°C) until roasted and fragrant. Cool down before using it in this recipe.

Place the raw quinoa into a sieve and rinse under cold water to remove any dirt or impurities.

Drain the quinoa and place them in the jug of your high-speed blender with the remaining ingredients water, and any flavoring you like: salt, garlic powder.

Close the lid of the blender jug and blend on high speed – speed 9-10 of my blender – for about 1 minute or until the batter is smooth. The batter shouldn't be very thick, more liquid like a crepe batter. You may have to stop the blender, scrape the sides and repeat. The batter should be smooth, no bits or quinoa should be left.

Transfer the batter into a mixing bowl and set aside the batter for 10 minutes to thicken. Meanwhile prepare the pan.

Warm a non-stick pan under medium heat and spray olive oil all over the pan. You must use a little bit of oil on the pan, or the batter will stick to the pan and will break.

Pour 1/4 cup of batter into the center of the pan and using the back of a spoon (or the back of the measuring cup), work in a circular motion to gently spread the batter from the center to the outside until it forms a 5-inch tortilla (12cm).

Cook for 2 minutes on one side, then flip with a spatula and cook on the other side. Cool on a plate or a rack while you cook the remaining batter. Make sure you re-oil the pan between each flatbread.

Cool the cooked tortillas on a wire rack. Don't stack the warm tortillas without adding a piece of parchment paper between each other or they will stick together. They tend to stick less when cold.
Storage
Store in the fridge in a sealed box for up to 3 days, making sure the quinoa tortillas don't touch and overlap, or they can stick together. Rewarm in a warm non-stick pan or sandwich press if wrapped with filling.

Freeze individually wrap and thaw at room temperature 3 hours before serving.
Share on Facebook
Pin Recipe
Nutrition
Serving:
1
tortilla
|
Calories:
52.3
kcal
|
Carbohydrates:
9.1
g
|
Protein:
2
g
|
Fat:
0.9
g
|
Saturated Fat:
0.1
g
|
Polyunsaturated Fat:
0.5
g
|
Monounsaturated Fat:
0.2
g
|
Sodium:
98.6
mg
|
Potassium:
80.5
mg
|
Fiber:
1
g
|
Sugar:
0.002
g
|
Vitamin A:
2
IU
|
Vitamin C:
0.001
mg
|
Calcium:
7.4
mg
|
Iron:
0.7
mg
|
Magnesium:
28.2
mg
|
Phosphorus:
65
mg
|
Zinc:
0.4
mg