These Cookie dough balls are almond flour edible cookie dough bites made with 5 simple ingredients.
It's a healthy vegan snack rich in protein and fiber.
What Are Cookie Dough Balls?
We all crave sweet cookie dough at some point. Good news, these energy bites are not only delicious but also a good afternoon snack or post-workout refuel!
In fact, these easy cookie dough balls contain all the healthy stuff you need to boost your energy and satisfy your hunger throughout the day.
One reasonable serve of 2 balls will bring you.
Only 216 kcal
Healthy monounsaturated fats from nuts.
Plant-based protein – 2 balls get you 5.8 grams of protein, which is very fulfilling.
Fiber – 2.4 grams of fiber to keep you full and good for your gut health.
No refined sugar
How To Make Cookie Dough Balls
There's nothing easier than making almond flour edible cookie dough balls.
Ingredients
All you need are:
Peanut Butter – It's essential to use fresh natural peanut butter with no sugar added and no oil added.
Maple Syrup – Use classic maple syrup or any liquid sweetener of your choice, like agave syrup, brown rice syrup (lower GI), or coconut syrup.
Almond Flour
Coconut Flour – Coconut Flour adds a lovely crumbly cookie dough texture. I recommend adding coconut flour gradually 1 tablespoon at a time, up to 2 tablespoons. I love to add 2 tablespoons, but if you prefer the dough smoother, only add 1 tablespoon.
Vegan Dark Chocolate Chips – there are plenty of vegan chocolate chip brands. Check the ingredient list to make sure yours contains only plant-based ingredients or at least 70% dark chocolate. It's usually dairy-free!
Storing Cookie Dough
These raw balls store very well in the pantry in a cookie jar for up to 5 days.
However, if it's hot where you live, I recommend placing the balls in an airtight container in the fridge.
They harden in the fridge, but they will store for up to 2 weeks! You can also freeze raw snacks and defrost 1 hour before or eat them frozen!
More Raw Snack Recipes
Raw, vegan recipes are easy, quick recipes to make ahead plenty of healthy snacks. I recommend you also try my following favorites:
Enjoy these cookie dough balls, and don't forget to share a picture of your creation with me on Instagram!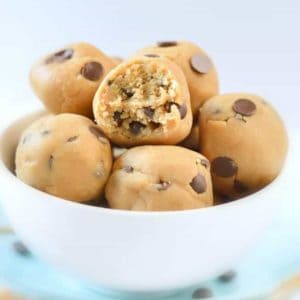 Cookie Dough Balls
Instructions
In a small mixing bowl, combine creamy peanut butter (make sure it is fresh and oily, or the balls will be very dry!) and maple syrup until it forms a creamy paste.

Stir in almond flour, coconut flour, and vegan chocolate chips. Use the spoon at first, then use your hands to squeeze, and knead the batter for 30 seconds and form a large dough ball. The dough is very soft, shiny, and dries out as the coconut flour fiber absorbs the liquid.

Divide the dough into 16 small cookie dough balls. Roll the balls between your hand palms to shape lovely round balls.

Store at room temperature in a box for up to 3 days, or if it is hot where you live (or want to store these longer), place them in the fridge for up to 2 weeks in an airtight box. The balls get harder and dryer in the fridge but still delicious.
Share on Facebook
Pin Recipe
Nutrition
Serving:
1
ball
|
Calories:
108
kcal
|
Carbohydrates:
9.3
g
|
Protein:
2.8
g
|
Fat:
6.2
g
|
Fiber:
1.2
g
|
Sugar:
6.8
g