Peanut Butter Banana Oatmeal Cookies – 4 Ways
Peanut butter banana oatmeal cookies are 3-Ingredient Oatmeal Banana Cookies perfect for breakfast.
Plus, these vegan banana oatmeal cookies have no added sugar, and they are kid-friendly.
I have a passion for 3-ingredient peanut butter cookies. Below are my favorites that you should try:
What Are Peanut Butter Banana Oatmeal Cookies?
These 3-ingredient banana cookies are delicious vegan banana oatmeal cookies for busy mornings.
These are soft peanut butter banana oatmeal cookies, mildly sweet, and ready in only 20 minutes.
You will love that the ingredients are very basic and that you probably have them in the pantry to try the recipe now.
How To Make Peanut Butter Banana Oatmeal Cookies
These cookies require only 3 ingredients for the base recipe, and they are super easy to make.
Ingredients
Let's see what you need:
Ripe Banana – I am talking about bananas with dark spots on the skin and almost dark inside. They are the ones you need to make those cookies without adding any sweetener.
Peanut Butter – use natural peanut butter with no added oil, no added sugar, or salt.
Instant Oat also called rolled oats – you need the finely chopped grains, not the large ones, or the cookies will be dry.
Making Peanut Butter Banana Oatmeal Cookies
These 3-ingredient cookies with bananas are very easy to adapt to create a range of cookie flavors.
My favorite flavors are:
Carrot Cake Cookies
Add a few simple ingredients like grated carrots, raisins, and walnuts. It results in delicious banana carrot cake cookies!
Classic Banana Peanut Butter Cookies
The classic Banana Peanut Butter Oatmeal Cookie recipe makes simple 3-ingredient banana cookies.
Chocolate Zucchini Cookies
Add unsweetened cocoa powder, vegan chocolate chips, pumpkin seeds, and grated zucchini.
These ingredients are excellent together and marry perfectly with the base banana cookies!
Super-Seeds Cookies
Add chia seeds, hemp seeds, pumpkin seeds, coconut, and cranberries.
This will transform these simple 3-ingredient banana cookies into the healthiest vegan breakfast cookies.
Healthy Banana Cookies
These healthy peanut butter cookies are made without any added sweetener.
They are naturally sweetened with ripe bananas, which means no added sugar!
Obviously, if you have a very sweet tooth, add a few drops of stevia to your batter to enhance the sweetness of your cookies.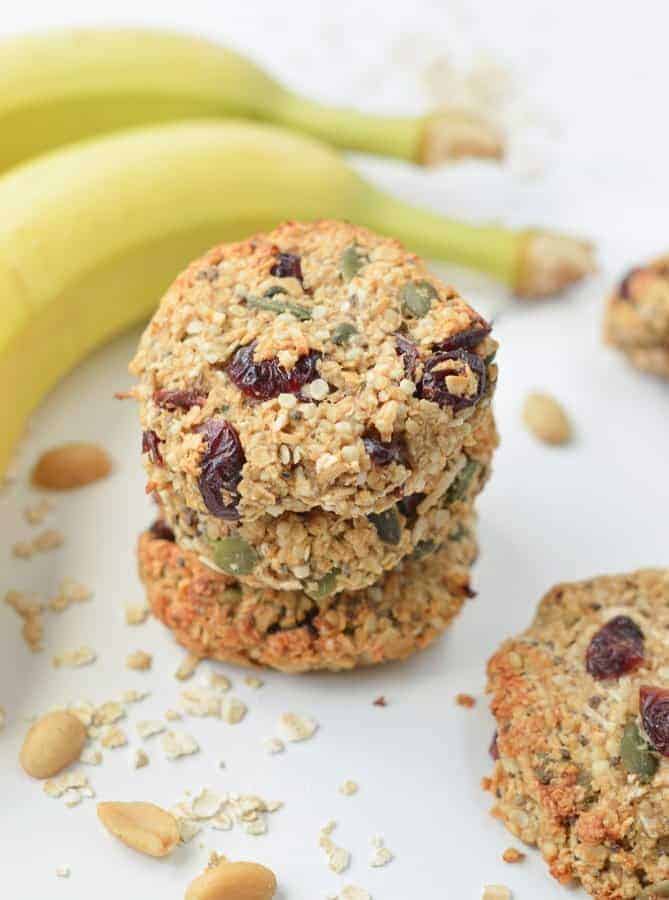 Serving Breakfast Oatmeal Cookies
These vegan cookies are absolutely perfect for breakfast on the go.
They are full of healthy complex carbs, fiber, and protein to bring the energy you need for a whole day.
More Vegan Cookie Recipes
If you like this recipe, you'll love these other vegan cookie recipes:
Don't forget to check all my Ripe Banana Recipes ideas for more ways to use those ripe bananas!
If you love this recipe, save it for later on Pinterest, and if you made it, share a picture with me on Instagram!
Peanut Butter Banana Oatmeal Cookies – 4 Ways
Peanut butter banana oatmeal cookies are easy 3-ingredient breakfast cookies with no eggs or milk.
Pin
Print
Review
Servings: 8 cookies
Calories: 108 kcal
Ingredients
Carrot Cake add-ons
Optional, if banana not ripe enough
½ teaspoon Vanilla Stevia - add if your banana are not ripe/sweet enough
Instructions
Preheat oven to 180°C (350°F). Line a cookie sheet with parchment paper. Lightly oil the paper if needed to prevent the cookies from sticking to the paper. Set aside.

Mash the ripe banana on a flat surface transfer to a mixing bowl

Stir in peanut butter and rolled oats until it forms a sticky cookie batter. Adjust the sweetness with stevia drops if needed, especially if the bananas are not ripe enough.

You can now choose to add any of the add-ons you like following the recipe ideas suggested above or add nothing and cook the cookies with these 3 ingredients.

Form 8 cookie dough balls.

Place each cookie dough ball onto the prepared cookie sheet. Flatten the cookies with your hand palm. Leave 1 thumb of space between cookies even if they won't expand during baking it makes it easier to remove them from the tray later.

Bake for 10-15 minutes or until golden brown on the sides.

Cool on a cookie rack for 20 minutes or until it reaches room temperature. The sweetness and flavor increase when the cookies are cool. If not sweet enough, after baking, drizzle some melted vegan dark chocolate on top!
Storage
Store at room temperature for 3 days in a cookie jar or ziplock bags.

Can be frozen and defrost the day before.
Notes
Nutrition panel is for one cookie using the 3-ingredient classic recipe flavor.
Share on Facebook
Pin Recipe
Nutrition
Serving: 1classic cookie | Calories: 108kcal | Carbohydrates: 13.6g | Protein: 3.5g | Fat: 4.2g | Saturated Fat: 1g | Sodium: 38mg | Potassium: 151mg | Fiber: 2g | Sugar: 3g | Vitamin A: 9IU | Vitamin C: 1mg | Calcium: 11mg | Iron: 1mg